Sioux Falls Native Community Rallies for Justice in Police Killing of Lakota Youth Jacob James
Sioux Falls, SD – Native American communities and grieving family members have been organizing ongoing protests to demand justice for Jacob James, who was shot and killed by police last summer in Sioux Falls. A march took place on Sept. 9, 2022 calling for accountability.
On Aug. 9, 2022, a Sioux Falls police officer and a Minnehaha County sheriff deputy serving on the Sioux Falls Area Drug Task Force fatally shot 21-year-old Jacob James after a traffic stop. Police say they were conducting a drug investigation and pulled over a vehicle in the parking lot of Burger King on West 12th Street and South Williams Avenue when two men got out and ran.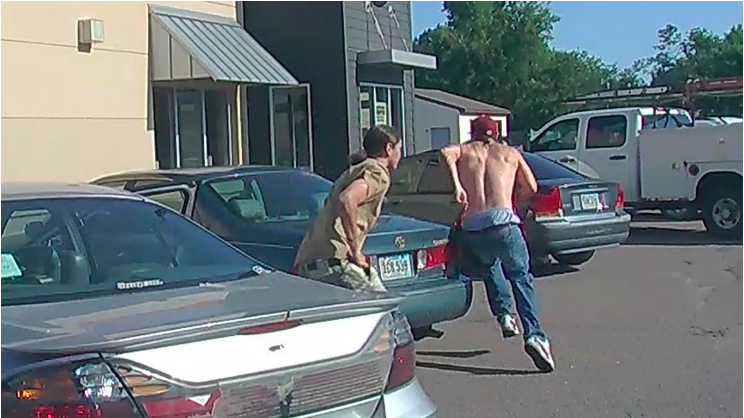 According to police, James fired three shots from a handgun as he fled. A detective and an investigator returned fire, striking James at least four times. James died a short time later at the hospital.
The officers who killed James have not been identified and were cleared of charges just two weeks later.
According to the South Dakota Division of Criminal Investigation (DCI) report [PDF], still images released from a police car dashboard video show James shooting at cops.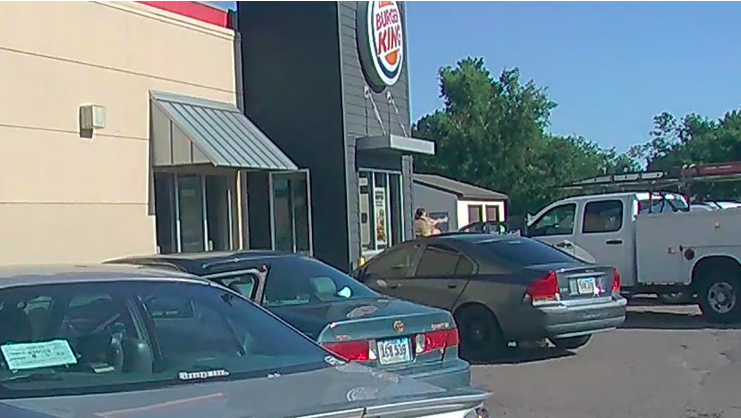 "James shot in the direction of Investigator #1 and Investigator #1 returned shots at [James]. Detective #1 was in fear for their partner's life at this point, as well as in fear for bystanders since it was around 5 PM," according to the DCI report.
However, James' family does not believe the police's version of events. The photo that the DCI claims shows James shooting at cops does not show him holding a weapon, his family contends.
There are many inconsistencies in the stories from police and bystanders.
Police stated that before they fatally shot him, he fled on foot and stopped and fired three shots in their direction.*
According to the DCI report, only the dashboard camera video from one of the cop cars shows James pointing a gun and firing at a cop. However, there is no audio, only video of the incident.
"The dash camera recording has video but no audio…Jacob Michael James was seen pulling a black object from his waistband area in his right hand as he continued running south. As Jacob Michael James got to the southwest corner of the Burger King building, he looked to the southwest, pointed a firearm to the southwest and fired at least one (1) shot."

DCI Report
According to its own review of the video, the DCI report posits that James fired "at least one shot" at officers, however there is no actual way to tell if James fired a shot simply by watching the video because there is no sound.
One video, perhaps the best bystander depiction of what happened that day, appears to show James throwing something after the sound of two gunshots. James then continued to fall to the ground in a hail of bullets. The video does not show James shooting at officers.
The DCI report acknowledged a video that was said to show James throwing something.*
"A bystander video was reviewed and showed Jacob Michael James sitting on the ground, appearing to throw something from his right hand."

DCI Report
Logically, according to James' supporters, a man who just shot at cops would not subsequently throw his gun.
Family and community have continued to gather and protest every Friday at the westside Burger King where James was killed. Activists are calling for justice and accountability for the cops involved in the death of the 21-year-old.
Allison Renville, an organizer and political consultant, said at the march on September 9, that "Jacob's death didn't have to happen. Jacob didn't have to die."
At least twenty-one 9mm shell casings from police were found on the scene. A couple of spent .357 casings and a .40 caliber handgun were found near James' body, according to police, who also reported the .40 caliber handgun slide was jammed.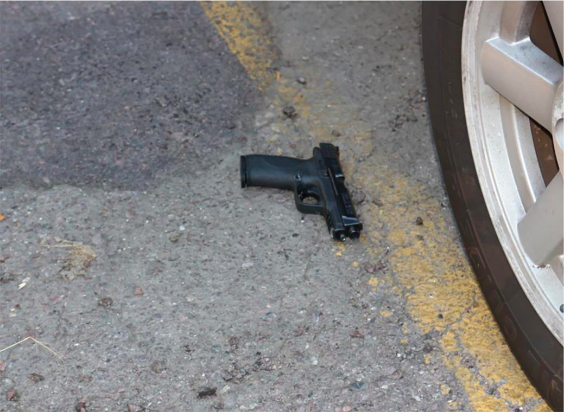 After the DCI investigation into the police-involved shooting concluded, South Dakota Attorney General Mark Vargo released a statement clearing officers of any wrongdoing.
"Based on body camera footage, dashboard-mounted footage, interviews, and additional evidence including spent shell casings from James' weapon, our investigation determined that reasonable officers present at the scene faced clear and present danger to themselves and bystanders… The officers were justified in firing their weapons and using lethal force."

Attorney General Mark Vargo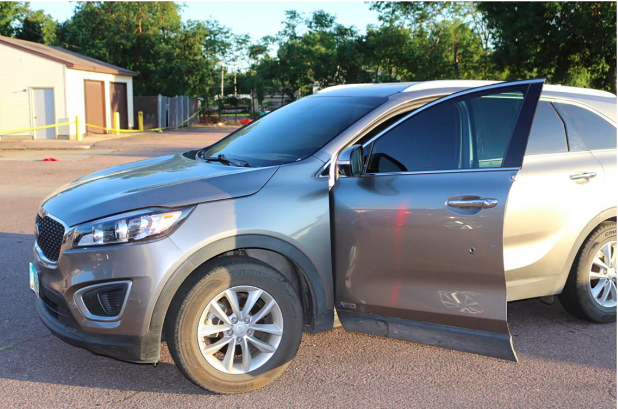 Supporters of James suggest that officials can release the police body camera and dashboard camera videos to the public to clear up any lingering doubts, but they refuse to.
Unicorn Riot requested body camera and dashboard camera videos from the Sioux Falls Police Department (SFPD) from the Aug. 9 shooting, but were denied due to the undercover nature of the drug task force operation. SFPD cited five South Dakota Case Laws as reasons the information isn't "a matter of public record."
To many observers we encountered, the killing of Jacob James sounds eerily familiar to that of Winston Smith, a Minneapolis man who was shot and killed by a federal task force in 2021 as they were executing an arrest warrant in the early afternoon of June 3.
Similar to the case of Jacob James, authorities refused to release video of the Smith killing or names of the officers involved, citing the clandestine nature of the federal task force. Later, police denied that any such videos existed at all, and in a twist of fate, the officers' names were discovered unredacted in the initial investigation report. All officers involved in the killing of Winston Smith were cleared of any wrongdoing by the state.
Unicorn Riot extensively covered the killing of Winston Smith and the subsequent protests against his killing.
Reports initially claimed that Smith pointed a gun at officers, a claim disputed by Smith's date. She was in the car with him and said that at no point did Smith have a gun. Authorities later stated in their report that they found a handgun next to the driver's side door where Smith was killed.
A spokesperson for James' family, Jessica Williams, addressed the crowd at the Sept. 9 march and refuted the official findings.
"In the DCI summary report, they said that Jacob was seen on video throwing a gun and that's why they kept shooting at him. In that video, did you guys see a gun? He did not throw a gun. His empty hands were up. I could clearly see that. Jacob was light skinned. He was standing by a dark car and his hands were empty. And then you can see him fall to the ground and see his hands were still empty until he died, they were still empty. The police don't wanna give us answers. And that's bullshit. His mom should not have to sit here and still wonder what happened to her son."

Jessica Williams, Jacob James' family spokesperson
Even the medical report demonstrates that James was turned around, likely running from cops, when he was shot:
"One bullet entered his right elbow area and was lodged in his upper arm."
"One bullet entered through the back side of his right upper thigh area and exited through his right hip area."
"One bullet entered through his right upper chest area, exited through the left side of his chest area, and then reentered into the inner part of his left bicep and was lodged in the left bicep."
"One bullet entered the left side of his abdomen and exited through the right side of his abdomen."
According to the DCI report, after police shot James, "All three task force officers then approached Jacob Michael James to render aid." However, a bystander video from inside a gas station across the street contradicts this. Instead of rendering aid, the video shows what appears to be cops in the background handcuffing James while he was on the ground. One person can be heard in the video saying, "Why are they fucking handcuffing him?"
Williams, the family spokesperson, said Jacob James wasn't the monster police tried to make him out to be.
"He wasn't a low life criminal like they're trying to portray him to be. He was a family man. He put his family and friends first…Jacob knew the value of love, of friendship, of family. He was just living his life as a regular normal person…[cops] want to say they recognized parolees with warrants. Jacob wasn't a parolee and he didn't have warrants. And yet he's the only fucking one that died. And that's so fucking wrong."

Jessica Williams, Jacob James' family spokesperson
James proudly worked at Arby's as a cook where he was employee of the month. James' family described him as a caring, loving individual who was artistic and inquisitive, and respectful of his elders. He left behind three small children.
Update: Jacob James' family said he did not have a gun at all. James' grandmother Wilma messaged Unicorn Riot the following statement after this story was published:
"The image [police] provided is questionable and unclear. Where is the picture and video from the cop car in front of him? We do not believe he had a gun at all. How did the cop shoot his own door? If they feared for their life, why does the video show the cops turning their backs to him? How can one tell if that is even his arm that is raised? Looking at his shirt, it appears his arm is down."

Wilma, Grandmother of Jacob James
*Corrections: Original publication stated "Onlookers said James threw his gun and then sat down on the ground surrendering to police." – This was a misstatement: onlookers claimed James shot at the police.
*Original publication: The DCI report confirmed that James tossed something. Correction: The DCI report acknowledged a video that was said to show James throwing something.
---
Follow us on X (aka Twitter), Facebook, YouTube, Vimeo, Instagram, Mastodon, Threads, BlueSky and Patreon.
Please consider a tax-deductible donation to help sustain our horizontally-organized, non-profit media organization: