Police Investigative Report Implicates Sheriff's Deputies in Winston Smith Shooting
St. Paul, MN – The Minnesota Bureau of Criminal Apprehension (BCA) failed to redact the name of one of the deputies on the task force responsible for the killing of Winston Smith in a 1,000-plus page report they published in October 2021. [UPDATE: The name of another deputy involved in killing Smith was also mistakenly left unredacted.]
Smith was shot and killed by the federalized North Star Fugitive Task Force in June 2021, which at the time included members of the Hennepin County and Ramsey County Sheriff's Departments, among other agencies. The task force and BCA continuously refuse to name the officers involved, citing their undercover status, and this lack of transparency spurred a weeks-long protest occupation and many confrontational demonstrations in Minneapolis's Uptown district.
However, now one individual who was directly involved in Smith's killing is known—Hennepin County Sheriff's Deputy Timothy Inglett.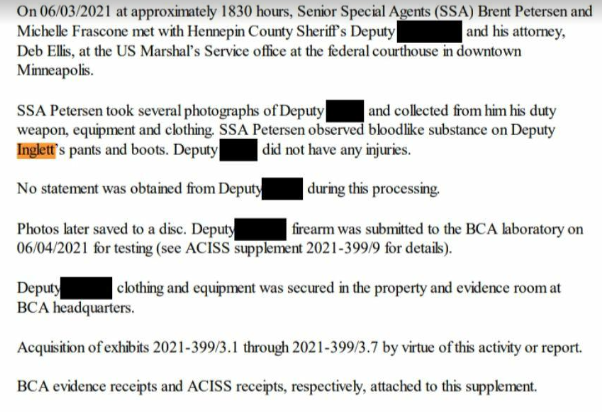 Inglett's name was redacted six out of seven times in the BCA report compiled by investigators, which mentions how his duty weapon was confiscated and added to the collection of evidence.
BCA investigators also collected Inglett's uniform which was tainted by a "bloodlike substance" as well as his boots. The investigators did not take a statement from Deputy Inglett, possibly at the urging of his attorney, who the documents say was present.
On June 9, officials speaking for the North Star Fugitive Task Force explained that in addition to a Hennepin County Deputy, a Ramsey County Sheriff's Deputy also fired upon Smith during the incident. The name of that officer has similarly not been disclosed and was not mistakenly left unredacted in BCA documents like Inglett's.
Several weeks ago, Don Ryan, a prosecutor in Crow Wing County announced that no charges would be filed in the killing of Smith and that the task force members were operating within their "lawful authority."
The prosecutor explained his decision and that he was "unable to determine who fired first," but also claimed "Smith initiated a deadly force confrontation with the [task force]."

Public mistrust in police accountability has been further intensified by murky, conflicting claims given by officials about the task force's body camera policy. Police first claimed that no body camera footage of the shooting death of Smith existed because the federal-led task force was prohibited from using body cameras.
However, the public soon learned this was not exactly the case: "In October 2020, the U.S. Department of Justice issued a Body-Worn Camera (BWC) policy to permit TFOs to utilize body-worn cameras on federal task forces," the Minnesota U.S. Attorney's Office said in a statement.
Before the BCA report was released, a press conference was held in the Hennepin County Government Center on October 15 denouncing the decision to not file charges against the officers who killed Smith. Eric Newmark, attorney for Smith's family, stated that there were in fact body camera videos from the Smith killing, although none of them recorded the incident.
Attorney Newmark remarked that he knew more camera footage exists:
"…Other Minneapolis Police Department officers who arrived all had their body cameras on, it's my understanding that many of them picked up the same conversation from different angles or perhaps not on camera, but that the officers who arrived all or most of them had body cameras, but that was about six minutes after the shooting occurred when Minneapolis arrived."
It's stated on page 168 in the BCA report that "there is no camera angle that captures any portion of the interaction … [or] … of the fatal shooting of Smith by law enforcement."
While residents and activists have widely condemned the inconsistencies and blanket of secrecy around the subject, even local law enforcement partners have publicly criticized the task force. Ramsey County Sheriff Bob Fletcher and the Hennepin County Sheriff's Office pointed the finger at the U.S. Marshals Service and subsequently decided to pull their staff from work on the task force over the body cam debacle. Fletcher even went so far as to put out a statement that claimed the U.S. Marshals, "refused to allow us to wear body cameras." The Minnesota Department of Corrections also withdrew from the task force.
Authorities also claim no squad car footage of the incident exists, exacerbating concerns about the secretive targeted police killing that has reopened wounds in a city still reeling from the police murder of George Floyd.
Deputy Inglett is still on active duty with the Hennepin County Sheriff's Office, but without this accidental disclosure, Smith's family and the public would likely never have learned his name.
---
Additional Deputy Identified in BCA Document [UPDATE – October 30, 2021]
The name of the Ramsey County Deputy who seems to have fired upon Smith was also mistakenly left unredacted. Luke Mickelson was also a member of the task force and despite numerous redactions of his name, one critical mention of his name in the BCA file was present. Similar to Deputy Inglett, Mickelson had his firearm confiscated along with his uniform and equipment. Mickelson did not offer a statement to investigators at the time of the interview.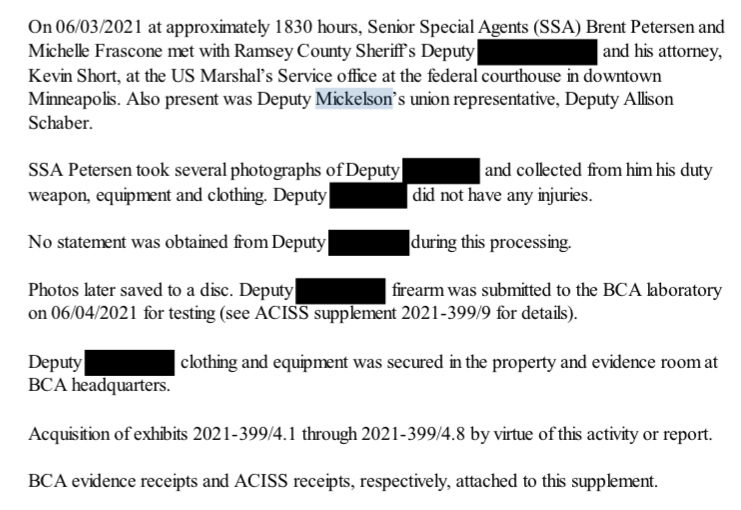 The BCA investigative files were uploaded and taken offline several hours later but by then many copies had already been downloaded.
---
Read the BCA files on their investigation into the killing of Winston Smith below.
Cover illustration by Sam Richards and Dan Feidt.
---
Follow us on X (aka Twitter), Facebook, YouTube, Vimeo, Instagram, Mastodon, Threads, BlueSky and Patreon.
Unicorn Riot's Coverage of Winston Smith:
Please consider a tax-deductible donation to help sustain our horizontally-organized, non-profit media organization: