Federal Task Force Kills Winston Smith Leading to Sustained Protests
Minneapolis, MN – Sheriffs deputized as federal agents ambushed and killed 32-year-old father of three, Winston "Boogie" Smith Jr., around 2 p.m. on June 3, 2021. Smith had just eaten lunch with a date when he was shot to death as he sat with her in his car at the top of a parking ramp in Uptown Minneapolis after being swarmed by undercover officers. The brazen daylight killing has led to sustained protests with calls for transparency and accountability, and fallout within the federalized task force.
Law enforcement claim Smith "produced" a gun and fired it, so they shot and killed him in his car. They later claim they found the gun in the driver's compartment.* The community claimed Smith was unarmed and trying to go live on his phone when they shot him. Two sheriffs deputies shot Smith, according to police, one from Ramsey County and the other from Hennepin County Sheriff's Office. Witnesses report up to 15 gunshots fired. The sheriff's deputies were serving as deputized U.S. Marshals under the North Star Fugitive Task Force and claim that no videos exist showing their actions during the deadly incident.
The stories from the authorities have since changed and evolved and on Thursday afternoon, June 10, an attorney for the woman injured in the car said she never saw Smith with a gun that day.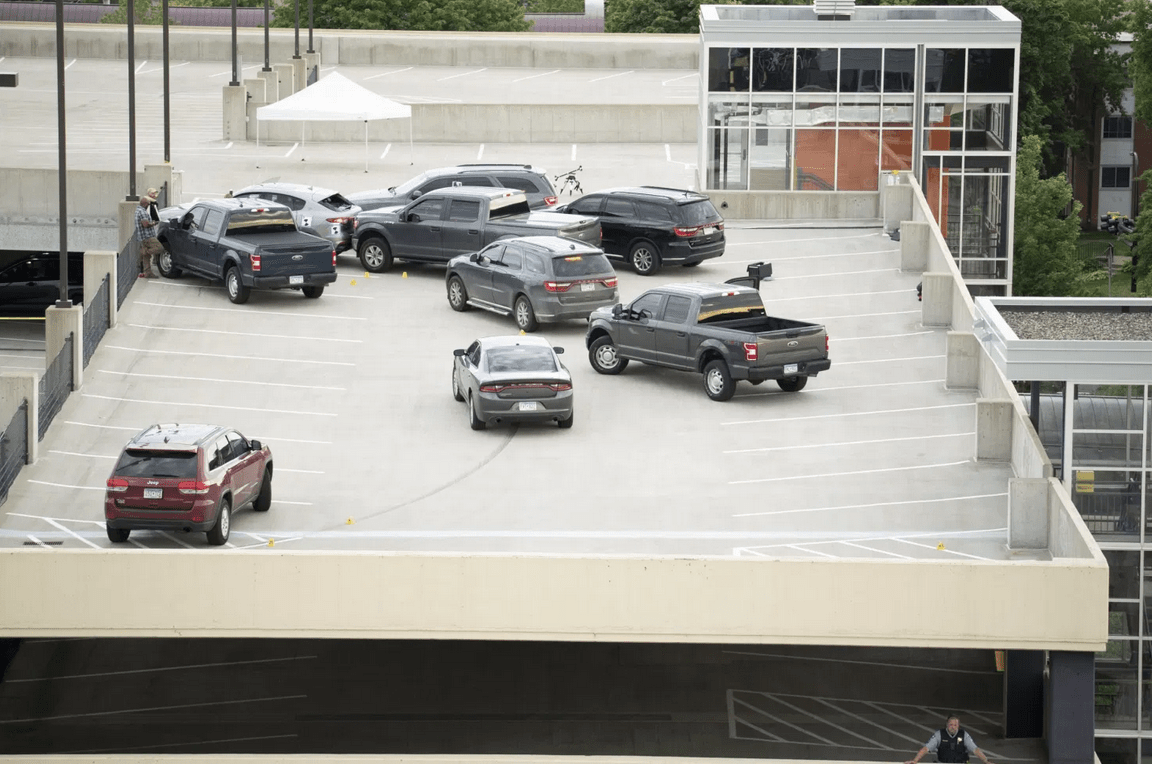 Authorities claim none of the dozen or so officers involved had body cameras on and none of the unmarked vehicles have dashcam video of the killing of Smith, who was on a date with a female companion at the time. Smith's date was treated at the scene for wounds from the glass shrapnel as the police sprayed bullets just inches from her, killing him.
The Minnesota Bureau of Criminal Apprehension, which is the investigatory agency in this incident, stated on June 9 that they will not disclose the names of the deputies who killed Smith because they were working undercover. Officers at the incident taking part in the task force were from the Anoka, Hennepin and Ramsey County sheriff's offices, the Minnesota Department of Corrections, U.S. Immigration and Customs Enforcement, all led by the U.S. Marshals Service. It was in this statement that they mentioned they "recovered a handgun as well as spent cartridge cases from inside the driver's compartment."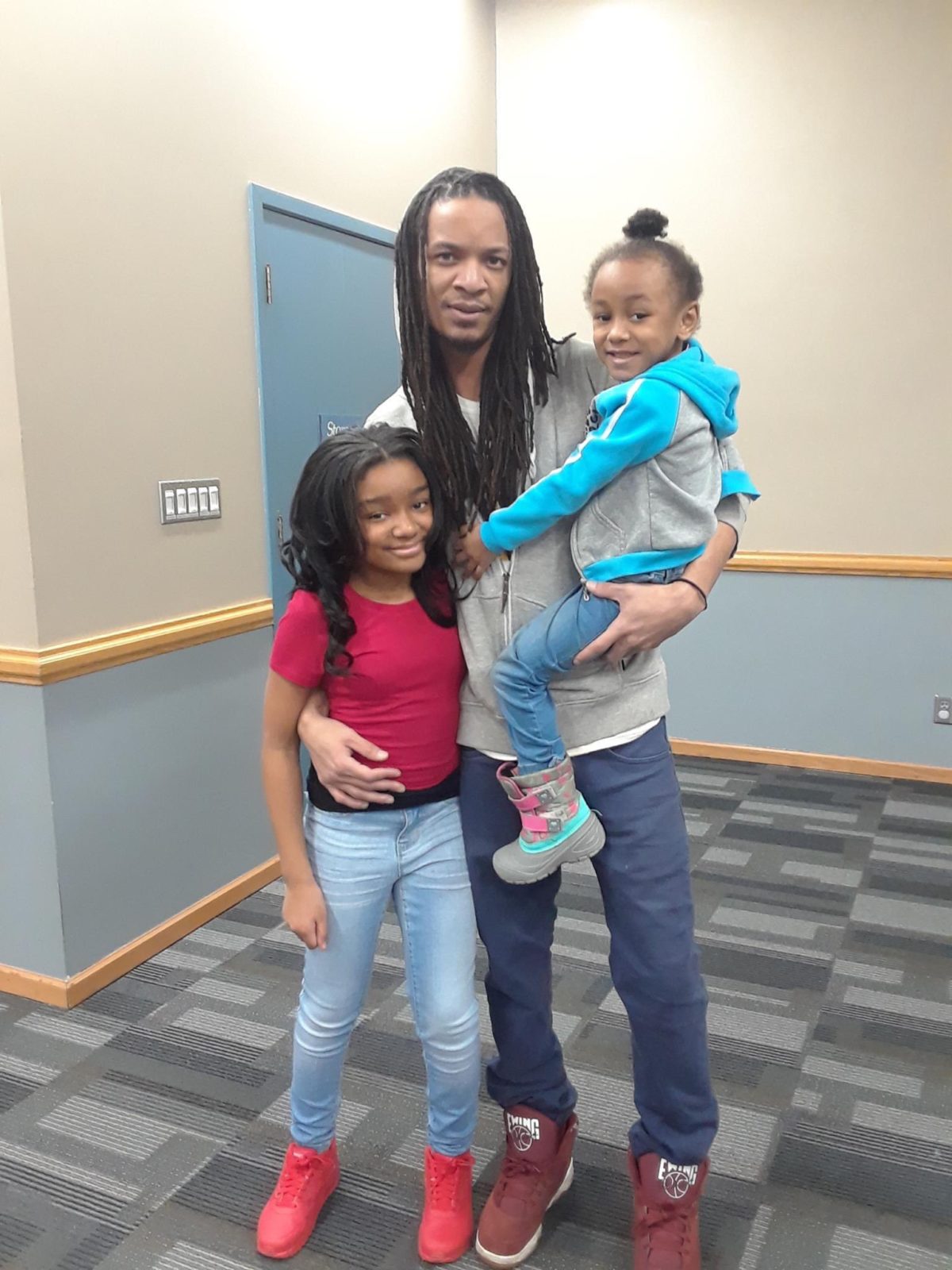 Smith's killing has further traumatized a grieving community still on edge after a recent string of deadly police interactions coming off of last summer's massive uprising triggered by the murder of George Floyd. This latest shooting has drawn comparisons to the evening sting operation at a Minneapolis gas station on December 30, 2020 where police killed 23-year-old Dolal Idd in front of dozens of people. The deadly federal ambush also happened as city officials were having a press conference downtown about the city's attempt to reopen George Floyd Square earlier that morning. Furthermore, a mere 53 days before Smith's killing, an unarmed Daunte Wright was murdered by police just 12 miles away, leading to intense clashes between protesters and police along widespread unrest and looting.
Many in the community and on social media are calling the killing an "assassination." A website has popped up at WinstonSmithWasAssassinated.com and the hashtag #WinstonSmithWasAssassinated has circulated on Twitter and Instagram hundreds of thousands of times (also the misspelled #WinstonSmithWasAssasinated).
Others on social media have drawn parallels between Smith's killing and the targeted police murder of Michael Reinoehl, a Portland antifascist shot killed by a federal task force without warning or attempting an arrest before opening fire — a killing which former President Trump seemed to indicate was extrajudicial: "I'll tell you something — that's the way it has to be. There has to be retribution," Trump said on an Fox News interview aired September 12, 2020, later adding at a rally that weekend, "The US Marshals did a great job in Portland. You know what I mean."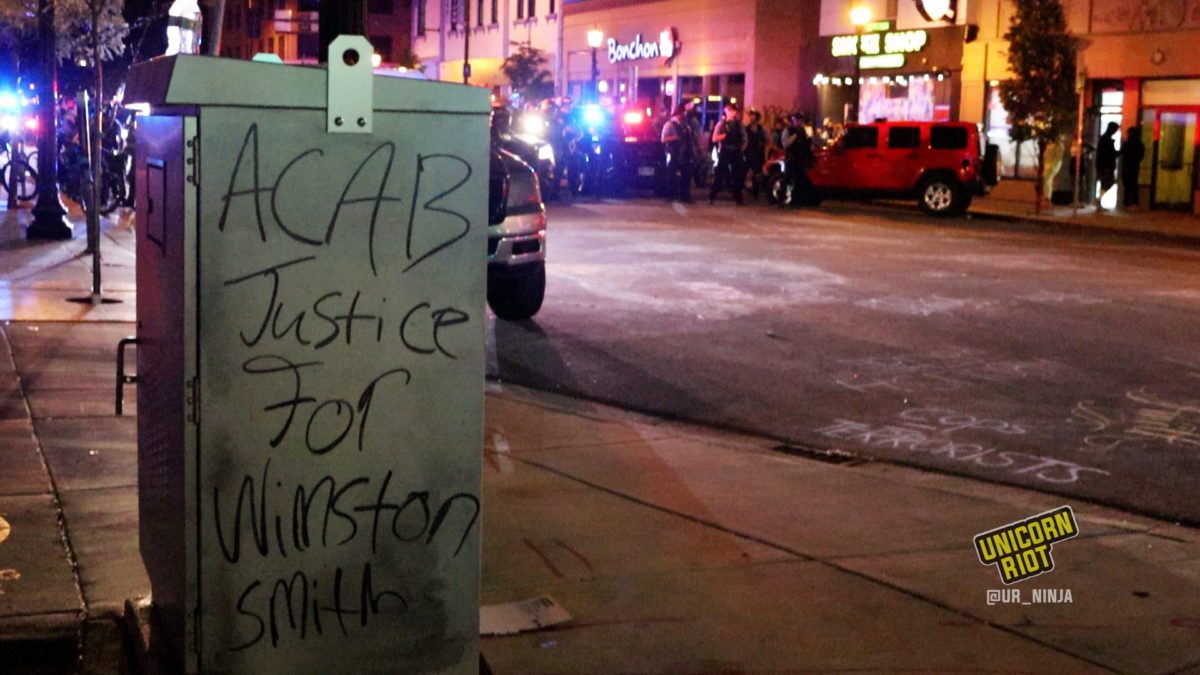 Uptown Protests after Police Killing
Nightly protests have occurred since June 3 when the killing happened in the parking ramp of what was once named Calhoun Square, on Lake Street and Girard in upscale Uptown Minneapolis.
During the evening and night of Smith's killing, fires were lit in the streets, police repressed protests, and corporate stores were vandalized and broken into. In the last week, people smashed corporate store windows, one protester had their head split open on the concrete by a police push, handfuls of others have been injured by officers, and dozens have been arrested. People in the area of the protest have been pulled out of their cars and beaten by police, had their tires slashed by officers, and their cars towed.
Crowds grew at the scene immediately after the mid-day killing. Some of them argued with police and confronted city-paid 'violence disruptors' who were telling protesters to go home. After the police cleared from the crime scene and nighttime fell, protesters blocked off Lake Street and a dumpster was set on fire. Caution tape from the police and sheriff's departments was taken down and strewn over the Girard Avenue street sign.
Unicorn Riot live streamed as the protest was broken up by heavy handed police tactics. A flurry of flashbang grenades were thrown at the crowd of around 75 protesters by CART (Chemical Agent Response Team) officers.
At least three people were arrested, two of them violently tackled and one having a hood or 'spit bag' placed over their head. Those two arrested were water protectors from Camp Migizi, a site of resistance against the Line 3 pipeline. They were both held in the Hennepin County jail for four days on a probable cause investigation and were released from jail on Monday morning (time served on the weekend does not count for the 36-hour probable cause holding time).
MPD is using spit hoods on arrestees again

(Graphic is from one of our older posts but explains the concept) pic.twitter.com/3rQ1zaWwTd

— Whittier Cop Watch (@whittcopwatch) June 4, 2021
Since last fall, police in Minneapolis have changed away from the policy of only wielding 'less-lethal' weaponry when responding to protests; MPD now typically responding to protests with live-fire rifles in hand, some equipped with green laser sights.
The green lasers were used on June 3 against protesters angry about the news of Winston Smith's death at the hands of the federal task force. When a group of protesters approached the police line that formed before the crowd was dispersed, an officer turned his laser on and pointed it at at least three people. That was the first time our reporters have seen police use lasers against protesters in Minneapolis in the last six years. (Protesters who have allegedly pointed laser pointers at police have been repeatedly arrested and charged.)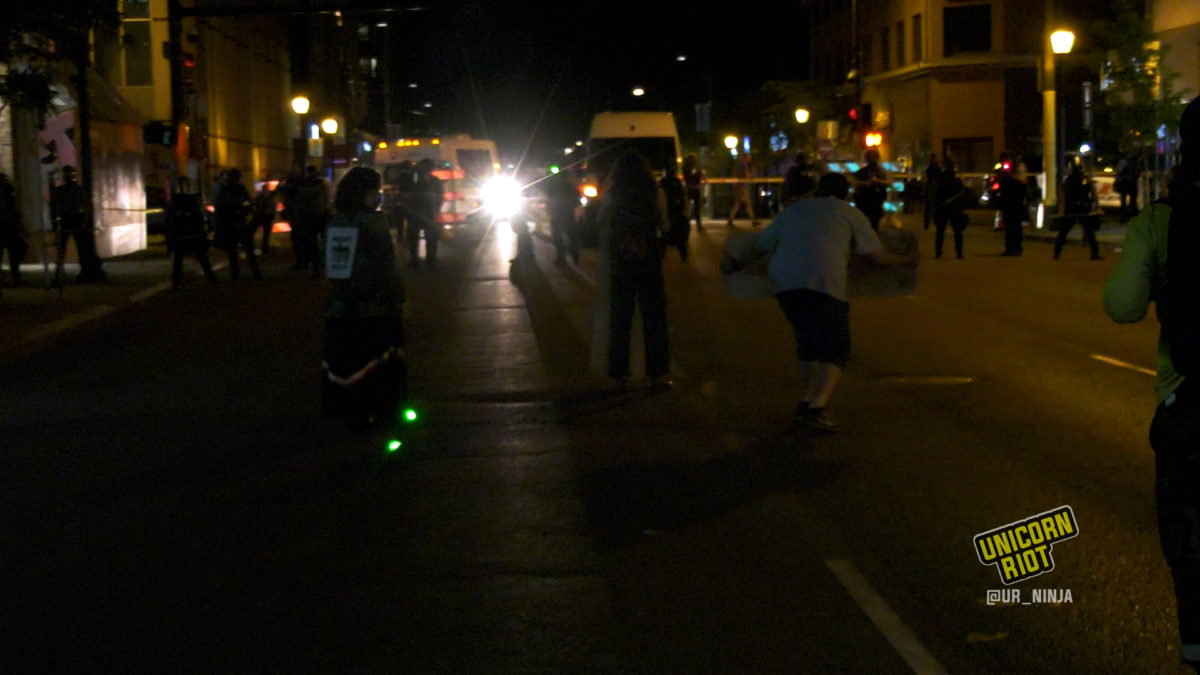 Police also shone their laser on a fight happening, separate from the protest, a few blocks from the site of the killing of Winston Smith.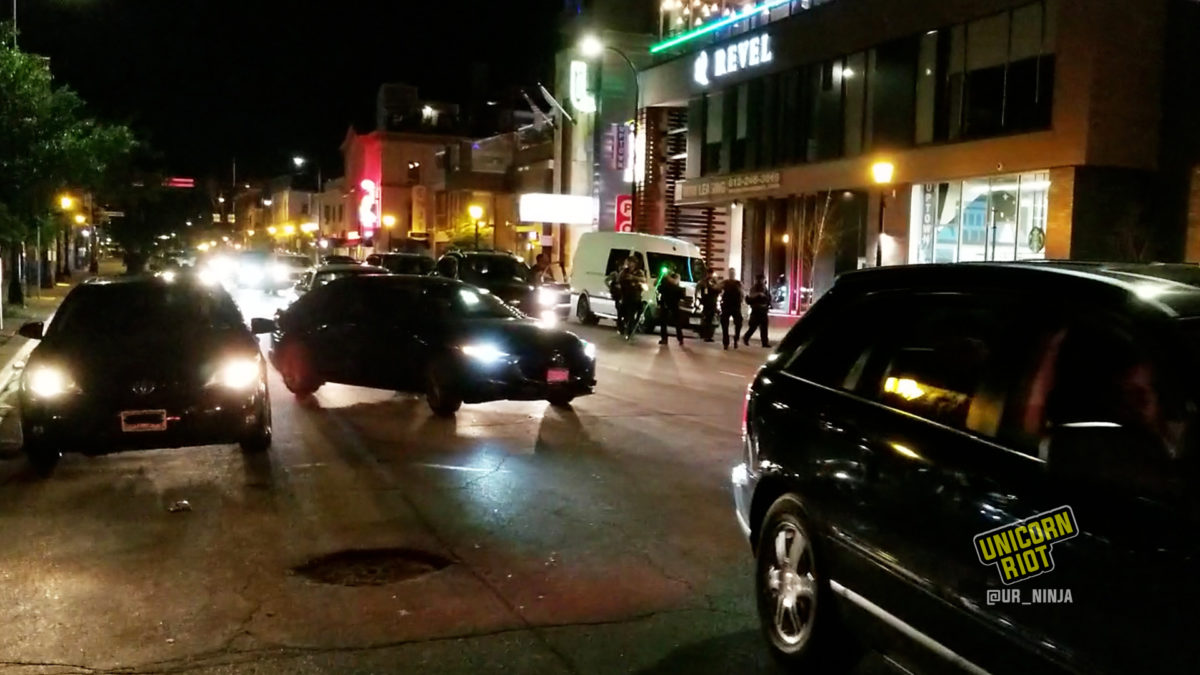 After police broke up the protest, around 100 masked youth descended on the upwardly-mobile neighborhood. In a game of cat and mouse with mobile police forces, the rowdy crowd smashed windows of corporate stores, taunted police and threw rocks at their vehicles.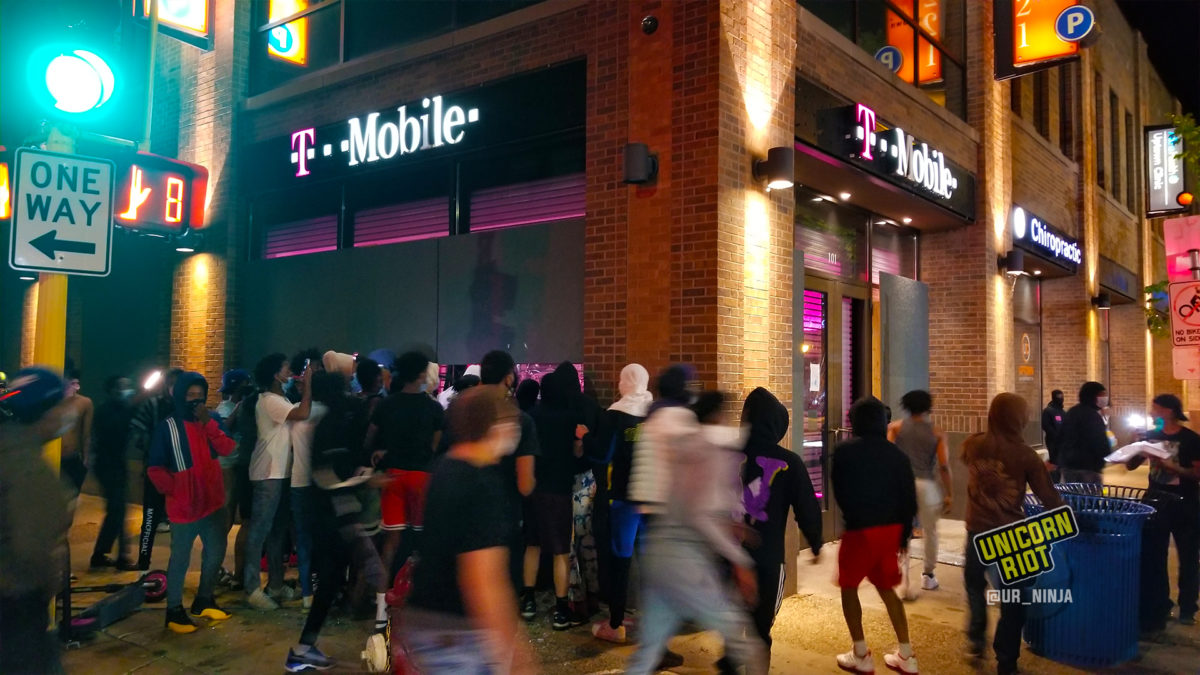 At one point around 2 a.m. a vehicle with a microphone and sound system parked on Lake St. near Colfax Ave. while Black Lives Matter Streets creator, Marcus X, rapped messages to the crowd sharing anti-police sentiment and calling for healing in traumatized Minneapolis communities.
Authorities killed Winston Smith on June 3 and after police cleared the night time protest, dozens of youth showed up in the streets of Uptown Minneapolis.

After several corporate stores had windows smashed & some arrests were made, many held an impromptu party on Lake & Colfax. pic.twitter.com/zgKxqSALZv

— Unicorn Riot (@UR_Ninja) June 4, 2021
Protests continued during the following week. Community members gathered on the street near the parking ramp where Smith was shot, and have been holding vigils on the sidewalk and at the spot where he died. Marches were held every night since the shooting, with the police presence growing larger each time.
Received 9:33pm pic.twitter.com/4fGXIkbg3L

— Whittier Cop Watch (@whittcopwatch) June 7, 2021
Protesters marched through uptown after gathering for the 4th day after the death of Winston Smith by MN police. Easily the largest police presence I've ever seen in Uptown. After the police left the crowd dwindled to around 20 who continue to hold space near Lake/Girard. pic.twitter.com/wBesD30b4q

— daviss (@daviss) June 7, 2021
The second day of the protests featured one of the more shocking police brutality incidents. As protesters were holding space on Lake St. near the site of the killing, a young woman had her head cracked open by police who knocked her to the ground as she was delivering pizzas to protesters.
Here is the video of the woman carrying pizzas being pushed over by bike cops, slowed down so we can see what happens. 😢 https://t.co/PegCwdYLFP pic.twitter.com/evEXOaQSzl

— coloring book (@coloring_book) June 5, 2021
The injured person pushed backwards by officers, falling into some debris and hitting her head on the concrete, where she fell unconscious and was left with blood dripping from her head as police continued to clear the street. She was brought to the hospital and is reportedly recovering.
Protests continue daily and have even gone to the house of Ramona Dohman, the head of the Minnesota division of U.S. Marshals Service.
Narrative Wars
In the immediate aftermath of the killing, corporate news agencies reported that Smith was a wanted "murder suspect" and was being sought by police. U.S. Marshals later announced they were after Smith because he was wanted for being a felon in possession of a firearm. Star Tribune, who ran with the false "murder suspect" claim, said that the misleading statement came from "sources". After letting misinformation linger online for five days, the Star Tribune removed a tweet "because it falsely reported" that Smith "was a murder suspect," blaming unverified police scanner chatter for their mistake.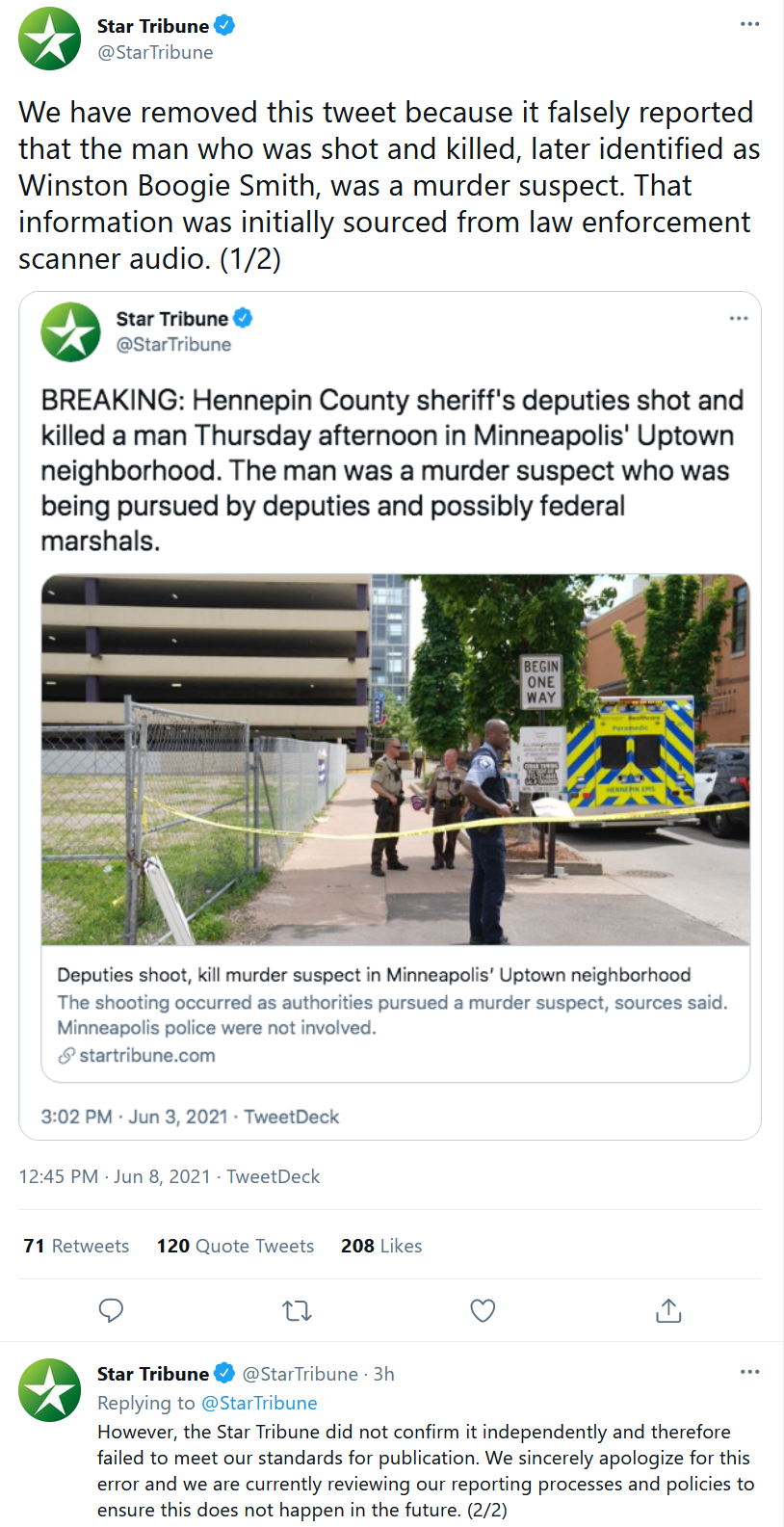 This practice of corporate news agencies running the police narrative in the immediate aftermath of a police killing is commonplace. Many families who've lost their loved ones to police terror have cited the news partnering with police to uncritically repeat officers' claims as a key tactic to negatively influence public perception to "cover up" killings. The officers' claims are usually sourced as anonymous, making it impossible for the audience to evaluate the credibility of these sources over time.
Winston Smith's family held a press conference the day after he was killed. Smith's mother, his three sisters and brother shared memories of their loved one and described, their sense of loss and disbelief and their desire to see justice after his death. See video of the press conference below from Black Press founder Georgia Fort:
View this post on Instagram
Adding more questions to the narrative was a June 10 press conference with attorneys of the witness who was with Smith when he was killed. In a statement by the attorneys, they asked the public to "respect her privacy and her desire to heal as she is recovering from this profound trauma" and stated she didn't see Smith with a gun, nor did she see one in the vehicle.
"She never saw a gun on Winston Smith and she never saw gun in the vehicle at any time."

– Racey Rodne, attorney for witness who was with Smith when he was killed
U.S. Marshals Pressured, Counties Pull Out of Task Force
Controversy over the federally-controlled North Star Fugitive Task Force erupted immediately after Smith's killing. Ramsey, Hennepin, and Anoka counties have since pulled their agencies from the task force over contentions about the non-use of body cameras.
Federal agents don't wear body cameras, and federally deputized sheriffs' deputies ("task force officers" or TFO's) aren't required to wear them. The Department of Justice put in place a body camera policy in October 2020 for implementation on task forces. U.S. Marshals began to phase-in the policy starting in February 2021 but the North Star Task Force has yet to implement the new approach.
Ramsey County Sheriff Bob Fletcher said that the U.S. Marshals have repeatedly denied requests for his deputies to be allowed to wear body cameras while working on the task force. After receiving a voicemail from the head of the U.S. Marshals in Minnesota, Ramona Dohman, on June 7 in which Dohman explained that allowing the use of body cameras "could take awhile" to be instilled, Fletcher pulled his deputies from the federal task force. The Sheriffs in Hennepin and Anoka counties also say they suspended their participation in the task force until they are allowed to wear body cameras.
During the killing of Smith by the unnamed deputies, authorities say that no officers were wearing cameras and none of the unmarked cars had dash cams.
"We want these cops to go to jail. They shot him execution-style. He was on a date in a public place. I want everybody, the sheriff's deputies, the U.S. Marshals, everybody that was involved in my brother's death, to be prosecuted."

– Kidale Smith, Winston Smith Jr.'s brother
Ramona Dohman is a former police officer and Trump-appointed head of the U.S. Marshals Service in the District of Minnesota. On June 8, local organizers from groups, including the Council on American Islamic Relations – Minnesota (CAIR-MN) and Black Lives Matter Minnesota, held a press conference calling for Dohman's resignation.
Dohman has been condemned by CAIR-MN "for the mishandling of the Winston Smith investigation and killing at the hands of the Northstar Taskforce" . Later, on the night of June 8, protesters went to Dohman's residence, demanding her resignation.
Activists calling for accountability in Smith's killing are looking at a type of case which has never been prosecuted in Minnesota before. Federally deputized law enforcement officers, such as the Hennepin and Ramsey deputies who shot Smith, are typically immune from state prosecutions while committing an alleged crime as part of a federal task force.
Winston Smith Jr.
Winston Smith Jr. is remembered by those who knew him as a loving father, a comedian, musician, and a revolutionary. He posted dozens of comedy skits on his social media pages., and shared his insights into social issues, protesting, the police, and legal issues he was facing. Smith's Instagram bio says: "Thanks for following me My name is Wince Me Boi! I do music, acting, comedy, and camera work. My main goal is to inspire the youth and mislead". His last two Instagram posts, from the day of his death and the day before, were media taken at Stella's Fish Cafe and the top of the parking ramp where we was killed.
In his posts, Smith was open about the fact that he was facing four years in prison over a gun charge, saying that it wasn't his gun, that wasn't being treated fairly and instead of sitting that four years in prison, he'd rather die.
"I was caught up in all this negative that I was going through, thinking about jail, all this time over my head dealing with this case. I'm stressing. I feel like I ain't got money I ain't got a lot of stuff that I need. I'm like, four years? I would rather die. So my mind is not right. I'm like I'm ready to die, you know what I'm sayin, for my freedom. Because I feel like they're not treating me fair, I feel like the situation is: it was just a gun somewhere around me and they want me to do four years because of that. I didn't have the gun. I didn't shoot nobody. I didn't kill nobody. There's no reason for me to go sit up for four years. So it's really eating me up."

– Winston Smith in an internet video
The thoughts Smith shared, revolving around one's 'freedom' from jail and feeling trapped, pressured, and stressed is a common theme of those who've been incarcerated, or are dealing with potential prison time from legal issues. Smith's honesty paints a portrait of the angst he was feeling in his last days.
Yet, in the midst of this distress, other posts by Smith are filled with humor. He posted a video showcasing an Oscar Mayer hot dog vehicle, faking being a DoorDash driver, and a comedy skit about PPP loans, amongst dozens of others.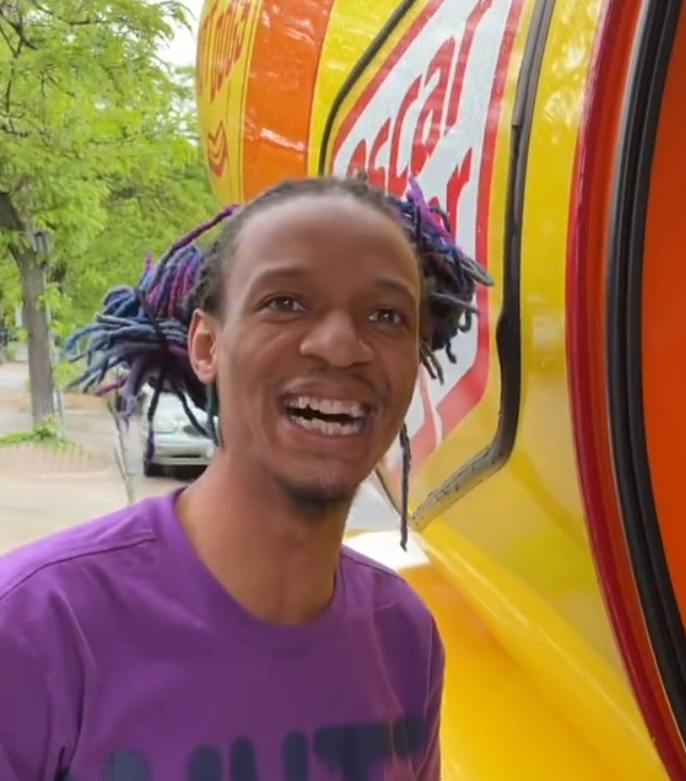 Smith also posted some brutally honest videos speaking about the current state of affairs on the topics of anti-Blackness, the police, and protesting.
I pulled this from 38thandchicagogfs on instagram. Here's the first part of the video above: pic.twitter.com/jbyXlYkGVg

— ☭💣 (@themsbian) June 4, 2021
Smith questioned the validity of non-violent protest tactics and asked why people are still "begging" for freedom from a government that continues to shoot them down and deny their rights.
"All this protesting shit, Y'all still coming with y'all 'hands up' saying y'all surrender. Beggin for y'all freedom. Asking for justice. Is y'all serious? Y'all serious? That's the plan? … Something wrong with y'all … When Martin Luther King was here, we had a million motherfuckers marching saying 'let's be peaceful' but now y'all still begging for your freedom and they still shooting y'all down."

– Winston Smith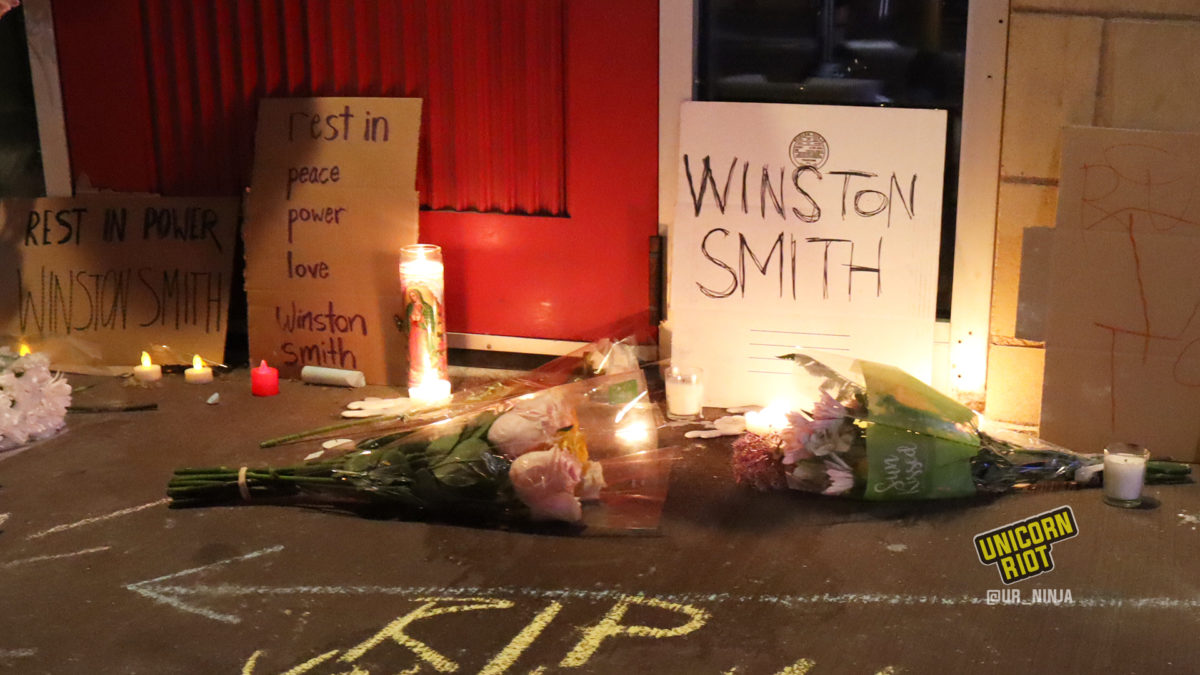 Law enforcement has yet to hold an official press conference explaining their federalized arrest attempt that ended fatally. Since George Floyd's murder last summer, federal law enforcement agencies have been called upon to help manage public safety and gun violence in the Twin Cities, but the evasiveness and lack of transparency from these agencies has raised questions about whether they can earn public trust. As far away as Orlando, the issue of body cameras is causing local law enforcement to pull out of a similar task force run by the U.S. Marshals. The Marshals are also using secretive surveillance technologies dubbed 'dirtboxes' on aircraft to intercept cell phone transmissions when pursuing fugitives; since these technologies are ostensibly not used in the process of investigating possible new crimes, they are under reduced oversight compared to other investigative agencies.
In a city wrought with state-sanctioned police terror and intra-community violence amidst the coronavirus pandemic and rising economic inequality, Smith's killing is another punch in the gut to many people tired of the trauma and looking for a positive change.
Smith's family has created a GoFundMe for funeral expenses as well as a fundraiser for his daughter, one of the three children left behind after his passing. In another development today, high-profile civil rights attorney Ben Crump's team is now representing the Smith family.
---
---
*[Correction: an early edition of this article said "They later claim they found the gun in the *glove* compartment." This was changed to "drivers compartment"]
Follow us on X (aka Twitter), Facebook, YouTube, Vimeo, Instagram, Mastodon, Threads, BlueSky and Patreon.
Unicorn Riot's Coverage of Winston Smith:
Please consider a tax-deductible donation to help sustain our horizontally-organized, non-profit media organization: