The End of Federal Abortion Protections Isn't the End of Abortion Access
Washington, D.C. – For the first time in United States history, the Supreme Court has revoked an individual constitutional right — repealing Roe v. Wade and cutting off federal abortion protections. As Kristin Hady with Abortion Access Front put it, Roe is "just the first domino to fall." Hady and her colleague Kat Green are angry about the decision, but were not surprised by it, and in fact, they and other abortion advocates have been ready for this moment.
"Both practical support funds and abortion funds and different advocacy groups have already been planning for this, it's not a surprise to any of them, and the best thing that people can do in terms of local mutual aid is to get connected with those organizations that exist."

Kat Green, Abortion Access Front
Robert McDuff, one of the lawyers representing Jackson Women's Health Organization in the lawsuit filed against the state of Mississippi in 2018, leading to the SCOTUS hearing and the subsequent decision, told Unicorn Riot he was also not surprised by the court's majority ruling.
While his colleague Julie Rikelman presented the oral arguments during the December 1, 2021 SCOTUS hearing, McDuff was in attendance and said he "left the day feeling like there was a significant chance there were gonna be five Justices who would vote to overrule Roe v. Wade in its entirety."
McDuff, who is a lawyer for the Mississippi Center for Justice, explained that Mississippi has a trigger ban and once MS Attorney General Lynn Fitch certifies that Roe. v. Wade has been overruled, a full ban goes into effect 10 days later (with the exceptions of rape or to save the life of the pregnant person). However up until the ten days after she certifies it, abortion is still legal in the state, but with a ban starting at 15 weeks of pregnancy.
"It's ironic that the case in which the Supreme Court overruled Roe v. Wade comes from Mississippi," McDuff told us. He said that poor people will be impacted by the repeal the most: "Mississippi is the poorest state in the union. It has the highest percentage of Black residents of any of the 50 states, [and] poverty disproportionately impacts people of color."
"So it's going to be extremely difficult for poor people in Mississippi and elsewhere to come up with the time and money to take off from work, to arrange childcare if they have children, to pay for a lengthy trip, and travel and accommodations to go out of state to have an abortion."

Robert McDuff, lawyer at Mississippi Center for Justice
The Jackson Women's Health Organization is the sole abortion clinic in Mississippi, and its owner, Diane Derzis, vowed at a news conference Friday afternoon that she'll keep it open as long as she can.
Yes, and according to Diane Derzis, (owner of) Jackson Women's Health Organization will be open for most days (excepting Sunday & perhaps one or two more days) in the next 10-day stretch. https://t.co/ZXt8ahgZkJ

— Pinkhouse Defenders Official (@phdefenders) June 24, 2022
According to Kristin Hady, the repeal of federal protections and the varying restrictions and bans from state to state "can cause a lot of confusion and misinformation, often intentionally to make patients not seek out abortion care." Hady underscored how for a lot of people, nothing has changed.
"I think that's an incredibly important message that we need to make sure to get out, like Ohio is obviously an abortion hostile state, but abortion is still legal here, nothing has changed. So for those states who still have abortion access, it's incredibly important to get that message out there."

Kristin Hady, Abortion Access Front
One state where things have changed dramatically is Texas. Even though the state has had a 6-week abortion ban since September 2021, Friday morning's decision effectively shut down abortion clinics and abortion funds.
Joanna Grossman, a Texas-based law professor and reproductive rights lawyer, told Unicorn Riot that even though she knew Roe's repeal was coming because of the argument during the hearing and the leaked opinion, "somehow to actually see it in print is shocking. And I think in a place like Texas, the aftermath is immediate." She went on to say that people who can become pregnant "went from having access to abortion to having zero access to abortion within the span of 10 minutes."
The reason Texas' full ban is already in effect is because TX Attorney General Ken Paxton wrote an advisory taking the position that pre-Roe laws banning abortion are now law again.
"What's more, some prosecutors may choose to immediately pursue criminal prosecutions based on violations of Texas abortion prohibitions predating Roe that were never repealed by the Texas Legislature."

TX Attorney General Ken Paxton
One of the pre-Roe Texas statutes targets anyone "furnishing the means" for an abortion. According to Grossman, this means all the abortion funds in Texas have also at least temporarily paused services.
In addition, Texas has a trigger ban that will go into effect in 30 days. The only exception in the trigger ban is if an abortion is necessary to save the life of the pregnant person or prevent serious bodily harm. Grossman noted that it can't be mental harm, only physical bodily harm. "It's a very narrowly drafted exception," she added.
Unicorn Riot asked Grossman if she thinks abortion providers and clinics will hold onto their buildings and spaces in hopes they'll get to use them again. She said she doesn't expect to know right away, but that there's really not a pathway for them to reopen.
"I mean the elimination of the constitutional right means the sort of normal response to a restrictive abortion law, which is to sue over the unconstitutionality, that doesn't exist anymore."

Joanna Grossman, law professor and reproductive rights lawyer
She said she believes many providers will go to other states and try to get licenses or recognition of reciprocity, so that they can help meet the demand that's going to fall on other states.
We asked her what happened if someone had an abortion appointment today in Texas: "It's cancelled," she said. "Yep, no, it's over, I mean it's just literally over. The whole thing is startling."
In states like Texas, even medical abortion (pill abortion) is illegal. However, that's not the case for every state with current or impending bans.
Green told us that even if abortions have become illegal in somebody's state, "there are practical support funds and many options for accessing abortion pills online."
Hady agreed, stating how abortion funds and practical support funds are going to be a huge part of our landscape coming up, and that they are trusted organizations. She continued, "And to avoid playing into the stigma of back-alley abortions, there are a lot of safe and trustworthy places out there to help manage your abortion that are very accessible."
As for who's behind the repeal of the 50-year-old decision, McDuff blames it on Donald Trump. He shared with us how "it's quite rare" for a president to have three appointees to the Supreme Court during a four-year term, a term that McDuff said Trump didn't "win a majority of the popular vote" for.
"He took the opportunity to fulfill a campaign promise in 2016 to get the support of evangelical voters. He filled the court's vacant seats with judges who were committed to overturning Roe v. Wade, and that's exactly what happened."

Robert McDuff
McDuff sees Trump's SCOTUS nominees as illegitimate because former President Barack Obama tried to nominate someone at the end of his term, but there was a lot of Republican pushback and it didn't pan out, but then "at the end of Trump's term, Justice Ginsburg died, and the Republicans rushed through Trump's appointment even though an election was coming up, so they could put Justice Barrett on the court to replace Justice Ginsburg."
Green and Hady also explained the "religious right" is behind the repeal and that Christian Nationalists are "coming for birth control, they're coming for gay marriage, they're coming for trans health rights, and everybody who is at risk is in this together."
Grossman expanded on the idea of the potential SCOTUS decision domino effect through highlighting how the primary argument used in the decision to repeal Roe was that abortion wasn't protected at the time the 14th Amendment was passed.
"Well that is also true of interracial marriage, that is also true of birth control, that is also true of sodomy, that is also true of same sex marriage. So they say in the majority opinion no other rights are in jeopardy, but the reasoning belies that."

Joanna Grossman
McDuff also sees the potential: "Justice Alito in his opinion and Justice Kavanaugh in his concurrence tried to say, 'Well, this doesn't necessarily impact other issues like birth control,' but the reasoning could be applied, and you know I think, I just don't trust the Supreme Court majority to preserve people's constitutional rights."
Even as someone who teaches law, Grossman told us she thinks there's "this sense in which we're teaching fiction." She explained that she and her fellow law professors are describing how the law works as if it's stable and consistent, but that the repeal of Roe "is basically saying that law is not at all fixed and there is no such thing as a settled principle and that it's just raw politics, and so whoever has the power, gets to make the rules."
"I think it's really hard to get our minds around how earth shattering this is. I think the ramifications are, some of them are predictable and some of them are not gonna be predictable. I think it's gonna be sort of watching the aftermath of a natural disaster because I think there's no way in which this can be contained or limited, it really is like pulling the rug out from something and just waiting to see what falls."

Joanna Grossman
For abortion advocates Hady and Green, they believe "we have to really link together in solidarity."
They are gonna come after every single one of us and that means uplifting and amplifying work in other related areas and other groups and learning to coexist and organize together, which is not a small endeavor.

Kristin Hady
To find out the status of your state and what restrictions or bans are currently in place, click here to see Planned Parenthood's interactive map, or click on the map below.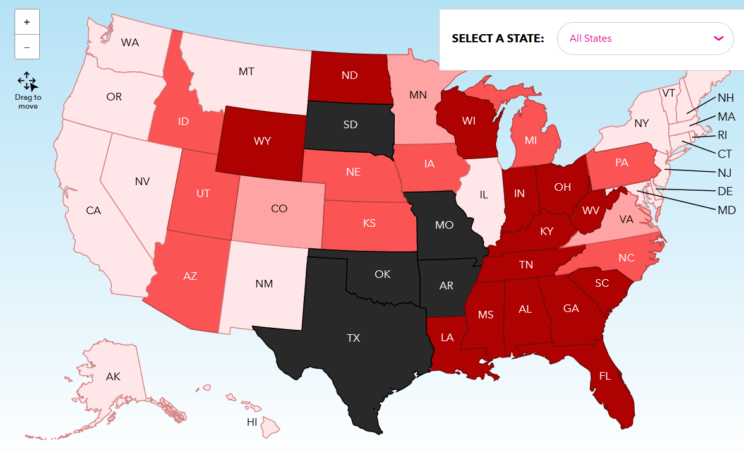 ---
Unicorn Riot's Coverage on Abortion and Reproductive Rights:
---
Follow us on Twitter (aka 'X'), Facebook, YouTube, Vimeo, Instagram, Mastodon, Threads, BlueSky and Patreon.
Please consider a tax-deductible donation to help sustain our horizontally-organized, non-profit media organization: