Richmond Abortion Rights Rally Highlights Intersections of SCOTUS Ruling
Richmond, VA – On July 8, hundreds gathered in Monroe Park of Richmond, Virginia for an abortion rights protest organized by Planned Parenthood Advocates of Virginia, ACLU Virginia, and Progress Virginia.
Lucy Hartman, organizing director for Planned Parenthood Advocates of Virginia, said that plans for this protest began a few days before the U.S. Supreme Court decision on Dobbs v. Jackson Women's Health Organization, but it wasn't until the Supreme Court decision was announced on June 24 that plans were set into motion.
"Our coordinators on Planned Parenthood side immediately reached out to ACLU, and Progress Virginia was in that conversation, too. So quite literally, Signal chats, messages back and forth the day of," said Hartman.
Just a minute shy of the scheduled start of the protest, five members of Students for Life, an anti-abortion organization based out of college campuses, stormed in front of the stage holding signs and banners. Immediately, abortion rights protesters blocked them out with signs of their own and began to play WAP by Cardi B over the PA system. As Richmond Police escorted Students for Life out of the park, protesters began laughing and singing them out. "Where are the rest of you?" shouted one protester, "Don't come back," said another.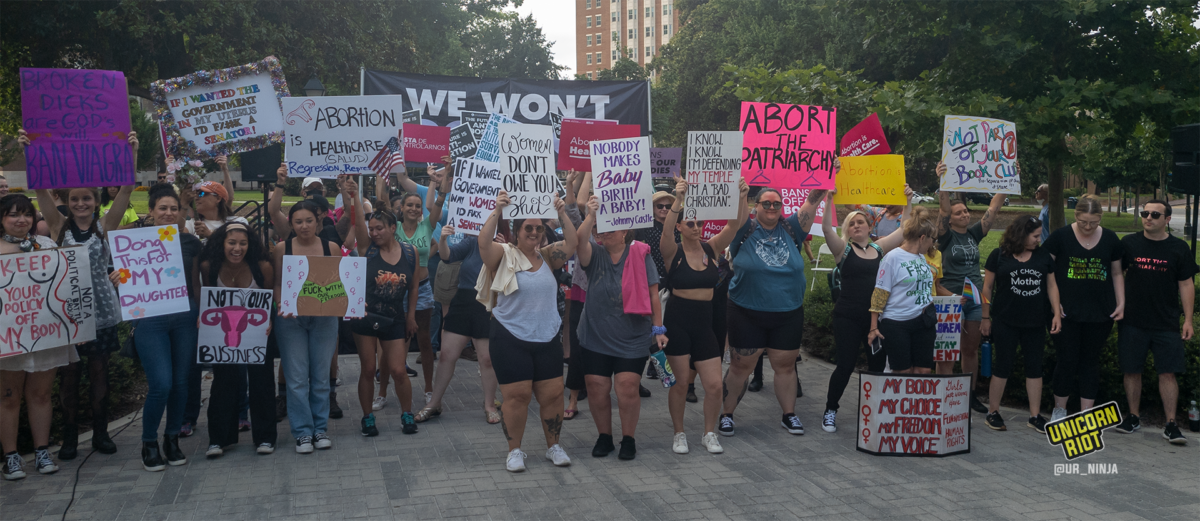 Delegate Danica Roem (D-Manassas) took the stage to emcee the protest. "As a transwoman who spent 13 years in Catholic Schools, I'm not the most likely person to be on this stage today, you might say. Here's the first thing, my transition is inherently dependent on reproductive freedom, on bodily autonomy, for me to be on the pill, for me to follow my doctor's orders, I have to have bodily autonomy, I have to have the freedom," said Roem to the crowd.
Besides access to abortion and reproductive health services, the Dobbs decision has major public healthcare, safety, and privacy implications, especially for queer people, low income individuals, and people of color.
Unicorn Riot interviewed Kat Green and Kristin Hady of Abortion Access Front on the day the Supreme Court published their decision. They explained that the "religious right" is behind the repeal and that Christian nationalists are "coming for birth control, they're coming for gay marriage, they're coming for trans health rights, and everybody who is at risk is in this together."
Joanna Grossman, a Texas-based law professor and reproductive rights lawyer, told Unicorn Riot how the primary argument used in the decision to repeal Roe was that abortion wasn't protected at the time the 14th Amendment was passed.
"Well that is also true of interracial marriage, that is also true of birth control, that is also true of sodomy, that is also true of same sex marriage. So they say in the majority opinion no other rights are in jeopardy, but the reasoning belies that."

Joanna Grossman
Even when federal abortion protections existed, not everyone had the same access to the medical procedure. Only four years after Roe v. Wade was passed, the Hyde Amendment eliminated all federal funding for abortion, with a few exceptions: if a physician finds the pregnant person's life would be endangered if the fetus were carried to term, or if the pregnancy stemmed from rape or incest. Therefore, Medicaid didn't cover abortions, so people without abortion-friendly insurance needed to pay at least $500 out of pocket, otherwise they couldn't access the healthcare they needed.
Hartman told Unicorn Riot that "immediate threat number one" to abortion rights access is Governor Glenn Youngkin (R). "His released statement after Roe v. Wade fell within—I want to say 13 minutes?—he announced officially that he wanted his votes from the Legislature to introduce a 15-week ban in the form of a bill. Then, off the record and leaked to the press, he followed that he wanted to abolish abortion altogether in Virginia," said Hartman.
In response to Youngkin's proposed legislative 15-week ban on abortion, protest canvassers distributed QR codes during the event with a link to register for a legislative lobby team meant to identify people who are interested in sharing their personal abortion experiences while testifying against potential anti-abortion bills introduced into the Virginia General Assembly. "In the immediate today, this is one opportunity for us to start mobilizing," said Hartman.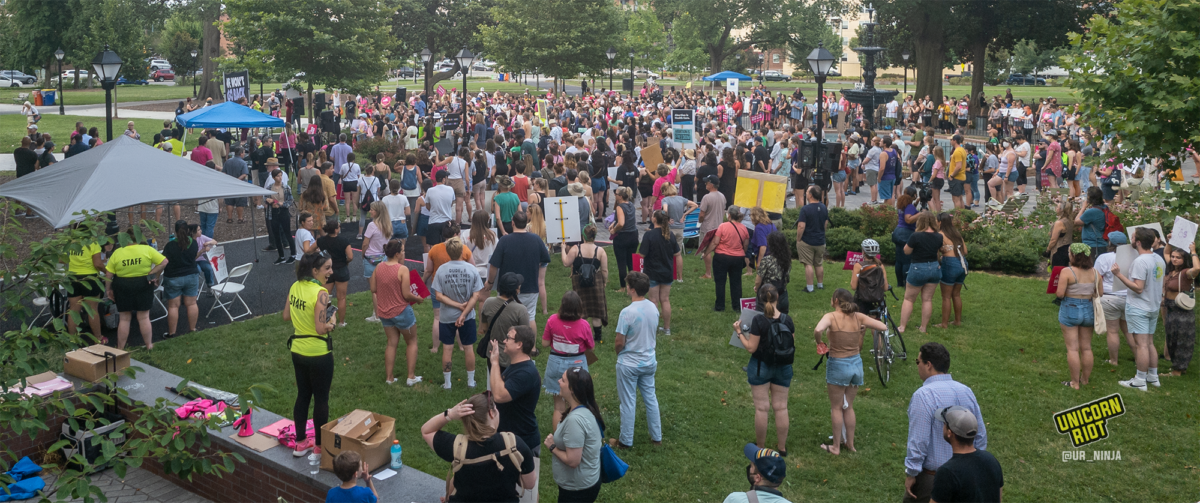 Delegate Don Scott (D-Portsmouth), the recently elected caucus minority leader, spoke to the crowd about maintaining the course of action on ensuring abortion rights remain accessible. "The energy you have now, you need to take it with you. This is a marathon, not a sprint. What happens is that we get excited, Trump's gone … but the ideals of Trump are still alive, he left behind a poison pill to make this thing happen in the Supreme Court. As an attorney I am very concerned. This is just the beginning, you need to understand that," Scott said.
Scott continued on with the implications of the Dobbs decision, specifically about Supreme Court Justice Clarence Thomas' call to examine all rulings related to the 14th Amendment right to privacy. "He said the rationale behind that decision is fatally flawed… If he gets the opportunity he is going to overturn the right to love one another in America, and when they do it, it will be immediately illegal in Virginia because it is already in our Constitution," said Scott.
In Thomas' concurring opinion (a Supreme Court opinion that agrees with the majority opinion, but not the rationale behind it), he stated "we should reconsider all of this Court's substantive due process precedents, including Griswold, Lawrence, and Obergefell." Those three Supreme Court cases correspondingly secure the rights to contraceptive access for married couples, the rights of queer sexual activity, and gay marriage. Excluded from his list was Loving v. Virginia, the only 14th Amendment case that relates to Thomas specifically, which protects the right to interracial marriage.
The Dobbs ruling has raised concerns about the rights of transgender people, which are not "deeply rooted" enough to be legally supported, Alabama's top attorney now argues. Days after the Supreme Court released its decision, the Alabama Attorney General's Office filed a 76-page brief invoking Dobbs to defend a ban on gender-affirming medical treatments for trans people. Alabama Attorney General Steve Marshall referred to the Dobbs majority opinion, which stated that a constitutional right to abortion was not established when the 14th Amendment was adopted: "The inescapable conclusion is that a right to abortion is not deeply rooted in the Nation's history and traditions."
The brief expands on this reasoning, "The Legislature determined that transitioning treatments in particular are too risky to authorize, so it is those treatments Plaintiffs must show the Constitution protects. But no one … has a right to transitioning treatments that is deeply rooted in our nation's history and tradition. The State can thus regulate or prohibit those interventions for children, even if an adult wants the drugs for his child."
Roem took the stage again to speak to the crowd about trans rights. "When you're trans what you do is: sometimes you don't take anything, sometimes you take some things, sometimes you have surgical options, sometimes you have mental health problems, sometimes you have a lot of goddamn things that's no one else's business, but your own," said Roem, as she opened two HRT (hormone replacement therapy) pill bottles and took her dose on stage.
The idea that abortion is not "rooted in the Nation's history and traditions" is misleading and erasing. When this nation was invaded by settlers who created colonies after forcefully removing and massacring many Indigenous people, the legality of abortion in each of the colonies depended on the stance of the European country which controlled it.
However, no matter the colony they lived in, many people could have legal abortions up until they felt the fetus move, or 'quicken,' which occurs between 16-25 weeks into pregnancy.
Abortion didn't become criminalized nationwide until about 100 years after the Declaration of Independence was signed, and it was banned partly out of fear that if white Protestant women (for whom legal abortion was most accessible) continued having abortions, America would fill up with "aliens." This theory was spread by the main proponent of outlawing abortion at the time, which wasn't conservative religious groups, but the American Medical Association (AMA).
The AMA also argued against abortion because they wanted the medical profession to remain male-dominated—if women couldn't have abortions, they had to stay at home to raise children.
"[Should our country] be filled by our own children or by those of aliens? This is a question our women must answer; upon their loins depends the future destiny of the nation."

Dr. Horatio Storer, an OB-GYN who was a leader in the AMA anti-abortion campaign
As protest attendees got ready to march a loop around Monroe Park, Delegate Danica Roem spoke with Unicorn Riot.
"What Virginia citizens can do to keep abortion access in Virginia is, Number 1, flip the House of Delegates from red to blue next year, Number 2, expand the Democratic majority in the state senate, and Number 3, is make sure you are actually participating, showing up for non-profit organizations especially that are providing this care, and as well as to just encourage people, destigmatize healthcare by talking and being active about it."

Danica Roem (D-Manassas)
Protesters marched around the park carrying their banners and signs while chanting. After approaching the side of the park bordering Belvedere Street, cars began signaling their support by honking; protesters cheered in unison.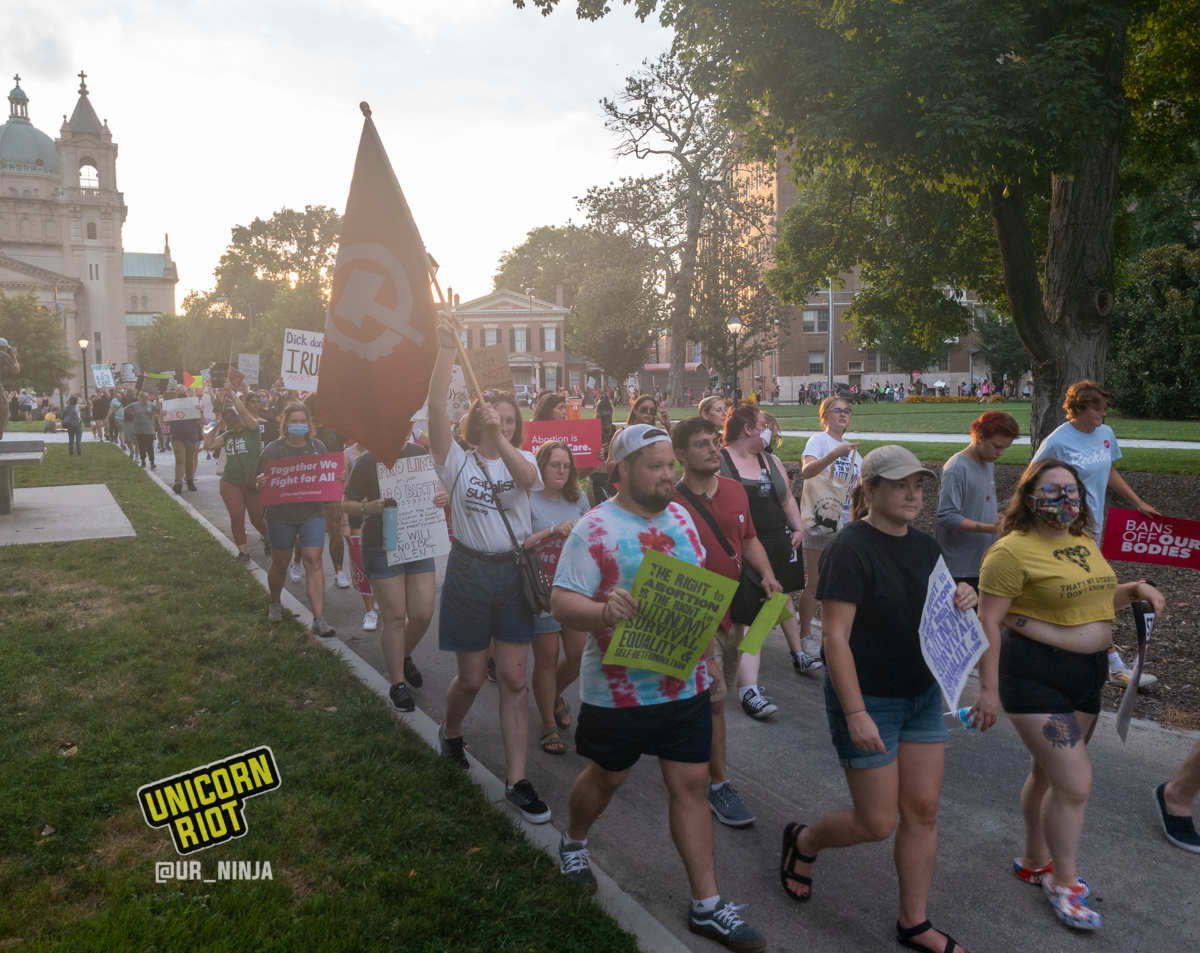 After the march around Monroe Park, attendees began mingling around the fountain in the center of the park. One anonymous individual with a megaphone put a foot on a chair beside the press stand and began calling out to the crowd.
"Now see, I'm not with Planned Parenthood actually, so I don't really got no control over this event, it's a beautiful event, shout out to Planned Parenthood, I'm not with them. If I walk, are y'all going to walk with me? If I march, are y'all going to march with me?" they said. The crowd cheered back. "Cause I got y'all back, do you got my back?" they asked. The crowd cheered back. "I want y'all to keep that energy!" they shouted back to the crowd. With that, the remainder of the protesters set out to march from Monroe Park up West Broad Street all the way to the Governor's Mansion and Capitol Square.
Leading out of the park onto Belvedere Street, protesters on bikes began to protect the marchers from oncoming traffic. Several of the more experienced protesters took the front of the march and led them in chants. As the march headed up the block, police came racing up the opposite side of the road to follow the protesters, blocking off the intersection to prevent more cars coming down Belvedere Street.
After the march had been on West Broad Street for a few minutes, police began to set a blockade up the street. Protesters stopped briefly to close the gaps amongst the marchers, as they prepared for a possible confrontation with the police. As they approached the line of police blocking the road, they were told to leave the street and take a sidewalk detour away from the Capitol building.
Many of the protesters in the street and bystanders on the sidewalk were agitated by the police presence, especially given the history of the Richmond Police Department's brutality during the Black Lives Matter protests of 2020. Several protesters asked the police if they brought tear gas this time, a reference to their usage of tear gas grenades to disperse a peaceful protest at the J.E.B. Stuart Monument in June 2020, and the subsequent federal lawsuit the department lost that led to them having to pay a settlement to their victims and publish a public retraction on Twitter on July 1 of this year.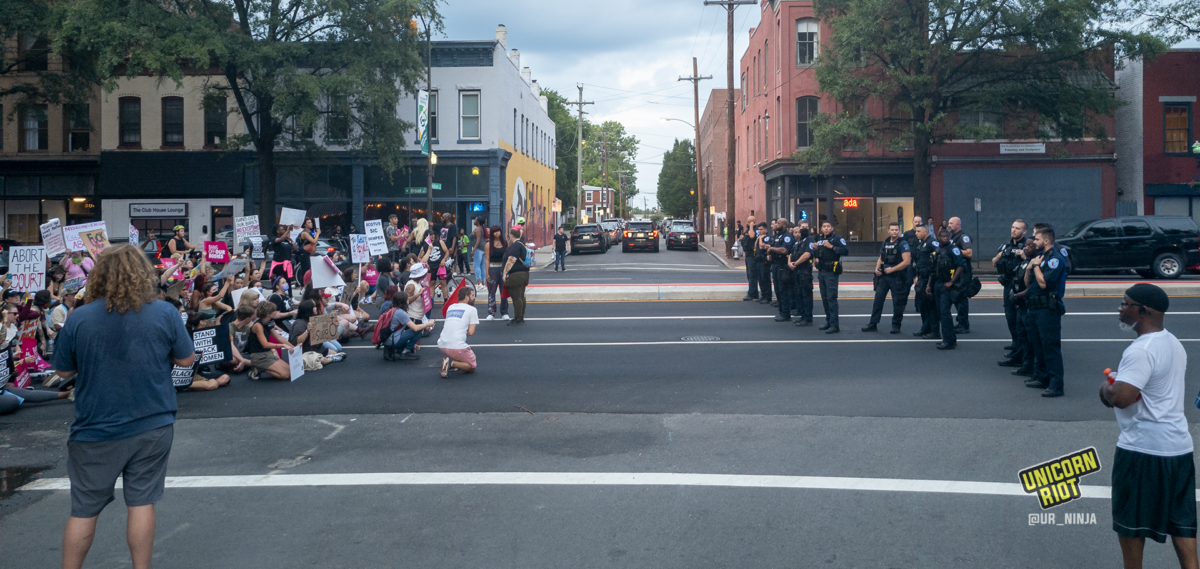 While more police showed up, protesters knelt in the road and continued chanting and holding up their signs, flags, and banners. After several tense minutes, the Richmond Police eventually allowed the marchers to pass their blockade, as some of them sped up the street to the Capitol Building and Governor's Mansion.
When the marchers finally arrived at the Governor's Mansion, they were presented by a large and recently erected fence that had been put up by local and Capitol police. One of the protesters with a megaphone spoke to the crowd, "They put a motherfucking fence here so we couldn't get to them. They put a motherfucking fence here just because we want to fucking yell! He's a motherfucking coward! Along with Joe Biden, along with Clarence Thomas!"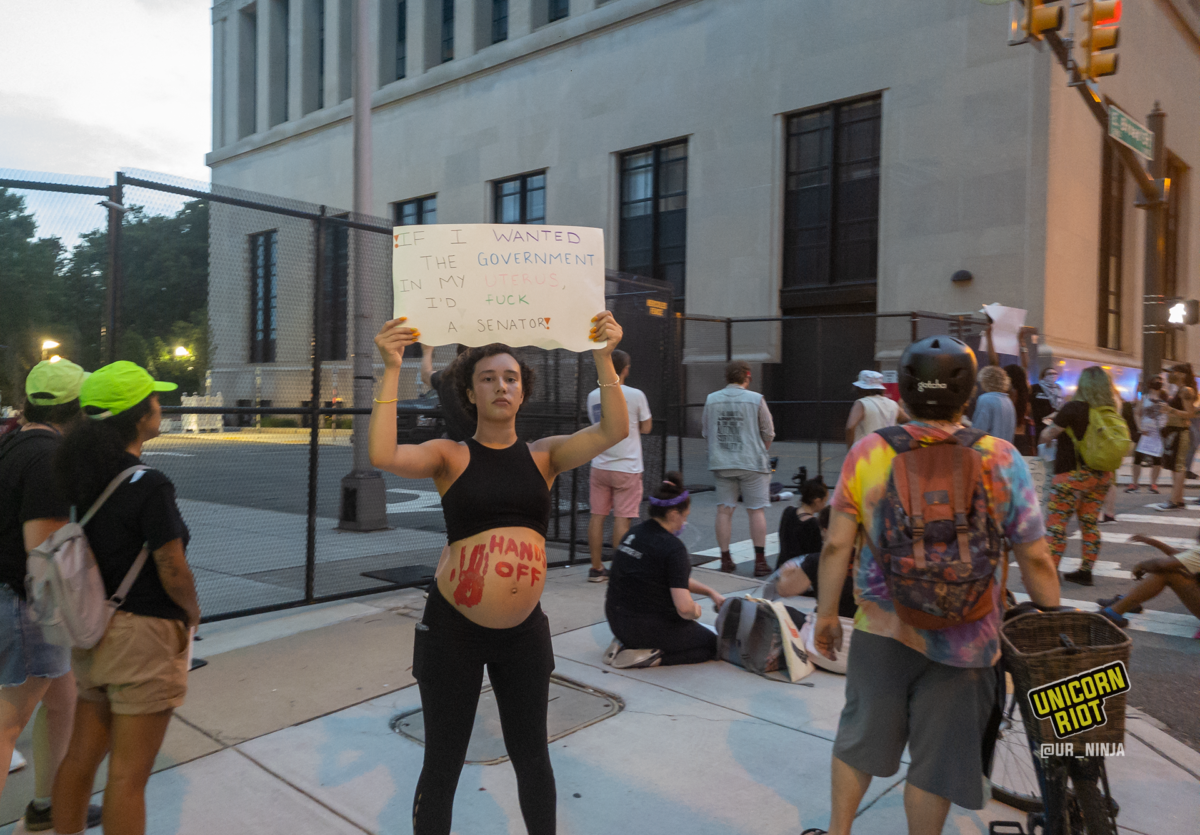 The crowd stayed huddled around the fence listening to one of the protesters over the megaphone, and they chanted and yelled, and displayed their signs and banners. After a time, police stopped redirecting traffic, and a slew of cars began driving by closely to the crowd, at which point they tightened their formation and began to march back to the park. Exhausted but still chanting, they walked back to Monroe Park, stopping periodically to ensure stragglers weren't left behind.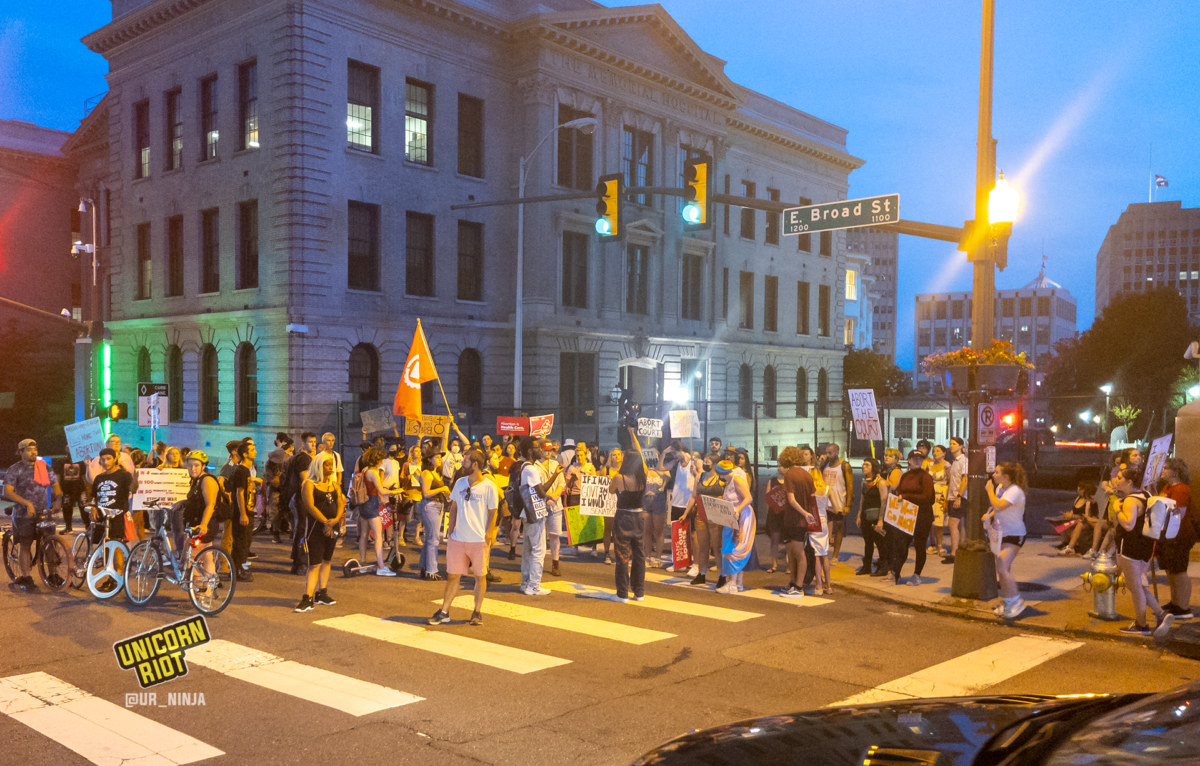 After the march, the anonymous individual who stirred the crowd spoke privately with Unicorn Riot about their motivation to lead the protesters down to the Governor's Mansion.
"For a while after I got an abortion last year, I dealt with depression because I felt like people would see me differently, they would judge me and look negatively upon me. When I heard about the Supreme Court decision and it was a bunch of people who have never had abortions that were trying to tell people who have gotten abortions … how they should feel about the choice they made for their body, that really pissed me off.

It's very sad and pathetic that politicians are consistently the opposite of what the American people want, because when we asked for something we expect them to do it, because they serve us, that is their job … if they call themselves public servants they need to serve."

Anonymous Protester
The protester continued: "I don't agree with lobbying your senators to solve issues. I think a lot of us have already tried lobbying our senators … I feel like a lot of us have been lobbying our senators for 50 plus years now looking for change to happen, and it's not going to happen. It's not going to just happen because you ask somebody politely to, if it could have happened like that they would have done it."
Burnout amongst protest organizers is a serious problem, said the anonymous protester, and that more people need to get involved.
"It needs to be the entire community making an effort, pushing for liberation for all people, and I mean all people, not just white women. It's not OK for them to just sit at home when people are making sacrifices on their behalf."

Anonymous Protester
Alex Binder of Unicorn Riot contributed to this report.
Jaume Plumb-Planas was born in Charlottesville, VA, and is an advocacy journalist, content creator, and activist. His family is from Catalonia and was active in the Catalan Culture revival movement after the end of the Falangist regime in Spain.
Unicorn Riot's Coverage on Abortion and Reproductive Rights:
Please consider a tax-deductible donation to help sustain our horizontally-organized, non-profit media organization: