Racism in Minnesota Schools Impacting Students and Educators
As students in Minneapolis Public Schools (MPS) end out the 2021-22 school year, we take a look at a few anti-Black and pro-police incidents which occurred in the Twin Cities metro area in the last years. These are only a few instances among dozens of reported racist acts within Minnesota schools.
MPS, one of Minnesota's biggest districts, serving ~35,000 students, has had a litany of issues in the recent years and has, for decades, ranked at the bottom of the country for racial disparities in high school graduation rates. In this last year, racism entered the equation during a teacher strike, a teacher who participated in a protest was fired and rehired, while numerous teachers were called out for using the 'N' word.
This report also looks at other recent incidents involving Minnesota schools, like when the Minnesota Police and Peace Officers Association (MPPOA) wrote to Governor Tim Walz because a Somali teacher read a book on racial justice to her fourth grade students.
---
2022 – A Principal Fired and the Community Behind Her
After the police killing of Amir Locke in February 2022, Minneapolis North High School students organized a sit-in to protest the police use of violence and particularly the use of a no-knock warrant. They demanded justice with the support of their friends, family, teachers, and Principal Maurie Friestleben, a bi-racial woman.
Principal Friestleben had helped inspire and encourage her students to practice non-violent direct action, and even volunteered to participate in the sit-in at Minneapolis City Hall on February 9. As a result of this, Friestleben was terminated from her position at North High.
In her initial response to the firing (see below), Friestleben spoke about the city hall action and said MPS had "strongly advised" her to not attend the sit-in.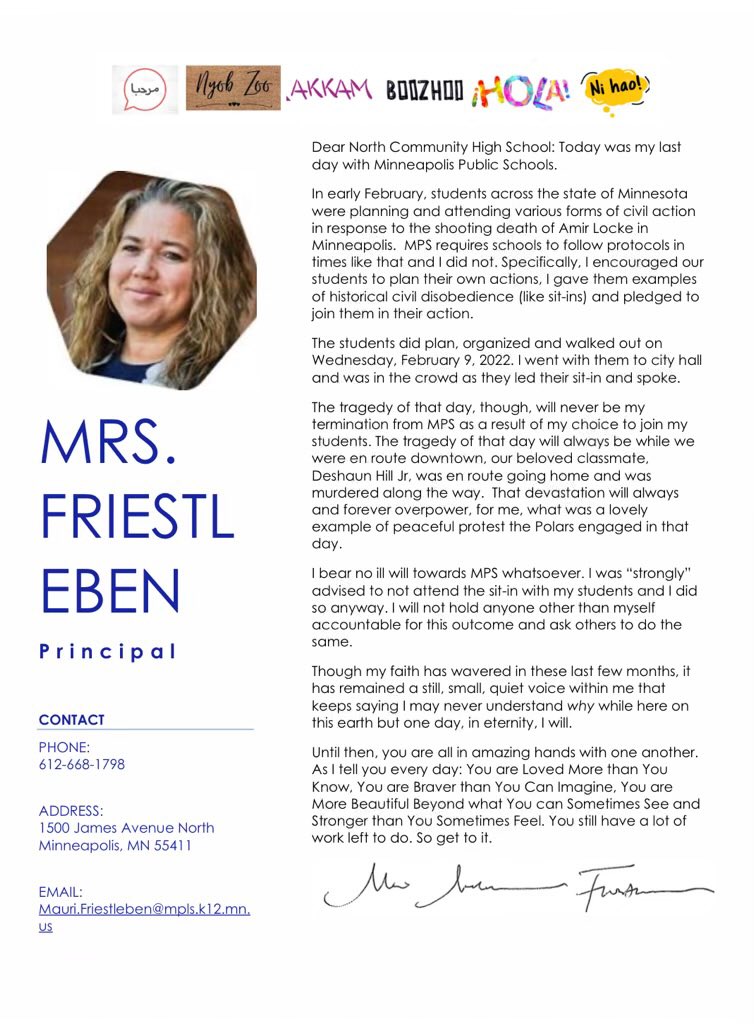 North High students and the social justice organization Minnesota Teen Activists reacted to the firing of their beloved principal with a planned walk-out.
As a result of them speaking out, shortly after their social media posts, Friestleben was reinstated as principal. The Minneapolis NAACP has called for an investigation on how the school district went about putting Friestleben on leave. NAACP President Cynthia Wilson stating the administration had "left the Black community high and dry" when firing Friestleben.
"You left the Black community high and dry. You left North High students high and dry. You left the Black parents and the parents of these students high and dry. And we need some answers to what happened.

We're feeling very uneasy. We're feeling disrespected. We feel like there was no transparency in this whole process."

Minneapolis NAACP President Cynthia Wilson to MPS
On May 22, 2022, MN Teen Activists issued a statement starting with "Hello Change-Makers!" and thanking the public for their "urgent support."
Organizations and community members continue to monitor Friestleben's position, observing whether or not she will stay at North High in the fall. An award winning documentary, 'Love Them First: Lessons From Lucy Laney Elementary,' follows Mauri Friestleben's journey of changing the fate of Lucy Laney Elementary just a few years ago.
---
2022 – Minneapolis Teacher Strike Presents Undertones of Discrimination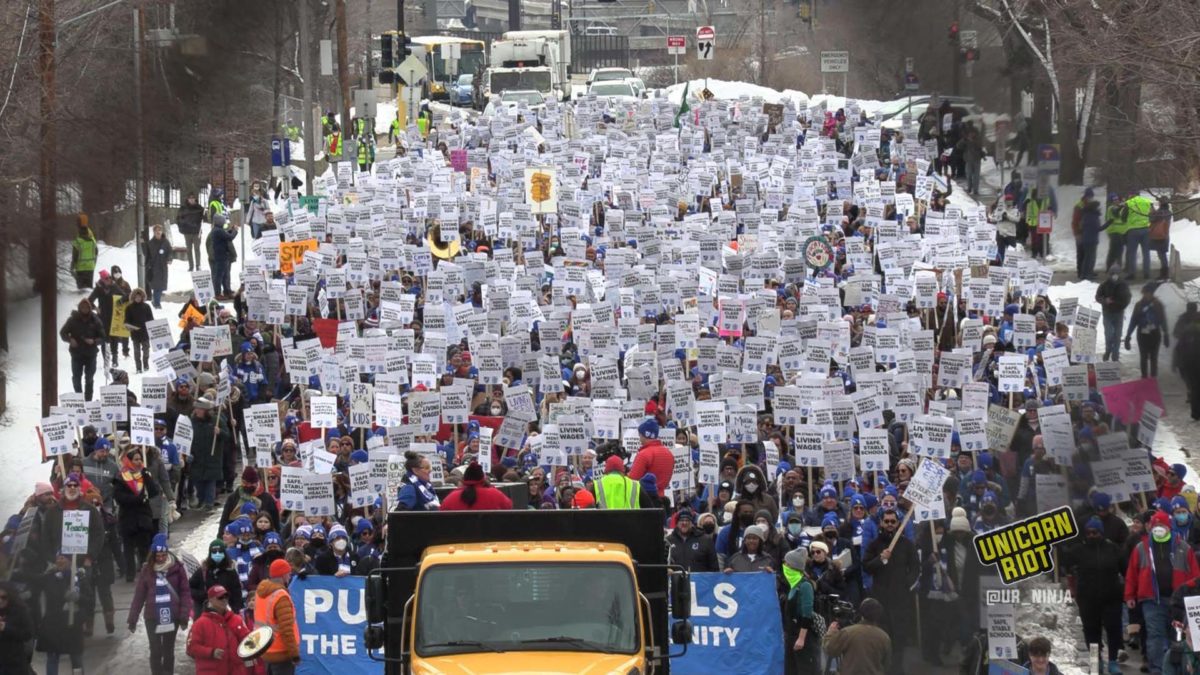 A teacher strike headed by the Minneapolis Federation of Teachers took place from March 8 to March 27 with a list of demands which included higher wages, smaller class sizes, and notably more protections for teachers of color. Even with the demands in the favor of the teachers of color, many say there were still some internal undertones of discrimination.
After a three-week strike, district officials announced a tentative deal with the union. But Patrick Henry High School English teacher Nafeesah Muhammad and her colleagues said the union had lied to them and had not taken their priorities seriously, leaving them exhausted, traumatized, and burned out.
Muhammad felt alienated at school and wanted to quit her job, but felt trapped between two predominantly white institutions, the school district (MPS) and the union. Muhammad, a Black educator, felt the need to fight for her students' education during the three-week strike. She knew her departure would affect her school community.
"We shouldn't have to separate being Black from our profession."

Nafeesah Muhammad
Researchers have developed a term for the extra work Black teachers do to support students of color, they call it an "invisible tax." Some Minneapolis teachers of color felt that tax had become intolerable. The teachers of color eventually won a layoff protection policy, but it came at a cost.
About 50 Minneapolis teachers of color have filed a formal grievance against the union president Greta Callahan, alleging "racialized harm" and "cruelties" during last month's teacher strike.
Muhammad felt conflicted about the union's strike. While she believed the union's priorities were important, she struggled to stand in solidarity with people she did not believe stood in solidarity with her.
Weeks before the strike, Nafeesah spoke to the Minneapolis School Board on February 10, 2022, about being a "tired Black parent educator" in a system that she said is toxic and exploitative and asked why the agreement for teachers of color was being delayed.
Henry teachers met with union leaders to discuss the policy to protect teachers of color, but the policy was taken off the table. For Muhammad, it was the final straw. She felt trapped between the union and school district leadership, and quit the union.
On March 8, the first day of the strike, teachers of color at Patrick Henry High School began organizing to demand retention protections for teachers of color and higher pay for support staff. They encountered resistance from union leadership and attended a press conference with the NAACP.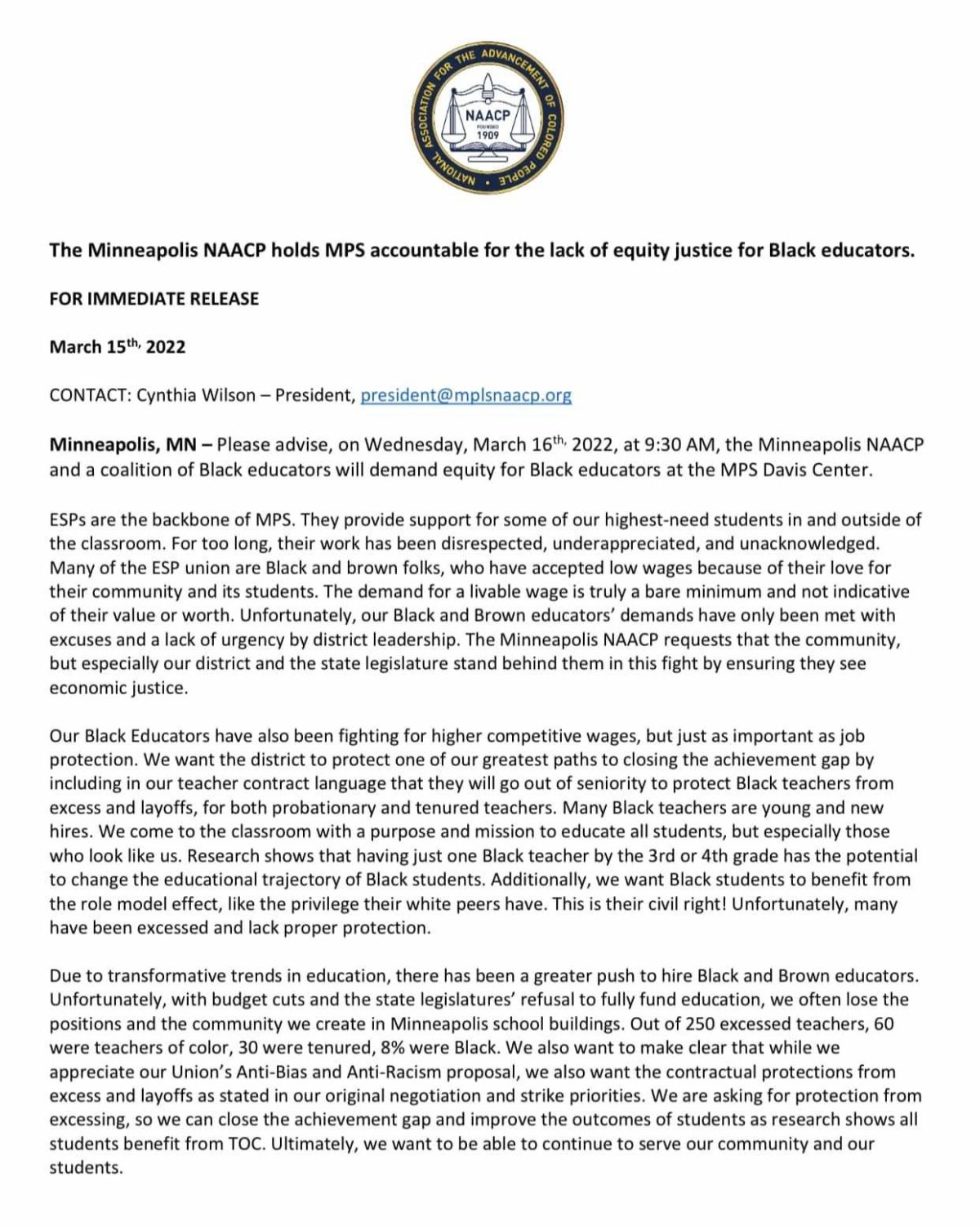 Muhammad took a week off after the strike to think about her decision, but then changed her mind and returned to teaching. Her students were texting and emailing her, saying they loved her and needed her back in the classroom. Her substitute teacher left a note praising her students for a thoughtful classroom discussion.
She announced her resignation after weeks of preparation, saying that she felt some hope from the success of the retention policy for teachers of color, and the news that the superintendent would be leaving the district.
Muhammad addressed her 11th grade English class on her first day back in class, wearing a green floral headscarf and matching green skirt, large hoop earrings, a nose ring, and a cowry shell necklace. Low-level high school chatter filled the room.
Muhammad felt happy to see her students, and told them they were worth more than $50 million. One student came up to take a granola bar out of Muhammad's totebag of snacks, and another student told Muhammad she missed her.
Though the agreement that ended the Minneapolis teacher strike gave certain prohibitions on firing educators of color, mainly think it's not enough. Among the first few questions asked to Shaun Laden, President of the ESP (education support professionals) chapter of Minneapolis Federation of Teachers 59 during a press conference announcing the end of the strike were revolving around Black educators.
---
2021 – Student Exposes Racist Teacher with Viral TikTok Video
Among numerous incidents linked to alleged racist teaching at Minneapolis Public Schools (MPS) in the recent years is an incident at Lake Harriet Community School exposed by a viral TikTok video that a student made calling out a teacher.
In response to the video made by an alumni of the Upper Lake Harriet Middle School and former MPS student, E op Ed (they/them), which describes their experience with racism in middle school, organizers and community members held a protest at the Minneapolis Public Schools Davis Center in September 2021.
In E's video they have a screenshot of Lake Harriet Community School with a caption, "My racist middle school," they then described their experience of being told "Black kids are not as smart as white kids," and being called the 'n' word while showing a photo of the teacher.
"The teacher that told me, 'Statistically black kids are not as smart as white kids and you are proving this to me.' for speaking during class.

They allowed other children to call me the 'n' word."

E, former student at Lake Harriet Community School, Upper Campus
In an article, E said that while attending class, a teacher was encouraging white students to say the 'n' word while reading Harper Lee's 1960 novel, 'To Kill A Mockingbird.'
"We were reading 'To Kill A Mockingbird,' and she (their teacher) actively encouraged non-black students to say the n-word aloud. I have heard from current students that she is still encouraging non-black children to use the n-word in class and has even laughed when they did."

E, former student at Lake Harriet Community School, Upper Campus
---
During the public protest, we spoke with E about the incident.
---
Interview with E
UR: Introduce yourself, what do you like to be called? (Pronouns included)
E: My name is E (Ethatsall on social media). I'm non-binary and my pronouns are they/ them.
UR: What is your experience with racism in the school system? (You can specify the Lake Harriet incident in depth)
E: When I was in 8th grade at Lake Harriet Middle School (a predominantly white middle school) and because I was speaking in class my Language Arts teacher, Deborah Hansen, told me in front of my class of white peers, "Black kids are not as smart as white kids and you are proving this to me." This is the same year we read 'To Kill A Mockingbird' and the same teacher encouraged students to read the n-word aloud. After telling my mom about what the teacher had said she went to the principal who did nothing and now claims he doesn't remember I made a TikTok regarding the racism I've experienced inside Minneapolis Public Schools and between now and when I posted that TikTok, current and former students of this teacher came forward about more incidents of racism/transphobia in her class — making nasty comments about a Black students hair, telling a Black student they couldn't read a poem about race because their peers "wouldn't care," threatening to deadname a trans student, and continuing to encourage nonblack students to read the n-word aloud and even laughing when they did. Not my experience but a Black student was also sold a Nerf gun by a white student the year that I went to Lake Harriet and was expelled while the white student got to stay.
UR: What are steps you have taken to make a difference with this issue?
E: I've been to a school board meeting, participated in a protest for literacy, as well as a protest against the teacher and we will be planning another one as she recently started at Patrick Henry High School, a school with many more students of color.
UR: I heard you have a possible testimony, what message would you like to send?
E: I'd like mainly that racism and microaggressions in MPS be documented and dealt with instead of ignored as well as the teacher to be fired as her behavior hasn't stopped since I was in 8th grade.
UR: How has the TikTok video affected you positively/negatively?
E: One positive thing to come out of this is realizing that I have a voice and the support of the community when I didn't feel like that as a 13-year-old in Deborah's class. But there were a lot of her current students that found the TikTok and kind of harassed me on social media which was really stressful. I also heard from current students in her class who had seen her racism first hand that she was saying, that I was lying, a troubled child, and even making jokes about the situation and even allowed posters to be hung up around the school with my username saying that I was lying.
UR: Any closing remarks?
E: Treat your students of color with love and kindness, racism is not funny or tolerable and especially not in a space where children are learning.
---
2021 – Fire Racist Teachers Action at MPS
Spurred by E's video, about 20 organizers met at MPS headquarters on September 14, 2021, to testify on injustices experienced in the MPS school system.
The organizers demanded that MPS come up with an evidence-based literacy plan. They argue that "Over half of MPS 1st graders do not know letters and letter sounds. The statistics are worse when broken down by race and class," via Fire Racist Teachers At Minneapolis Public Schools Facebook event page.
While at MPS, we spoke with one of the main organizers of the protest, Khulia Pringle, who's also the Midwest Regional Organizer for the National Parent's Union. Pringle spoke about supporting E and racism in the school district.
---
2020 – Teacher of the Year Award Goes to Teacher Criticized by Police Association for Reading About Racial Justice
On November 18, 2020, Qorsho Hassan, the first Somali American to win Minnesota's 2020 Teacher of the Year award caught a bout of criticism from students' parents and police officers about a particular book she was showing to her class. Hassan works in the Rosemount-Apple Valley-Eagan district (ISD 196) as a fourth-grade teacher at Echo Park Elementary School of Leadership, Engineering and Technology.
The book is called 'Something Happened In Our Town: A Child's Story About Racial Justice', an award-winning children's book written by psychologists with expertise in therapeutic stories. The book features diverse characters and encompasses a story of a police killing of a Black man in their community and has a stamp of approval from the American Psychological Association.
Hassan engages the classroom with this book and gets a dialogue going about racism and trauma. In a time where the Covid pandemic is raging, and with the recent killing of George Floyd, many say that a way to process these stressful and traumatic events is needed.
"The book does a really wonderful job of discussing racial injustice in kid terms.

Young kids are ready for these conversations. It's oftentimes adults are scared and unprepared."

Qorsho Hassan
A student's parent shared the book assignment with a friend who identifies as a police officer in Bloomington. The officer created a Facebook post condemning the book's use in District 196, saying that the book could teach young children to fear the police. The post was published on October 29, 2020, and drew nationwide comments.
Shortly after the post, the Minnesota Police and Peace Officers Association issued a statement expressing deep disapproval of the classroom assignment. They also criticized Governor Walz for having the book as a resource on the Department of Education and Health websites. Mentioning the Echo Park Elementary fourth grade class, the police association requested that the book be taken down.
"Language in this book leaves the impression unchecked that police officers routinely pull over, arrest, and kill black people without consequence," said the statement from the police association's Executive Director Brian Peters. "It says cops are 'mean to black people' or 'shot them because they were black' or police officers 'stick up for each other to help police officers get away with doing bad things. This book encourages children to fear police officers as unfair, violent, and racist."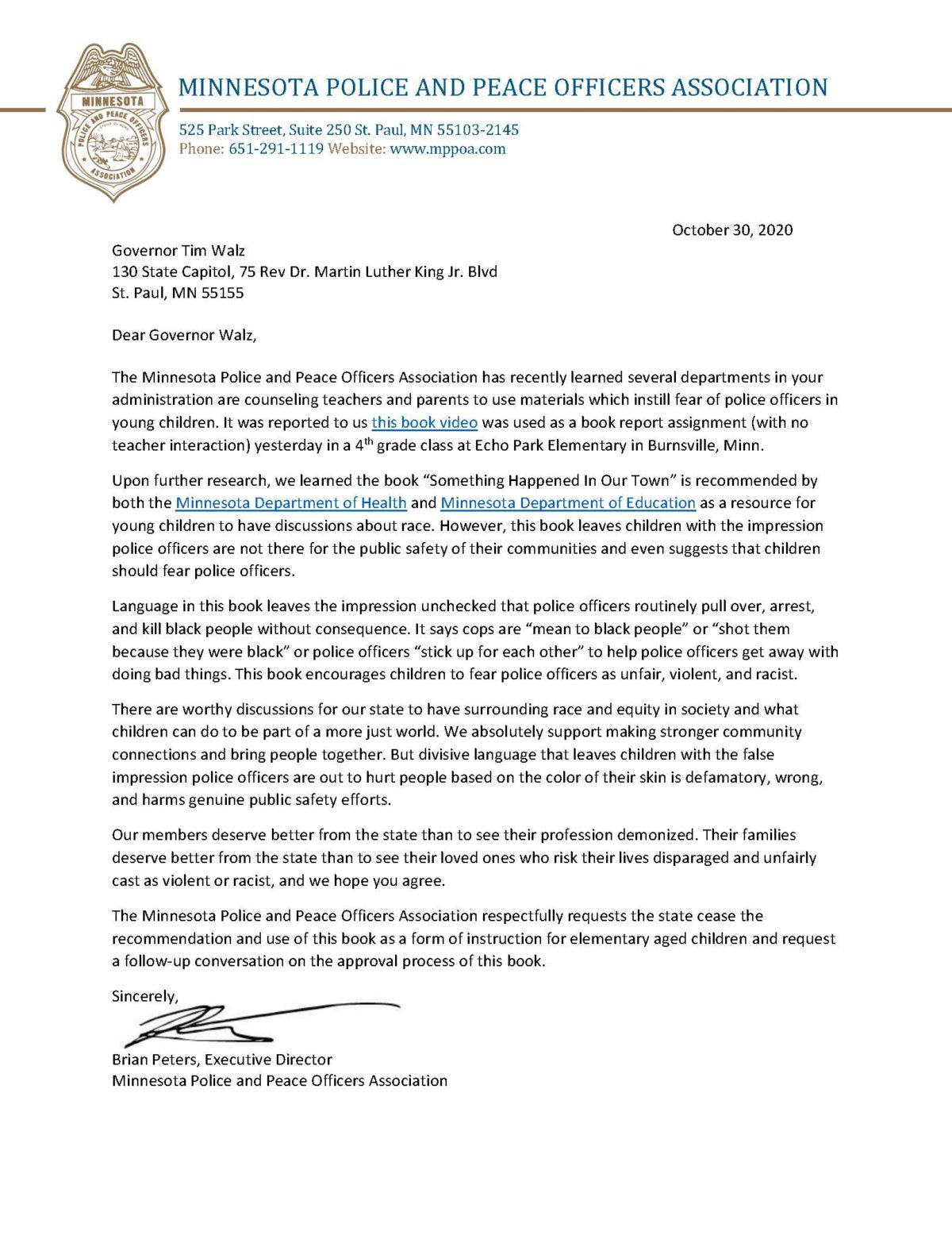 Hassan said the officers' words were a distorted characterization of the book in response to the police officers' statement.
"They chose to grab certain sentences to make it look like I was teaching my students to hate cops," Hassan said to the Sahan Journal. "What I was doing is I was validating my students' fear of cops that's real and that I also have. But also making sure that they're aware that police respond and interact with people differently based on how they look and how they talk. And that needs to be something that we talk about at schools."
A right-wing blog mentioned her name directly, inquiring if the 2020 Minnesota Teacher of the Year is teaching children to hate police. Hassan said that the district was not very transparent or supportive of her, instead escorting her out of the school and was ambiguous about next steps following the controversy.
On the other hand, the state Department of Education supported Hassan and their choice to recommend the book. Dakota County United Educators (DCUE) also provided support in the form of an email to the teacher's union members.
Teachers, parents, students and other local community members came together to rally in support of Qorsho:
Since then, Hassan continues to work at Echo Park Elementary and went to the White House as part of a presidential ceremony to honor teachers of the year from across the country in October of 2021.
---
2019 – St. Paul Teacher Recorded Using 'N' Word
A few years ago in St. Paul, a parent of a Highland Park student took a video of a teacher who was seen speaking to a group of five other teachers. The teacher was identified as Wendy Brilowski. She was hired in 2013 and taught Spanish at the school. She appeared to say:
"I just walk around the room … (unintelligible) just pick on them. They're black. And they're the only (expletive) (n-word) doing any work."
It's been reported that she had sent one of the students out of her class which prompted her to speak to her colleagues when she commented.
After seeing the video, the district put the teacher on paid leave, and posted a message from Superintendent Joe Gothard while they reviewed the incident:
"No matter the situation, the racist and foul language used by a staff member in the video has no place in St. Paul Public Schools," Gothard wrote. "We will work to understand what happened and take immediate, aggressive action to address this situation."
"Following this incident, we have a lot of work to do to repair harm and rebuild trust with our students and our community. We take that responsibility seriously. We offer a sincere apology for the actions that took place in our building on Wednesday."

Superintendent Joe Gothard
Wendy Brilowski has since resigned, and her profile was wiped from the St. Paul Public Schools website.
Aside from the few incidents noted in this report, racist microaggressions and blatant racist acts are continuing to permeate through urban Minnesota school districts, impacting the community, teachers, and most importantly the youth. Despite a renewed resistance in a region that spawned the largest protests in history against anti-Black racism in 2020, white supremacy continues its negative impacts on the next generation.
Niko Georgiades of Unicorn Riot contributed to this report.
---
Unicorn Riot coverage of the Minneapolis Teacher Strike 2022:
Follow us on X (aka Twitter), Facebook, YouTube, Vimeo, Instagram, Mastodon, Threads, BlueSky and Patreon.
Please consider a tax-deductible donation to help sustain our horizontally-organized, non-profit media organization: