Black Storytellers Festival Continues with Heavy Hearts as Matriarch Passes
Minneapolis, MN — The thirty third iteration of the Black Master Storytellers Festival continued this year with heavy hearts after losing two master storytellers, including the matriarch of the festival, in 2023. Six months ago in March, Mrs. Beverly Cottman passed while visiting Egypt and in September, Mrs. Nothando Zulu transitioned.
BSA's 33rd annual "Signifyin' & Testifyin'" Black Master Storytellers Festival, was a three-day event spanning Thursday, Sept. 28 until Saturday, Sept. 30. This year's theme was, "Folklore. Folktales. Folk Wisdom: Stories That Transform." Each night during the festival at 6:30 p.m. Black master storytellers from across the world shared Black stories to the public for free. Thursday night's opening ceremony was held at Perpich Center for Arts, Friday's Liars Content was held at the Capri Theater and Saturday night's Grand Finale was held at the Hennepin Theatre Trust in downtown Minneapolis.
Watch the full video of the Grand Finale below and in 4K YouTube below and in 1080 on Vimeo. Since 2016, Unicorn Riot has covered the festival several times, see our past coverage further down in the article.
---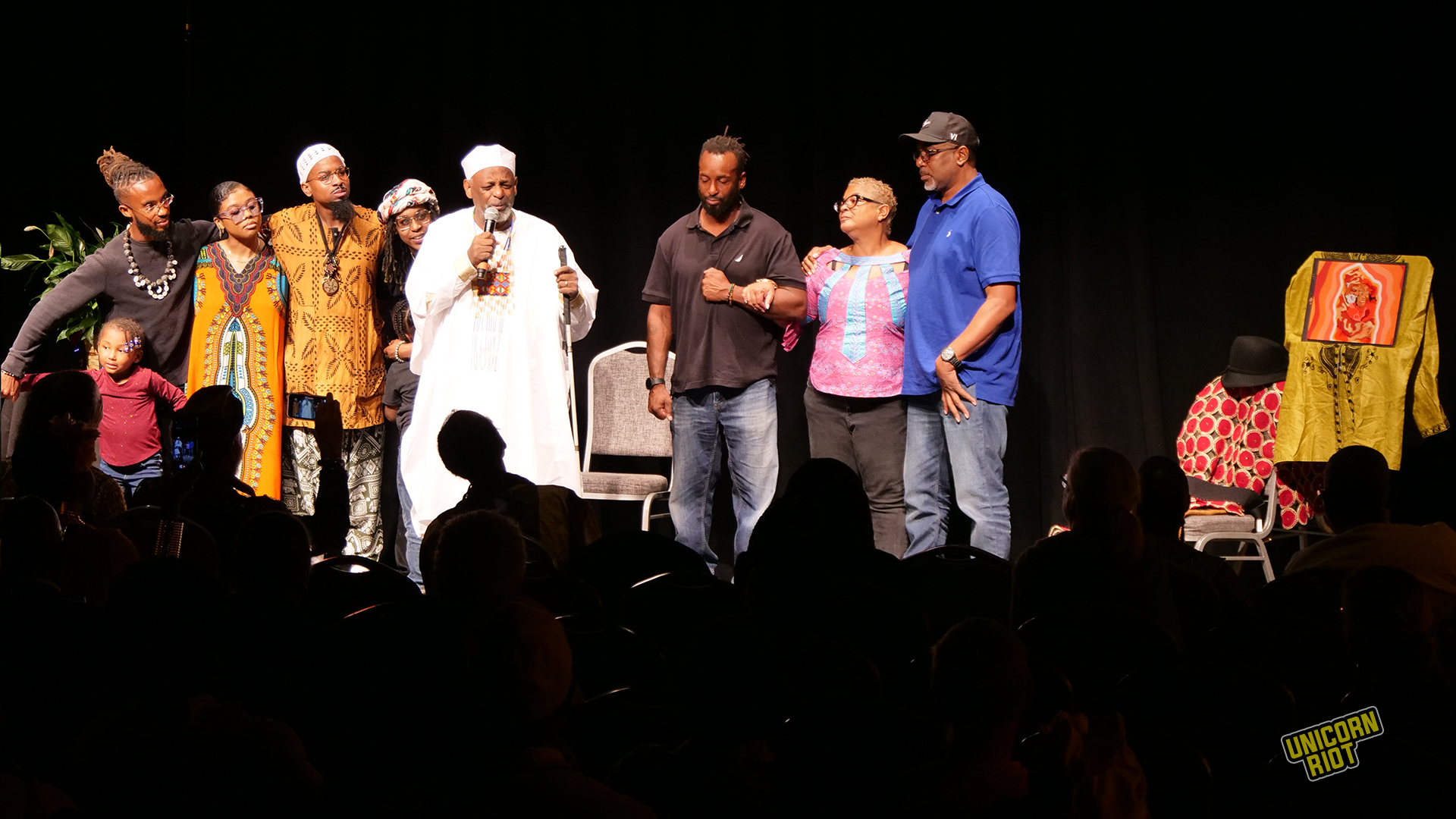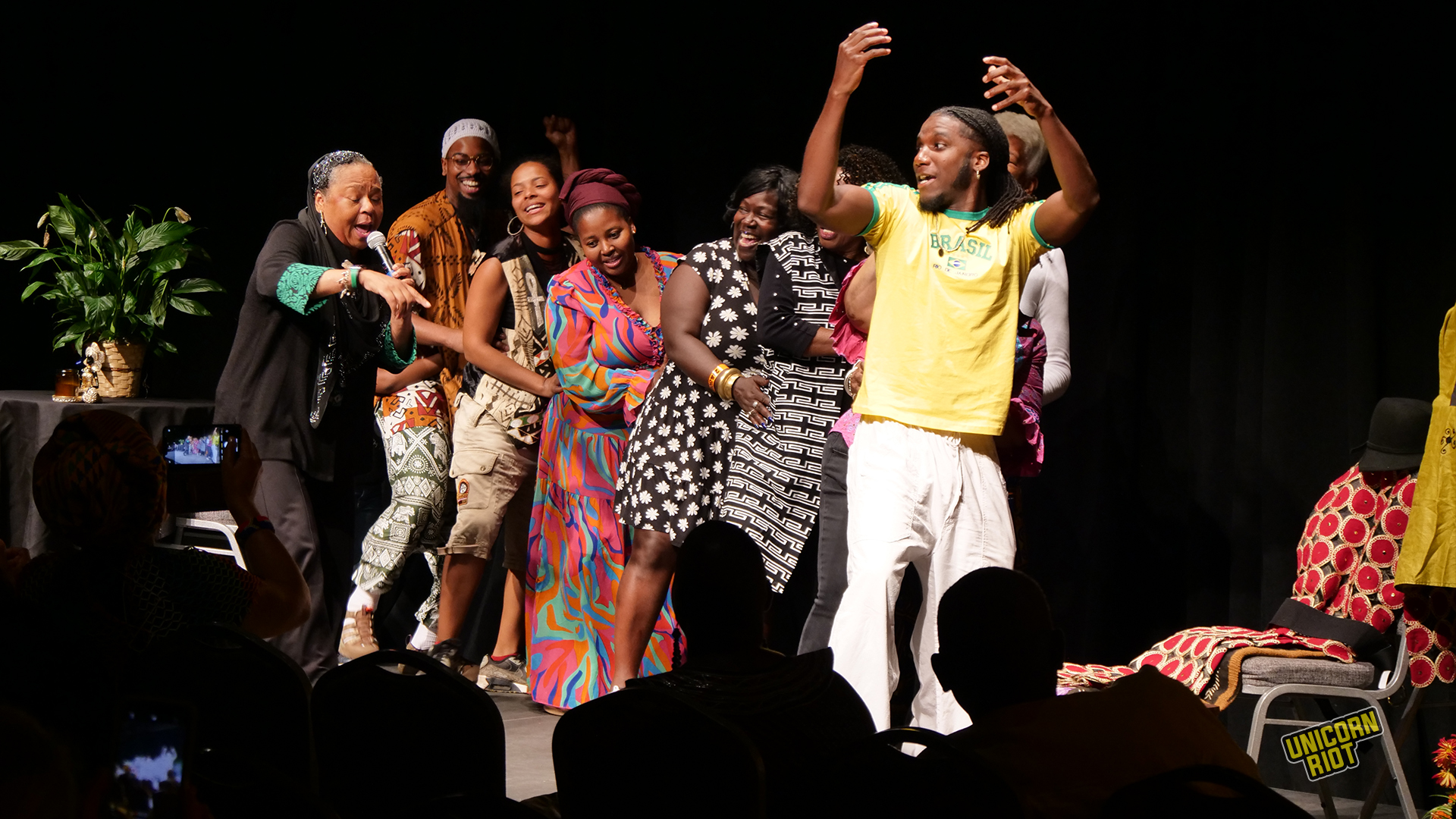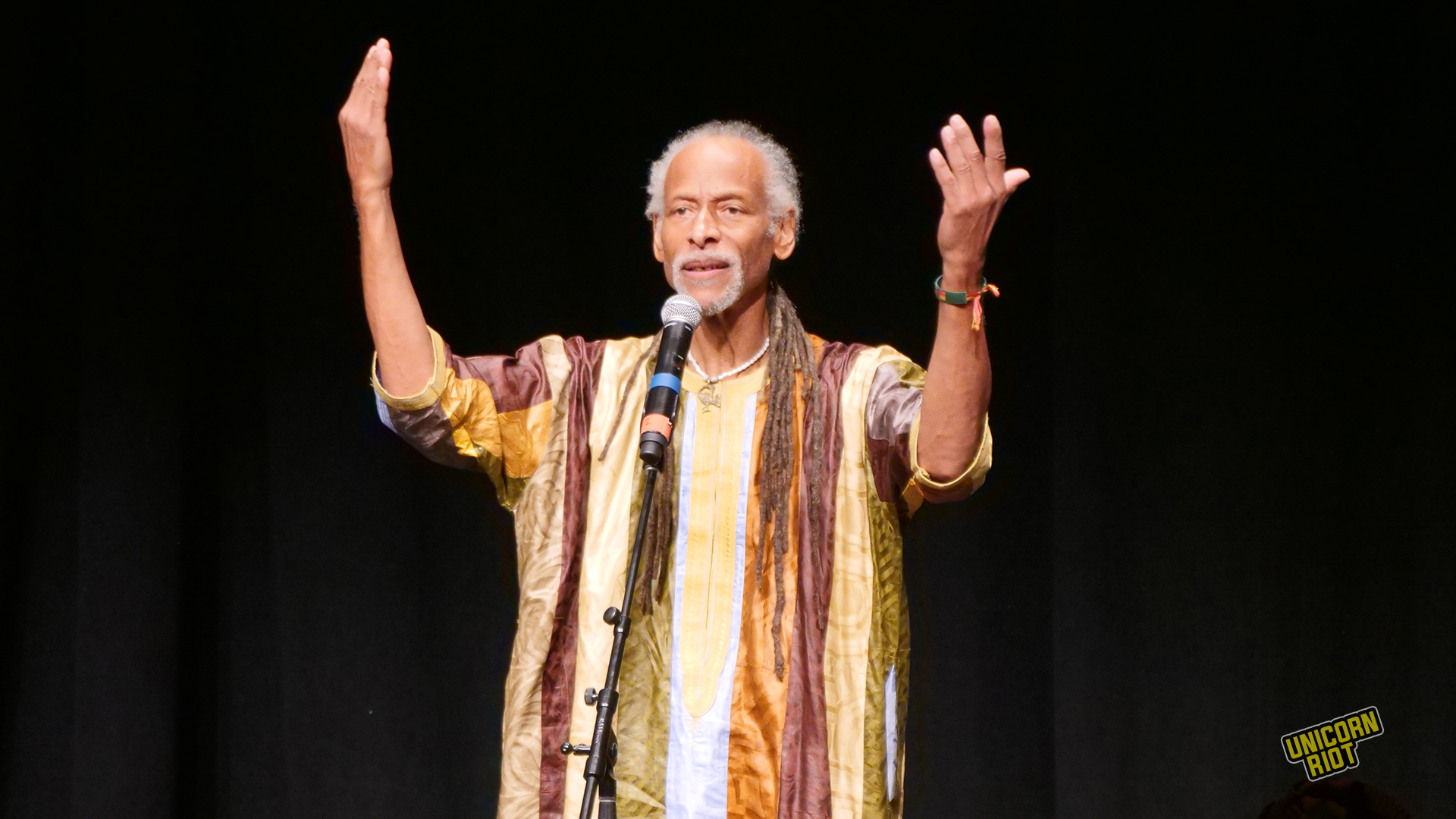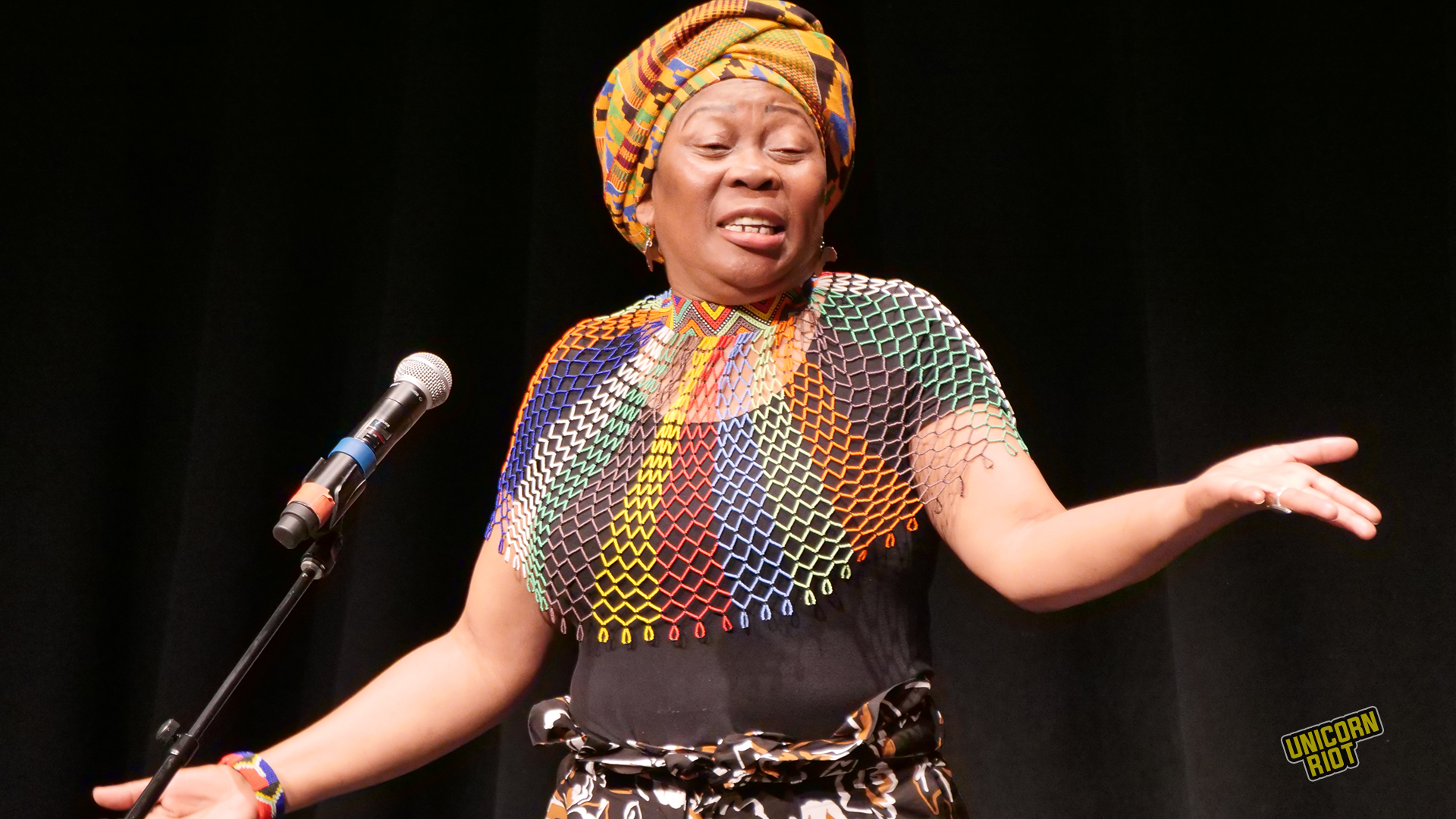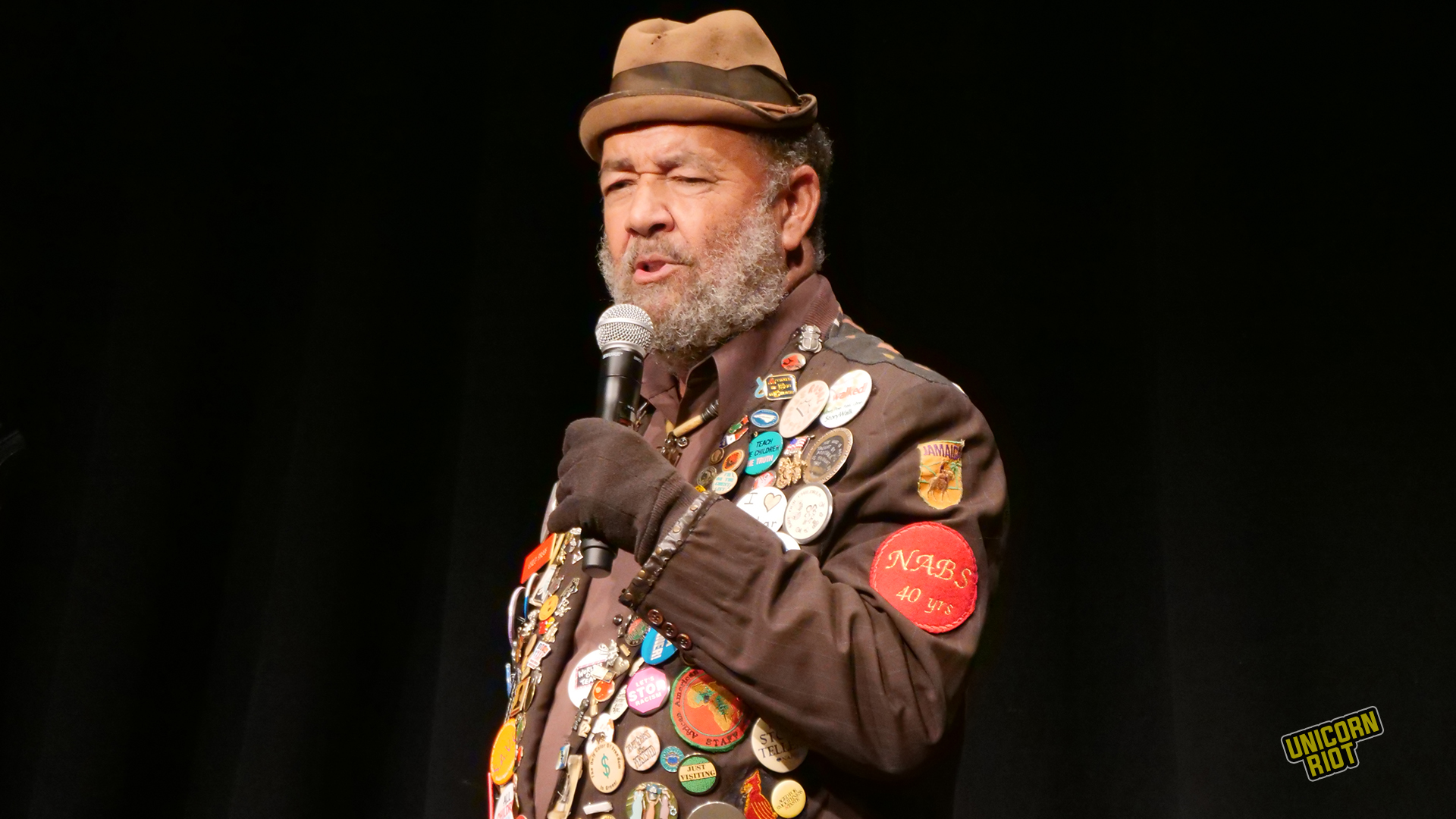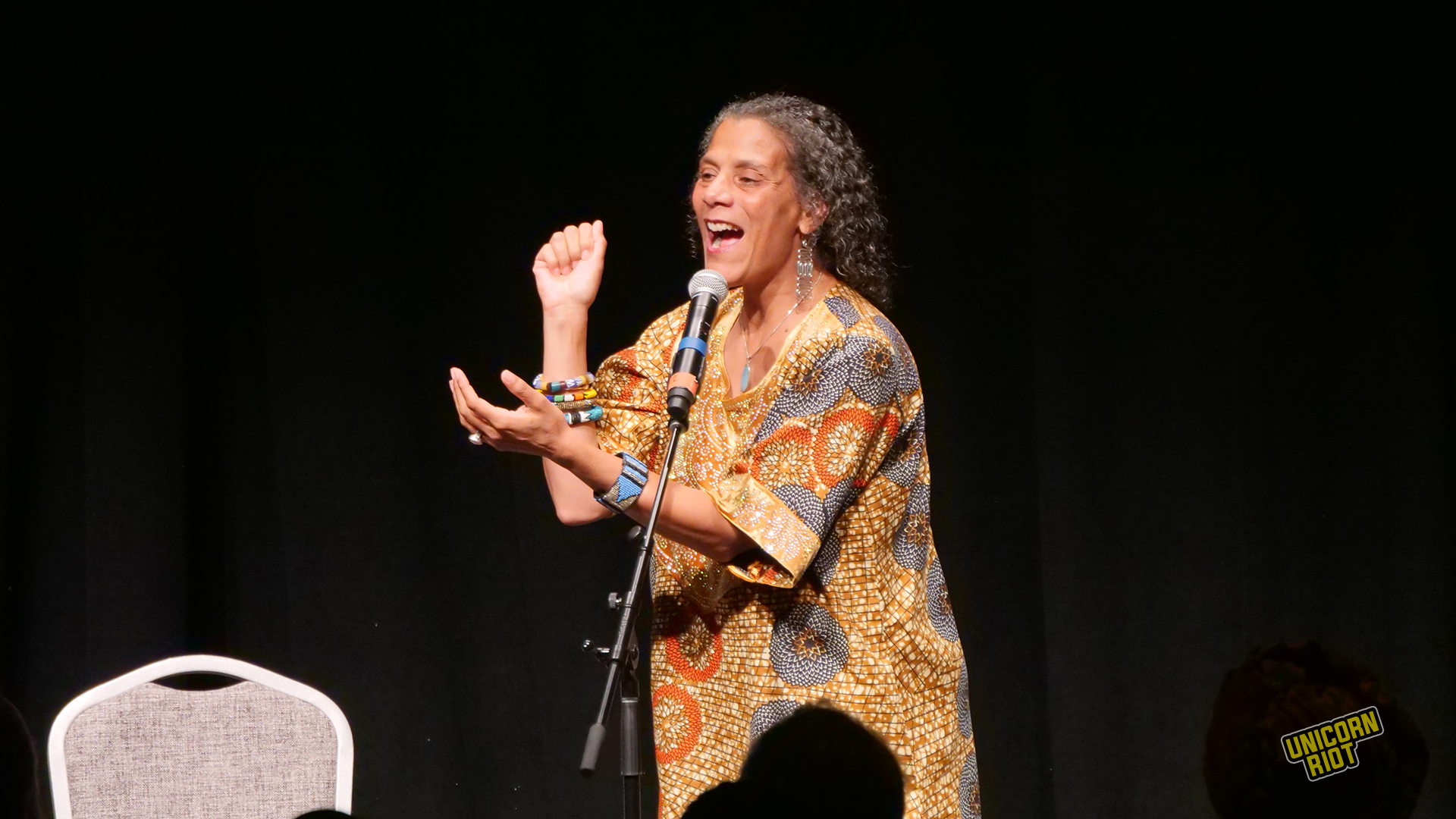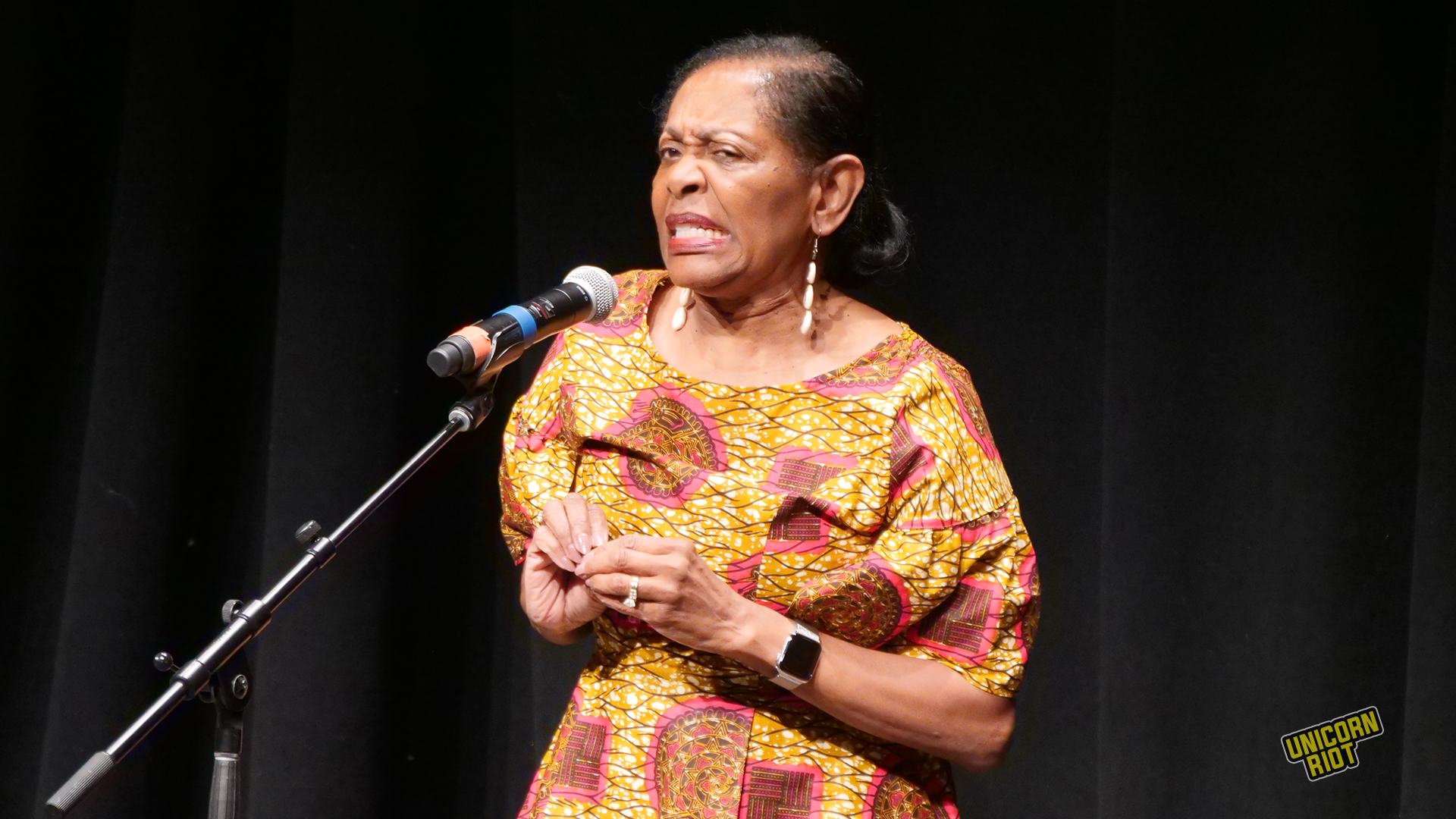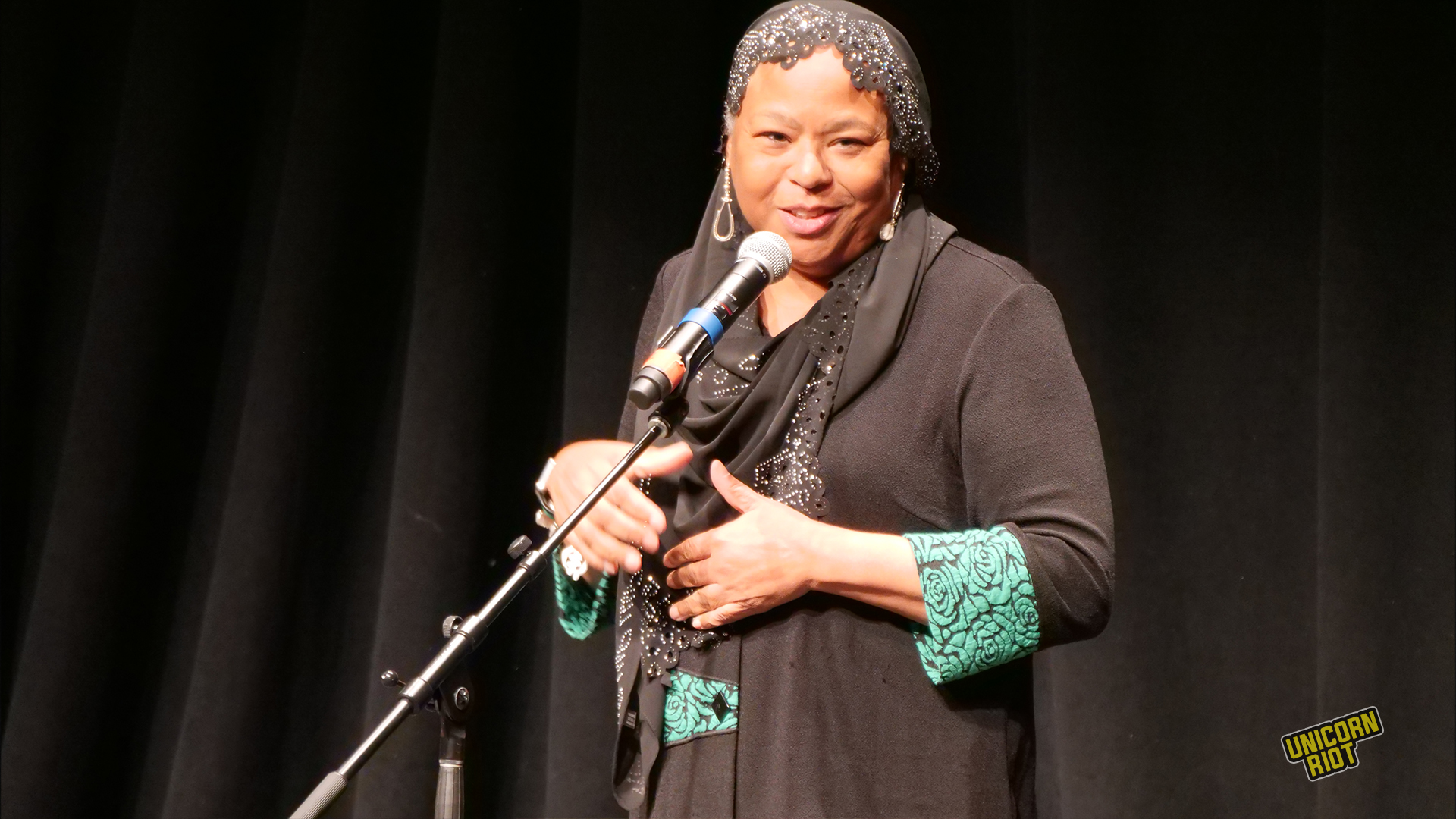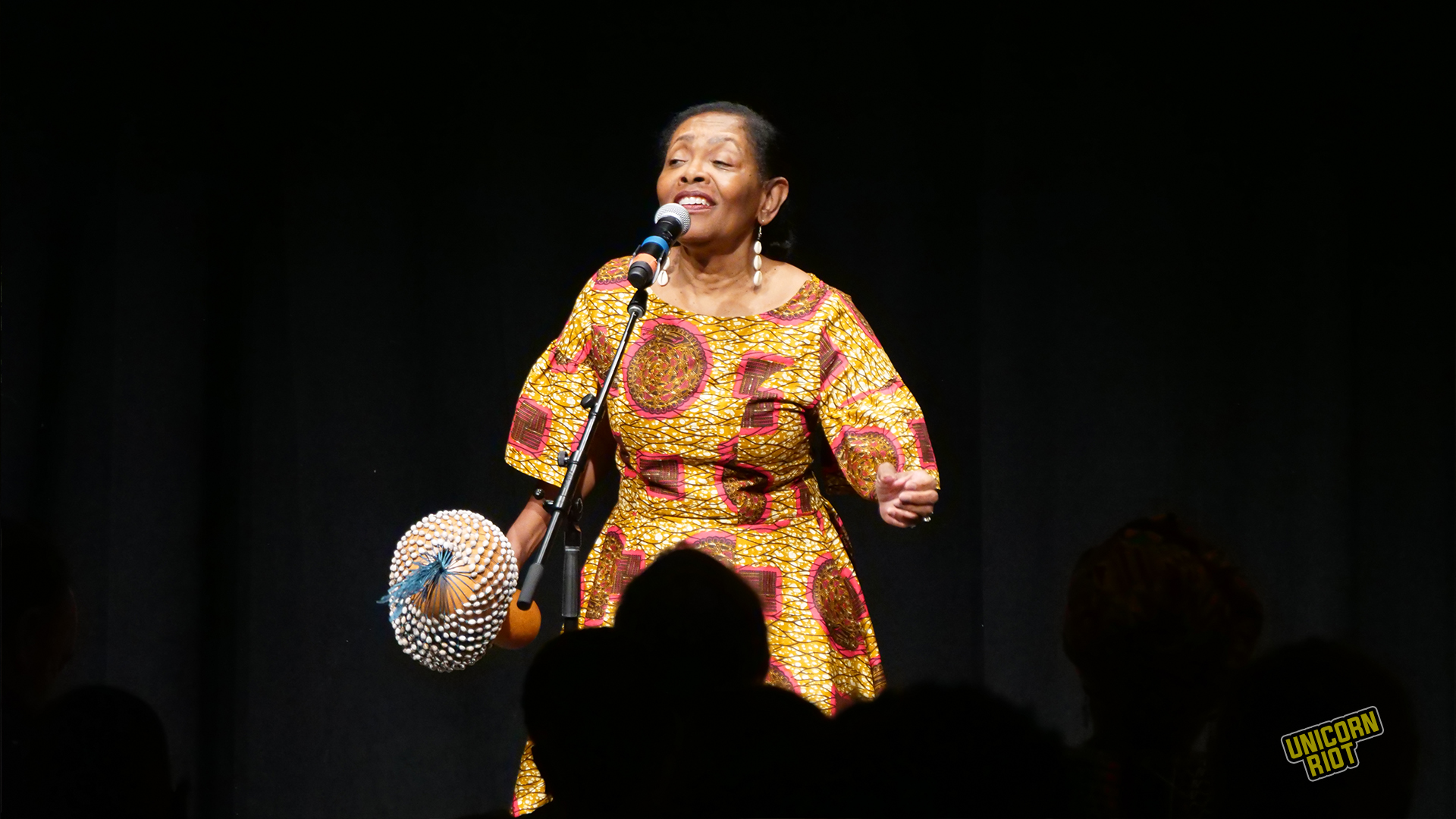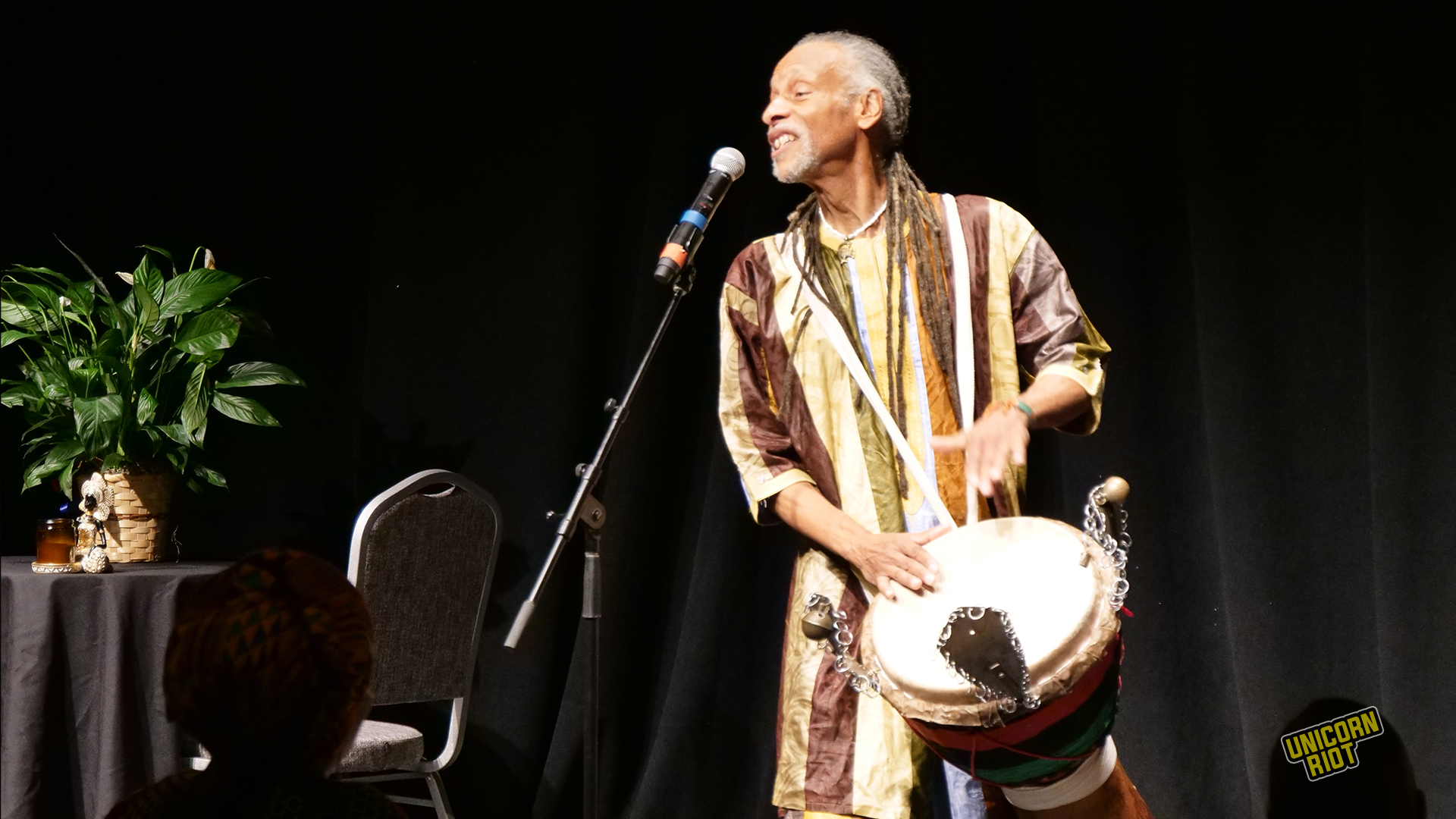 "Auntie" Beverly Cottman was a teacher, a scientist, an artist, a storyteller, and a pillar in the Northside community along with her husband, Bill, who also recently passed. For the festival events, she would host storytellers from around the world in her house and was routinely the libation giver and pourer at the opening while also taking the role of being a storyteller.
Mrs. Zulu was the President and co-founder of the Black Storytellers Alliance (BSA) along with her husband Vusumuzi Zulu. BSA is a 501(c)(3) non-profit that has organized the festival for the last three decades. Mrs. Zulu was a titan for the Northside community and spent her life looking out for her neighbors, teaching youth, sharing Black stories and building an institution of Black storytellers in the Twin Cities and across the world. Watch a recent compilation video of Mrs. Zulu telling stories last year.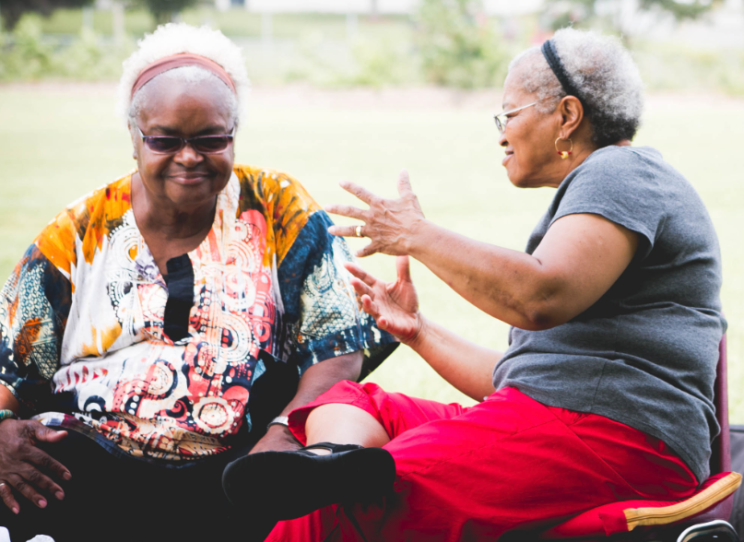 BSA provides an outlet for master storytellers to preserve stories of traditions, culture, heritage, and history through the art of oral storytelling. This is especially important in Minnesota, whose white population hovers around 81%, and access to forms of non-European art is limited.
The offspring of the Cottman's and Nothando Zulu have already picked up the tradition and are carrying on the legacy of storytelling griots.
The storytellers featured this year were (in order of appearance):
Valerie Tutson: from Providence, Rhode Island, Tutson is a renowned storyteller performing since 1991.
Nokugcina "Gcina" Mhlophe: From KwaZulu-Natal, South Africa, Gcina Mhlophe, has been an award-winning storyteller, writer, playwright and actress since 1983.
Kunama Mtendaji: Mtendaji is a veteran teacher and storyteller, master drummer and museum curator from St. Louis.
Toni Simmons: Toni is a decorated author, teacher and storyteller. Hear from Simmons in our 2018 interview.
Karen "Queen Nur" Abdul-Malik: Queen Nur is a nationally renown storyteller, teaching artist and folklorist.
Mitch "Gran'daddy Junebug" Capel: Gran'daddy Junebug is a master storyteller, author, poet and recording artist who is also the Artist-In-Residence at the International Storytelling Center.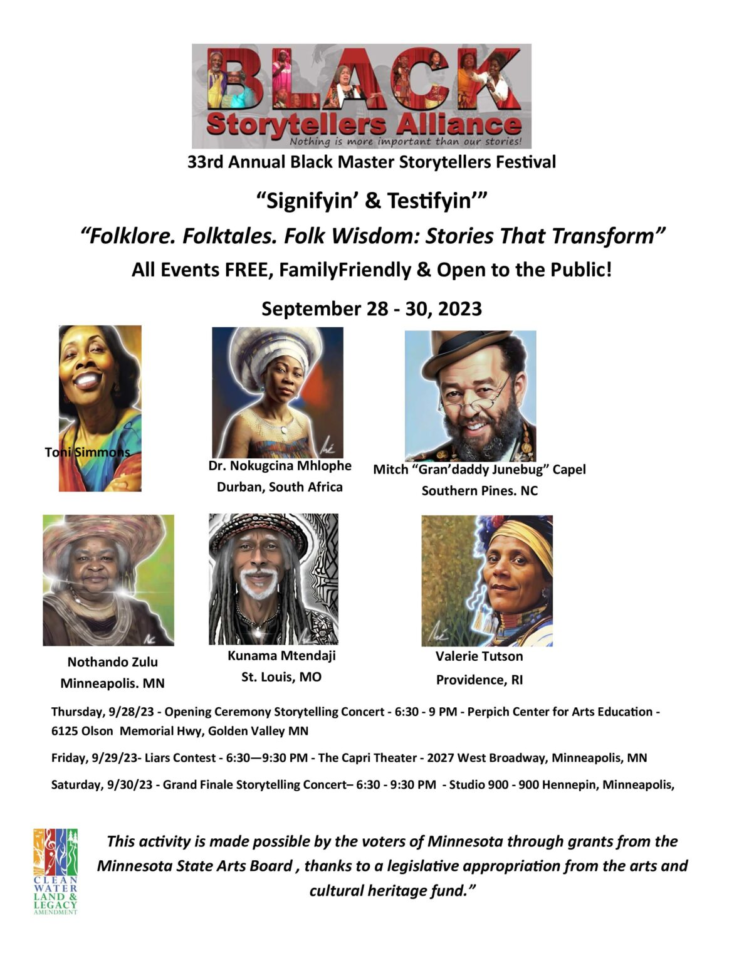 ---
Celebrating Black Joy Virtually as Black Storytellers Festival Hits 31 Years – 2021
28 Years of Black Storytelling – 2019
Sharing Black History One Story at a Time: Festival Reaches 27 Years – 2018
At the end of the festival in 2018, we heard from the festival director, Vusumuzi Zulu and five master storytellers, see below. Mr. Zulu told Unicorn Riot that storytelling is "one of the most powerful ways to transmit culture," history, and traditions.
"We've just got to get those stories told we've got to get children to see themselves as being people who have power, ability, and capability." – Vusumuzi Zulu, "Signifyin' & Testifyin'" Festival Director
"My goal with storytelling is to motivate children to read so when they hear this story orally, oh they want to go and find a book where that story is that they can read it." – Toni Simmons, Storyteller, Author, Librarian
"If you think that you don't have a strong background or base to grow up in you feel like there's something missing in your life. So when our children are told about the history and that they do come from kings and queens…you need to know where you came from." – Mother Minter, Storyteller, Author, Librarian
"Finding a likeness or connection and being able to see yourself in somebody else's story. And I think when children are able to see themselves in stories that are created for them, created from their ancestors, it just can touch them a little bit more, you know. The more you have in common the more you can connect." – Mama Koku, Storyteller, Author
"Keep it alive, make sure you support local storytellers because they're out there, for schools, for churches, for communities, they're out there and we all have something to learn and we all have a story to tell." – LÄCA Bridges, Storyteller, Teacher
"Sometimes children have their first chance to experience the rhythm of the drums, African dance, and stories told in the African tradition so it's important that we keep it alive." – Oba William King, Storyteller, Founder of JustUs Arts
Black Storytellers Alliance Celebrates its 25th Annual Black Master Storytelling Festival – 2016
---
Cover image concocted by Niko Georgiades for Unicorn Riot. Middle pictures of Nothando Zulu and Beverly Cottman are from WE WIN Institute's Griot Festival in 2016 taken by Patience Zalanga. Left image of Nothando Zulu and right image of Beverly Cottman from social media.
---
Follow us on X (aka Twitter), Facebook, YouTube, Vimeo, Instagram, Mastodon, Threads, BlueSky and Patreon.
Please consider a tax-deductible donation to help sustain our horizontally-organized, non-profit media organization: