Minneapolis City Council Rejects MPD Sergeant's Workers' Comp Settlement
Minneapolis, MN — In what appears to be a first in city politics, the Minneapolis City Council voted to reject former Minneapolis Police Sergeant Andrew Bittell's workers' compensation claim of $145,000. With over 23 years on the force, Sgt. Bittell had a violent history of beating and abusing community members and gained nearly a half-million dollars in salary from 2018-2021.
The workers' compensation claim is now referred back to the city attorneys. Workers' compensation is a no-fault system and prior misconduct by Bittell is not relevant to the claim, said the city attorney.
The decision was made during the Oct. 2 Policy & Government Oversight Committee meeting. Read the meeting's agenda here. Council Member Latrisha Vetaw was the only one of five council members present who voted yes for the settlement. The councilors that voted no were Robin Wonsley, Andrew Johnson, Emily Koski, and Jason Chavez.
The committee approved seven other workers' compensation payments totaling $873,500. Watch the meeting here. [Update: Days later, the full council voted 9-3 to reject the claim, officially sending the settlement claim back to the city. Voting in support of the claim were Council Members Linea Palmisano, Michael Rainville, and LaTrisha Vetaw.]
Two weeks before the Oct. 2 meeting, the city council approved $1,395,000 in workers' compensation settlements with 11 former officers.
In two years after the 2020 uprising, the City of Minneapolis used tax-payer funds to pay over $22M in workers' compensation settlements to 144 Minneapolis police officers. Tax-payers are further paying over $875,000 a month in disability pensions for at least 169 former officers who left the force since the murder of George Floyd.
Council member Wonsley stated during the Sept. 18 meeting that the settlements are "a massive liability" and "a major financial burden" on residents and property owners who are seeing their taxes go up as they're "literally footing the bill for hundreds of workers' comps claims by MPD officers."
"These payouts are going to officers that have done egregious acts of misconduct towards residents and also have not been held accountable." Wonsley said she's "committed to working with [her] colleagues to figure out how we rein in the blank check that keeps being signed to MPD."
Council members Wonsley, Ellison and Chavez regularly vote no on workers' compensation claims by Minneapolis Police. Bittell's referral back to the city is among the first of its kind.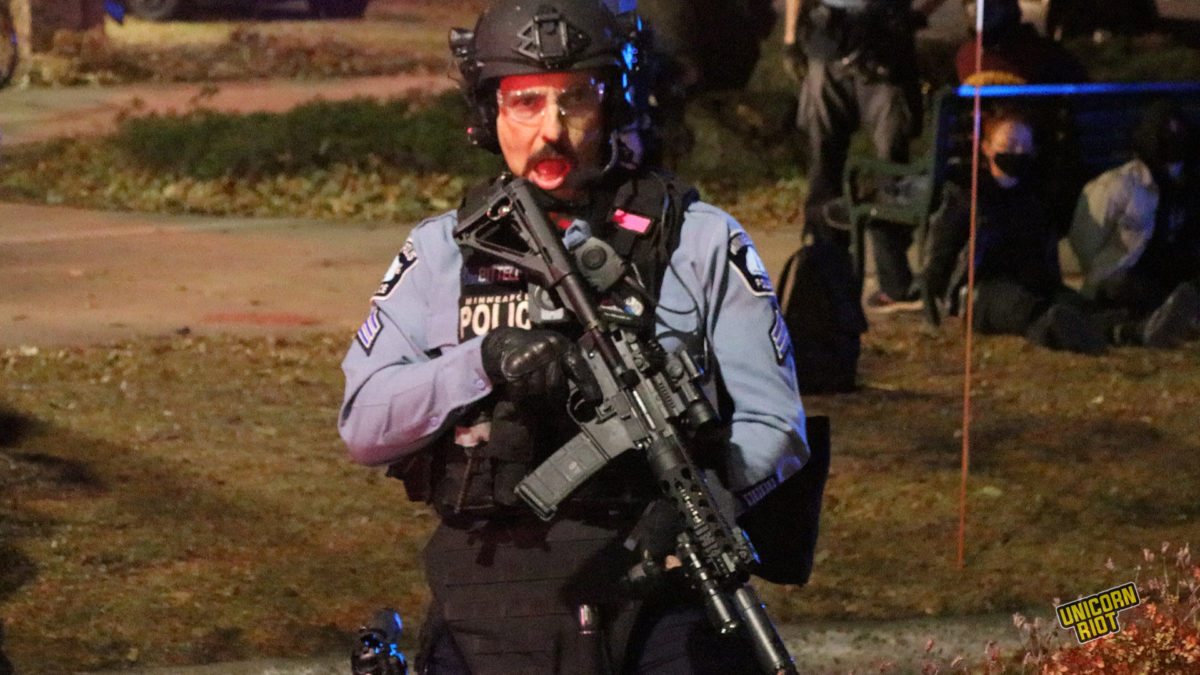 Sgt. Bittell gained widespread attention from his actions during the 2020 George Floyd Uprising. His body camera footage from the days after the 3rd Precinct was lit aflame show him going 'hunting' for people, as he called it, and leading a brutal beating on Jaleel Stallings. Stallings later won a $1.5M settlement from the assault.
Bittell was involved in many incidents where community members filed reports on him. Non-profit organization Communities United Against Police Brutality (CUAPB) tracks police complaints and their data shows 10 known complaints listed against Sergeant Bittell.
Furthermore, Bittell was receiving salaries at the top end of MPD's pay scale. According to GovSalaries, from 2018-2021 Bittell was paid $454,339. Salaries reported for the years were; $106,084 in 2018, $101,431 in 2019, and $106,375 in 2020. In 2021, a year after Bittell beat Stallings, he was paid $140,449, 204% higher than the average MPD salary. Bittell was paid $68,041 in 2022 before he left the department.
Unicorn Riot reporting from 2021 showcased Bittell urinating in public, yelling at and threatening community members and shaming and denigrating Lt. Jose Gomez while leading a strong-armed police unit patrolling the streets above Interstate 94 as the mass arrest of 646 people occurred on Nov. 4, 2020. Lt. Gomez became the 3rd Precinct Inspector last year.
Shame Games: Minneapolis Police Mock Community Engagement Officer – May 2021
Watch all of Sgt. Bittell's body camera footage below.
Other officer's body camera footage is uploaded into the YouTube playlist below [effects have been administered to the videos to protect identities].
Cover image by Niko Georgiades for Unicorn Riot.
---
Follow us on X (aka Twitter), Facebook, YouTube, Vimeo, Instagram, Mastodon, Threads, BlueSky and Patreon.
Please consider a tax-deductible donation to help sustain our horizontally-organized, non-profit media organization: