Die-In at Raytheon Compound in Tucson Calls Out Complicity in Gaza
Tucson, AZ — Raytheon employees on their way to work Thursday morning were confronted with an unusual spectacle — about 120 people, dressed in all black, lying in the road covered in white sheets, blocking one of the entrances to U.S. Air Force Plant 44, operated by Raytheon Missiles and Defense.
Their reactions were mixed: many made U-turns and drove around to the Raytheon compound's north entrance, some shouted obscenities, others looked on woodenly. Some may even have honked in support, although it's hard to tell if those who cheered the action were employees of the nation's second largest munitions manufacturer or just passersby.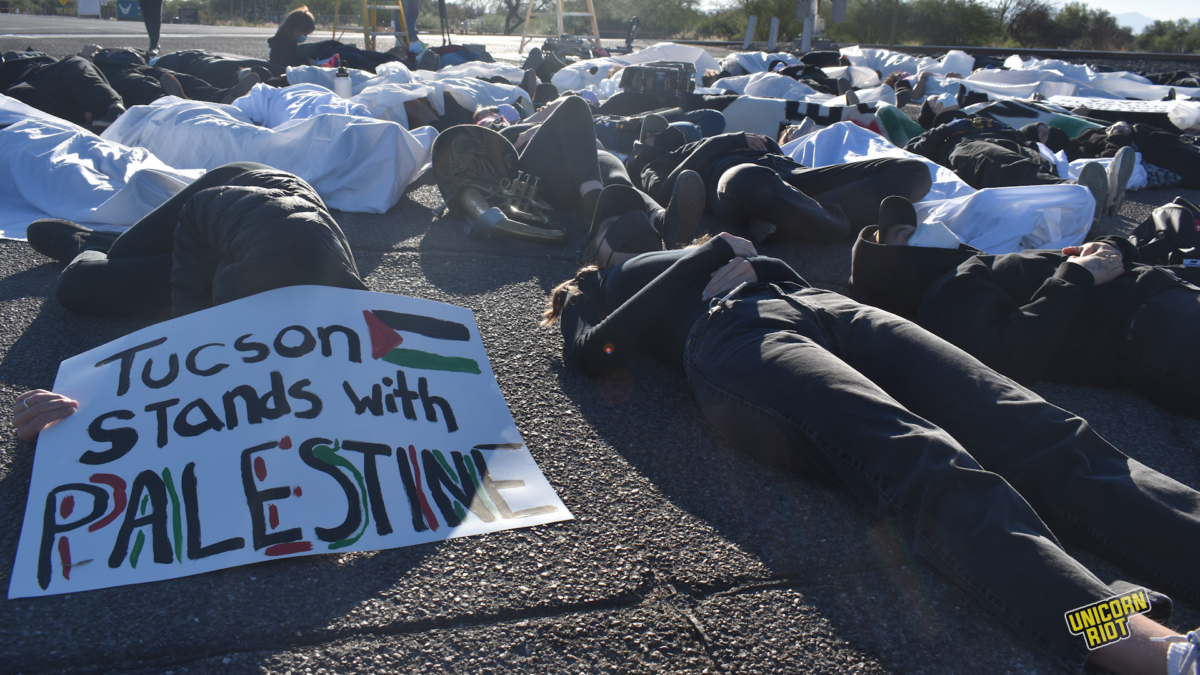 The action, which lasted about an hour and a half, was coordinated by a coalition of Tucson groups operating under the banner of the Tucson Coalition for Palestine, including Arizona Palestine Solidarity Alliance, Jewish Voice for Peace, and Derechos Humanos. The action was intended to call attention to the ongoing invasion of Gaza by Israeli military forces and the more than 9,000 lives it has already claimed.
Raytheon, whose parent corporation RTX Technologies is Tucson's largest employer with over 12,000 local workers, began supplying components to Israel's Iron Dome missile system in 2014. RTX is the second largest weapons manufacturer in the U.S. with yearly revenue of over $67 billion.
On a recent quarterly earnings call, RTX Chairman and CEO Greg Hayes bragged about how recent increases in Defense Department spending, specifically in response to the wars in Ukraine and the Israeli bombardment of Gaza, would increase the company's revenue in coming years. "I think really across the entire Raytheon portfolio," said Hayes, "you're going to see a benefit of this restocking."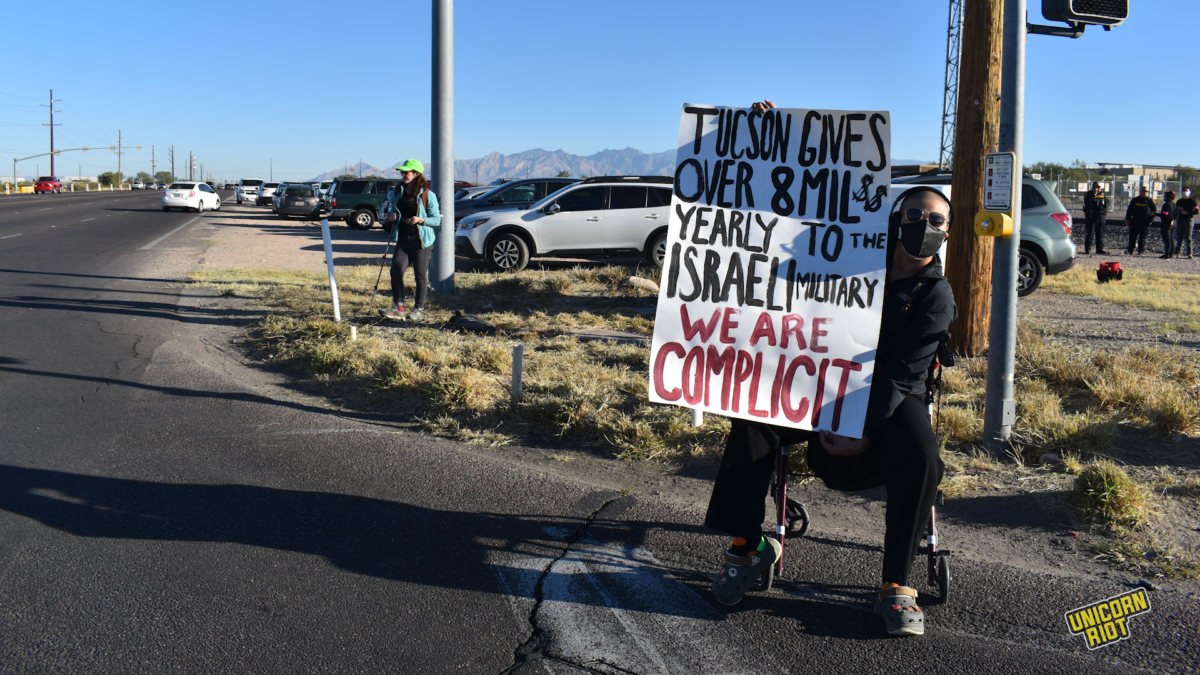 "We're here specifically in front of Raytheon today because we understand that Raytheon supplies a majority, or a good chunk of the missiles, bombs and weapons systems that are currently enacting extreme violence on Gazans in Palestine," said a representative of the Tucson Coalition for Palestine, who asked to be identified as Alex.
"We refuse to standby while we live in a genocide-funded economy. That's why we're here today, making sure Raytheon knows this is not normal, this is not ethical, this is not moral," Alex continued.
While it's easy to argue that weapons manufacturing is immoral, arguing that it's not the norm is harder. Between the estimated $11 billion RTX and the hundreds of other 'aerospace and defense' corporations in Southern Arizona contribute to the state's economy and the 11,000 people stationed at the Davis-Monthan Air Force base south of downtown Tucson, militarism is a major part of what Tucson has become.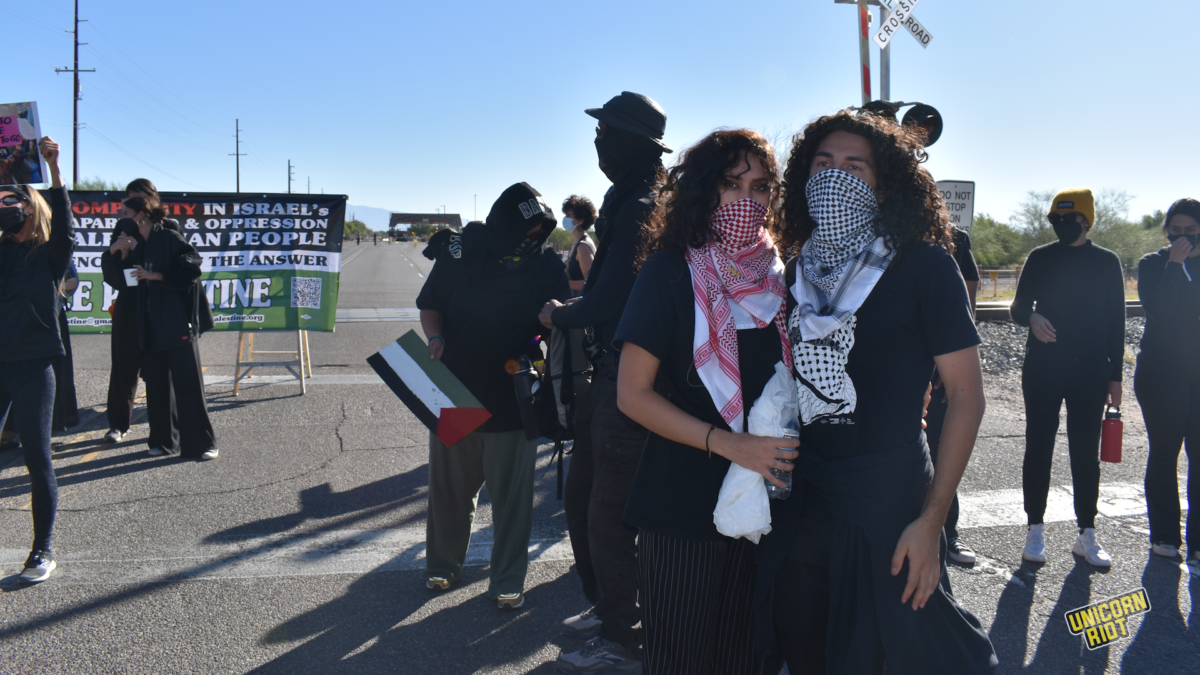 RTX alone contributes an estimated $2.6 billion to the Arizona economy, and bombs made in Tucson are reguarly dropped on military and civilian targets around the world. The question of how to dislodge the region's economy (and therefore its moral and spiritual life) from the architecture of war is a tricky one.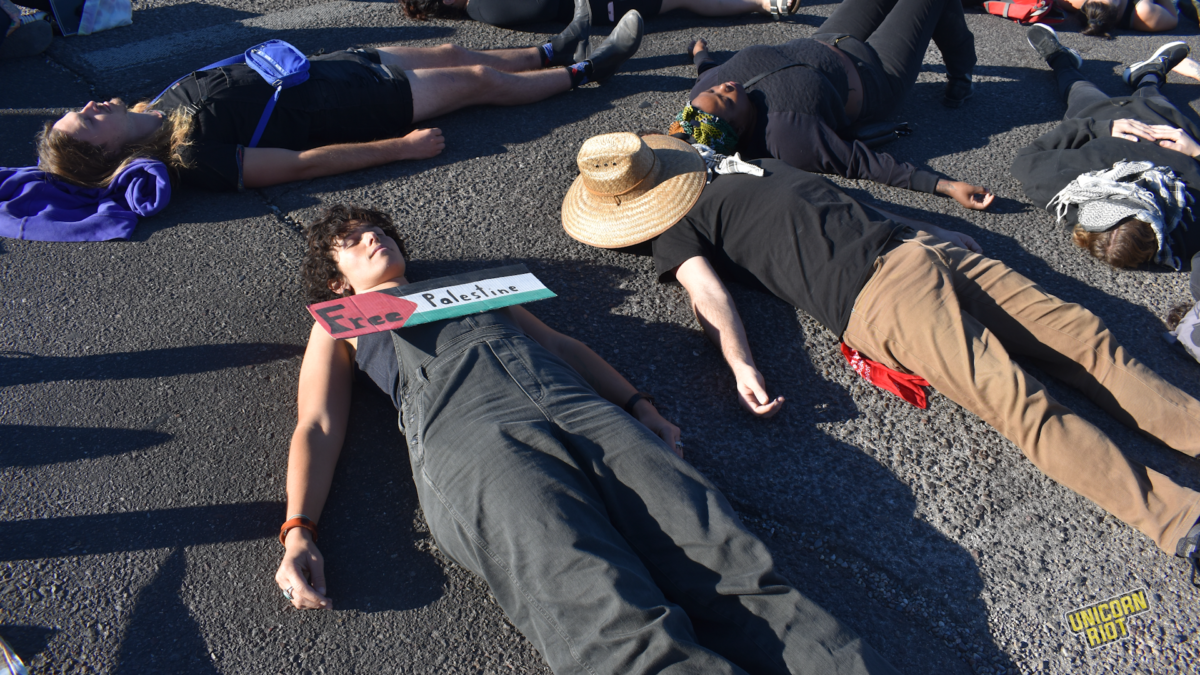 For some of those who came out to Thursday's largely symbolic action, it seemed that the goal was simply to show solidarity with Palestinians in Gaza and register their opposition to the region's contributions to the ongoing bombardment.
"I'm here because three of my four grandparents survived the holocaust," said Ana Alderstein, who participated in the die-in with a small, handmade sign featuring a Palestinian flag over their chest. "To continue to perpetuate this cycle of abuse and another genocide is not going to bring healing for anyone's people."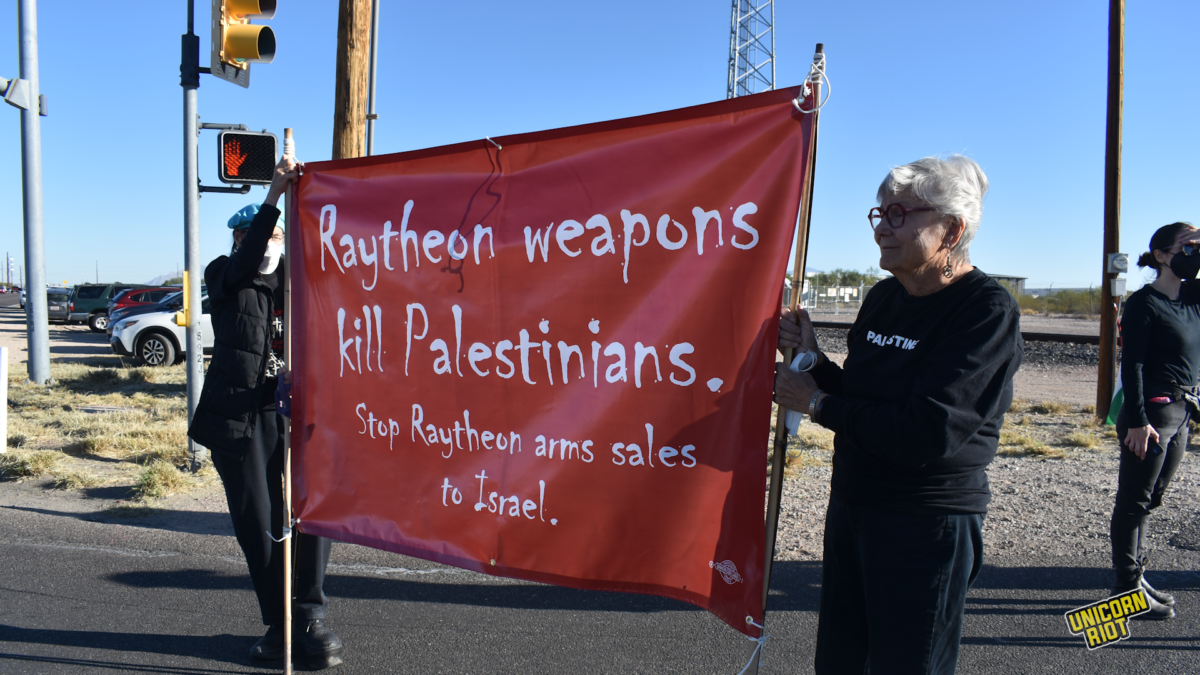 Lois Mastrangelo, an elder holding a large banner reading "Raytheon weapons kill Palestinians: Stop Raytheon Arms Sales to Israel," explained that her criticism of Israel began after 9/11, when many Americans began to question why so many people around the world hate the U.S.
"I went on a delegation co-sponsored by the American Friends Service Committee," Mastrangelo explained, "and I knew that the Quakers would tell me the truth. I was appalled by what I saw."
Years later, Mastrangelo returned to Palestine and lived in Huwara, in the northern Israeli-occupied West Bank, for three months "providing accompaniment to the Palestinians against the army and the settlers. It's the little town that the settlers [recently] rampaged through so brutally that even the Israeli area commander called it a pogrom. And that is what the Palestinians have been suffering for 75 years. And so it continues to be my heart's work."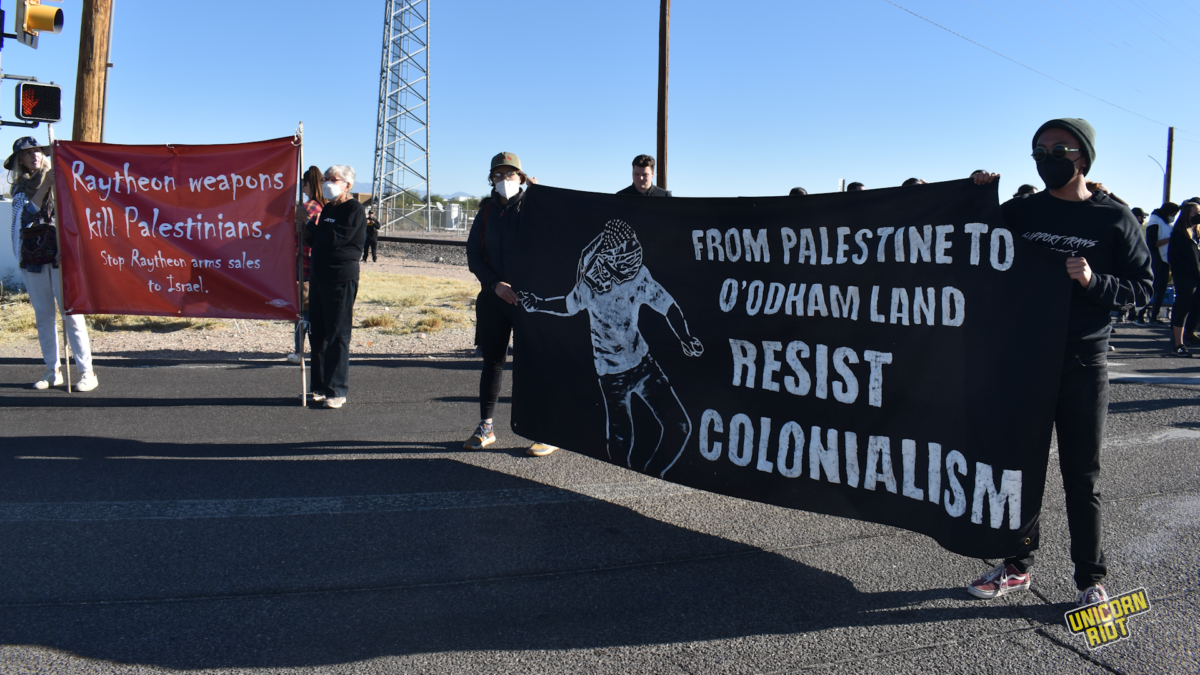 Another protester, who is Yaqui and Apache and asked to be identified only as M, explained that the actions of the Israeli state remind them of the actions of the U.S. government toward the Indigenous people of this continent. "I personally come from a land that has been colonized, and I've seen how that really hurts a people and I've seen how I have lost my ancestry because of colonization," said M. "And I'm scared for the Palestinian people and I want to stand with them to make sure that they have their land to continue to live on and tell their story."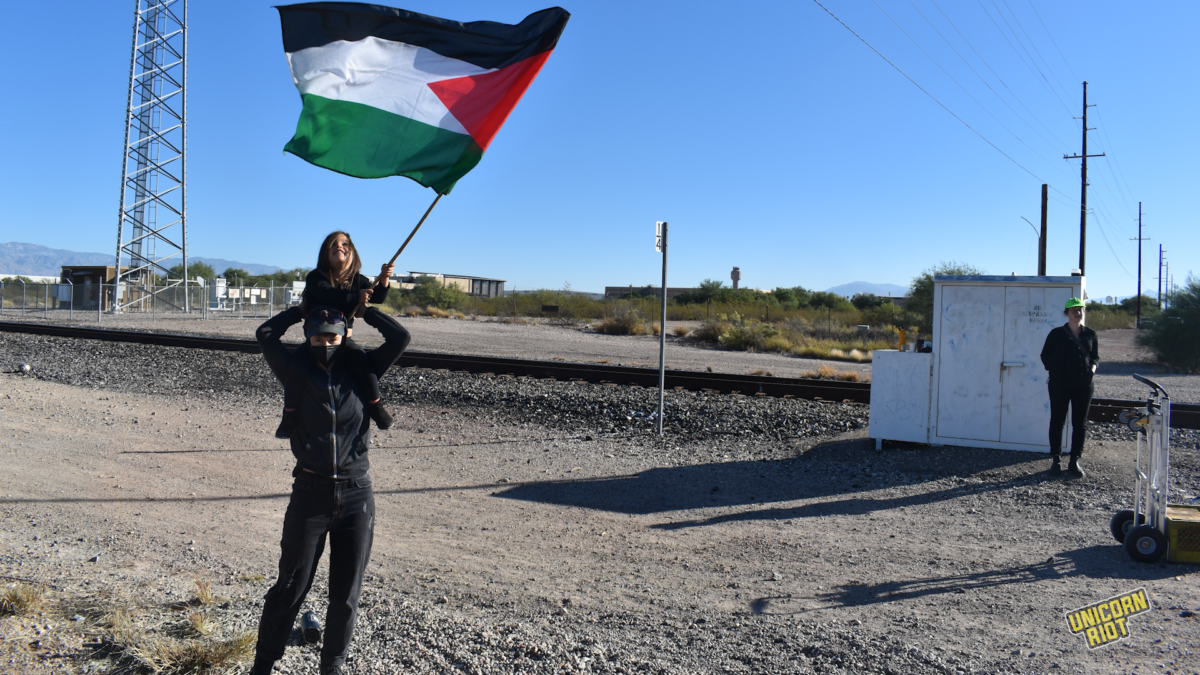 ---
Follow us on X (aka Twitter), Facebook, YouTube, Vimeo, Instagram, Mastodon, Threads, BlueSky and Patreon.
Please consider a tax-deductible donation to help sustain our horizontally-organized, non-profit media organization: