Target's Critics Call Out Chicanery: New Report Contradicts Official Reason Behind Closings
Part 10 in the series: 21st Century Jim Crow in the North Star City
Minneapolis, MN — Data does not support Target's claim that it's closing stores due to theft, a new report finds — while others accuse the corporation of financial fraud, saying it is fudging its finances and falsely flagging shoplifters.
Due to "organized retail theft," Target announced in September that it was closing nine stores, along with three in Portland, Oregon that closed in October.
The independent media watchdog Popular Information breaks down crime statistics at six of the nine stores Target is shuttering and found that there are other different reasons than the official one the retailer gave for the closures.
---
---
What the Data Demonstrates
Target said it's seeing a higher level of shoplifting — claiming a staggering 50% jump in "shrinkage" year over year. Shrinkage or "shrink" is the difference between a businesses' recorded inventory and its actual inventory, usually understood as loss from theft. In 2022, Target said those losses amounted to well over $400 million, primarily blaming organized retail crime on the spike.
Shrink data on particular Target stores is not publicly available. Popular Info reached out to Target but said they did not receive a response. Unicorn Riot also asked the Minneapolis-based retailer for clarity regarding its annual data on shrink with no luck.
Although we don't have data from Target, we do have police data from the cities where the closures are happening included in the media watchdog's report, as well as annual retail industry data. The watchdog group quotes the retail industry association's own report which contradicts much of the panic over organized retail theft.
According to the National Retail Federation's report, retail industry shrinkage has fluctuated between 1.3% and 1.6% of total retail sales, between the fiscal years of 2015 — 2022. And in the fiscal year 2022, the average shrinkage rate was 1.6% of total retail sales, up from 1.4% in 2021, but steady with 2019 and 2020, the watchdog notes.
"Moreover, external theft is not the largest cause of shrink — other sources like 'process, control failures, and errors' and 'employee theft' account for a majority of the loss. Companies may be overemphasizing crime to deflect from internal issues."

Popular Information
The watchdog analyzed Target's crime data in New York, San Francisco and Seattle and found that the stores that are closing have lower levels of theft than nearby stores that remain open.
"This data suggests that factors other than crime are driving Target's decisions."

Popular Information
Its data analysis on the store closures is not perfect, as detractors point out: most theft goes unreported. But the report is not only supported with retail industry data, it is also consistent with Unicorn Riot's ongoing investigation into Target Corp.
'Organized Crime' Panic Fallout
After announcing store closures, critics began debunking Target's claims of out of control organized retail crime, parroted by mass media, and exposing the retailer's deep investments in high-tech crime fighting, including its two world class crime labs built in 2003 "that even the FBI can't match."
When Popular Info's report reached consumers, there was widespread condemnation for Target online. Some even suggested that the organized retail crime panic was cooked up inside corporate boardrooms.
Stakeholders in Minnesota chimed in, including State Rep. Aisha Gomez, chair of the Minnesota House Tax Committee.
"It's much easier to fall into alarmist law and order rhetoric than admit things aren't going well," Gomez tweeted.
Industry insiders agree that overall loss "is largely in line with past years and is considered a normal and healthy level of shrink," according to CNBC.
Popular Info reported that increased shrinkage tends to follow increased sales, and only in economic times of distress do corporations make it an issue, when other factors are actually at play.
Target has selectively been speaking out about organized retail theft going back to 2008 when Forbes referenced it in a story about Target's forensics labs, and the New Yorker interviewed a Target executive for a full magazine spread on the matter, mentioning the words "organized retail crime" more than a dozen times. The story was released right as the Great Recession was taking effect.
However, Target has made record-breaking profits since its Lake Street store was looted, following the murder of George Floyd by Minneapolis police. And it raked in over $31 billion last year, its highest earnings ever, while it complained about organized retail crime waves. One person pointed out that the retailer is on track to do even better this year than last year, "even with all the stealing."
So also I just glanced at their 2023 Form 10-Q for the period ended 7/29/23. They're actually doing well.

Again, they do mention elevated shrink but don't tie it to store closures.

To me, they look on track to do better than last year, even with all the stealing lmao pic.twitter.com/FftLQNomWV

— Tiffani Ashley Bell (@tiffani) September 27, 2023
Several observers including a former San Francisco public defender have suggested that the crime panic was driven by hidden agendas. They're even accusing Target of creating false narratives that in turn help drive public opinion and public policy, with lasting effects.
"Think about the leverage these headlines have. It's a strategic long game with political ramifications for all of us," former journalist Molly Priesmeyer tweeted.
Sure, Target, with one of the world's top loss-prevention programs and FORENSIC LABS even the FBI can't match. "Theft and crime" are the main reasons you're closing these stores. pic.twitter.com/v0MUrY2Fcm

— MollyPeonies (@mollypeonies) September 26, 2023
Many have suggested that greed is the main motivation and the crime panic is merely a distraction that helps corporations like Target deflect from their gushing profits.
'Massive Financial Fraud'
Target Chief Financial Officer Michael Fiddelke, who earns a salary of more than $4.3 million, made an astonishing claim on a call with reporters last year: that shoplifting has spiked 50% year over year.
Target made an even more remarkable claim in May: that organized retail crime is only getting worse and will cost $500 million more in losses this year than in 2022. Target won't disclose how much it actually "lost" last year, but the retail titan claimed shrink grew by a mind blowing $750 million in recent years, CNBC reported.
At precisely the same time Target began campaigning hard against organized retail theft, it announced it was struggling to dump excess inventory.
Onlookers are challenging America's retail darling. "Large corporations seizing the political and cultural moment to do massive financial fraud because they know that people either can't do basic math, or they aren't paying attention," @WaywardWinifred tweeted.
Some have taken the findings from the watchdog report to imply that Target has committed serious crimes against investors.
"At what point does this become securities fraud? These companies are just plain lying about why their stores failed and are using copagandists Sinclair et al as a mouthpiece because they know it will unquestionably reprint any claim that parrots the cop union narrative du jour. " @paperbagriker wondered in a tweet. (Sinclair, the largest owner of TV stations in the US, has used its ownership to push identical conservative messages en masse.)
Target and the Press
As Popular Info and several online users noted, mainstream media repeated Target's press release uncritically and unchallenged.
Prior to the watchdog report, Priesmeyer blasted Target on social media, tweeting:
"And speaking of political opportunity: Look at the great opportunity [Target] got to support a conservative 'fear' agenda, and their future financial goals, by getting at least 80 outlets across the country to use a headline about 'theft and crime' shuttering retail outlets."
And there it is. A nothing news story that put "crime and theft" in headlines across the county. .07 is BELOW the 1-2 percent average retailers experience every year. pic.twitter.com/80UGuc7b3h

— MollyPeonies (@mollypeonies) September 28, 2023
It's not just critics from the left. The conservative Twin Cities satirist Jewel Eldora, best known for his conspiracy theories and for mocking social justice issues, blogged about Target's influence over U.S. newsrooms.
"For decades, Target and the Dayton family have been the largest purchaser of newspaper advertising in nearly every city they operate. …Target has bought 4 color ink by the barrel," which Eldora claimed has made them "a darling of editorial boards."
In 2006, a business consultant working for the multinational retailer planted a story in the Washington Post about Target's new surveillance and policing partnership, which was revealed in Unicorn Riot's short film, Unscathed: How the Press Helps Hide Target's Harm.
This is also when Target first publicly disclosed its funding for the county attorney's office to lock up repeat offenders in downtown Minneapolis, where its headquarters are located.
"There were huge strings attached when we received the funding for our new staff … In the past, the DA's office tracked … how many criminals were charged, though once we were working with Target, we were required to track … how many convictions we get in a year," which exploded by thirty-fold, then-Hennepin County Attorney Amy Klobuchar told the Post.
According to the article, police can "patrol neighborhoods by remote control," thanks to its surveillance partnership with Target Corp. Target used the Post to announce it was funding the Minneapolis police and the Hennepin County Attorney's office without the voices of Minneapolis residents, activists, or scholars to push back.
The Washington Post never disclosed the author's professional relationship with the multinational retailer. Within days the Star Tribune ran the same story also failing to mention the author's employment with Target.
Investigative Series Supports New Report
Unicorn Riot's years-long investigation divulges Target's partnership with the press and its ability to manipulate crime narratives, which not only supports Popular Info's key findings, but it supports some of the worst accusations against the corporate giant.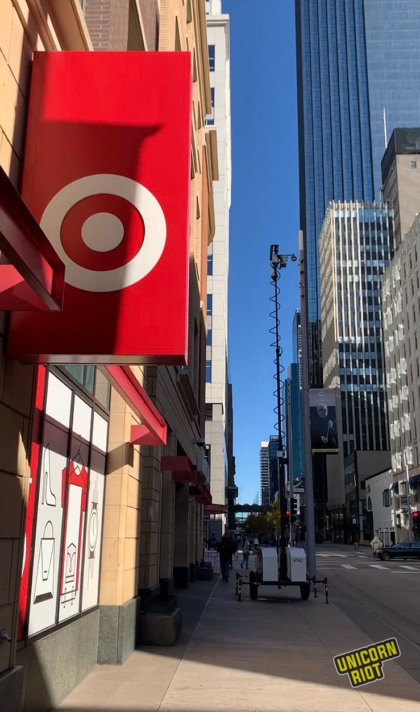 As explained in part 4 of this series, Target used its SafeZone policing / surveillance partnership to conflate petty nuisance behavior in downtown with violent crime, helping drive Black youth incarceration in Minneapolis. Target used feedback from corporate surveys it conducted to expand surveillance in downtown, institutionalize mass incarceration, and legitimize court ordered geographic restriction policies that banished Black youth and unhoused people from the city's central business district.
The Star Tribune and other local press sensationalized downtown crime all while downplaying police brutality, invasive surveillance, incarceration of petty offenders, and the widespread violations of civil rights and civil liberties of Minneapolis' Black residents, Unicorn Riot's investigation uncovered.
New accusations of fraud may sound familiar to past reports that implicated Target in the massive data breach of its own customers, a decade ago, when 110 million people's info was compromised by "hackers" whose identities are still unclear.
Observers were skeptical then, like they are today, considering Target has made massive investments in big tech, including data mining, digital surveillance, and cyber security, as detailed in part 6 of this series.
A report by the U.S. Senate committee that investigated Target's 2013 "hack" even implicated the retailer in the scheme. Their investigation found that "Target's security team neither reacted to the alarms nor allowed the FireEye software to automatically delete the malware in question."
In fact, Target has settled several lawsuits after being accused of stealing online data from children, Unicorn Riot found in its investigation.
Additionally, Target has been accused of committing massive theft against its workers. Author and journalist Marcus Baram accused Target, in a tweet, of going on a "crime wave" by "Stealing its employees' wages."
He sent Unicorn Riot data demonstrating that in California alone nearly 500 documented claims of wage theft against Target have been filed with the state since 2011, with nearly fifty of those claims filed in 2023.
Last year Minnesota Attorney General Keith Ellison filed a lawsuit against the Target-owned delivery service, Shipt for wage theft against its delivery drivers, according to the Minnesota Reformer. Ellison accused Target of misclassifying its workers as independent contractors, making them ineligible for worker protections around overtime pay, local minimum-wage rates, sick-and safe-time, and unemployment benefits.
Many believe low wages and hostile working conditions are leading to staffing issues, and is perhaps the real reason for the store closings. Workplace issues have a direct connection to employee theft, Popular Info noted. However, the watchdog report points out that theft is not the real issue at hand.
The skyrocketing cost of living is a major source of staffing issues across the country and could be the real reason driving store closures. Low paying retail jobs in cities with exorbitant costs of living, like New York, San Francisco, and Seattle, where six of the nine stores are closing, is not a sustainable business model, observers noted.
Target's announcement of closing nine stores came on the eve of the End Youth Prisons MN coalition campaign launch with an art installation, that showed last month in Saint Paul, calling out the retailer's history of driving youth incarceration in the Twin Cities, as featured in part 9 of this series. [Watch our special and take a virtual tour of the installation.]
One of the campaign leads, Caelyn Steele, told Unicorn Riot about a high school field trip years ago where she and her classmates toured Target's headquarters and were shown a "super high tech room."
"I think a lot of people need to become more aware … about how much Target covers up what they're actually doing," she said, "and their actual intentions and motives as a company."
---
Follow us on X (aka Twitter), Facebook, YouTube, Vimeo, Instagram, Mastodon, Threads, BlueSky and Patreon.
Please consider a tax-deductible donation to help sustain our horizontally-organized, non-profit media organization: