This landing page features Unicorn Riot coverage that examines how gentrification affects cities in different parts of the world, specifically Athens, London, Philadelphia and Minneapolis. We evaluate some of the aftereffects, transformations and consequences that the phenomenon has had on gentrified areas and communities.
The term gentrification was coined in the United Kingdom by sociologist Ruth Glass in 1964.
"One by one, many of the working class quarters of London have been invaded by the middle classes – upper and lower. Once this process of 'gentrification' starts in a district it goes on rapidly until all or most of the original working class occupiers are displaced and the whole social character of the district is changed."
While researchers say "there was no universally accepted definition of gentrification" in scientific literature, our reports highlight patterns of displacement, poverty, state power and development, accompanied by the heavy policing of urban underclasses. Alongside these patterns follows undemocratic governance, including closed-off, secretive and lopsided policymaking.
Gentrification presents a transition to a panoptic future without privacy; most importantly it tries to bury all the grounds in the city which express dissent and try to survive this mutation. It is not by chance that the growth and progress which is promised to the gentrified always means for the gentrifier a new landscape of stores and services where time turns into money and meaning into commerce.
Our reports look at the reactions of the local communities, counter-proposals and creative actions concocted to oppose gentrification and defend natural and social environments. The anti-gentrification campaigns in each place and the perspectives of the people who participate in them present a mosaic of resistance.
The victory of #FightTheTower campaign and the community-based proposals in London's Brixton and Latin Village, and work stops at the planned metro station in Athens' Exarcheia Square, are all echoes of a melody of resistance. Gleams of hope still shimmer despite the gloomy reality of police occupying Exarcheia Square or the transformation of London's Elephant and Castle district which some dub "ground zero" of gentrification..

The Tale of City Series [London, United Kingdom]
With its vast counterculture, London has a long history of social and political struggles. The topography of the city exposes contradictions and unveils a contrast between two societies, revealed by pockets of housing estates in wealthy areas and their opposite: ostentatious and luxury apartments in poorer boroughs. Two worlds colliding repeatedly and continuously.
As a Londoner said during the recovery after the economic crisis of 2008, "the money" remembered London again. Known as the world's financial hub, the city is an economic stronghold that is constantly enhancing its development and city planning, especially within the housing sector. It's only fitting that the City of London would reveal so many types of gentrification effects existing in parallel.
Several areas of London show the aftermath of gentrification: each area reveals local authorities' contemporary approach to city planning and how it impacts specific communities. This series looks at three recent struggles against gentrification across different boroughs — with threads of thought and action, presenting experience, education and perspective into explanations around the motives and definitions of gentrification intertwined in the city canvas.
The story of gentrification in London starts with Elephant and Castle — we examine this district, known as "ground zero" to London's anti-gentrification movement. Elephant and Castle could be described as one of the most gentrified places in London.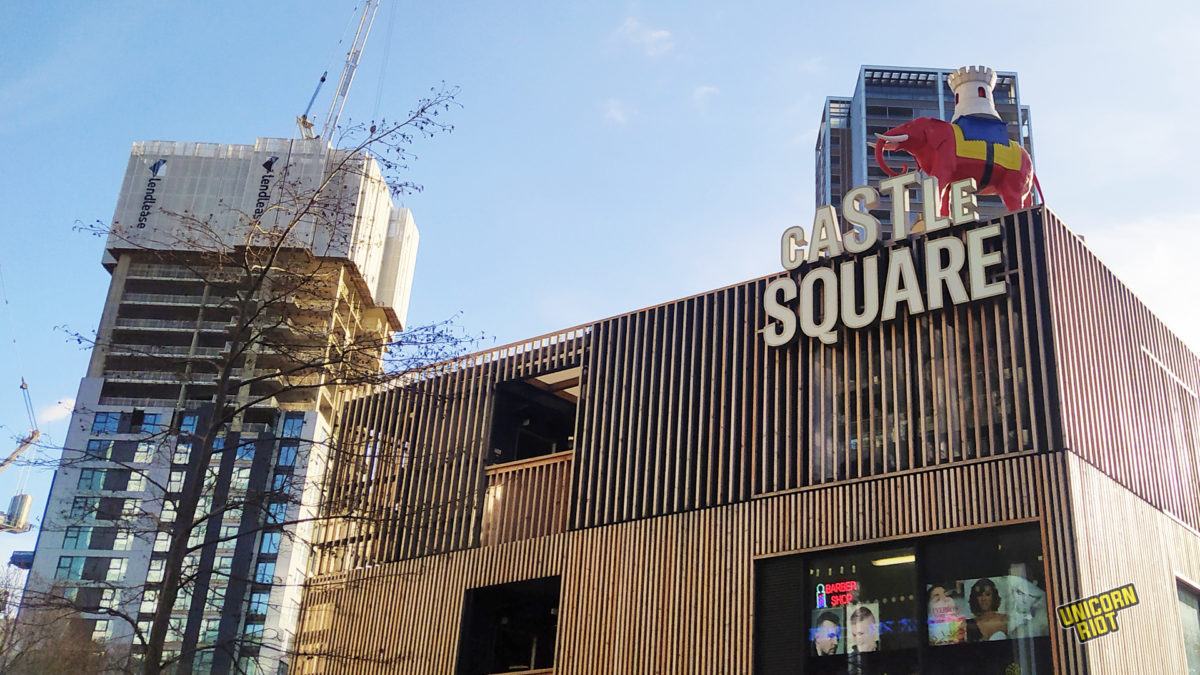 Lambeth, another borough of South London, contains within it the emblematic Brixton district. The borough became a worldwide reference in the language of resistance through the 1981 riots and its cultural elixirs. Through the #FightTheTower campaign, Brixton recently won a critical victory preserving its character against a planned construction of a 21-story building that was eventually halted. Campaigners alleged that the developers are attempting to evict the building's ethnic minority residents.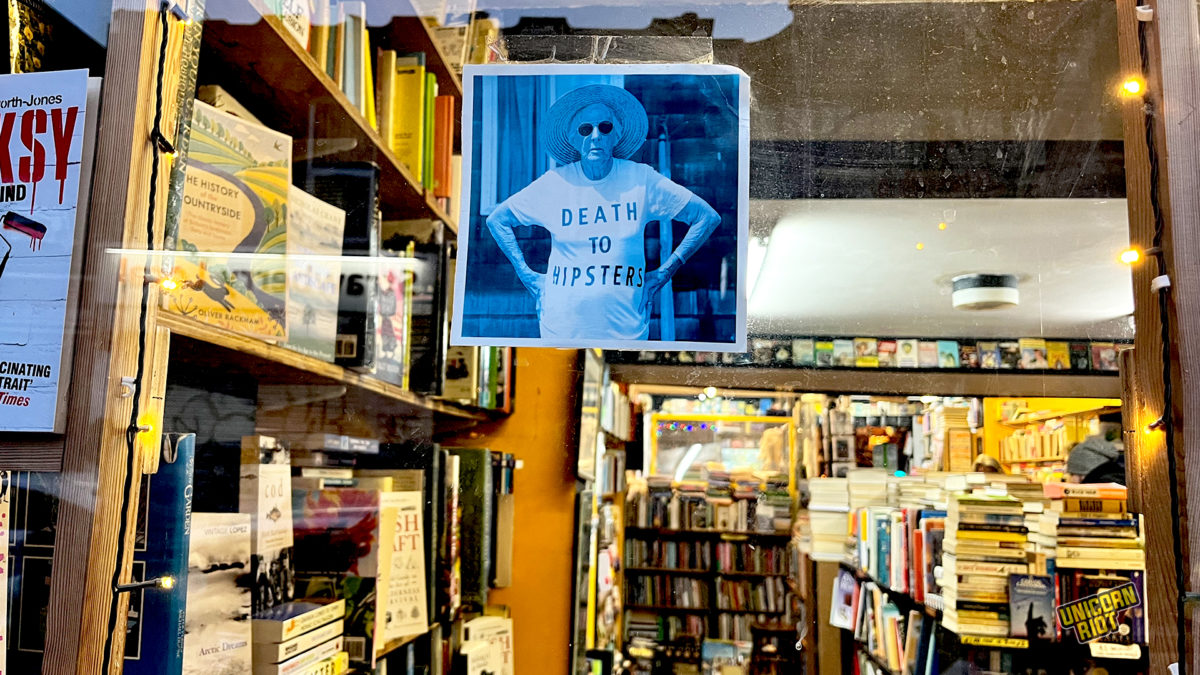 The proposed construction of what became known as the Hondo Tower, or Taylor Tower, was withdrawn in July 2023, marking a major victory for the anti-gentrification movement in Brixton.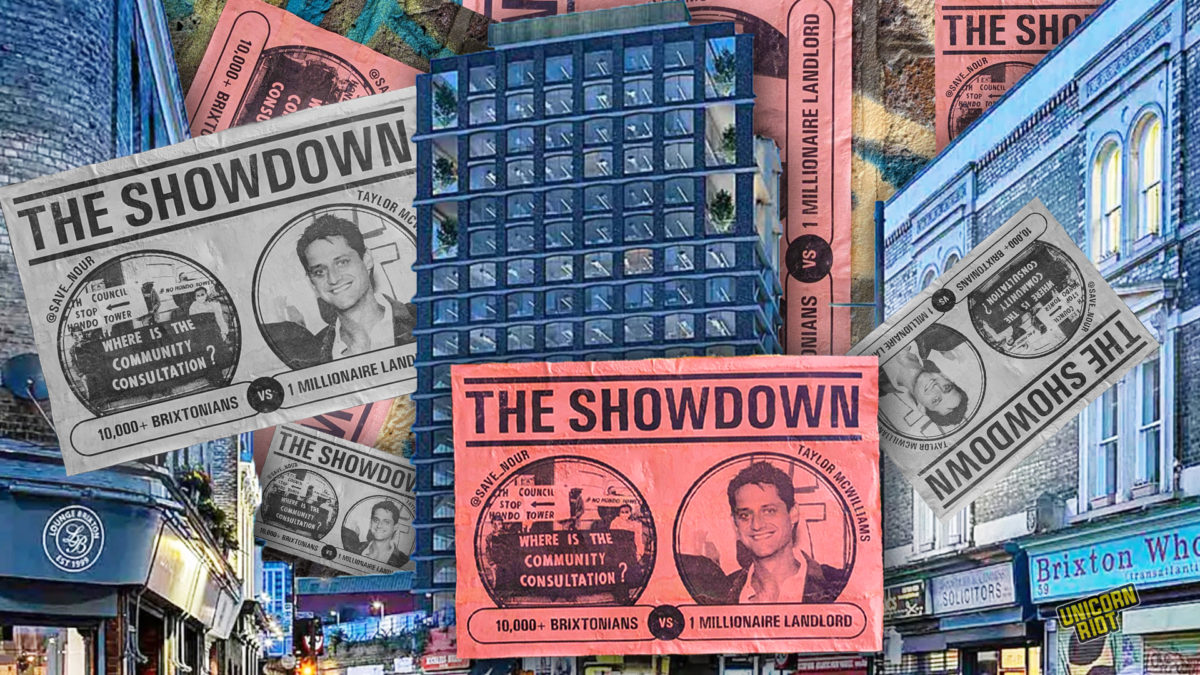 The third example is in Tottenham's Latin Village in the London Borough of Haringey of North London. The community there, through the Wards Corner Community Plan, tries not only to oppose gentrification but most importantly to propose another approach to community and city planning inside the urban tissue.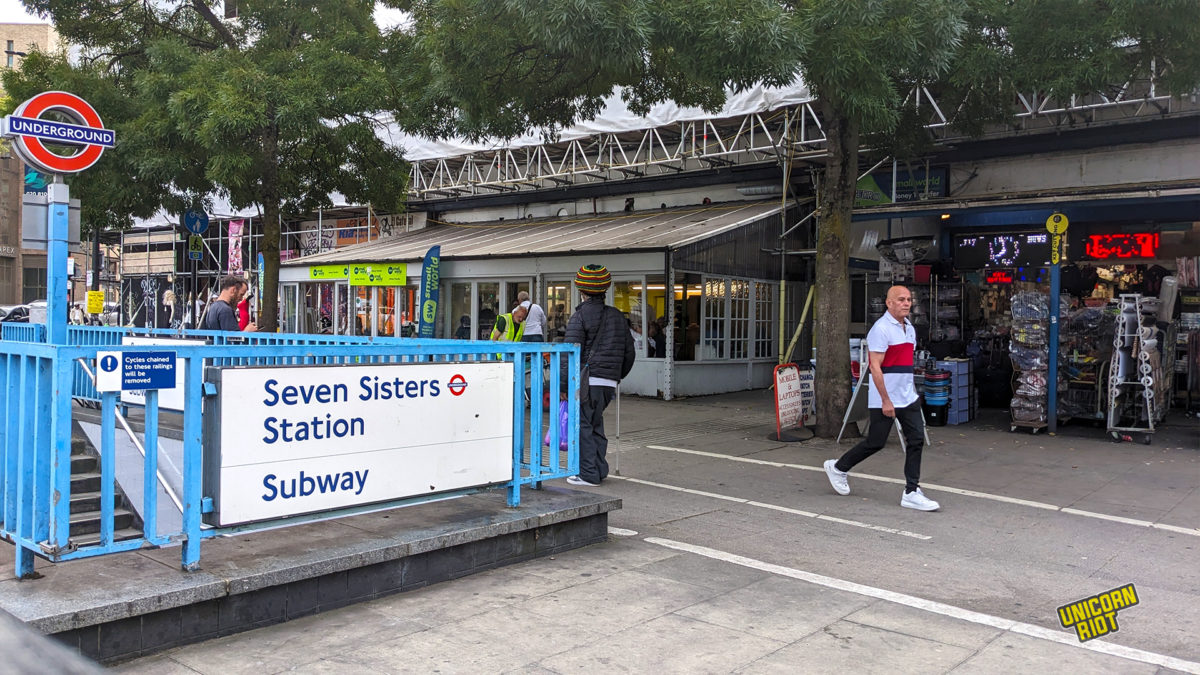 ---
Gentrification in Greece
Accelerated by the country's far-right government, gentrification has been in full swing over recent years in Greece. A main target has been the historic, nationally symbolic Athenian district of Exarcheia, the epicenter of political and counter cultural activities in the city. From Exarcheia Square to Strefi Hill and the Airbnb's in between, the district is now undergoing a facelift. Read the first in our gentrification in Greece series below.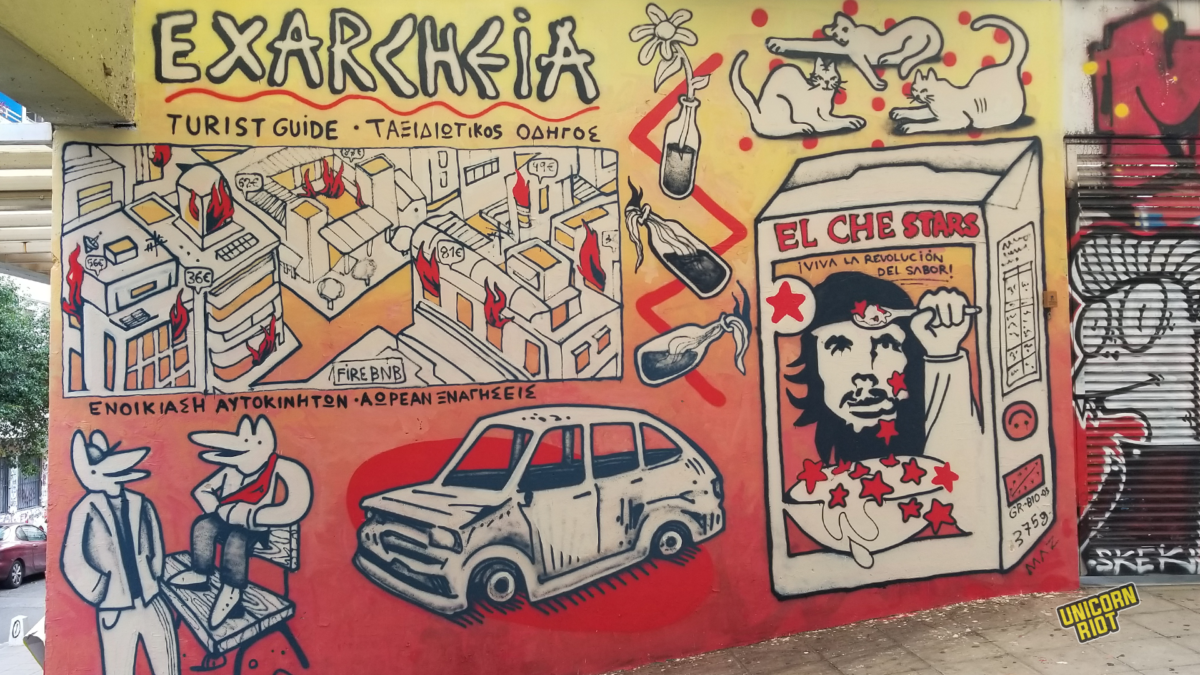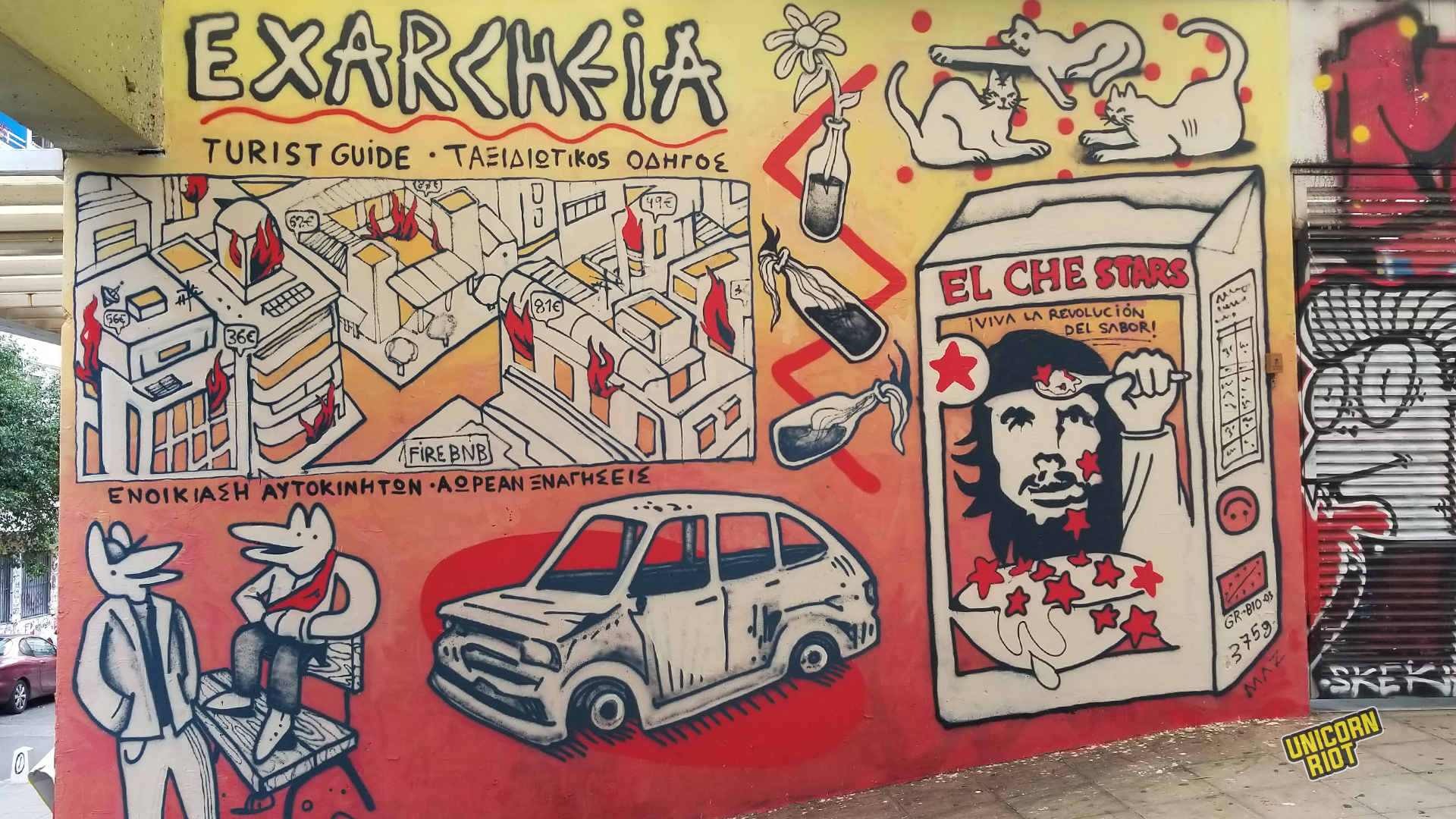 Advertised as the exotic fruit and a promise of growth while preaching sustainability, social justice and ecological proaction in its illustrious cover, gentrification also bears displacement and repression as seen in Exarcheia. Gentrifiers may create faceless neighborhoods with persons unknown, but they have faces and networks that are being revealed and confronted more regularly by the social groups who suffer from this phenomenon. Infographics created by activists describe the web of power players behind the destruction of Strefi Hill.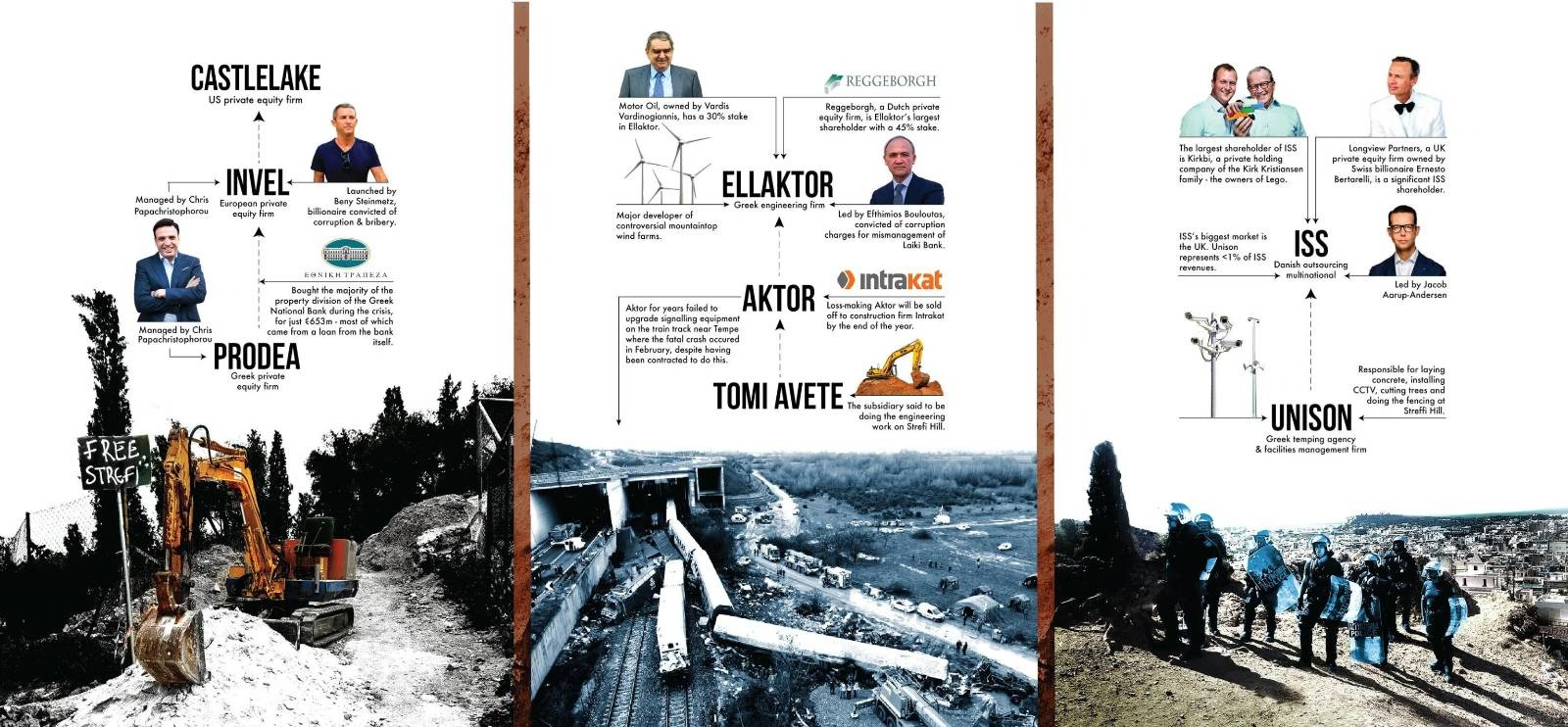 Gentrification is serving as a weaponised tool that is achieving something the Greek government's been trying but failing to accomplish for the last 40 years with police repression, SWAT teams and undercover cops. The punitive character of gentrification meets real estate's lust for profit here and Exarcheia faces a danger from which the area may never recover.
Gentrification is an ever-present phenomenon in the metropolis and big cities globally. Over the last ten years the modes of gentrification have become intensely visible in Athens and across Greece. In order to grasp the vibe and feel of these modern urban conditions, this text presents an attempted reference to some general characteristics and forms of gentrification.
Touristification is the catalyst of the gentrifying process in Athens and unavoidably in Exarcheia, the case study in this article. The ongoing construction of a new metro station in Exarcheia Square, the regeneration of Strefi Hill and the rise of Airbnb and real estate prospectors. They are the main elements used to analyze this phenomenon.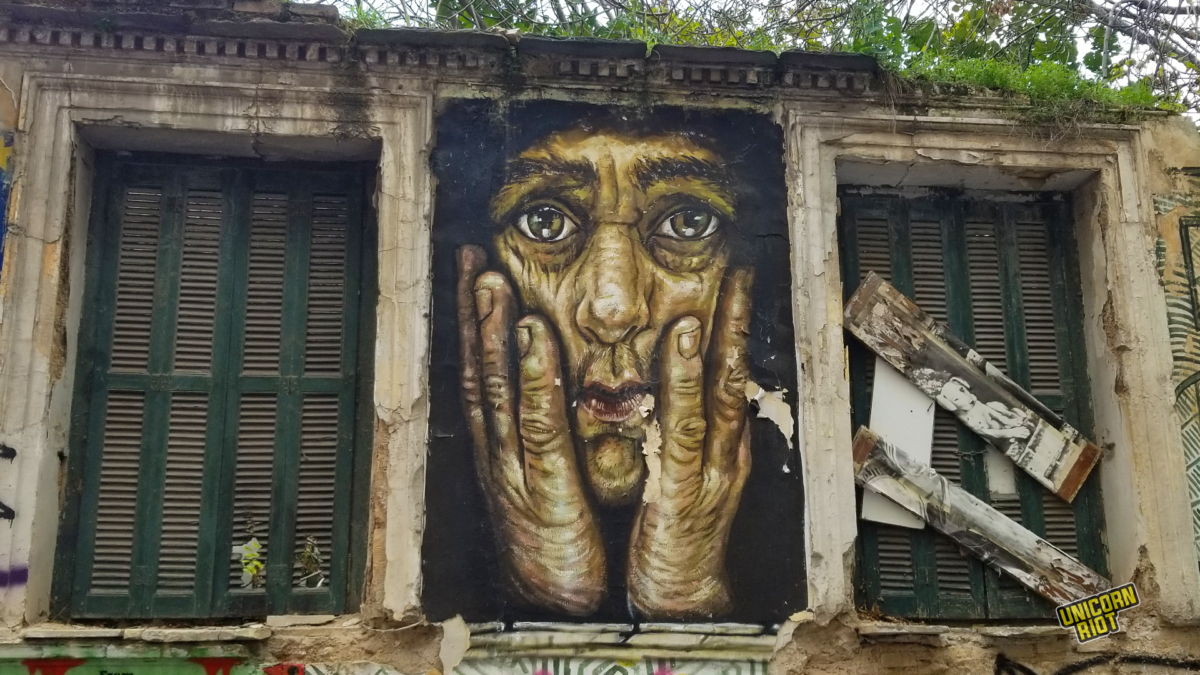 ---
In the United States of America, many forms of development contribute to gentrifying and negatively impacted communities of color. Unicorn Riot took a look at local examples in Philadelphia and Minneapolis to better understand how this phenomenon takes place in the U.S.
Gentrification and Lopsided Development Opposition in Philadelphia
Today Philadelphia has about 1.57 million residents, after reaching a low of around 1.42 million in 1999. Like many deindustrialized cities considered part of the "Rust Belt" – a sprawling, discontinuous region spanning the Midwest and Northeast U.S. Philly faced depopulation and poverty along with high unemployment for years.
Since the city's budget is much weaker than upscale northeastern cities like New York and Boston, wealthy families and developers have disproportionate influence and often get land deals for "a dollar."
Inequities between the working and ruling classes have produced protests and organized opposition, while lopsided development goals particularly including tax breaks for the wealthy, and control and decision making over the area's large parks. The design of major projects is largely presented as a privatized fait accompli outside the reach of public influence, and sometimes opponents are even banned from events entirely with the support of the city police. Environmental racism is also a major feature of the region as cancer clusters and other hotspots for serious health problems surround industrial sites that were once managed by companies like DuPont.
In late 2022 a large march and rally focused attention on several controversial development patterns and projects in the city, including a proposed downtown 76ers basketball arena in Chinatown, which like many Chinatowns around the U.S. faces rising prices and cultural eradication.
Unicorn Riot streamed live from outside an event presenting the FDR Park redevelopment project, but we were forbidden by event staff to enter the space. We interviewed a number of opponents of the project, local residents with various views, and a state legislator.
The FDR Park "Meadows" became popular during the darkest days of the pandemic, as a large space which was once a golf course became wild. Unicorn Riot took a closer look at the redevelopment program, which is based around US Army Corps of Engineers wetland "offsets" policies, and using money from President Biden's infrastructure law to expand the Philadelphia International Airport cargo services, which will subtract wetlands near flood-prone Eastwick, while ostensibly adding more wetlands to already often "wet" areas of the low-lying FDR Park.
Concerns continue that the lavish project is more aimed at supporting major sports bids like FIFA World Cup, as well as replacing wild areas with unsustainable artificial turf fields that generate microplastic pollution. We also confirmed the city had not worked to move animals out of the way before swaths of the meadows were bulldozed, nor were assessments made of threatened species habitat such as the destroyed milkweeds that were once visited by monarch butterflies.
In summer 2020, Unicorn Riot visited abandoned properties owned by the Philadelphia Housing Authority (PHA) which often fuels gentrification by selling empty homes to developers for a profit. With the help of housing activists, several homeless families moved into PHA-owned homes to take shelter during the COVID-19 pandemic. While PHA initially responded with legal threats, these housing occupations ultimately led to negotiations that ended with officials entering into a historic agreement to place several unused viable houses into a community-run land trust.
Minneapolis
In Minneapolis, after redlining and constructing massive roadways that destruct whole districts, large swathes of Black neighborhoods have been gentrified by neoliberal policies. Powerful connections occur between developers, corporations and the city. Over the recent decades, corporations like Target have used their massive headquarters and the jobs they generate to influence local governments and real estate markets to convert districts into viable, trendy neighborhoods.
Minneapolis and London have some dystopian connections within their use of surveillance systems. The U.S. government utilized the UK's "Prevent" program into its own Countering Violent Extremism program that created a wide swath of surveillance on Somali Muslims across Minneapolis in the 2000s. This spying system operated in conjunction with the SafeZone in Minneapolis, a network of cameras connecting through downtown which was funded by Target Corporation. See our full series "21st Century Jim Crow in the North Star City" examining how Target Corp., the City of Minneapolis, and Hennepin County created a domestic spy program that rolled back Civil Rights on its Black population. We take a look at one of the stories in the Jim Crow series below, which goes into some of the new growth in the city.
As the Twin Cities metro area becomes more diverse, the city of Minneapolis trails behind the region's growth in diversity, with a population trending disproportionately whiter, wealthier, and, consequently more conservative in the past decade.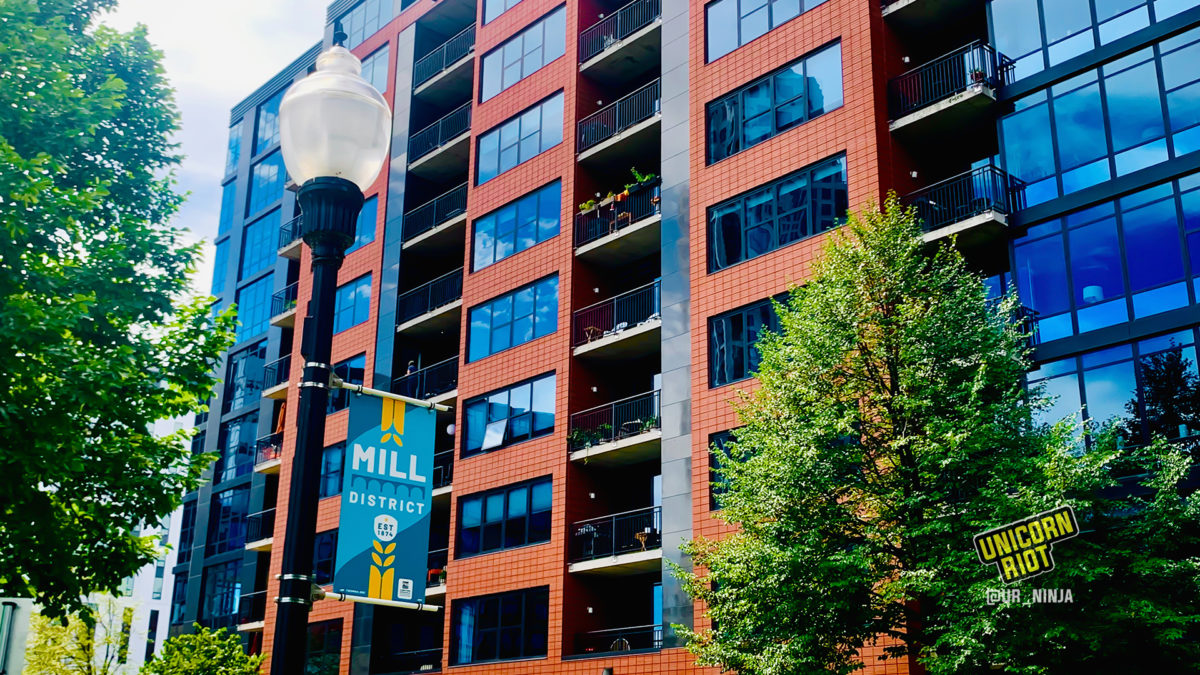 Language for the Intro, London and Greece sections contributed by A.X., a resident of Exarcheia, Athens, Greece.
---
Follow us on X (aka Twitter), Facebook, YouTube, Vimeo, Instagram, Mastodon, Threads, BlueSky and Patreon.
Please consider a tax-deductible donation to help sustain our horizontally-organized, non-profit media organization: