Missouri GOP Volunteer Tied To Neo-Nazi Group
Cape Girardeau, MO – Gavin Sample, a student at Southeast Missouri State University (SEMO), is involved in right-wing campus groups and volunteers for Republican election campaigns. He's also a member of the neo-nazi group Identity Evropa, according to leaked chat records.
(Identity Evropa was one of the main alt-right groups behind the deadly Unite the Right rally in Charlottesville in August 2017. In March 2019, the group's leader Patrick Casey rebranded it as the 'American Identity Movement'.)
Gavin Sample is an instructive case study of how young white nationalists, radicalized online, are working quietly to inject their views into GOP politics.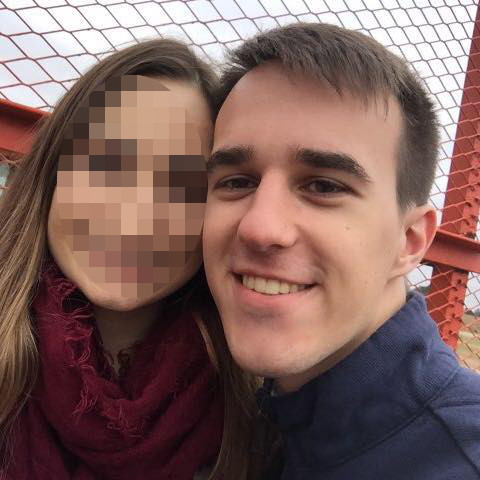 [Content Advisory: Racist Language]
---
WHO IS GAVIN SAMPLE?
Sample, who in one message introduced himself as "prefer[ring] a White and Christian nation", was identified in our research because his Discord username 'GavinTheViking' has been used alongside his real name in several online profiles. A 2012 Minecraft YouTube video uploaded by the user 'Gavin Sample' features a voice who introduces himself as "Gavin the Viking." This also matches the voice used by 'Gavin' in a podcast called 'Rising Right', links to which were shared by 'GavinTheViking' in Identity Evropa's chat.
The 'GavinTheViking' Discord account is present in 'Nice Respectable People Group', the official private organizing chat for Identity Evropa members that was active until March 2019. Sample's handle also shows up in two chat rooms ('Nationalist Review' and 'Nick Fuentes Server') tied to alt-right pundits Nick Fuentes and James Allsup.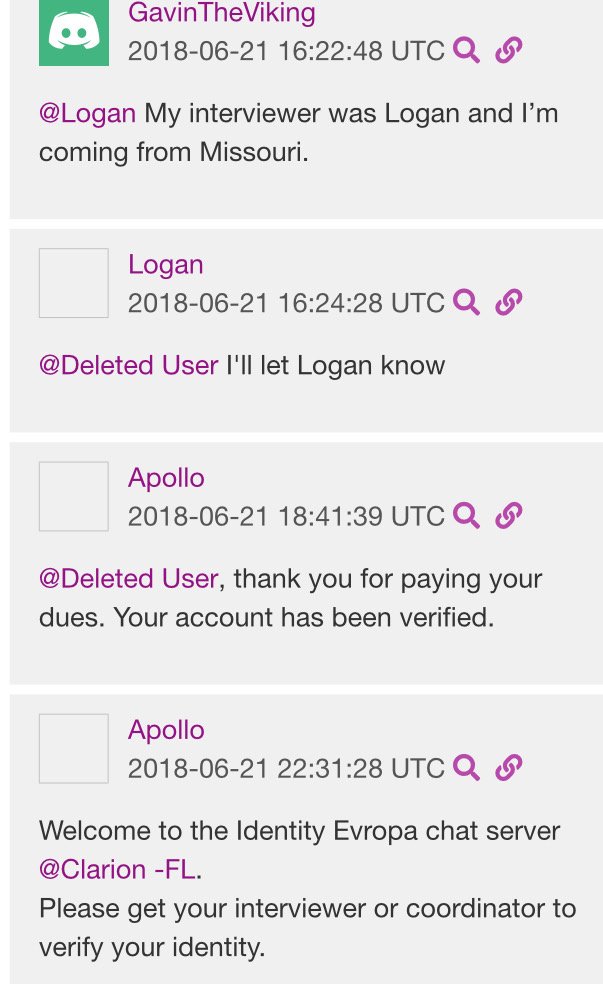 Recent Tweets by 'Servius Albus' (an alias Sample uses on Twitter) promote the American Identity Movement, suggesting he has stuck with Identity Evropa after it rebranded.
In his public persona and podcast recordings, Sample is mostly careful to avoid using overtly racist language. However, his leaked chats from the Identity Evropa Discord server place him squarely within the white nationalist camp the group is known for representing. Sample's chat logs show a fixation on "racial voting patterns" and at one point he claimed that SAT scores show black people are inferior to whites. He shared his interest in "fashwave", an electronic music genre unique to neo-nazi internet subculture.
Sample aka 'GavinTheViking' discussed using GOP politics as a vessel for neo-nazi ideology, a common goal among Identity Evropa members and the larger alt-right. His end goals for working in the GOP include "running someone like Richard Spencer or Jared Taylor for president as a Republican".
Sample also expressed interest in Patrick Little, a neo-nazi who has run for public office on an openly anti-semitic platform. He also made anti-semitic comments about right-wing Jewish commentator Ben Shapiro, referring to Shapiro's show as a "Shekel Cave."
While most copies of Sample's 'Rising Right' podcast have been scrubbed off the internet, several recordings were obtained by Unicorn Riot. While Gavin and his co-hosts mostly use bland conservative language and avoid racial slurs, their podcast commentary often reveals their deeply racist worldview.
In one episode of 'Rising Right', Gavin and his co-hosts mock school shooting survivors, discuss Harry Potter at length, and refer to Africans as "people who eat dirt". They also praised World War 2-era British fascist leader Oswald Mosley as well as the modern European white supremacist group Generation Identity. Sample also references American neo-nazi groups such as Identity Evropa, Atomwaffen and the Traditionalist Worker Party.
On other 'Rising Right' podcast episodes the co-hosts makes several coded Holocaust jokes. Other anti-semitic comments included referring to the "Judicial system" as the "Jew-dicial system". The co-hosts also refer to each other as "goy", a Yiddish word for non-Jews that's become a commonplace anti-semitic slang term on the alt-right. They also discuss the "JQ" or 'Jewish Question.' Gavin also recommended his podcast listeners read 'Culture of Critique', an anti-semitic text frequently discussed by Identity Evropa members.
When discussing Paul Nehlen, an open neo-nazi and terrorism advocate who ran against Paul Ryan in a recent GOP primary election, Gavin and company again showed their true colors. They praised Nehlen for talking about Jews "controlling the media" but complained that he went too far and made himself easily discredited. They say they would have preferred Nehlen if he ran on a more mainstream "nationalist platform" and refrained from sharing overtly racist memes "but maybe sent us a couple dog whistles or two."
---
COLLEGE REPUBLICANS, TURNING POINT USA, & ALT-RIGHT GOP INFILTRATION
According to Discord posts made by Sample in 2018, he is "from Missouri, 8th Congressional District" and "currently volunteer[s] for my local GOP." In one discussion with his comrades at Identity Evropa, he said he planned to start "doing voter registration drives…to attract new members for my club Turning Point USA" (TPUSA).
TPUSA is one of the largest national conservative campus groups in the US, and its messaging is primarily oriented around supporting President Donald Trump. The group has been mired in scandals that often involve chapter leaders using racial slurs. Many TPUSA leaders and members have previously been exposed as members of Identity Evropa. As recently as this week, Patrick Casey and other affiliates of the American Identity Movement have attended TPUSA events and tried to use Q-&-A portions of speaking events to push the audience towards far-right racist views.
Identity Evropa/American Identity Movement president Patrick Casey has previously recommended members group infiltrate TPUSA chapters and use them as "front groups."
Turning Point USA has recently called their critics "the new KKK."

Meanwhile, Identity Evropa chats from this year show the alt-right group w Klan connections has been using TPUSA campus events to spread Nazism: https://t.co/ru4WlPXRL5

"Start a TPUSA chapter… lead them to us" pic.twitter.com/qARXtdwFEP

— Unicorn Riot (@UR_Ninja) April 16, 2019
An archive of Turning Point USA's chapter directory, saved in August 2019, lists Gavin Sample as  TPUSA's Chapter President for Southeast Missouri State University. (The live chapter directory page on TPUSA's site is currently offline.)

Sample is also active in the College Republicans group at Southeast Missouri State University, and appears in several of the chapter's social media photos. Two photos from the SEMO College Republicans page show members of the club, including Gavin Sample, posing with Missouri State Representative Kathy Swan. Sample appears to have volunteered for Swan's 2020 campaign.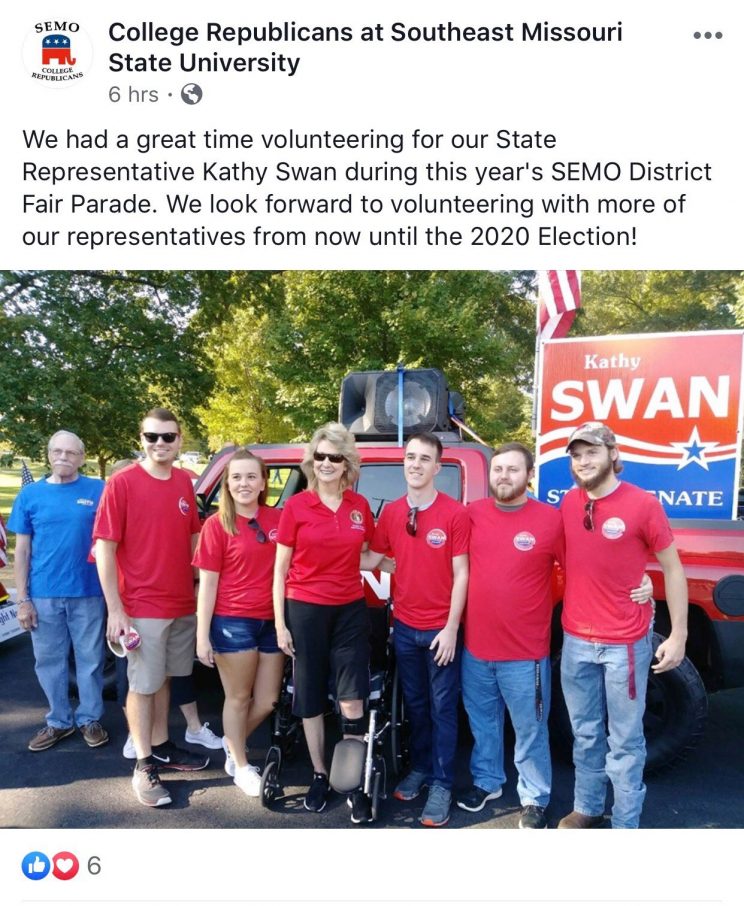 Reached for comment by Unicorn Riot, State Representative Swan distanced herself from Sample and the American Identity Movement.
"I am not aware of any affiliations of this person. I reached out to the college Republicans to help with the parade and he is one of the members who attended.

Neither I nor my campaign condone such a group and will have no further contact with this individual."

– Missouri State Rep. Kathy Swan on Gavin Sample
In another photo shared by SEMO College Republicans, Gavin Sample is seen posing alongside Missouri GOP Deputy State Director Nick Perryman.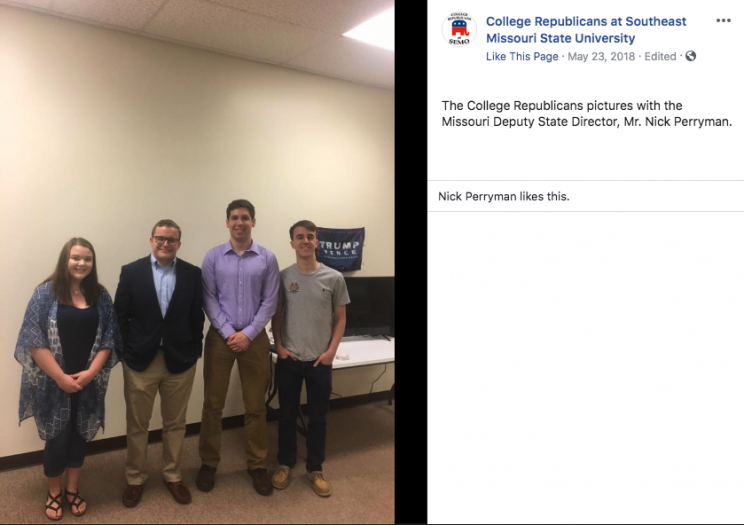 Unicorn Riot has also contacted SEMO campus officials for comment, as well as the university's College Republicans and Turning Point chapters, along with Missouri GOP officials. As of the time this story was published, only State Representative Kathy Swan has responded to our questions about Sample.  Gavin Sample has also not responded to our request for comment.
---
'RED STORM' & LEAKED DISCORD LOGS
In addition to Identity Evropa's Discord chat, Gavin Sample was present in a Discord chat called 'Red Storm', logs of which have been obtained by Unicorn Riot. 'Red Storm' was an influence campaign organized by members of the neo-nazi group Anticom with the goal of manipulating the 2018 midterm elections.
An organizer of Red Storm described it as "a big tent right wing Discord" and "not an 'alt-right hate corner'". However, an introductory message by the group's leaders states that those welcomed to participate include "ethnonationalists" and "national socialists". (The same admin who claimed Red Storm wasn't a "hate corner" casually used the n-word in other messages.)
The stated goals of Red Storm included "promoting the Republican candidates who have the best chance of winning… [and] are the most ideologically pure" as well as "promoting the Democratic candidates who have the best chance of losing."
The Red Storm Discord chat included a channel devoted to directions for creating fake social media personas to manipulate online discourse around the 2018 elections.
To shed further light on networked alt-right attempts to influence elections, we've published chat logs from Red Storm and several related Discord servers.
Logs from other Discord servers tied to 'Red Storm':
---
Archived files of podcasts and videos created by Gavin Sample aka 'GavinTheViking':
---