Police Release Body Cam Footage of Ronald Davis' Killing
St. Paul, MN – Body camera footage of Saint Paul police's (SPPD) deadly encounter with Ronald Davis was released on Tuesday, September 24. The video shows Ronald Davis running towards the officer with what looks to be a four-inch knife before being shot.
On the evening of Sunday, September 15, 31-year-old Ronald Davis rear-ended a squad car driven by SPPD officer Steve Mattson. At the corner of Thomas Avenue and Griggs Street in St. Paul, the image recorded by Mattson's body camera jerks when he was rear-ended. The footage shows Mattson getting out of his vehicle and immediately being startled at seeing Davis running at him with a knife in hand.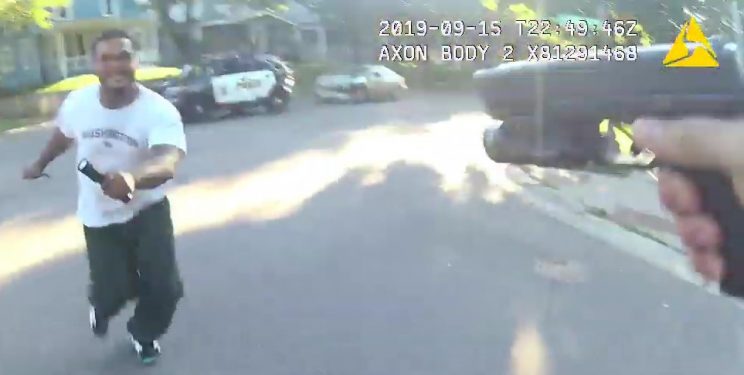 "Whoa – whoa – whoa – holy fuck!" were Mattson's first words as he drew his gun, ran, and fell. Davis continued charging after Mattson, who backed away yelling at Davis to "drop the knife" and "get away from me" before discharging his firearm twice and striking Davis.
[Content Warning – Watch the video here]
The footage was released just nine days after the fatal shooting. The release happened a day faster than the last most expedient release of fatal SPPD shooting videos, that of Billy Hughes in August of 2018. Both of the fastest video releases in Minnesota history have happened under the watch of St. Paul Mayor Melvin Carter and Police Chief Todd Axtell. In most officer-involved shooting cases across Minnesota, the norm has been to release the videos after the investigation or the court case is finished.
Davis' mother was the first to see the video. A press conference was held by Chief Axtell Tuesday afternoon where the video was shown.
Ronald Davis was recently married and had two children. Two days prior to his death Davis had completed a six-week certification course in 'maintenance and facilities'.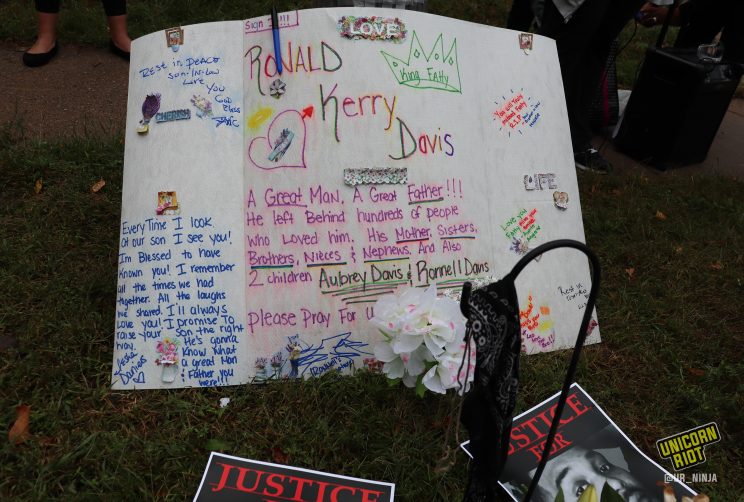 During a vigil for Davis on September 22, some of his classmates spoke highly of him. As the crowd of ~100 people marched from the Western District to the site of Davis' death and back, Unicorn Riot provided a live video stream.
Unicorn Riot spoke with one of Davis' classmates during the march, who said that Davis had been "humble" and that he "really wanted to serve his community." Others expressed shock that this could have happened and questioned the circumstances.
During this past week many questions were asked publicly at meetings, on the internet, and in social circles. Did Davis deliberately attack that police officer because of something the officer did? Was Davis mad at the police in general? Did he mean to provoke police into shooting him? Was this what they call, 'suicide by cop'?
Although it is unclear what was going through Davis' mind, a friend of his thought Davis had been having some sort of personal crisis at the time.
Ronald's friend said that Davis had visited The Mission, a shelter in St. Paul, on Sunday just before he drove his vehicle into the back of Mattson's squad car. Davis' friend told KSTP-TV that the visit was brief and that Davis seemed to be acting "paranoid". Before Davis left, he told his friend he thought the "Illuminati was trying to kill him." A short time later, Davis prompted the accident and the interaction that ended his life.
Davis' death came one week after the September 7 police killing of Brian Quinones in Richfield, MN. Quinones' brother said that Brian had schizophrenia, and it felt likely to him that Brian was going through a mental health crisis the night he live-streamed the last moments of his life. After calmly leading police on a short pursuit, Quinones got out of his car holding a knife; he was then shot to death by police.
A total of five fatal police shootings have occurred in the Twin Cities metro since July 2019. No investigation information or videos have been released (aside from officers' names) regarding any of the other four shooting victims: Brian Quinones, Kobe Heisler, Matthew Tuhkanen, and Isak Aden.
The day of the Davis video release also marked the four-year anniversary of SPPD's killing of Phil Quinn, a 30-year-old White Earth Ojibwe man. He was shot and killed by Saint Paul police officer Rich McGuire after Phil's family called 911 in hopes of receive assistance for their loved one in crisis.
Phil, who had schizophrenia, had been freshly discharged from St. Josephs Hospital and was waiting for a bed to open up at a center to receive mental health help. His friends and family called 911 several times, saying their family member had a screwdriver in his hand, had hurt himself, and seemed likely to attempt suicide.

The lack of ability for some law enforcement to deescalate and non-violently intervene in situations of mental crisis has led to a growing number of those seeking help being killed by police across the nation. Some point to better police training as a way to counteract that, others to broader mental health support, and others to having an alternative to police.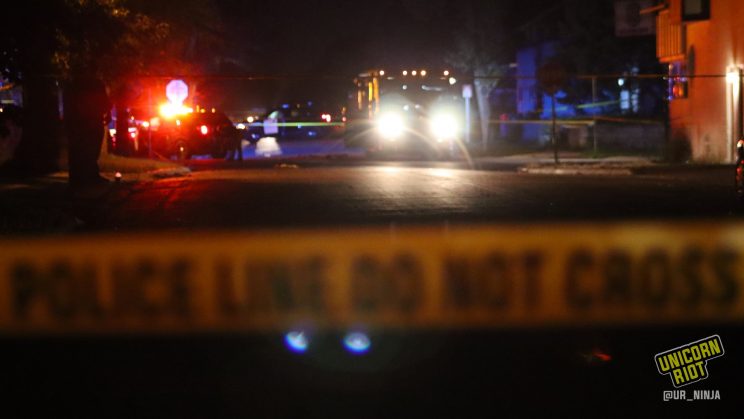 In the case of Ronald Davis, the mistrust with the police is so deep that some question if the video had been edited, or whether the result of this interaction would have been different had the person of interest not been Black.
During Chief Axtell's statement at the press conference, Axtell said he hoped releasing this video early would lead to discourse on how to prevent such "tragedies in the future".
Though he said he "recognize[d]" the "trauma" inflicted on communities of color by "a history of policing practices throughout our country", Axtell took half of his speech to throw several jabs at anyone questioning the original police story.  Before he was finished, he quipped, "wearing a badge does not automatically make you wrong any more than standing in a street with megaphone makes you right."
---
Please consider a tax-deductible donation to help sustain our horizontally-organized, non-profit media organization: