Isak Aden: Another Black Life Stolen by Police
Eagan, MN – Two weeks after 23-year-old Isak Aden was killed by police, over 100 community members took over Eagan's City Council Chambers in search of justice for Isak. After marching around Eagan's police station, 18 people spoke passionately to the City Council and Eagan Mayor Mike Maguire about the toll incurred on their lives and community from Isak's loss.
Unicorn Riot sat down with Sumaya and Badrudin, two of Isak's siblings, for an exclusive interview after the fiery protest.
Family members, friends, activists, organizers, educators, and concerned community members met the evening of July 16, 2019 at the building which houses Eagan's City Hall and Police Department. Rousing speeches were made, then the crowd, lifting forth a massive "Justice 4 Isak" banner, marched down roadways, clogging rush-hour traffic in the southern St. Paul suburb.
The angered crowd eventually entered the Eagan city building chanting "Justice for Isak!" and took over the City Council Chambers.
The speeches to the City Council, which lasted over an hour, were started by Jaylani Hussein, Executive Director of Minnesota's chapter of the Council on American-Islamic Relations (CAIR-MN). Hussein said that the crowd protesting for Isak would also seek justice for any of the sons of the council members, if they were the ones being killed by police.
Hussein pressed the Council members to release all of the video evidence to the public. Another speaker, Michelle Gross, founder of Communities United Against Police Brutality, said that it is within their rights to carry out this request: "Under the Minnesota Government Data Practices Act 13.82 Subdivision 15, you have the right as the originating agency of that data, to release that data."
Isak's sister, Sumaya, read to the City Council a text message from a "best friend" of Isak who was stationed in Europe somewhere while in the military. The message was a touching tribute to who Isak was, someone that "would go out of his way, whether it was to just advise you or even loan you a couple grand."
Badrudin, Isak's brother, who was at the scene of Isak's death, spoke to the City Council about the officers that were involved in killing his brother.
Four of the officers who shot and killed Isak were from the Bloomington Police Department (Anthony Kiehl, Daniel Nelson, Matt Ryan, Adam Stier) and was one from the Eagan Police Department (Jacob Peterson).
Aden explained to the City Council how two of the officers, Anthony Kiehl, of Bloomington Police, and Jacob Peterson of Eagan Police had already killed people in the recent past. Anthony Kiehl killed 24-year-old Quincy Reindl in Bloomington, MN in 2015. Jacob Peterson killed 26-year-old Zachary Premo in Duluth, MN in 2013.
"Putting officers who have a previous past of being involved in fatal shootings on the frontline of a situation that sensitive, tells you what kind of mindset they had going into this." – Sumaya Aden
Badrudin was at the scene of his brother's death on July 2, 2019. He said that after the sheer number of gunshots he'd heard, he "immediately knew it was over" for his brother.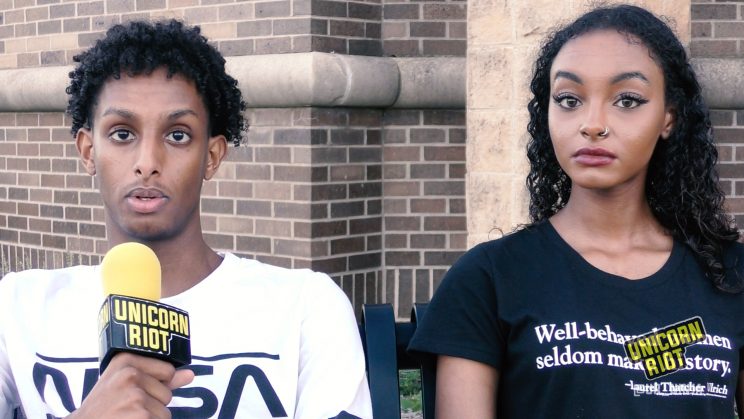 According to the police, they were called to a domestic disturbance in Eagan. Isak is reported to have run to a wooded area and a parking lot where a standoff ensued for several hours. Over 90 police officers are said to have been called in to the incident, including a fully armored SWAT team. At some point in the night, five police officers shot and killed Isak, while two officers fired with non-lethal rounds. The police report that they recovered a cartridge casing and a handgun near Isak.
Sumaya and Badrudin said they both want the officers that killed their brother to be "prosecuted and put behind bars." See the siblings speak with Unicorn Riot about their brother, how they found out about the tragic incident .
Watch the speeches made during the July 16 Eagan City Council meeting below:
---
Please consider a tax-deductible donation to help sustain our horizontally-organized, non-profit media organization:

Unicorn Riot's Isak Aden Coverage: