No Charges Against Minnesota Police Who Killed Hip-Hop Artist
Richfield, MN – The police who shot and killed Brian Quinones-Rosario in September 2019 will not face charges. Hennepin County Attorney Mike Freeman, the deciding voice in many recent police shootings in Hennepin County, made the justification announcement on Monday, February 10 and released a 17-page report along with four videos.
Brian Quinones was a 30-year-old hip-hop artist ('Blessed the MC') as well as a husband and father, employed at General Mills and working as a barber on the side. He was born in Puerto Rico and had been living in Minnesota since he was a child.
Quinones live streamed the last moments of his life on Facebook. As he violated minor traffic laws by not signaling and running red lights, he was pursued by police.
After Quinones got out of his car brandishing a kitchen knife, he was quickly killed by seven of the 18 bullets fired by five police officers, all of whom would later say they feared for their own life or for the life of another officer, according to Freeman's report.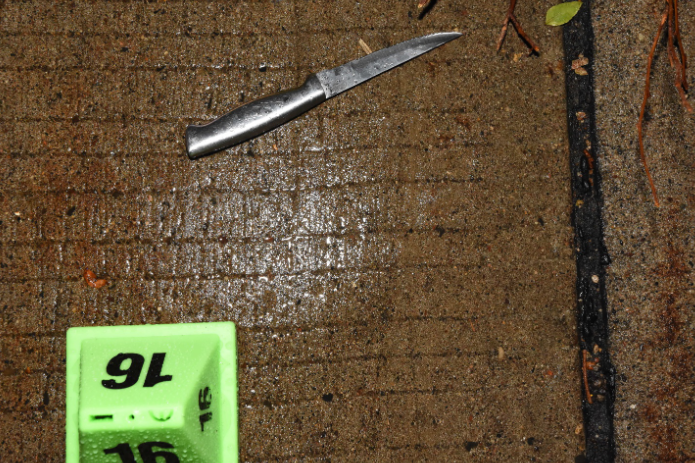 The five officers who shot and killed Quinones include Edina's Nicholas Pedersen and Benjamin Wenande, as well as Richfield officers Dylan Schultz, Joseph Carroll, and Macabe Stariha.
Stariha, one of the last to arrive at the scene, led the tally in shots fired, discharging a flurry of 5 bullets and then 3 more shots just seconds later. Stariha also handcuffed Quinones' lifeless body.
Pedersen and Carroll each shot four bullets at Quinones. Wenade fired once and Schultz shot once, after having first attempted to use his Taser.
The four videos released to the public can be found in a YouTube playlist titled 'Brian Quinones-Rosario Case' on the Hennepin County Attorney's YouTube channel.
One of the four videos released, from Richfield officer Dylan Schultz, shows the actual shooting (below).
Content advisory: Graphic violence.
The squad car camera from Officer Nicholas Pedersen, the Edina officer who initiated the pursuit and shot at Quinones four times, was also released to the public (below).
The other two videos released by the Hennepin County Attorney's Office shows Quinones' Facebook live stream and additional footage from the body camera of what seems to be a Bloomington police officer (below) who responded to the scene as neighborhood residents reacted to what many deemed an excessive use of force in the deadly police takedown.
The report released by Freeman's office, titled 'Report of the Hennepin County Attorney's Office Regarding the Use of Deadly Force on Brian Jesus Quinones-Rosario on September 7, 2019', can be seen below.
Quinones-Report-HCAO

---
Unicorn Riot's Coverage of the Police Killing of Brian Quinones-Rosario:
---

The report details why Freeman and two senior prosecutors justified the officers' use of deadly force and presents each officer's version of that night's events.

Edina's Officer Pedersen had a ride-along in his car on September 7 when he started the pursuit of Quinones. The pursuit lasted about 10 minutes and was not at high speeds. After Pedersen attempted an unsuccessful PIT maneuver about four miles into the pursuit, Brian pulled over on his own and got out of his car with the knife.

Pedersen can be observed in Schultz' video ordering Quinones to "Drop the knife" before shooting him four times. He then grabbed his arm, flipping his lifeless body over to be handcuffed by officer Macabe Stariha, who had shot 8 bullets at Quinones.

Edina officer Benjamin Wenande said that he thought "Oh my God, he's gonna kill us" before he fired one shot at Quinones, who had already been shot several times.

Officer Joseph Carroll of Richfield was quoted in Freeman's report saying that Quinones' face had an "emotionless look". This statement echoes details in the killing of Jamar Clark; Freeman allowed similar language to justify the shooting of Clark by Minneapolis police officers Dustin Schwarze and Mark Ringgenberg.

The use of the terms "stare" and "emotionless" have been consistently used across the United States by white police officers describing 'fearful' encounters with men of color. As professors Jason Sole and Rachel Wannarka wrote in their 2016 article, On police, black men and the 'thousand yard stare':

"We know now from shooting statistics as well as several prominent examples that such rhetoric should be seen as evidence of implicit racial bias, or as attempted justification constructed after the fact." — Jason Sole & Rachel Wannarka

Furthermore, Sole and Wannarka state about the Clark case, "If Schwarze and Ringgenberg actually saw such an expression on Clark's face, they should have followed trauma-informed protocols including helping Clark to relax, talking through the situation, providing space and time for him to respond, perhaps asking the EMTs for assistance."

The report from Freeman's office includes statements from his wife and grandfather-in-law about his perceived "suicidal" state. The report quoted activity from Quinones' Facebook account where he posted he was "sorry" and messaged some of his family, presenting a portrayal of Quinones as a man struggling with suicidal ideations.

No mention of de-escalation of a situation involving a possible mental health crisis is present in the report. Officer Schultz was the only responding officer to reach for his Taser first.

Nicholas Pedersen made his statement to Hennepin County Sheriff's Office investigators on September 11, along with the other Edina officer that shot Quinones, Benjamin Wenande.

Neither of the Edina officers reviewed any of the footage before giving their statement.

Richfield officers Macabe Stariha, Dylan Schultz, and Joseph Carroll all gave their statements on September 13, five full days after killing Quinones. Prior to giving statements, all three of the Richfield police officers reviewed footage from squad cars.

Shortly after the shooting, Unicorn Riot spoke to witnesses and residents of the nearby apartment complex. One of the witnesses gave us a statement on what they had seen happen (see below).

Protests seeking justice and transparency in Brian Quinones-Rosario's case have been continuous since his death. Highways have been shut down and occupied by protesters, and city council meetings have been disrupted.

A large banner reading Justice 4 Brian and on the bottom 'this shit ain't fair to us-merikkka' was unfurled at many city council meetings

Quinones' wife Ashley has been tireless in her quest for justice along with many family members of Brian's. Unicorn Riot spoke with Brian's mother, his wife, and 12-year-old son a month after Brian was killed (see below).

In October, an emergency protest was held after Edina and Richfield police reneged on a promise to release videos to the public before the investigation was over. Family members and friends of Brian spoke during the protest, and Unicorn Riot heard from many more after the protest was over (see below).

No drugs or alcohol was found in Quinones' system.

As state officials rubber-stamp their approval of yet another questionable police killing, the Quinones family is left to live with the trauma of this incident. A protest on Facebook titled, 'Fight Back Against the Fraud Freeman!' was held Tuesday night in front of the house of Hennepin County Attorney Mike Freeman (see below).

---

Please consider a tax-deductible donation to help sustain our horizontally-organized, non-profit media organization: