Family to View Footage in Fatal Police Killing This Week
Richfield, MN – Dash camera footage of the September police killing of Brian Quinones-Rosario was viewed by Brian's family on Wednesday, October 23. Demands for greater transparency in October City Council meetings have helped move the process forward for the family of Quinones after Brian was shot and killed by Richfield and Edina police.
Unicorn Riot spoke with Quinones' mother Merry, his wife Ashley, and their 12-year-old son for an exclusive interview outside the October 8 Richfield City Council meeting. At the time of the interview they had not yet been granted the scheduled time to view the footage.
The push for rapid transparency follows the quick release of body camera footage from the Saint Paul officer-involved shooting of Ronald Davis, made public just nine days after the incident. While body cameras are not worn by Edina or Richfield police, community members at the Richfield City Council meeting pushed for the release of the record of Quinones' killing from the footage captured by the dash cam, saying, "We know it can be done."
Residents and Quinones family members have also voiced their concerns about public safety at the Edina and Richfield community meetings. "I've lived here my whole life but I no longer feel safe," one resident said during an October meeting at Richfield City Hall.
Family and community members criticized both Richfield and Edina's mayors and chiefs of police for allowing the officers who killed Brian to return to duty just days after shooting and killing Brian.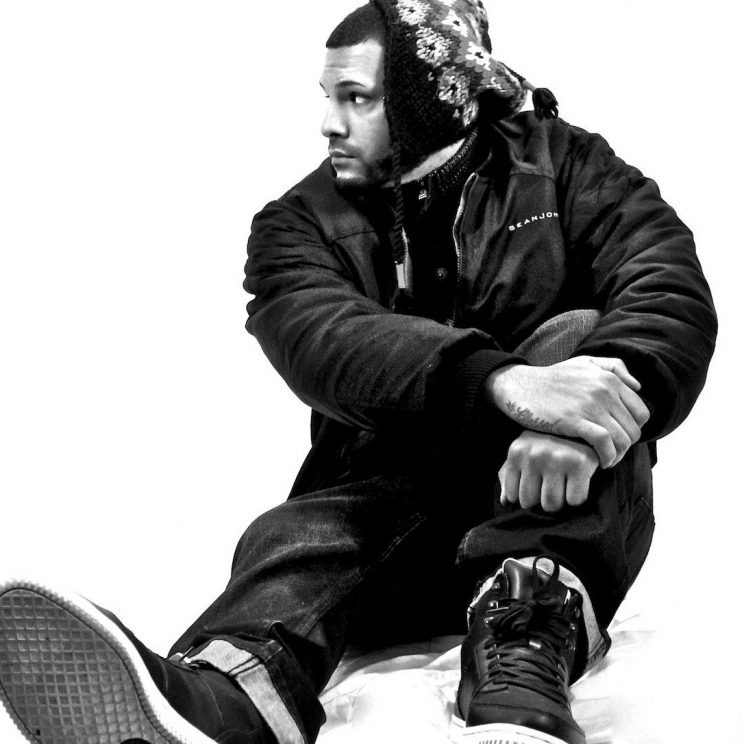 All of the officers that took part in shooting 16 bullets at Quinones are back on duty after a short period of paid leave.
Nicholas Pedersen and Benjamin Wenande, both Edina police officers, returned to regular duty two weeks after killing Quinones. One week later, both Dylan Schultz and Macabe Stariha resumed regular duty, and Joseph Carroll of the Richfield Police Department was back on duty a short time later.
Brian's wife, Ashley Quinones, questioned why it was acceptable for the killers of her husband to be back on duty within days after his death.
"Where is the training? Where is the correction? Where is the, 'Don't ever do this again'?" — Ashley Quinones, Brian's wife
Ashley had been with Brian since they were 14 years old. She told Unicorn Riot that she "lost everything" with his death; she and her 12-year-old son were both witnesses to the shooting and killing of Quinones by police.
She spoke of the traditions they held as a family and how October had always been their favorite time of the year. She said they would go to the apple orchards and have pumpkin carving parties at their house.
Ashley said that she didn't want to do any of those things anymore, as "it's not going to be the same."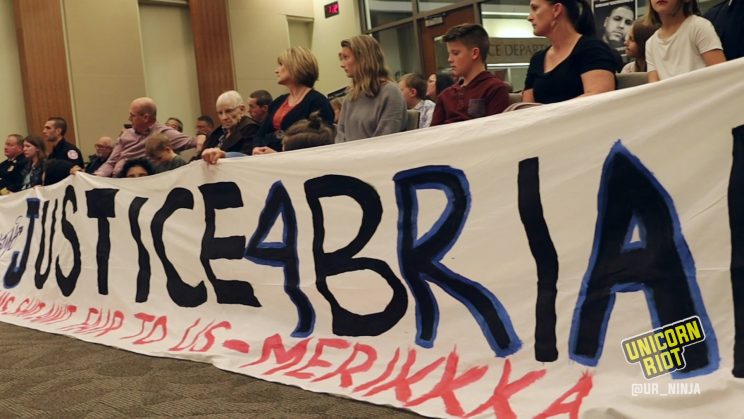 Brian's son spoke to Unicorn Riot about how his father was so caring that he "would give his last penny" and would sometimes "give his whole entire house of food away" to people experiencing houselessness. He said that his father would come back home from work to help him with his homework. He said the ways that he himself walks, talks, dresses, and even thinks about mathematics were all learned from his father Brian.
He said that sleeping has been hard as he laments the loss of his father. Both he and his mother Ashley have a lifetime ahead of them of struggling to deal with the memory of seeing Brian's death.
"I go to sleep around 5 a.m. and have to wake up an hour later for school" — Brian Quinones' 12-year-old son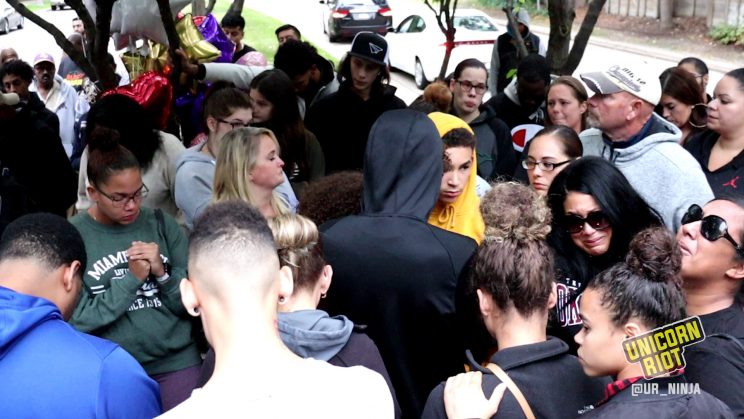 Ashley's grandfather, Don Williams, made public comments in both city meetings expressing his concerns with the overall handling of the case. He questioned the council members about why the family had received so little answers. "It's been more than 30 days and they still haven't listed a cause of death on the death certificate," he said during the October 8 Richfield City Council meeting,
Williams also remarked that shooting Brian 16 times was "over-kill" and a "homicide". Brian's death was finally officially ruled a homicide last week, according to his wife.
Williams went on to say that he believes his daughter should be given back her car, which police have held since the night of the incident as a part of the investigation. Ashley is still making monthly payments on the car. To her relief, she was told she would be getting her car back on Tuesday, October 22.
"The police force here is deadly … the system as a whole is disgusting and I don't understand how anybody is supposed to trust in the police at all here." — Ashley Quinones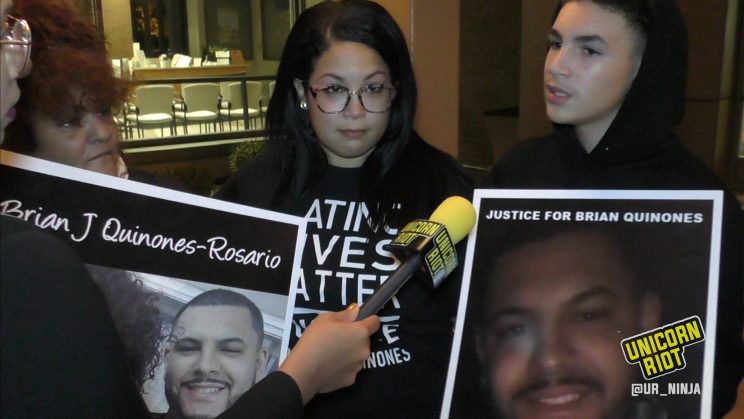 On the night of September 7, Brian Quinones streamed his final moments on Facebook live. Quinones ran several red lights in Edina, a southwest suburb of Minneapolis, prompting Edina police to attempt to pull him over.
Brian didn't immediately pull over, instead continuing to drive down suburban streets while listening to Nipsey Hussle's 'Double Up'. Police pursued him for nearly 10 minutes until Brian stopped near 77th St. and Portland Ave. in Richfield and hopped out of his car with a small knife.
Police gave Quinones less than one second to comply with their command to "drop the knife" before shooting at least 15 rounds in two volleys.
The day after Quinones was killed, hundreds of Brian's family, friends, community members, faith leaders, and activists gathered for a vigil which turned into a march that occupied a stretch of Interstate 494 on a Sunday evening in early September.
During the vigil, many in the community questioned the police's tactic of shooting to kill, knowing police have tasers and other less-lethal or non-lethal devices available for use in lieu of their firearm.
This question became more poignant last week when police officers were shot at with a gun in Northern Minnesota while being led on a chase exceeding speeds of 100 mph. Police from Little Falls, MN, shot bean bag rounds and chemical munitions at the driver, never firing a single live round.
Though the notion of an officer fearing for their life has been used to protect officers who kill with impunity, the actions of Joshua Burgardt, the Little Falls policeman who used no lethal force towards a suspect who had fired live rounds at him, prove that other actions are possible.
"This is like a nightmare." — Merry Rosario, Brian Quinones' mother
Brian's mom, Merry Rosario, spoke to Unicorn Riot, saying there were no words to describe her pain. She said that when she came to the October 8 Richfield City Council meeting and saw other families that had been impacted by police killings, like that of Isak Aden's, she realized it was a big problem.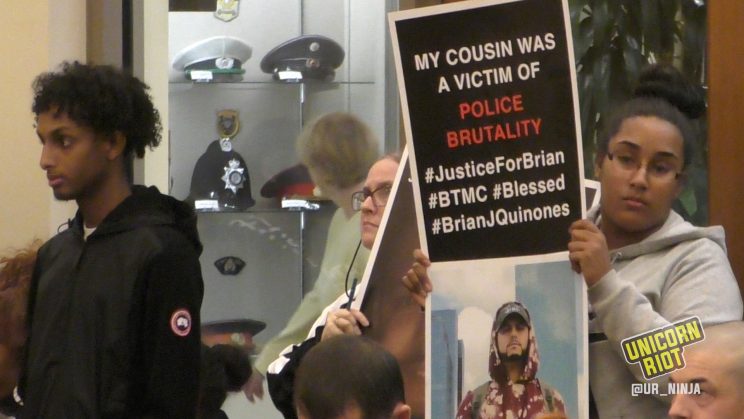 Merry said that Brian was brought to Minnesota from Puerto Rico when he was four and had made it his home. Brian was a great son, loving and funny, she said.
Brian was a father, husband, barber, a painter, and a Hip-Hop artist. Quinones performed under the moniker Blessed The MC, and had just released a new album called T.I.M.E. (This Is My Everything) on the same day he was killed.
Quinones worked at General Mills over the last five years. Chara Blanch, a Richfield resident and friend of the Quinones family said during her addresses to the Edina and Richfield City Councils that he "was so loved by the company that many managers and executives attended his funeral."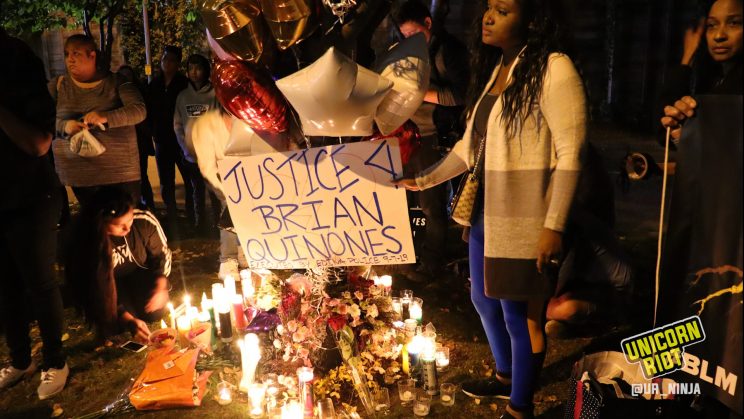 Both Ashley and her son were adamant that at the very least, they want the officers involved with killing Brian to be fired. As their son said, "At the end of the day these are the people that are protecting me and the next generation, for all of our families."
Unicorn Riot's Coverage of the Police Killing of Brian Quinones-Rosario: