Over 100 Protesters Block Road to Mt. Rushmore During July 4th Festivities
Keystone, SD – [UPDATE July 4, 2021] In late March 2021, the 21 total arrestees from the July 3, 2020 protest had their charges dropped. Nick Tilsen, NDN Collective President and CEO, maintained one felony charge, yet struck a deal to get it dropped if he completed a prison diversion program. Two days ago, however, the Pennington County Attorney's Office stated that it was moving forward with prosecuting Tilsen.
"The prosecutor has abused their position of power and privilege to try to silence myself and try to silence others. As we were combing through the details we found several violations that were not only Constitutional violations, but ethical violations, things that prosecutors shouldn't do. Prosecutors are not allowed to engage in vindictive prosecution."

Nick Tilsen in an NDN Collective Press Release
In response to the prosecution's action, Tilsen filed a motion to dismiss the charges.
---
On Friday, July 3, 2020, hundreds of protesters rallied on the shoulder of Highway 16A demonstrating their opposition to President Trump and Vice President Pence speaking and celebrating at Tĥuŋkášila Šákpe (Six Grandfathers Mountain), also known as Mount Rushmore, for Independence Day.
One hour into the rally, which was mostly comprised of Indigenous people, some of the protesters moved into the road preventing a portion of the more than 7,000 people with event tickets from accessing the mountain. Four white vans also aided in the road block.
Pennington County Sheriff's deputies, militarized police, National Park Service, Forest Service, and the National Guard, all worked in tandem to quell the passionate rally.
Protesters went shield-to-shield with the National Guard on-and-off for about an hour, until the Guard finally pushed the protest line behind and away from the white vans, which provided the state the opportunity to tow them. During the initial round of line clashes, the first protester was arrested; a Black man wearing a "BLM" (Black Lives Matter) face mask.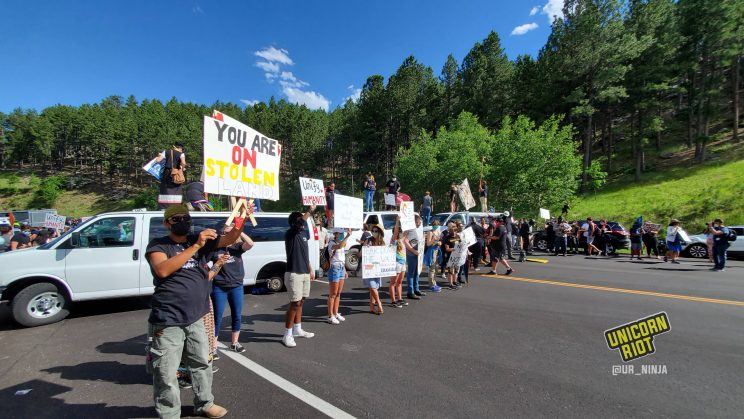 Nick Tilsen, NDN Collective President and CEO, tried negotiating with the Park Service to see if they could influence the Pennington County Sheriff's Office to unhitch the white vans.
"And you know what the fucked up thing is of why this right here is a function of white supremacy? We're sitting here potentially trying to negotiate while your people are fucking actively going against what we're trying to negotiate right here and right now. Just like the fucking broken treaties. Just like every agreement and promise you ever made against Indian people." – Nick Tilsen
Although Article VI of the U.S. Constitution states: "and all treaties made, or which shall be made, under the authority of the United States, shall be the supreme law of the land," the U.S. government has broken countless treaties. The Fort Laramie Treaty of 1868 was supposed to guarantee the Great Sioux Nation "undisturbed use and occupation" of the Black Hills where the Six Grandfathers, or Mount Rushmore, is on, but just nine years later that treaty was broken.
In 1874, General Custer led the Black Hills Expedition finding gold to be in high supply, leading to the U.S. government violently seizing the Black Hills.
The Black Hills have also been exploited and mined for uranium since the 1960s, and in 1972, President Nixon signed an Executive Order declaring South Dakota, North Dakota, Wyoming, and Montana to be a National Sacrifice Area for the mining and production of uranium and nuclear energy. (You can check out our previous coverage of the fight over uranium in the Black Hills here and here).
After many years of fighting in court, in 1980 the U.S. Supreme Court finally agreed with the Great Sioux Nation in a ruling that their land was illegally taken. However, the court did not rule for the land to be returned. Instead, the court granted the Nation $102 million in a trust, which has grown to over $1 billion in worth.
The tribes refuse to collect the money because it would equate to a sales transaction, one that they never consented to.
At the anti-Trump rally, announcements by police were made multiple times over a loud speaker claiming that it was an unlawful assembly. We asked a young woman what her response to that statement was:
"They're on our land. They literally have no right to say anything. We have the right. There's a treaty that backs us up. This is our land and it always has been and they are unlawfully passing. They are unlawfully assembling!"
After three hours of blocking the road, Pennington County agreed with Tilsen to give a 30-minute warning so children, elders, or whoever else did not want to get arrested, had the chance to leave the area. When the 30 minutes was up, around 20 people stayed in the road and were arrested, including Tilsen.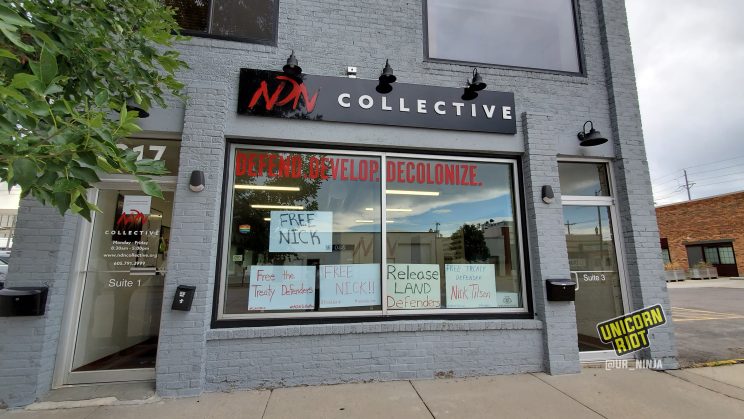 All the arrestees were driven to Rapid City, most getting booked and released by 10 p.m. that night. However, Tilsen was in custody until after his court hearing on Monday morning, July 6, where a Pennington County prosecutor charged him with two felonies and three misdemeanors. The felonies include simple assault for allegedly assaulting an officer and second-degree robbery for allegedly stealing a shield from that same officer.
One of the organizations who helped plan the protest, the NDN Collective, along with their lawyer Bruce Ellison, spoke with Pennington County prior to Friday's events and went over details of what might occur, seemingly to see what the county would or wouldn't allow, and how they would react.
Although those attempts to make agreements and negotiate with officers and rangers turned out moot, the Indigenous activists still were able to protest and call for sovereignty and for their land back for over four hours. An Indigenous elder who did not want her name published, shared with us that she was protesting to highlight the nonconsensual behavior of the U.S. government:
"They have no business arresting people. They're the ones breaking the law. This is treaty land. They didn't ask us if we wanted Trump here, and yet they brought him here. Well you know what? They can take his ass outta here, we don't need him here."
Watch our highlights video from July 3, 2020 below:
Watch our full live coverage from July 3, 2020 below:

---
Please consider a tax-deductible donation to help sustain our horizontally-organized, non-profit media organization: