Tyler Newby Trial for Killing Unarmed Teen Ends in Hung Jury
New Trial for the Murder of Dorian Murrell Slated to Start January 4, 2022
Indianapolis, IN – A jury couldn't agree on convicting Tyler Newby of killing Dorian Murrell, ending Newby's murder trial in a hung jury with a 6-6 split decision on October 7, 2021. A new jury trial date is set for January 4, 2022. [UPDATE – After several trial dates were rescheduled, Newby was found guilty of reckless homicide on Oct. 17, 2022]
In a case not unlike that of Kyle Rittenhouse, 31-year-old Tyler Newby faces charges of murder and voluntary manslaughter for fatally shooting 18-year-old Murrell in the heart during George Floyd protests on May 31, 2020 in downtown Indianapolis. Newby has been free on a controversial bond since August 2020 and has claimed self-defense—more background below.
The voluntary manslaughter charge was dropped by Marion Superior Judge Angela Davis moments before the trial ended. Judge Davis said she sided with the defense to drop the charge because the prosecution failed to present a case for the charge.
"They didn't even fight for Dorian. They didn't even bring up the subject of voluntary manslaughter, so that's why it was thrown out."

Dorian Murrell's grandmother Artonia Armstrong
After the two-day trial ended in a hung jury, a press conference organized by Murrell family attorney Dr. Malik Shabazz was held via Zoom and broadcasted live on Facebook on October 11. Murrell's grandmother Artonia Armstrong and his cousin Corey both spoke on behalf of the family. Advocates Mmoja Ajabu and Dave Rozzell from the Veterans Association of African Descendants shared their interpretations of the what happened inside the courtroom.
Armstrong said the "defense team was running the whole game," adding she saw "a lot of unfairness" and was dissatisfied with the prosecution. She said she felt the state's attorneys "didn't even fight" for her grandson.
"[The defense] was talking to the prosecutors who were on our side, letting them know when to start the video, when to end it, the whole nine yards. It kind of looked to me like they were working together, that's what it's been looking like the whole time instead of fighting for my grandson."

Artonia Armstrong
Murrell's grandmother saw a stark contrast in how white defendants in the courts are treated compared to Black defendants. She alleges that Newby, who is white, received preferential treatment, pointing to multiple factors such as Newby being bonded out (a rarity in Indiana murder cases) and how the jury was selected (at least one juror knew Tyler Newby).
Armstrong noted that in the next court room over from where the Newby trial was held, a young Black man was denied bail on murder charges and held for over 21 months before being acquitted and set free. She also believes Newby's killing was racially motivated. She said during the trial a video from the riots downtown featured Newby in the background audibly screaming "mf this and mf that … you could just hear in the way he was talking that there was hatred."
Artonia Armstrong said Newby was never given a "drug screen [or] a breathalyzer." Murrell's grandmother felt like the courts are "protecting" Newby. She said there's been five different judges appointed to the trial and "every time a judge comes in and makes a note of something the next judge comes in and takes it away … and it seemed to me that they're all friends with the defense team."
"There is no justice in this case for us … I'm depending on God to come through for this, because nobody's fighting for us. Nobody's fighting for my grandson."

Artonia Armstrong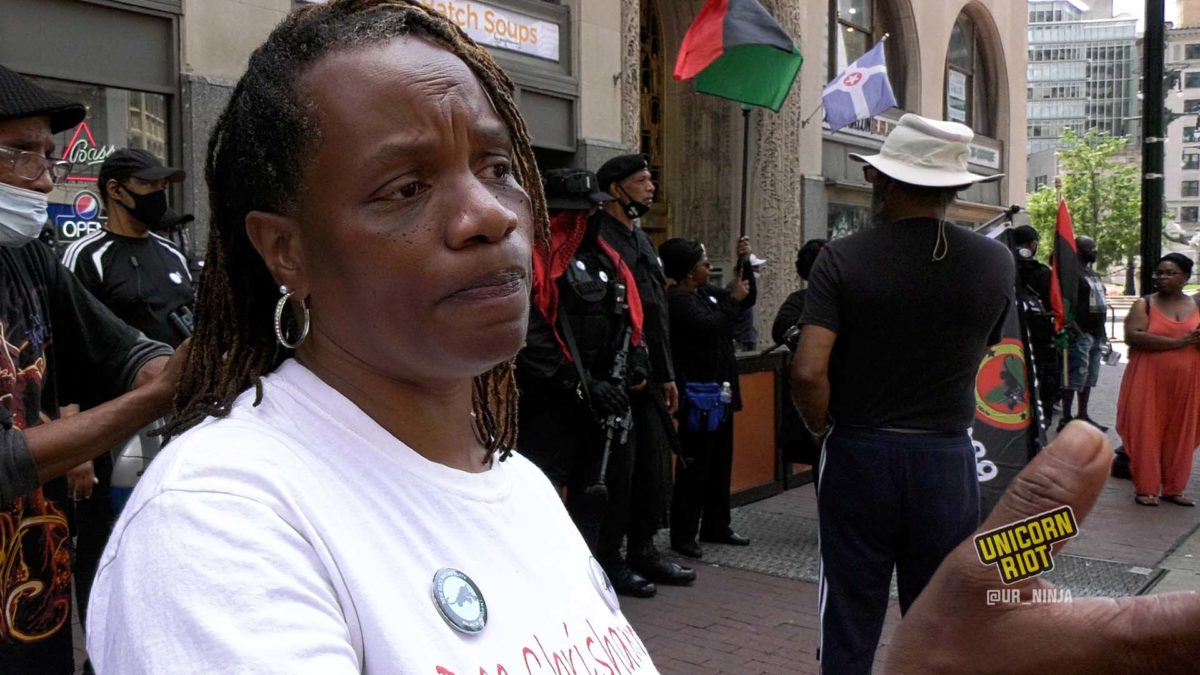 Elder Ajabu, who was the first Black Panther Party member in Indiana decades ago, described the trial as a "charade" and a "kangaroo court." He said he felt the prosecutors were fighting for the defense, "they're trying to let Tyler Newby get away with murder."
Anthony Eades, Tyler Newby's friend who was with him when he killed Murrell, testified in the trial. Ajabu said the prosecutor never put Eades' original statement to the police into evidence to be able to question the inconsistencies between his statement and his testimony. Murrell's cousin Corey said they allowed Newby and Eades to change their statements to suit the story they wanted to get across.
"It was a kangaroo court, I am appalled that something like that is going on.. it was all designed to get Tyler Newby free from murder."

Mmoja Ajabu, Murrell family advocate
Dave Rozell said race was clearly at play and that an unconfident prosecution who were doubtful they could "prove Newby intended to shoot Murrell" made the hung jury all the more likely.
Rozell questioned Newby's self-defense argument and asked why the prosecution never tried to probe why an armed Newby came into downtown Indianapolis from his suburban residence at midnight while unrest was escalating.
"Why would a 31-year-old white man that lives in Brownsburg, which is mostly a white community, come down to Indianapolis when there are racial justice protests going on? And he had already seen in the news that for two days, there were riots and there was unrest? Why would he come into Indianapolis with a gun and go right into the midst of all of that? Why would he have a gun if he did not intend to use it? Whether it was self defense or whatever? I think that the prosecution did not even press to prove intent."

Dave Rozell, Murrell family advocate
Rozell said the ballistics report was never released despite the Murrell family's requests, nor was it brought into evidence at trial. He questioned the circumstances of Newby's claim that he's indigent, and why the court waived his fees despite his ability to bond out and to hire a high-profile lawyer.
"How is it that a white man can be charged with murder, allowed to be bonded out, put on electronic monitoring for 45 days, and not pay any fees, and then be allowed to come off of electronic monitoring … Plus the fact that he didn't pay his fees, and the court ended up paying this fee … how do you pay $25,000 cash bond? How do you hire a high profile lawyer if you are indigent? So that doesn't make sense. And it probably would not have been afforded to a Black man."

Dave Rozell
Pastor Denell Howard of Hovey Street Church of Christ in East Indianapolis said that he was "concerned" the community was witnessing "a fumbling of justice." He questioned the will of the prosecution, saying "we know that they've prosecuted harder when Black men are charged with murder."
The Murrell family said that they are hoping for better treatment for their relatives in the courtroom during the next trial and wanted to see stronger effort from prosecutors. They want to see evidence properly utilized. They say if facts are properly presented, Newby will be convicted.
Relatives want to see Facebook posts made by Newby used in court as character evidence. They also hope to see the ballistics report entered into evidence along with Anthony Eades' initial police statement. They also don't want prosecutors arguing for manslaughter, rather for the murder count Newby was originally charged with.
The family thanked the "jurors that stood up" and they hoped the jury selection process will be better in the next trial. Ajabu said that there was one Black woman and one mixed race man on this last jury, while the rest were white. He said that if those two Black people voted for conviction that means there were four white people that voted for conviction as well, and that gives him hope he said.
An armed demonstration by Black Power groups is planned for December 18 at noon in the suburb of Brownsburg, Indiana, where Newby is from. Watch the press conference from October 11 below.
Background
Armed with a gun in the late night of May 30 and early morning of May 31, 2020, Tyler Newby and his friend Anthony Eades drove into Indianapolis from an outlying suburb as George Floyd protests began to intensify. Newby and the unarmed Murrell crossed paths near Monument Circle as Murrell was with family and friends around 2 a.m.
Newby claims he was shoved to the ground and he shot the first person he saw, who happened to be Dorian Murrell, killing him. According to Newby, he and Eades then split up as they left the scene and met back up before Newby turned himself in, claiming self-defense.
After being charged with murder and sitting in jail until early August 2020, Newby was given a secretive bond agreement despite Indiana law generally prohibiting murder suspects from bonding out. During the hearing, Murrell's family said they were ushered out of the court before the agreement was made and were left with unanswered questions about the secret bond deal.
Newby bonded out with $25,000 cash a short time later, and paid for legal representation throughout his case, yet State records indicate Newby had $1,390 in court fees waived on October 4, 2021. Criminal defense attorney John Kneiffer is representing Newby; Kneiffer was previously a prosecuting attorney for Marion and Hancock Counties for over twenty years.
Unimpressed with the bond situation, the secrecy, and what they deemed as inconsistencies in the prosecution, Dr. Malik Shabazz of Black Lawyers for Justice was called in for legal support by the Murrell family before the trial. Dr. Shabazz was denied in his efforts to join in on the prosecution.
During the Murrell family press conference, the inconclusiveness of any Newby ties to white supremacist or armed militia groups and also the question of who paid the $25,000 bond were discussed. Murrell's cousin Corey said it was friends of Chris Beatty, a former Indiana University football player who was murdered just hours before Murrell during a robbery, that actually paid Newby's bond. They reportedly assumed Newby was a robbery victim assaulted by the same people that killed Beaty.
Dorian was a young church-going man with a bright future, his grandmother said, he was athletic, smart, caring, loving, and with a smile that would light up the room.
Previous Unicorn Riot Coverage
In June 2021, Unicorn Riot was live in Indianapolis as dozens of armed Black nationalists held an open carry march demanding justice for Dorian Murrell. The march, led by Murrell's family, started near the building in which the trial took place in downtown Indianapolis, went to the convention center where the Black Expo was happening, and then to the Circle Monument and the location that Dorian was killed.
"I never stopped mourning, I miss him," Artonia told Unicorn Riot near the site of his death. It was her third time visiting that area since he was killed. She said Dorian was the "life of the party" and was a good kid who frequented church. Dorian's cousin Corey said they didn't ask for this to happen and they're left trying to get through the pain.
A day before the march, a press conference organized by Murrell's family was held outside the courthouse. Legal counsel Dr. Shabazz spoke about the embedded racism within the city, county, and state structures and said he feared the case would be "botched" by the prosecution.
For more context into the case of Dorian's killing and to hear from Corey and family advocate Kwame Shakur, take a look at our video below.
Cover image is an edited screenshot of Tyler Newby and his family walking out of court on October 7 – taken via Mmoja Ajabu Facebook video.
Unicorn Riot's Coverage of Dorian Murrell - Killed by Tyler Newby:
---
Follow us on X (aka Twitter), Facebook, YouTube, Vimeo, Instagram, Mastodon, Threads, BlueSky and Patreon.
Please consider a tax-deductible donation to help sustain our horizontally-organized, non-profit media organization: