Tyler Newby Sentenced to One Year Home Detention for Killing Dorian Murrell
Indianapolis, IN – Tyler Newby was sentenced on Thursday, Nov. 10, to one year of house detention for killing unarmed teenager Dorian Murrell during protests for George Floyd in Indianapolis in 2020. Charged with murder, Newby was convicted of reckless homicide in a bench trial last month on Oct. 17 and jailed until sentencing when he was released from custody with time served, fined $185 and given four years probation.
The family of Dorian Murrell was incensed at the sentencing hearing with a member having to be escorted out. They stated that Marion County "let Tyler Newby get away with murder."
"As a family we are very disappointed by multiple bad decisions during the trial for Tyler Newby. The evidence and scientific findings prove concrete evidence that supports a murder charge of Tyler Newby and Anthony Eads. The Marion County court system and prosecutors office let Tyler Newby get away with murder of unarmed 18 year old Dorian Murrell."
Murrell's family had previously expressed frustration with Newby's conviction last month of a lesser charge than murder, calling it "concrete proof of systemic racism."
UPDATE: Tyler Newby was sentenced to one year of house detention for killing unarmed Dorian Murrell in Indianapolis in 2020. Charged with murder, Newby was convicted of reckless homicide on Oct 17 & jailed. He was released today from custody, fined $185 & given 4 years probation. https://t.co/wlhsHStaTm pic.twitter.com/lDpaUVwKYj

— UR: 🦄 mastodon.social/@unicornriot 👈❗✨ (@UR_Ninja) November 11, 2022
This case is one that spotlights some of America's oldest issues of race relations, vigilantes, and guns and has been compared to the case of Kyle Rittenhouse. Tyler Newby came with a handgun and a friend, Anthony Eads, into downtown Indianapolis from his home in the suburbs during a night of intense riots on May 30, 2020. From a small altercation near Monument Circle when Newby had been pushed to the ground, Newby fatally shot Murrell in the heart despite all accounts pointing to Murrell never speaking to, nor touching, Newby.
Newby turned himself in to the police later that morning and claimed self-defense. Newby was jailed and charged with murder. On Aug. 10, 2020, Newby was released from jail after he was given a controversial $250,000 bond and was bailed out with $25,000. In Indiana, it's rare that someone charged with murder is able to be bailed or bonded out of jail. The Bill of Rights Article 1, Section 17 of the Indiana Constitution prohibits bail when "the proof is evident, or the presumption strong."
In the spring of 2021, Unicorn Riot heard from Murrell's cousin and a family advocate about inconsistencies they were finding in the case and the lack of prosecutorial support and communication that the family was receiving from the Marion County Prosecutor's Office.
---
---
Newby had dozens of court hearings and trial dates canceled and rescheduled since being freed from jail in August 2020. Days before a scheduled trial in 2021, Newby was given an additional charge of voluntary manslaughter on top of his murder charge.
During a press conference the same day, Newby's legal team spoke about the case and demanded accountability. Family attorney Malik Shabazz announced concern over Marion County's prosecution of Tyler Newby, saying he feared the case may be "botched" and pointed to racism as his main concern.
Shabazz said Indiana was founded on a white supremacist mentality, pointing to the historical power the Ku Klux Klan held in the state. In the 1920s when the Klan was in its peak, Indiana held the largest Klan membership in the U.S. with an estimated 30% of the white-male population enrolled as Klan members which included nearly all of the top government officials in the state of Indiana.
---
---
After several changes, Newby's jury trial finally took place in October 2021 and ended in a 6-6 split decision resulting in a hung jury. Murrell family advocate Mmoja Ajabu described the 2021 trial as a "charade" and a "kangaroo court."
At this trial the charge of voluntary manslaughter was dropped by Marion Superior Judge Angela Davis moments before the trial ended. Judge Davis said she sided with the defense to drop the charge because the prosecution "failed to present evidence for the charge."
Ajabu said after the Oct. 2021 trial that he felt the system was "trying to let Tyler Newby get away with murder." Murrell's family echoed that statement today without "trying" in front of it.
---
---
Newby's trial was eventually altered to a bench trial, meaning only the judge would rule, and was held in a one-day session last month on Oct. 17. Judge Dow Davis presided over the trial and found Newby guilty of reckless homicide for killing Murrell, opting to find him not guilty of murder.
Murrell's family stated that while they felt it was a "step in the right direction" they felt the "decision from the judge of a lesser charge going against evidence and statements that support murder is concrete proof of systemic racism in the court system of Indianapolis."
Being found guilty of reckless homicide, Newby was remanded to custody where he stayed until sentencing on Nov. 10 when he was released after given time served.
Judge Davis, who presided over a large portion of the murder case from hearings in 2020 until the trial, was the judge given authority to decide the fate of Newby.
At his sentencing, Judge Davis gave Newby time served, a fee of $185 for court filings, one year on home monitoring and four years probation that serves as a suspended prison sentence which he will only have to do if he's found in violation of his probation.
In total, Tyler Newby served 97 days in custody. He was jailed from May 31, 2020 – Aug. 10, 2020 after he killed Murrell and turned himself in, and then from Oct. 17, 2022 – Nov. 10, 2022.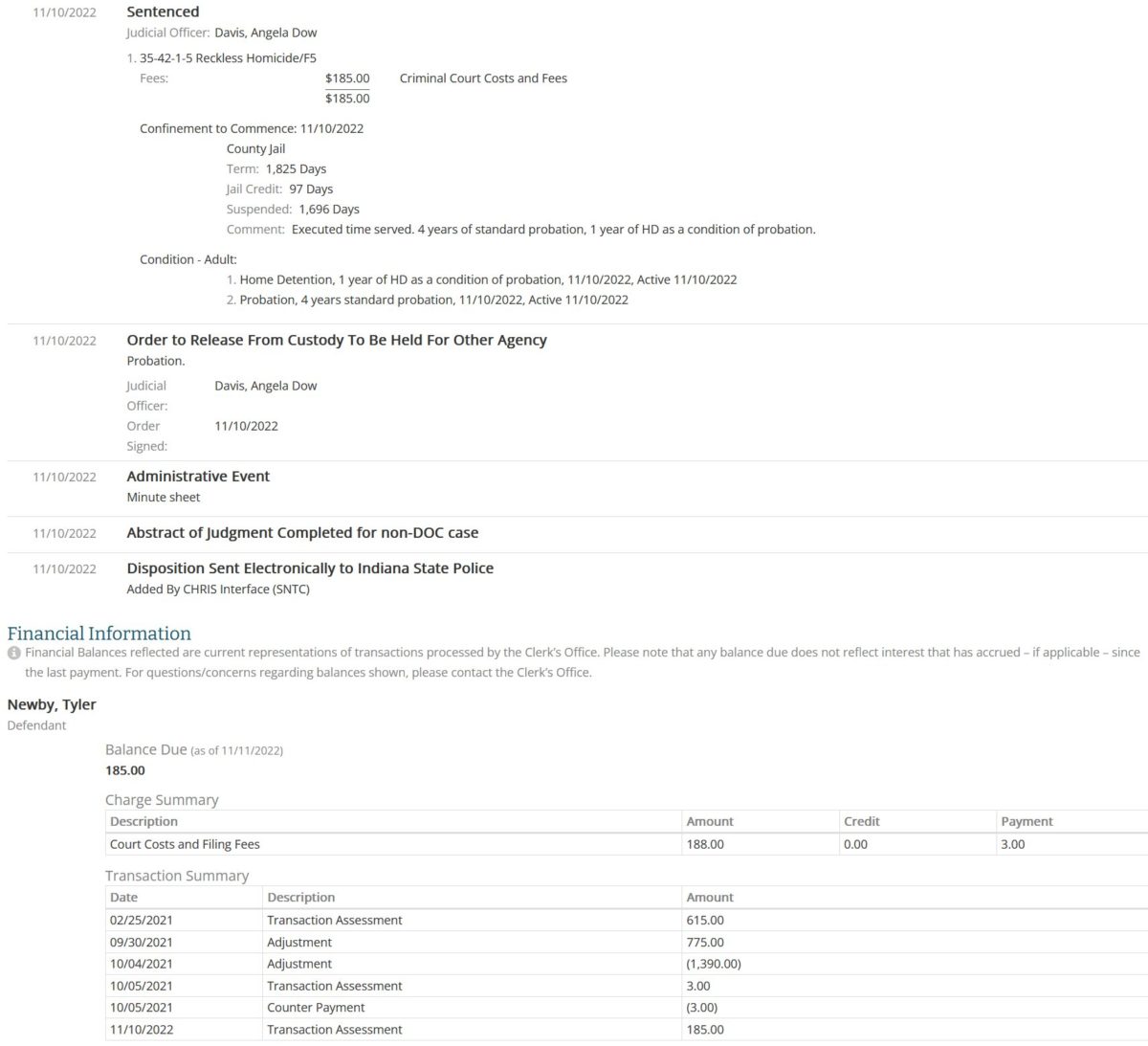 The sentencing and Newby's release from jail has prompted many negative reactions across social media. One Twitter user stated "This decision was made in 2022, not 1902. The message is clear- murder Black people and the criminal justice system will protect you." Another user asked "doesn't this kind of give right-wingers some sort of encouragement to go and like shoot people at protests?"
Murrell's family also released the following statement through their attorney to corporate news:
"The family of Dorian Murrell is highly disappointed that Judge Angela Davis has allowed Tyler Newby to not do prison time for the killing of our beloved Dorian. Her decision devalues the life the God of Justice gives all human beings. Our grief is great. Her decision increases our grief. Dorian is not resting in peace."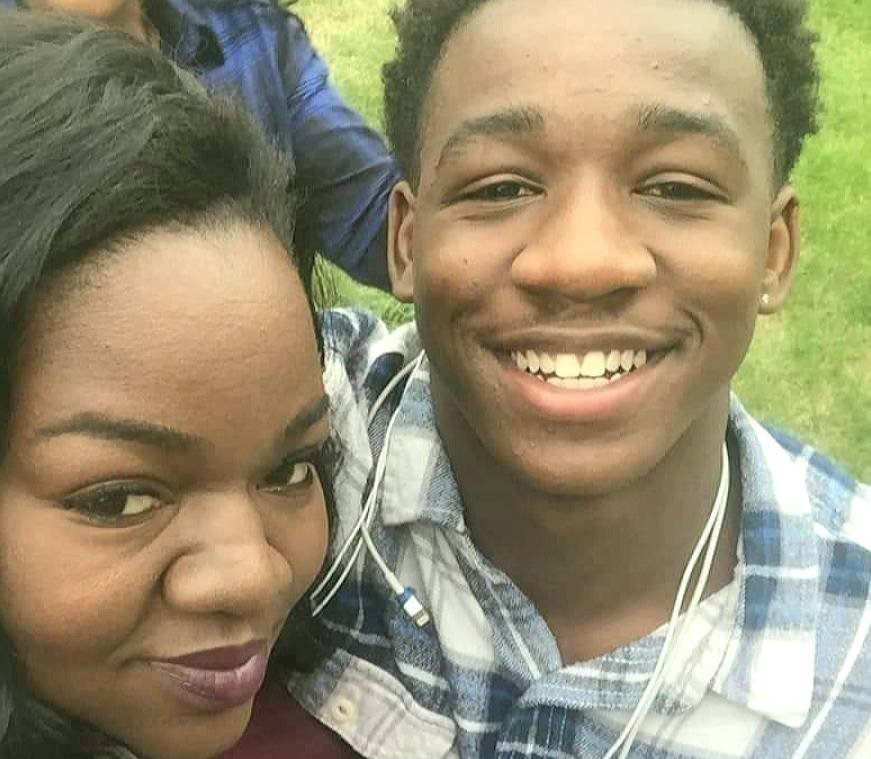 ---
Unicorn Riot's Coverage of Dorian Murrell - Killed by Tyler Newby:
Follow us on X (aka Twitter), Facebook, YouTube, Vimeo, Instagram, Mastodon, Threads, BlueSky and Patreon.
Please consider a tax-deductible donation to help sustain our horizontally-organized, non-profit media organization: