Charge Added to Dorian Murrell's Alleged Killer as Family Speaks Out
Indianapolis, IN – Less than three weeks before the murder trial of Tyler Newby is slated to begin, the family of Dorian Murrell, who Newby is believed to have shot and killed, held a press conference in front of the City-County building in downtown Indianapolis. Murrell's cousin Corey, and attorney for the family, Malik Shabazz, spoke about the case and demanded Newby be held responsible for fatally shooting Murrell.
Hours before the July 16 press conference began, Marion County prosecutors told Murrell's family they'd added a charge of voluntary manslaughter to the first degree murder charge already levied against Newby. Unicorn Riot was live for the press conference that featured a walk into the government building to gather court documents related to Murrell's murder, as well as for an evening town hall discussion.
18-year-old Dorian Murrell was unarmed when he was fatally shot in downtown Indianapolis on May 31, 2020, during the height of nationwide protests for George Floyd. 31-year-old Tyler Newby turned himself in after the shooting and claimed self-defense. He said he was shoved to the ground and shot the closest person to him. He's been out of jail on a controversial bond since last summer and has trial starting on August 3.
Family attorney Malik Shabazz announced concern over Marion County's prosecution of Tyler Newby, saying he fears the case may be "botched" and they may not be "driving as hard as they can in this case."
"You have reasons to be concerned as to whether or not Tyler Newby will be effectively prosecuted here in the city of Indianapolis and the state of Indiana because the historical record has shown that Black people have a lot to be concerned about justice and the justice system."

– Malik Shabazz, Dorian Murrell's family attorney
Shabazz said Indiana was founded on a white supremacist mentality, pointing to the historical power the Ku Klux Klan held in the state. In the 1920s when the Klan was in its peak, Indiana held the largest Klan membership in the U.S. with 30% of the population enrolled as Klan members along with the top Indiana government officials.
Shabazz said racism is very much at play in this case, "if Tyler Newby was a Black man would he have gotten bond?"
Although Indiana law prohibits giving bail or bond to a person charged with murder when the proof is evident, Newby was released from jail last summer after receiving a $25,000 bond agreement. Shabazz questioned why this deal happened and said "it takes what they call exception circumstances for this to occur."
"How the hell is he out on bail, he should be in jail."

– Malik Shabazz
Dorian Murrell's family continues to question the strength of the prosecution after being kicked out of the courtroom while the court made the bond agreement and never having their questions answered as to how the agreement transpired.
Newby's claim of self-defense was challenged by Shabazz, who stated that Indiana law doesn't prohibit a person to come up shooting after being shoved to the ground and claim self-defense. "Being shoved to the ground is not the use of force that could cause serious bodily injury."
When asked if the new voluntary manslaughter charge is a good or a bad thing for the case, Shabazz said he's concerned that it isn't an added aggravated assault or a lesser murder charge. "Certainly we don't want to turn around here in a week or so they say that Tyler Newby is being prosecuted only for voluntary manslaughter, that would be a tragedy."
Although concerned about the handling of the case, Shabazz added they wanted prosecutors to be successful. A successful prosecution would help bring some confidence in the judicial system, he said.
A call was made to the Indianapolis community to show up in the courtroom when the trial starts on August 3 and support Murrell's family.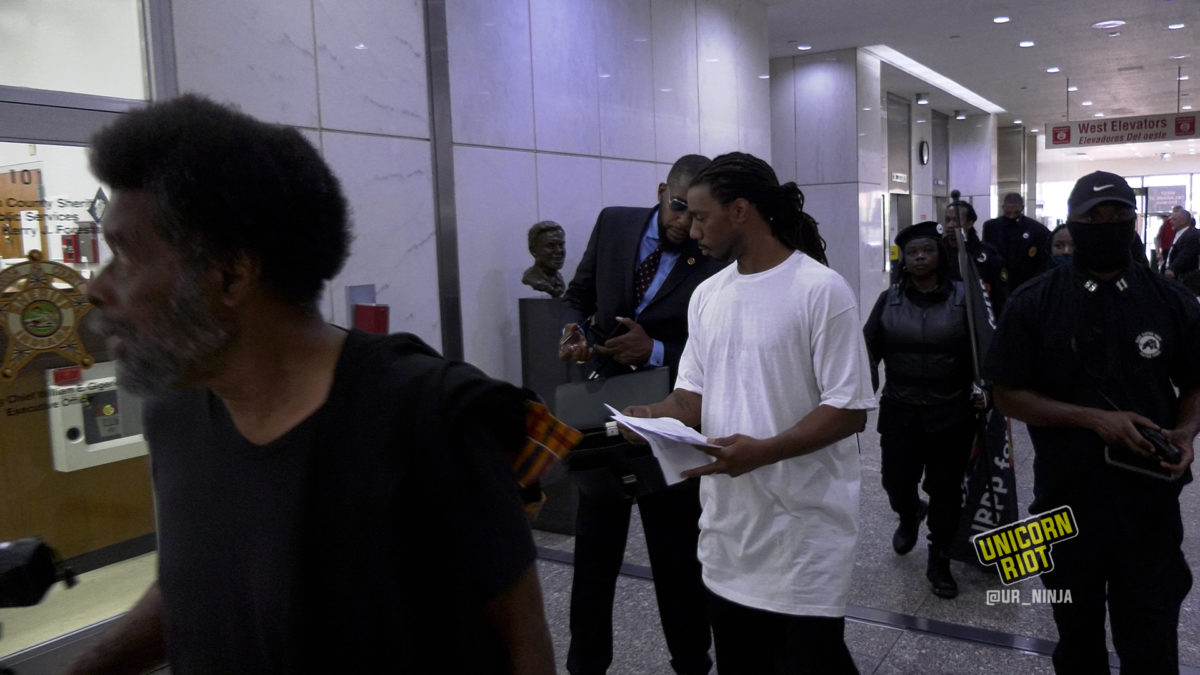 During the press conference, Shabazz announced Black Lawyers for Justice are planning an investigation into civil and human rights abuses in the city of Indianapolis. He stated they'd be investigating a litany of data, including but not limited to sentencing records, lawsuits, police officer complaints, and stops and detainments.
Shabazz noted how Chief Justice Loretta Rush of the Indiana Supreme Court issued a statement on racism in Indiana courts last year in June. Rush acknowledged that the courts have played a role in perpetuating bias and inequity and she implored judicial officers to "do better" and confront racial discrimination.
Focusing on the planned investigation into human rights abuses in Indianapolis, a townhall discussion was held during the night of July 16. The event took place at Pastor Denell Howard's Hovey Street Church of Christ in East Indianapolis.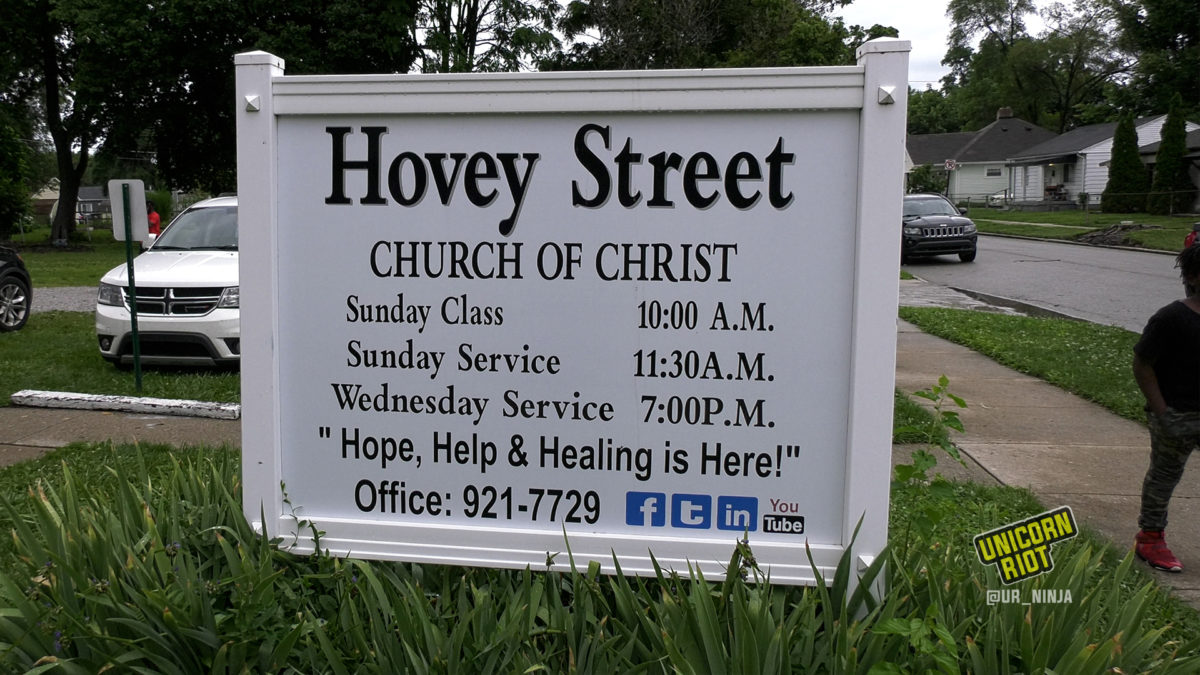 During the townhall, a few locals spoke about their experiences with racism in the city. Founder of The Ross Foundation, Dee Ross, spoke about the tribulations he's faced from a life in the streets, to running for political office and dealing with racism and disenfranchisement, to having his brother killed by police, to now leading community change with his foundation.
Watch the full town hall discussion below.
---
In a recent recent interview with Unicorn Riot, Dorian Murrell's cousin Corey and Murrell family advocate Kwame Shakur spoke about the inconsistencies they saw in the evidence they gathered regarding Dorian's murder.
*An earlier version had Tyler Newby's charge listed as "involuntary manslaughter" and not the corrected "voluntary manslaughter."
Unicorn Riot's Coverage of Dorian Murrell - Killed by Tyler Newby:
---
Follow us on X (aka Twitter), Facebook, YouTube, Vimeo, Instagram, Mastodon, Threads, BlueSky and Patreon.
Please consider a tax-deductible donation to help sustain our horizontally-organized, non-profit media organization: