Dorian Murrell: Killed During George Floyd Protests, Family Seeks Answers
Indianapolis, IN – The family of 18-year-old Dorian Murrell is still seeking answers a year after he was fatally shot in downtown Indianapolis while protesting the police killing of George Floyd. Although a man named Tyler Newby has confessed to the killing and has trial in August 2021, Murrell's family fears a cover-up, saying the evidence doesn't add up.
To explore some of the inconsistencies in Dorian Murrell's murder, Unicorn Riot spoke with Murrell's cousin, Corey and family advocate, Kwame Shakur, the Minister of Culture for the New Afrikan Black Panther Party.
Dorian Murrell was struck with a bullet that pierced his heart as he was with friends near Monument Circle around 2 a.m. on May 31, 2021, in downtown Indianapolis, Indiana, during the height of the George Floyd uprising that swept across the U.S.
On that frantic night where race relations across the country were inflamed, five people were shot and three people were killed in Indianapolis including Murrell, an unarmed Black teenager who was allegedly killed by a 30-year-old white male named Tyler Newby.
Murrell was one of the more than two dozen people across the country to die during incidents in the popular uprising against police and racism. For the families of many of the other deaths, such as Calvin Horton in Minneapolis, justice has been elusive and Murrell's family fears the same outcome.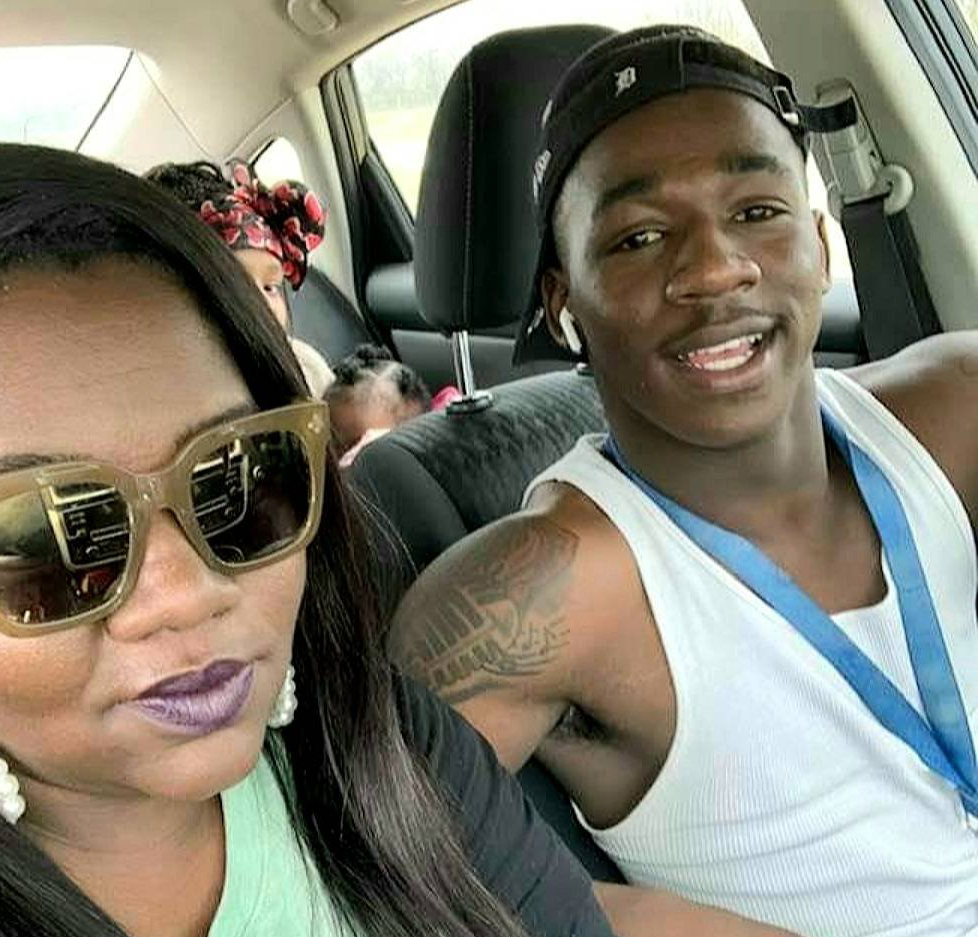 Murrell's cousin, Corey, who lives in Las Vegas, said his family has been traumatized by the loss of Dorian and those in Indianapolis have faced harassment. After police surveilled a rally calling for justice for Dorian last year, they arrested a person providing security for the demonstration. The family was also threatened, Corey said, while attending a court hearing of Tyler Newby, the man who admitted to murdering Murrell.
The night Murrell was fatally shot, Corey said he was first alerted through social media that someone was fatally shot by Indianapolis police downtown and was immediately in touch with local friends and family. He received recorded videos that were taken directly after the shooting that showed two people on the ground getting tended to, one shot with a 'less-lethal' munition from the police and the other with a bullet. Corey said he was in disbelief and immediately looked away from the video after recognizing that the victim shot with a bullet was his younger cousin Dorian.
Corey, along with Kwame Shakur, who lives in Indianapolis, said the original narrative in the press was that Dorian was killed by the police downtown, but that changed after Tyler Newby turned himself in to a reserve deputy downtown telling him "I just shot somebody."
Newby, who will turn 31 a few days before his trial is slated to start in August, is charged with murder and claiming self-defense as a motive.
The Affidavit / Three Versions of Events
The affidavit for Newby's murder charge includes a summary of witness statements from Newby, his friend, A.E., who was with him at the time, and Murrell's half-brother, A.J., who was with Dorian.
A.J. is noted in the report to have said that Dorian "was in an altercation with a white male [and] had the male on the ground" but that "there was no physical altercation that occurred nor … verbal argument" before a shot was fired and Dorian collapsed. A.J. said the police were "right there" and tried to get Murrell to get up before realizing he was fatally shot.
"I relocated to the hospital and spoke with A.J. who is the half-brother of Dorian Murrell. A.J. explained be, Mr. Murrell, and some other people were standing around talking. A.J. stated the whole thing happened very quickly. A.J. stated Mr. Murrell was in an altercation with a white male. A.E. said Mr. Murrell had the male on the ground and then the male shot him. A.J. stated there was no physical altercation that occurred nor does he recall any verbal argument between Mr. Murrell and the other male. A.J. said he heard only one shot and everyone took off running including Mr. Murrell. A.J. said Mr. Murrell collapsed in the street and that's when he knew Mr. Murrell had been shot. A.J. stated Mr. Murrell did not have a weapon and no punches were thrown. A.J. explained the police were "right there" and yelled to Mr. Murrell, "get up, 5-0 is coming." A.J. said he yelled, "stop fighting the police are coming." It should be noted, there were Law Enforcement Officers on Monument Circle and by the Intersections of E. Market Street/Pennsylvania Street."

– Dorian Murrell's half-brother's version of events according to the affidavit for murder charge against Tyler Newby
According to the affidavit's creator, Officer Lottie Patrick, Newby and A.E.'s statements were "very similar." They both said they were walking downtown when Newby's friend picked up a gas canister that police had fired earlier in the night and were asked by a group of people what they found. Newby's friend retorted to the group "don't worry about it" and he was pushed "a little bit, but no one hit him." Meanwhile, Newby was then pushed to the ground. The report states that Newby told police he rolled over "pulled his gun out" and fired one fatal shot at Dorian who he says was standing over him.
In the report, Officer Patrick denotes the race of Dorian Murrell and a description of the group he was with into Newby's statement along with the defensive tone that Newby conveyed, saying "a group of black males … flocked around them … one black male was leaning/standing over him … he was afraid the male was going to start punching him."
"Mr. Newby explained A.E. found a red canister of gas that had been discharged. They were walking by a group of black males that asked them what they found. Mr. Newby stated the group asked them to see the canister and then flocked around them. Mr. Newby said A.E. didn't want to show the group what he had. Mr. Newby said he felt a hand on his back and then he was shoved from behind and fell to the ground. Mr. Newby stated he rolled over and others where around him, but only one black male was leaning/standing over him. Mr. Newby said he was afraid the male was going to start punching him. Mr. Newby stated the male did not say anything to him nor did he strike him. Mr. Newby stated he pulled his gun out and shot the male one time. Mr. Newby stated, "It all happened so fast, it was just reaction." Mr. Newby said everyone ran off. Mr. Newby stated he met back up with A.E. and they told the first Deputy they saw."

– Newby's version of events according to the affidavit for murder charge against Tyler Newby
Before being fatally shot, Murrell was not armed and according to all the witnesses, he never said a word to Newby, and never assaulted him. After shooting Murrell, Newby's friend told the police that Newby called him wondering where he ran to and then met back up at some point in the next hour, before Newby turned himself in to an officer downtown.
"A.E stated a group of about ten people approached him. A.E. said the individuals who approached them were not yelling anything at them and only asked what he found. A.E. said he told them, "Don't worry about it." A.E. said about three to four males walked towards him and kind of pushed him a little bit, but no one hit him. A.E. stated he looked over and saw Mr. Newby on the ground with a black male standing over him. A.E. stated there was no verbal altercation between Mr. Newby and Mr. Murrell and the whole interaction lasted about 45 seconds. A.E. stated he heard a loud bang and people started running. A.E. stated he saw the black male (Mr. Murrell) grab his stomach, run off, then fall. A.E. stated the only weapon he saw was the gun in Mr. Newby's hand and that no one else had a weapon. A.E. said he threw the canister down and took off running. A.E. stated Mr. Newby called him after the shooting and asked where he (A.E.) was. A.E. explained he and Mr. Newby met back up and Mr. Newby asked him what to do. A.E. stated he told Mr. Newby he needed to tum himself in. A.E. stated they went to the first officer they saw and Mr. Newby told the Deputy he had shot someone."

– The friend of Tyler Newby's version of events according to the affidavit for murder charge against Tyler Newby
Newby turned in a Glock 26 Gen5 9mm. Murrell's family said the autopsy report lists that Murrell was killed with a 9mm bullet.
Newby Bonded Out, Raising Suspicions
Tyler Newby's been out of jail on a controversial $250,000 bond since last August. Newby posted 10 percent of the bond and was bailed out with $25,000.
In Indiana, it's rare that someone charged with murder is able to be bailed or bonded out of jail. The Bill of Rights Article 1, Section 17 of the Indiana Constitution prohibits bail when "the proof is evident, or the presumption strong."
Section 17. Offenses, other than murder or treason, shall be bailable by sufficient sureties. Murder or treason shall not be bailable, when the proof is evident, or the presumption strong.

– Indiana Constitution, Bill of Rights Article 1 Section 17
Murrell's grandmother Artonia Armstrong told press last year that she felt Newby was receiving preferential treatment because he was white: "It was all about color because if that was my grandson sitting on trial, he wouldn't have got out … If my son would have done that my son would have gone nowhere. He would have sat here with no bond. So I don't understand this. I don't understand Indiana. I don't see how this is fair."
Shakur asked why they would charge Newby with murder and then let him out on bond when Indiana's constitution mostly forbids that. He questioned Newby's connections and the charges and said there are "too many inconsistencies that don't add up."
"What type of prosecutor would charge somebody with murder and then let them get out when your own constitution says that if the presumption is strong, they will be held."

– Kwame Shakur, Minister of Culture, New Afrikan Black Panther Party
Who Killed Dorian: Tyler Newby, a Cop, or White Militia?
After investigating the murder themselves and collecting the video evidence and witness statements, both Corey and Mr. Shakur think Newby's story doesn't add up. Corey named three possibilities as to how Dorian was killed:
1. Dorian was shot from a nearby parking ramp or roof, possibly by white militia members.
2. Dorian was shot by an officer from the Indianapolis Metropolitan Police Department (IMPD).
3. Dorian was shot by Tyler Newby.
---
The theory that Murrell was shot from a roof or parking ramp is corroborated by a school teacher working at a hotel near the fatal shooting that night. She states that white militia members had been staging on different floors of an adjacent parking ramp structure during the unrest. Her statement can be heard around the 13:45 mark in the video atop the page.
"I truly believe that if this boy was shot, it came from above. I saw men, white men in [camo] and they had assault rifles strapped across their chest."

– Witness statement from unnamed school teacher
Shakur said many community organizers heard about the armed militia movements downtown and word was circulating that snipers were on the roofs of the downtown buildings. This prompted community organizers to plan protests that were a far distance from the vicinity.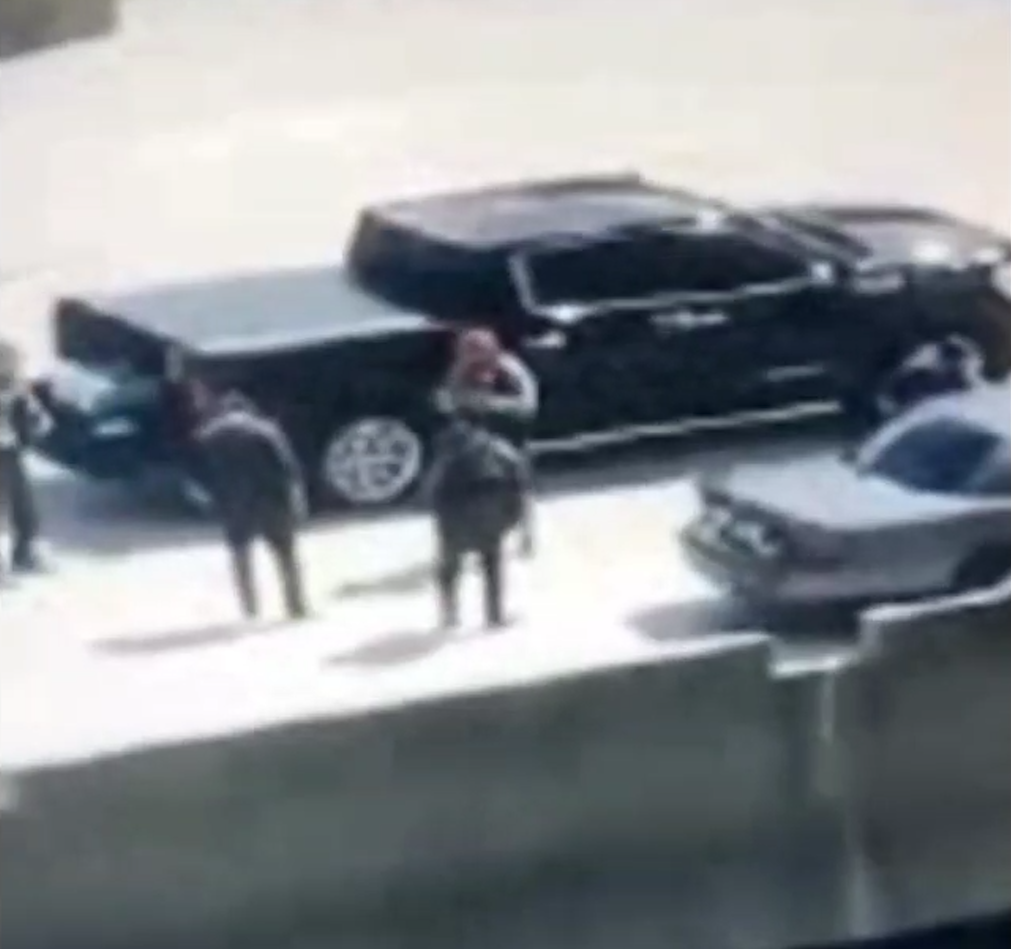 The school teacher said although she never saw anyone on the roof the night Murrell was killed, she "heard people yelling that there were people on the roofs at different parts of the night."
She also stated that she "never heard a gunshot" and that if Newby or one of the officers shot Murrell, she felt "we all would have heard that" because of their proximity to the shooting.
A narrator in one of the videos that Corey received also said several times he thought people may have been "shooting out of the building" as he hid behind a pole and filmed a crowd attempt to help Murrell. The video showed how confusing the scene was and also showed the immediate reactions to the two teenagers being shot, one with a 'less-lethal' munition from law enforcement and another from a bullet.
Screenshot from a Snapchat video showing two people on the ground. The person with white shoes on the ground in the middle of the screen was shot by a police impact round. The person with red sandals at top right of the image is helping Dorian who's laid on his back on the ground.
Shakur said witnesses that weren't Newby and his friend, along with forensic science provide evidence that the bullet that killed Murrell was shot from above. He said the autopsy doesn't match with Newby's account of events. The autopsy "says that [Murrell] was not shot from close range," said Shakur, and that in the "forensic report, the trajectory of the bullet was head to toe."
Both Shakur and Corey further questioned why nobody was seen running away in the videos or that none of the narration was about an altercation that led to someone shooting another person and then running away.
The police who were on the scene near Monument Circle, shot a protester with a riot munition at nearly the same time and place that Murrell was killed and Corey questioned why they wouldn't be aware of the shooting and at least make a report on it.
Screenshots from videos collected by Corey show an IMPD officer with a 9mm carbine rifle very close to the scene. Murrell was killed with a 9mm bullet, according to his family.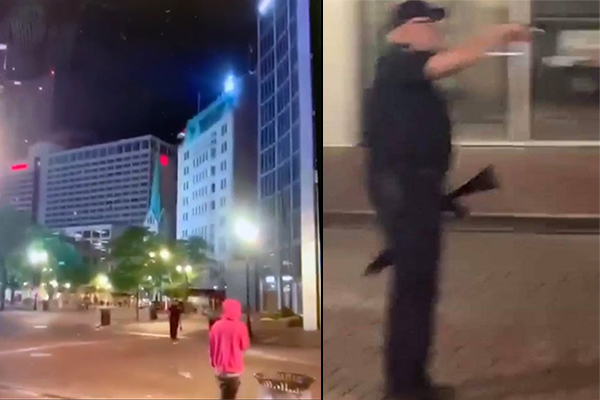 Thinking it was the police isn't far-fetched due to an incident three three weeks earlier, on May 6, 2020, when IMPD shot and killed two Black men, Dreasjon Reed and McHale Rose, and an officer on his way to work drove his car into a pregnant white woman, Ashlynn Lisby, killing her. Those three murders in a matter of hours further eroded public trust, leading to Dorian's family and many in the Indianapolis community to believe that it's possible the police could have killed Murrell.
Corey said they haven't gotten any answers when they've asked the investigators and the prosecutor if the bullet recovered from Dorian's body matches either Newby's gun or any of the 9mm guns IMPD have in their arsenal.
Tyler Newby, officially charged with Murrell's murder, is the other of the three possibilities. Corey said that if Newby shot Murrell, it didn't happen as Newby said it happened. Furthermore, Corey said that Newby being downtown with a gun that night was "vigilante" behavior and that Newby was looking to protect buildings and kill someone.
Murrell was one of at least five people shot throughout Indianapolis that night and one of three people killed along with former Indiana University football player Chris Beaty. Prosecutors have recently charged two people with the murder of Beaty and are saying that they were part of a group that Murrell was with that were involved in a handful of robberies that night. Last month Marion County Prosecutor Ryan Mears indicated that although Murrell has been alleged to be involved in the robberies, that will not hold significance in Newby's case.
On July 16 at the City County Building in downtown Indianapolis, there is a planned press conference on the Dorian Murrell case with attorney Malik Shabazz, among other events. Murrell's grandmother has created a GoFundMe to help raise funds for legal needs towards "answers and justice for Dorian."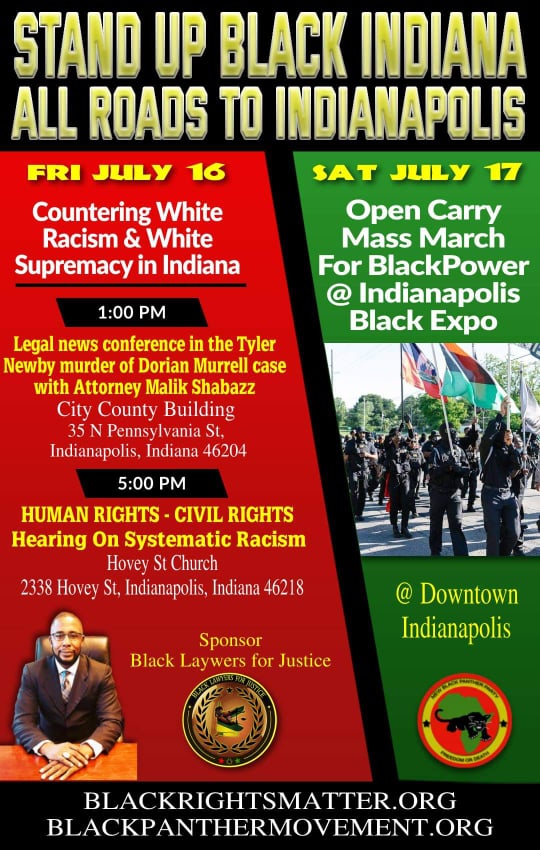 Read the affidavit for probable cause from the Marion County court in Indiana which outlines the murder charge against Tyler Newby below:
Tyler-Newby_Redacted

Unicorn Riot's Coverage of Dorian Murrell - Killed by Tyler Newby:
---
Follow us on X (aka Twitter), Facebook, YouTube, Vimeo, Instagram, Mastodon, Threads, BlueSky and Patreon.
Please consider a tax-deductible donation to help sustain our horizontally-organized, non-profit media organization: