Owner of MEnD Correctional Care Loses License Over In-Custody Death of Hardel Sherrell
St. Paul, MN – In an unprecedented move, the Minnesota Board of Medical Practice ruled to suspend the medical license of Dr. Todd Leonard and fine him $30,000 for his role in the 2018 in-custody death of Hardel Sherrell. Dubbed "Dr. Death" by activists, Leonard founded MEnD Correctional Care, which provides medical care to at least 48 correctional facilities across five states in the Midwest, overseeing the health care of up to 9,600 inmates.
Content Advisory: Death
The ruling came over three years after Sherrell, a 27-year-old father of three, died a torturous death in Beltrami County Jail due to complications from Guillain-Barré syndrome, which was undiagnosed at the time. He was the fourth death in the jail in as many years.
Sherrell's mother's legal team got video footage from the jail and filed a lawsuit. Her push for accountability along with a whistleblowing nurse helped to spark a slew of investigations into his death by a variety of agencies, including the Federal Bureau of Investigation. A federal grand jury is also investigating Sherrell's death for criminal charges.
Unicorn Riot was first to release videos from Beltrami County Jail revealing the tortuous neglect by corrections officers in the Beltrami County Jail and medical staff from MEnD that led to the in-custody death of Hardel Sherrell – see here for more.
A Kare11 investigation into MEnD, prompted by Sherrell's death found that at least 25 inmates died while under Leonard's care. Leonard's license was previously restricted in 2011 when the Board reprimanded him and fined him.
It was Stephanie Lundblad, the whistleblowing nurse who filed complaints with several agencies, including the Minnesota Board of Medical Practice in September 2018, that led to the Board's ruling. She blew the whistle on the neglect she saw from the jail and from Leonard himself, saying she felt like she witnessed a "murder" after caring for Sherrell a few days before his death.
Lundblad's complaint eventually led to evidentiary hearings in July 2021 at the request of the Minnesota Board of Medical Practice Complaint Review Committee. Recommendations were made by the Board and the final ruling to suspend Leonard's license was made by Administrative Judge Ann O'Reilly on January 8, 2022. Leonard can apply for reinstatement in September.
Todd Leonard was represented by David Bunde of Fredrickson & Byron. Keriann Riehle and Nicholas Lienesch, both Assistant Attorneys General, represented the Committee.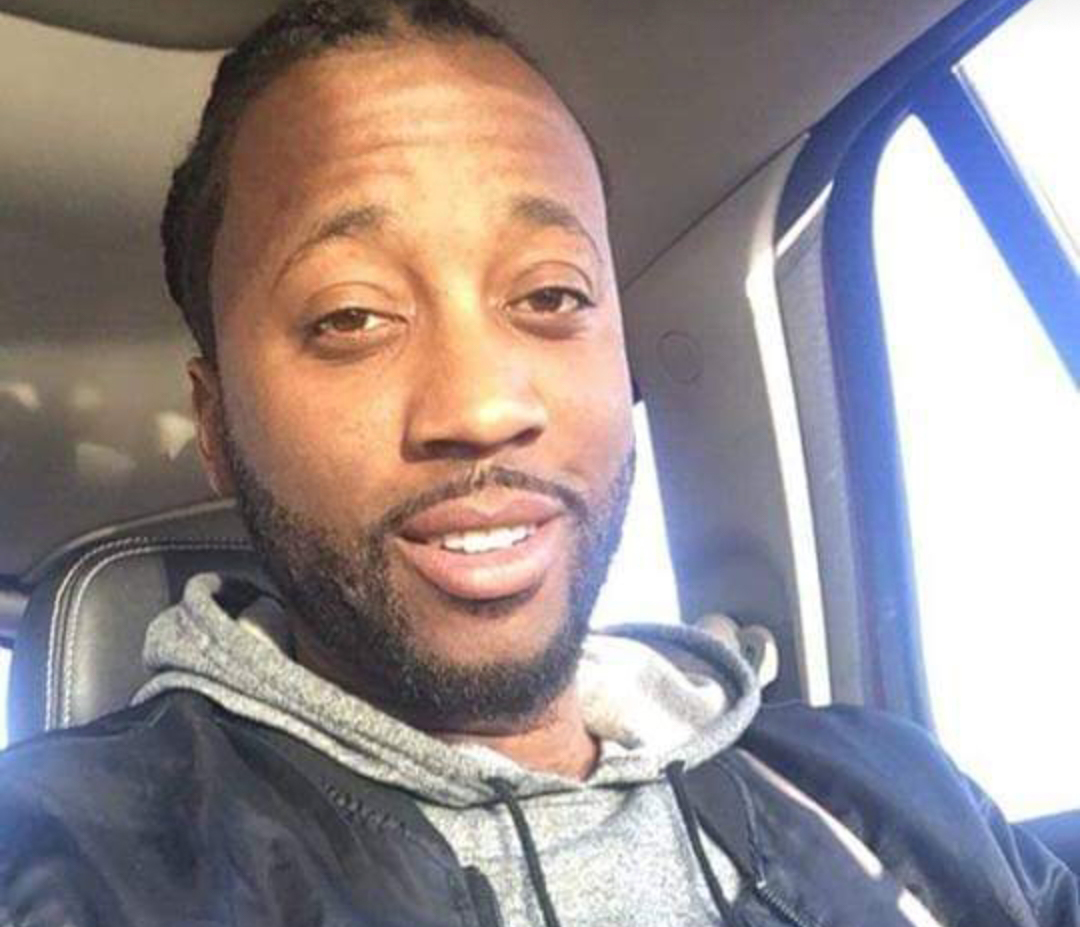 The Orders
Four orders were handed down by Judge O'Reilly. The medical license of Todd Leonard (MEnD Correctional Care) was ordered to be suspended for an "indefinite period of time" starting on March 1, 2022. Leonard must pay a $30,000 civil penalty to the Board before July 21, 2022. Lastly, the Board noted Minnesota Statutes 147.081 and 147.082, reiterating that Leonard "must not imply" that he's an authorized doctor.
However, in just six months, Leonard "may petition the Board to have the suspended status removed from his license." The petition process consists of submitting a paper report detailing the implementation of policies and procedures.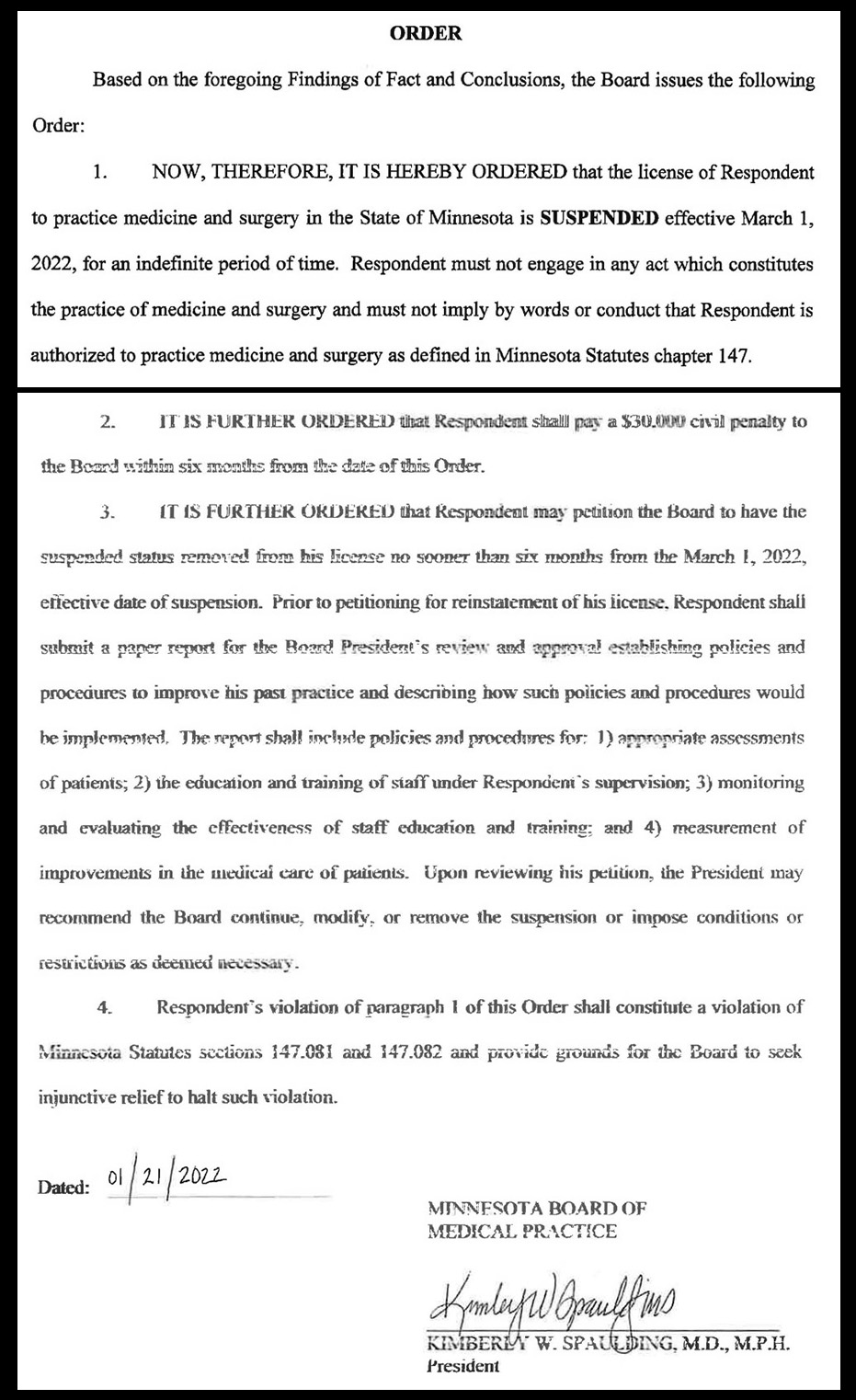 The Report
The Board's 164-page report (PDF) released in January 2022 gives the findings of fact, conclusions, and the final order on Leonard's license along with the September 2021 recommendation report. See the Table of Contents and read the full report below.
The report states that Leonard created MEnD in 2008. Leonard's the president of the company and served as the chief medical director until 2021 when a new corporate medical director was appointed.
MEnD started contracting with Beltrami County Jail, located in Bemidji, Minnesota, in 2012. The compensation for the original contract was $204,900 annually, yet there were amendments made to the contract after increased hours in 2013. The amended contract amount was redacted from the report but "According to [Leonard], MEnD's net profits in 2020 were 'a few' hundred thousand dollars."
The report states that Leonard had a "romantic relationship" with 'Nurse #1', Michelle Skroch, and that he lives with her. A "love contract" was crafted by a lawyer working for MEnD to "openly declare" their work romance. In 2018, when Sherrell died, Skroch was serving as MEnD's director of nursing and was MEnD's lead trainer and training developer.
The report stated five examples of memes which were found in MEnD's training materials that "made light of the inmate population that MEnD served." Included in the trainings were cartoons with captions joking about inmates' mental health, substance abuse, cleanliness in the institution and the inability for inmates to leave. Leonard and Skroch stated those memes were to inject "levity" into the trainings and "to have a chuckle."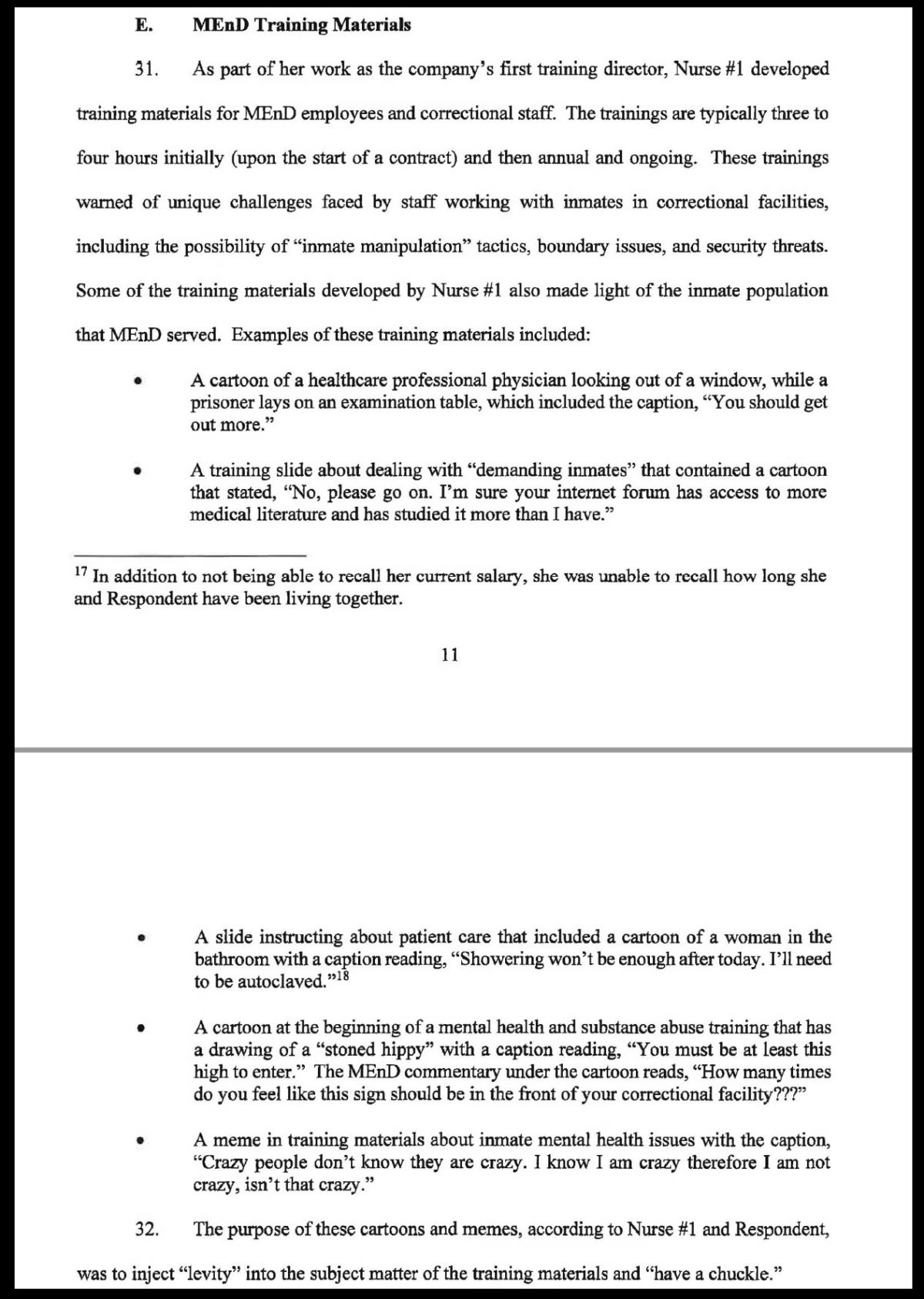 Later in the memorandum, a footnote was added to the word "faking" in a sentence speaking on MEnD's conclusion that Sherrell was faking his illness. The footnote reads:
"This is not surprising considering MEnD's training materials and overall culture mock and belittle the individuals entrusted to their care."

Footnote 65 on page 76 of the Board's final report on Todd Leonard
A section in the ruling report titled Care of Inmate/Patient is 44 pages long and covers in detail the neglect that occurred in Sherrell's death. Hardel was incarcerated on August 1, 2018, and was moved to Beltrami County Jail on August 24. He died on September 2.
Sherrell's health deteriorated within days of his arrival at the jail and the neglect he faced revolved around a consistent claim by certain MEnD employees and jail staff that he was "faking" his illness and was "plotting" to escape if he went to the hospital.
Incompetence by MEnD staff exacerbated the claims that Sherrell was faking. In one instance, after reviewing jail video from the wrong day and time, 'Nurse #3' wrote a report on August 29 to Leonard expressing "healthy skepticism" over "the Patient's complaints." This led to Leonard removing Sherrell's access to a wheelchair during a time when Sherrell was losing the ability to control his legs.
The next day, 'Nurse #2' ordered Sherrell be taken to the hospital after evaluating him in the morning. The order was overridden by Jail Administrator Calandra Allen who claimed Sherrell was a "flight risk."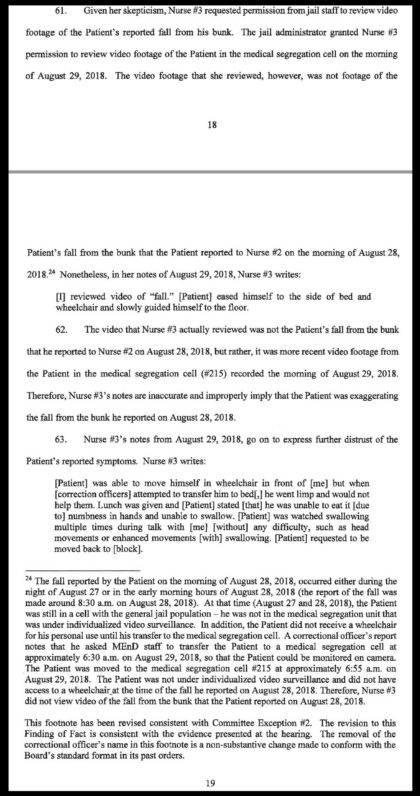 On August 31, three days before Sherrell died in a jail cell, his ability to move any of his extremities had deteriorated. He had become incontinent and was having trouble swallowing and breathing. He was cold to the touch and yet sweating profusely. He was unable to eat or drink and was left lying in his own urine several different times for several hours while in a medical cell with a camera in the upper corner of the cell.
That day, Stephanie Lundblad, the whistleblowing nurse whose complaints sparked the Committee's review, was working her first day at MEnD. Labeled as 'Medical Provider #1', she was supposed to meet Leonard at the jail, but he called and said he would not be coming. She ended up working her first day independently and was not alerted to Sherrell's condition.
She stated from the moment she walked in, she heard several correction officers "making fun of the Patient." The officers were saying he was faking his paralysis and "laughing about how he would not wear an adult diaper."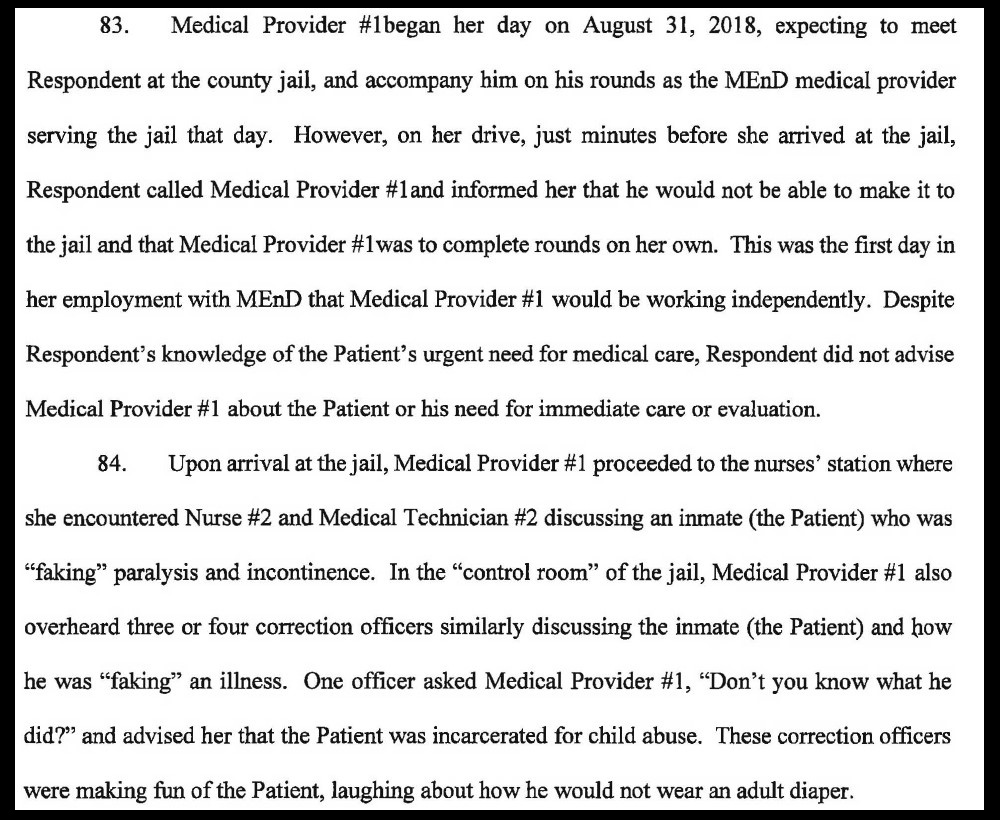 ---
For further details of the conditions of neglect that Lundblad saw, the complaint that she submitted can be found here. She sent complaints to the Department of Corrections Inspection Unit, the Ramsey County Medical Examiner, and the Medical Board of Medical Practice in early September 2018.
Lundblad's life has been negatively altered since Sherrell's death, which she calls a "murder." She stated to the Committee in 2021 that she resigned from MEnD after learning Sherrell died and was "horrified" by the "incompetency."
She reported that Leonard told her Sherrell killed himself likely by stuffing a sock down his throat.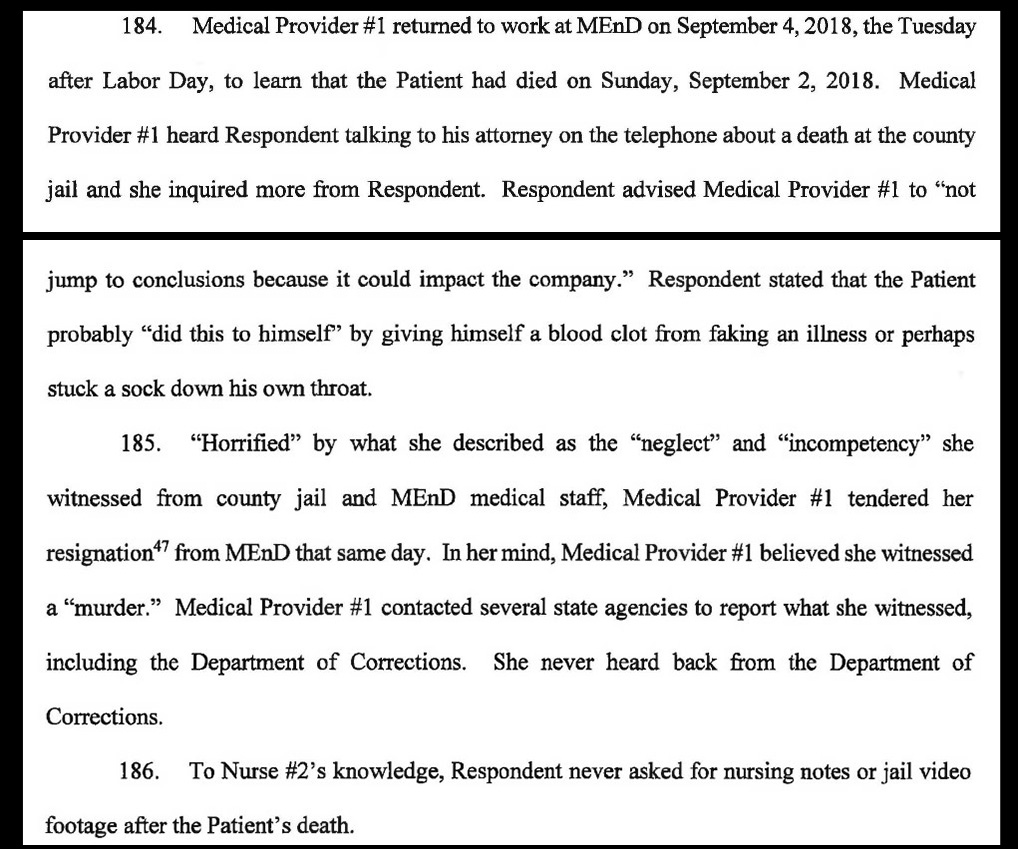 ---
During her medical assessments on patients incarcerated at Beltrami County Jail on August 31, Lundblad's persistence that Sherrell needed to be taken to the hospital was finally allowed by the jail after prior repeated denials over claims he was "faking" and seeking to "escape."
However, Sherrell was discharged that same night after tests and given a final diagnosis of "malingering" and "weakness." Corrections officers from Beltrami County Jail had accompanied Sherrell on his trip and were noted as telling the medical personnel in Sanford Hospital that Sherrell was faking.
The next day, September 1, the day before Sherrell died, Skroch is noted in the report as seeing Sherrell two-and-a-half hours after arriving at the jail and then falsifying her medical notes with an earlier and incorrect time. Skroch spent less than three minutes examining him at a distance of 10 feet away, never checking his vital signs.
That day, a sergeant in the jail noted in a written report and voiced in a message to Administrator Allen that Skroch had advised him "that there was nothing medically wrong with the Patient." Skroch had given instruction to the jail staff that they didn't need to assist Sherrell with anything as he was "capable of doing it himself."
Skroch spoke to Leonard at 5:30 p.m. that evening about the diagnosis from the hospital visit the night before. According to the Board, Leonard listened and gave no further instructions for medical care for Sherrell, concluding that the ER's "diagnosis of "malingering" were "puzzling" and "bizarre."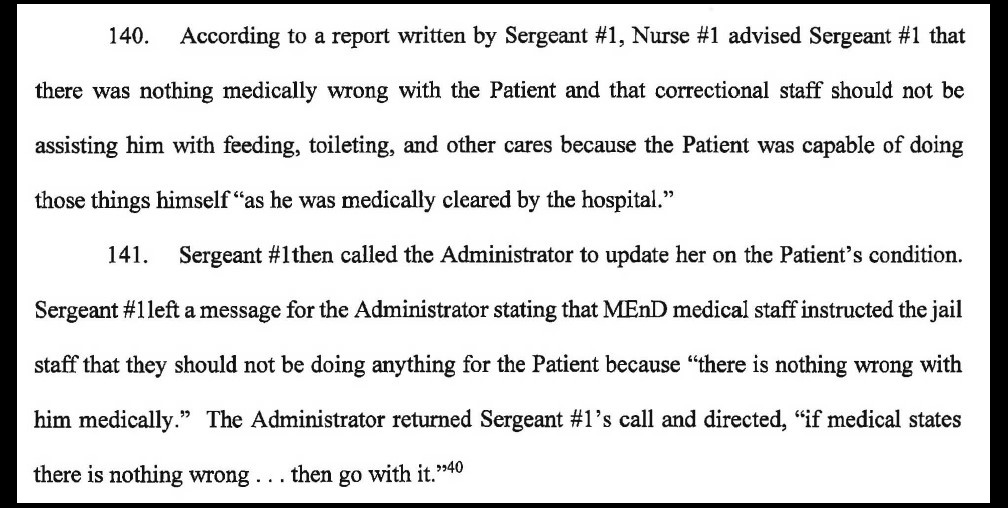 On the day of Sherrell's death, Skroch is said in the report to have, for the second day in a row, just "peeked onto his cell" and did not check his vitals. Her written notes are in "stark contrast" to what appears in the jail videos, says the report.
Also noted is Skroch's final observations of Sherrell before she left the jail at 2:27 p.m. She stated Sherrell was "sleeping comfortably." Yet, video appears to show Hardel laying unconscious while "excreting a white substance from his mouth." He was pronounced dead two hours later.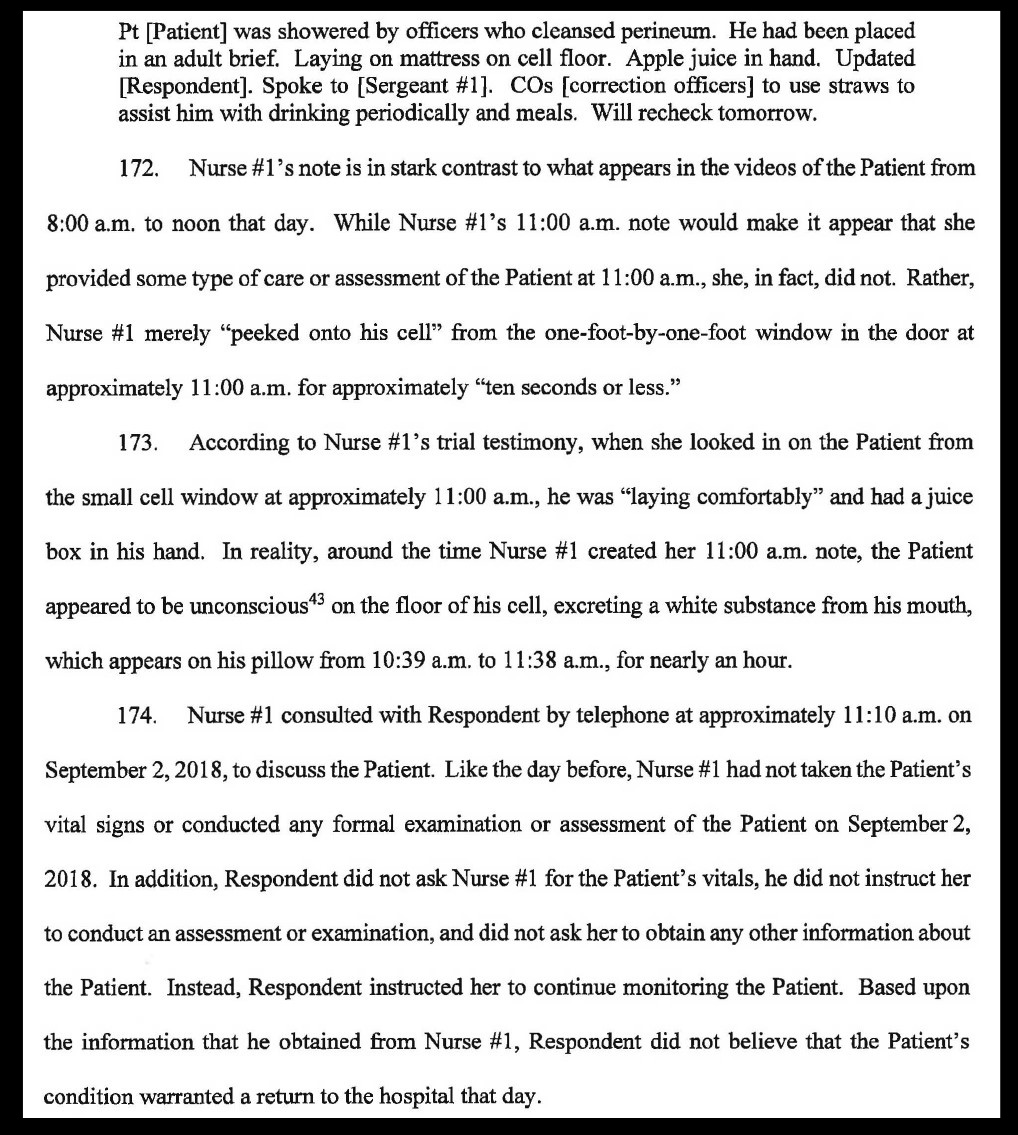 Experts brought in by the Board to testify at the hearing are noted in the report as stating Sherrell "most likely died of respiratory failure caused by Gauillain-Barre Syndrome" and that Leonard failed Sherrell on a multitude of levels, including "failing to conform to the minimum standard of care."
An expert brought in by Leonard and his legal team at Fredrikson & Byron opined that MEnD treated Sherrell appropriately and that they "met the standard of care in his treatment."
In the Administrative Law Judge's Memorandum, three occasions were noted in the report as times when Leonard's "conduct fell below the minimal standard of acceptable" and demonstrated "a careless disregard" for Sherrell. They were as follows:
Respondent [Todd Leonard] failed to ensure the Patient's timely transfer to the emergency room on August 30, 2018, after the Administrator overrode Respondent's medical directive for a patient over whom Respondent had an ethical and professional duty to protect.
Second, on both September 1 and 2, 2018, Respondent failed to obtain basic medical information about the Patient from his on-site medical staff that would have enabled him to make informed and proper medical decisions for the Patient's care.
Finally, as a result of his failure to obtain necessary information from his on-site medical staff, Respondent neglected to return the Patient to the hospital for emergency care, when such care was clearly needed.
Judge O'Reilly's report notes that "it cannot be ignored that" Leonard "had a significant financial interest in maintaining a good business relationship with the jail and its administration."
The report details the many steps and decisions Leonard made that the Medical Board and Judge O'Reilly deemed failures during the treatment of Sherrell. The conclusion reads as such:
"The Patient entered the county jail on August 24, 2018, a vibrant, seemingly healthy 27-year-old man. He was carried from that same jail nine days later to be laid to rest, after having endured days of suffering, begging those responsible for his care – medical providers and correction officers alike – for help that never came. His condition had already been dismissed by his custodians and 'caregivers'- he was a criminal defendant feigning an illness, not a man presumed innocent and in desperate need of care. And given their preconceived notions of inmates, no evidence could convince them otherwise. Even in his final hours, as he sat in a wheelchair, in filthy scrubs, with urine streaming down his legs, his caregivers would not believe him. As he laid unconscious, half-naked on the floor of his jail cell, white foam coming from his mouth, they still did not believe him. It took his death to convince medical professionals and jail staff that the Patient was not 'malingering.'

Given the egregious facts of this case, the Administrative Law Judge recommends that the Board impose significant and appropriate discipline against Respondent. The Judge further urges that the State of Minnesota investigate all who callously disregarded their duty to this man. Foremost among them are Nurse #1, the county jail, and jail staff. Scrutiny should also be applied to the contracts MEnD maintains with Minnesota counties and municipalities, and all the other medical providers who were involved in the Patient's 'care' between August 25 and September 2, 2018.

A tragedy like this should never have occurred. And it must never be allowed to happen again."
---
Findings of Fact, Conclusions, and Final Order In the Matter of the Medical License of Todd A. Leonard, M.D. – Table of Contents
| | | |
| --- | --- | --- |
| I | Background: Respondent (2) and MEnD | 2-12 |
| II | Care of Inmate/Patient | 12-55 |
| III | Cause of Death | 55-59 |
| IV | Complaint Made to the Board of Medicine | 59-60 |
| V | Expert Medical Testimony | 60-70 |
| | Conclusions | 70-73 |
| | The Administrative Law Judge's Memorandum | 73-90 |
| | Order | 88-90 |
| | Findings of Fact, Conclusions of Law, and Recommendation [redacted] | 91-164 |
Read the full 164-page report detailing the findings of fact, conclusions, and final order from the MN Board of Medical Practice:
leonard-todd-a-1-21-22-mn-board-of-medical-practice-report-1_compressed-1

In response to the ruling, Leonard stated:
"I am profoundly saddened and disappointed by the Minnesota Board's decision. This death was a tragedy, but to my core I believe our care was appropriate, especially given the incredibly rare nature of this patient's condition. This incident has been investigated extensively by the Board, through the legal process and other means; each of those investigations documented the steps we took to properly evaluate the patient's condition, to recommend a course of treatment and to follow up as appropriate. For reasons I still struggle to understand, these facts were not persuasive to the Board.

It's important to make it clear that today's decision is a judgment for me personally and not against MEnD, its 250 employees or the important work they do. Over the last decade, our team has served many thousands of individuals with quality medical care. I am proud of our track record in living up to the standards of our profession and of the quality healthcare that we have delivered over this time. We have received multiple national accreditations based on the high standard of work that the MEnD team delivers each day, and they will continue that work with that spirit in mind."
---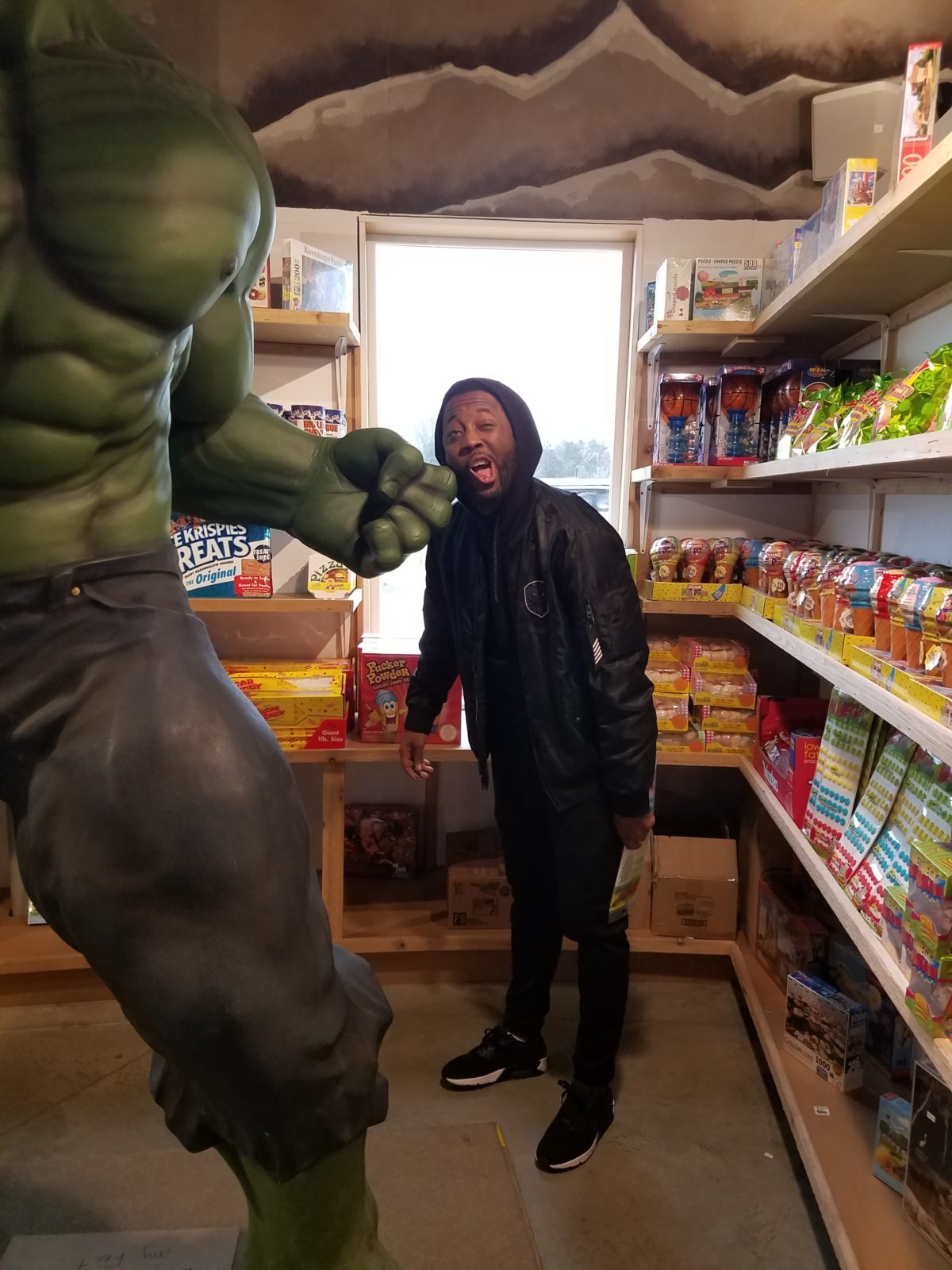 Background
Unicorn Riot was first to release jail footage of Sherrell's last days alive alongside an exclusive interview with his mother, Del Shea Perry. Since her son's death, Del Shea has been steadfast in her push for accountability and change, filing lawsuits and organizing numerous protests.
Shortly after Sherrell died, Stephanie Lundblad, a whistleblowing nurse, filed complaints about Todd Leonard stating pleas for getting Sherrell proper medical care were ignored and the lead jail doctor claimed Sherrell was "faking" his illness, of which he died just days later:
An initial review from Minnesota's Department of Corrections (MN-DOC) found no fault in Sherrell's death. In November 2019, two weeks after the jail videos were published and after the first review came back, Perry held a rally outside the offices of the DOC and attempted to speak with the inspector of the first review. Unicorn Riot was live for the rally, see the video below.
Two weeks after Perry held the small protest at the DOC, DOC Commissioner Paul Schnell ordered a re-review of Sherrell's death. This time the DOC's Inspection and Enforcement Unit found "pervasive" policy failures in Beltrami County Jail. No consequences were doled out.
Ms. Perry continued her push for accountability, holding numerous rallies and protests, some that were outside the headquarters of Minnesota's Bureau of Criminal Apprehension and even holding a "prayerful protest" in Bemidji and marching outside the Beltrami County Jail. She's also created her own non-profit support organization called Be Their Voices.
In the 2021 legislative session, Perry won a huge victory as Minnesota passed the Hardel Sherrell Act. According to a news release by Minnesota's Governor, the Act has the following provisions:
Requires the commissioner of corrections to establish minimum standards on mental health, suicide prevention, medication administration and discharge planning, code of conduct policy development, and death reviews
Updates language and clarifies ways the commissioner may act without revoking a facility license and codifies steps needed to correct deficiencies
Establishes a clear process for the revocation of facility licenses when they are found to be unfit for use
Requires audits of facilities
Requires death review teams
Limits and clarifies use of force applied in correctional facilities
While some actions have been taken in response to her son's death, Ms. Perry continues to push for criminal charges to be pressed against Todd Leonard, Michelle Skroch, other MEnD staff and corrections officers at Beltrami County Jail.
Unicorn Riot's Hardel Sherrell Coverage:
---