Patriot Front Neo-Nazis Tied To Springfield, IL Hate Crime
Springfield, IL – Shortly after midnight on November 14, 2021, previously unreported leaked footage shows members of the neo-nazi group Patriot Front running up to the side of the Phoenix Center, a nonprofit providing housing, services and education to at-risk LGBTQ+ youth in central Illinois. Three men quickly spray painted a stencil advertising Patriot Front's website over a rainbow mural on the side of the building before fleeing to regroup with other members in a car parked nearby.
Patriot Front is one of the largest functioning white supremacist groups in the U.S., and this material turned up in a large cache of documents Unicorn Riot published in January. Patriot Front predominantly recruits from young men and high school students using edited propaganda videos crafted from footage like that seen in the leaks here to maintain an action-oriented online brand by harassing minorities and especially LGBTQ people.
This report is part of our series on Patriot Front. Additional resources: 400GB+ of Leaks • Guide to leaked media files • 17 hours of leaked meetings • Chat records on our DiscordLeaks platform • Our Far-right Investigations Desk page • 2018 Report on Patriot Front
Content Advisory: bigoted language appears in quotes.
---
Comments caught on their own camera minutes after the stenciling make it clear that the self-described "national socialists" carried out a plan they knew was illegal in hopes of intimidating gay and trans people and getting shock publicity for their group. After fleeing the scene at the Phoenix Center, Patriot Front members discussed how they planned to deface the building because "it's a gay and trans youth center."
In between worrying their license plates may have been picked up by security cameras, the young neo-nazis celebrated the emotional distress they believed their stencil would cause. "Those f*gs are gonna lose their mind," boasted the member who recorded himself spray painting the Phoenix Center's mural on his chest-mounted GoPro camera just minutes earlier.
Phoenix Center Executive Director Jonna Cooley told Unicorn Riot that the Patriot Front stencil found painted on the Center's mural the next morning was "really a non-issue for us. We saw it, we had it repaired, we made a police report, we went on about our business. If we took the time to deal with every person that has a hateful comment, or leaves a hateful message on the machine or whatever, we'd be wasting a lot of time. It's just something that's to be expected."
While Patriot Front targeted the Phoenix Center due to its publicized role in providing services to LGBTQ youth, Cooley explained that "we're much more than a youth center":
"We provide transitional housing for homeless adults, and we have a public health component… we do HIV, Hepatitis C and STD testing. And we have one of the state of Illinois' largest harm reduction programs. We work with injection drug users to provide clean supplies and effort to prevent the ongoing transmission of HIV and Hep C and help people maintain their health and make referrals. And we provide our services through mobile outreach in 30 Central Illinois counties."

– Executive Director Jonna Cooley, PhD on the work of the Phoenix Center in central Illinois
Although the Phoenix Center promptly removed the fascist stencil paint without interrupting their operations, the incident illustrates a larger pattern of Patriot Front members being directed by their leaders to destroy murals and other symbols of tolerance for racial, sexual and gender diversity. Patriot Front records show the group is behind at least 29 acts of destruction of public art honoring Black, Mexican, Asian and LGBTQ people, according to April 2022 analysis by the Southern Poverty Law Center.
Five Patriot Front members were clearly involved in defacing the Phoenix Center based on leaked video from the night of Nov. 13 into the early hours of Nov. 14, 2021: Mitchell Frederick Wagner, 25, of Florissant MO, (alias 'Kyle MO'), Logan Plank, age 19, of Wood River, IL (alias 'Clarke IL'), Garret Joseph Garland, 23, of Freeburg, IL ('Randolph IL'), Daniel Joshua Springer, 23, of Marine on St. Croix, MN (alias 'Sam MN') and Luke Paule of Pacific, MO (aka Patriot Front 'Network 12' Chapter Director 'ND – Carter MO.)
---
Mitchell Wagner Films Group Vandalism, Vents About Jewish People
The primary culprit in the defacing of the Phoenix Center who held the can spraying paint through the stencil onto the Phoenix Center's rainbow mural (and recorded himself doing it) is Mitchell Frederick Wagner, who uses the alias 'Kyle MO' inside Patriot Front.
While Wagner's unmasked face is not visible in the actual footage of the act itself, other photos from that night's vandalism spree taken by Patriot Front Network 12 Director Luke Paule (alias 'ND – Carter MO') show a masked Wagner with his black GoPro HERO7 camera affixed to his chest. In other videos taken that night from the same chest-mounted angle, the camera-wearer is addressed as "Kyle" and shadows cast by streetlights in the same footage match Wagner's physical profile, including the medium-length curly hair he sported at the time.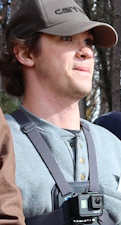 Leaked messaging logs from Patriot Front's RocketChat server show that on November 16, two days after the incident, 'Kyle MO' sent a Mega.nz file sharing link with the description "Springfield footage" to Luke Paule aka 'ND – Carter MO', his Network 12 chapter leader. Just over a week later, on November 24, Paule sent another Mega.nz link to Graham Jones Whitson ('Mason TX'), Patriot Front's propaganda video editor, with the caption "Stencil Job, Springfield IL."
Mitchell Frederick Wagner was first identified as 'Kyle MO' on Twitter in March 2022 by the antifascist research account @RuthlessWe. His stepmother Tamarah Wagner recently ran for Chesterfield, MO city council, previously ran for a local school board and is a Resident Member of the Chesterfield Regional Chamber of Commerce. Through her attorney, Tamarah issued a vague statement to local media in March 2022 claiming to have "no prior knowledge" of her stepson's activities.
Mitchell Wagner ('Kyle MO'), Logan Plank ('Clarke IL') and Garret Garland ('Randolph IL') are seen and/or heard in the video of the actual defacing of the Phoenix Center, while Daniel Springer ('Sam MN') and Luke Paule ('ND – Carter MO') coordinated as lookouts and drivers; Springer and Paule also participated in other spray paint runs in the same travel party that night. Garland was responsible for initially selecting the Phoenix Center as a vandalism target, according to comments caught on leaked video after the five men left the scene to continue tagging Patriot Front stencils at less conspicuous locations.
While stenciling an already heavily-tagged pedestrian tunnel later that night, Wagner and other members practically jumped with joy when they discovered and rushed to cover up graffiti of symbols they mistook for Jewish Stars of David. "Let me get it! Star of David, I gotta get it!," Wagner yelled as he sprinted towards the symbol after Garland pointed it out. Patriot Front members commonly target Jewish people as a core element of their neo-nazi ideology.
Wagner, Plank and Garland then excitedly sprayed over the symbol with their three spray cans at the same time after pausing to make sure Wagner's chest-mounted GoPro HERO7 Black was rolling. Apparently not wanting his reason for relishing painting over what he thought was a Jewish symbol to be mysterious to viewers of his GoPro footage, Wagner said "fuck you, k*kes!" to no one in particular, twice, right before spraying paint from his can.
While Mitchell Wagner filmed much of the group's doings that night on his GoPro, Luke Paule aka Network 12 Director 'Carter MO' took photos on his Nikon CoolPix L830 throughout while also directing his underlings on where, when and how to spray paint Patriot Front's official stencils. Paule repeatedly told the others to cover up any messages seen as "gay" or "homosexual", further demonstrating the discriminatory motivation of his group's "stencil job" that night.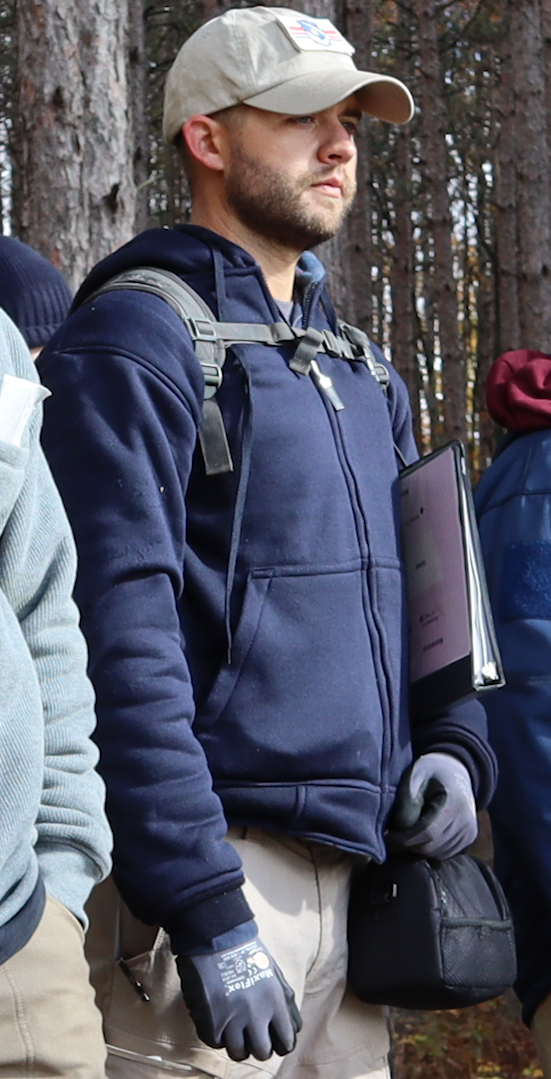 Leaked Patriot Front chats Luke Paule sent as 'ND – Carter MO' reveal that he even instructed members in other states on how to best destroy pro-tolerance murals in their area, sending specific directions on which kinds of spray paint cans to use and how members should pose in front of vandalized murals for propaganda photos. Paule's chat records suggest that he and his chapter have engaged in several additional acts of neo-nazi vandalism beyond what is shown in leaked Patriot Front video files obtained by Unicorn Riot.
---
Fascist Network Director Dissatisfied with Online Group
Bonding over the shared thrill of late-night lawbreaking was apparently not enough to motivate the young fascists under Paule's command to meet his standards. In one particularly condescending message, he scolded his chapter's members while threatening to expel them for not participating in his chat room:
"Network 12 chat has been DEAD lately and right before an event. This is completely unacceptable. If you're talking using other apps you have to remember as new members enter this network they will see a dead channel. If you're not posting a message here at least two times a week then reforms will be implemented."

– Luke Paule aka 'ND – Carter MO', leaked Rocketchat message sent in Patriot Front Network 12 channel, Nov. 20, 2021
Luke Paule's dissatisfaction with the performance of his Patriot Front chapter sometimes bled over into a personal resentment for Logan Plank, the fresh recruit eager to prove himself after signing up to be a militant neo-nazi straight out of high school.
In one leaked direct message, Paule ranted abusively about Plank to another member after Plank apparently declined Paule's officer to get him a job working in his HVAC technician union. Paule railed that Plank was "retarded" and "really does think he knows best regardless of experience." "I bet he didn't join the union because he cannot pass a drug test," Paule wrote privately to Garret Garland (Randolph IL) on November 30, 2021. "Why is it you can lead a horse directly to water, RIGHT TO THE OASIS, and the horse turns around and eats a big pile of shit instead."
Paule wrote in the same message to Garland complaining about Plank that he was "not going to help him [Plank] anymore financially" – implying that the new, eager to please then-18-year-old in the group had been receiving sums of money from an older, married group leader who privately disparaged him while encouraging him to commit hate crimes.
In December 2021, Plank complained ahead of a Patriot Front event that "my dad… [is] threatening to take the car I've been driving away" after "[he] asked me where I was going [and] I said no." Paule quickly responded by telling Plank to lie to his parent: "just tell him something that's believable." (In leaked meetings from Patriot Front's pacific northwest 'Network 8' chapter, another Network Director repeatedly pressured an underage member still in high school to lie to his parents in order to attend neo-nazi events.)
---
Other Members of Illinois-Missouri Regional Neo-Nazi Vandalism Crew
Logan Plank aka 'Clarke IL' is seen clearly in the leaked video unloading spray cans from the trunk of a car parked blocks away from the Phoenix Center shortly before he helped Garret Garland ('Randolph IL') and Mitchell Wagner ('Kyle MO') deface the mural while Luke Paule ('ND – Carter MO') and Daniel Springer ('Sam MN') waited nearby. The sleeve of a brown jacket worn by Plank that night can be seen on an arm holding up a Patriot Front stencil to the mural while Mitchell Wagner sprays paint through the stencil's cut-out letter shapes onto the building.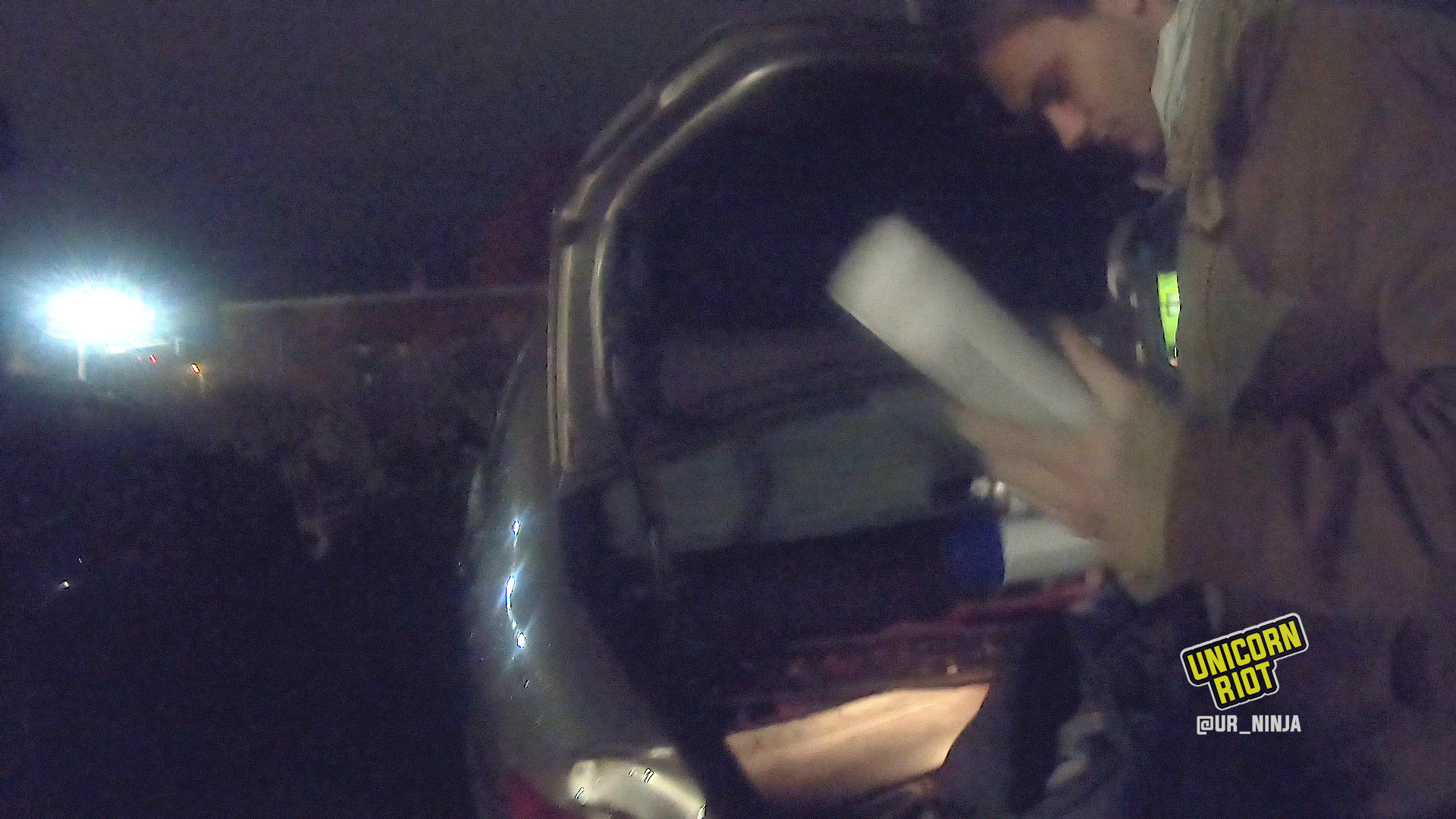 Plank was first identified as 'Clarke IL' by antifascists in Chicago who exposed him in a detailed profile in January 2022. Logan Plank's father Jeremy Plank is currently on the city council in Wood River, Illinois. Neither Jeremy Plank nor his 4 fellow Wood River city council members returned a request for comment about his son Logan's documented repeat involvement in Patriot Front vandalism in Illinois and Missouri. Campaign blurbs still online show that Jeremy Plank referred to "his son" while running for office; Logan Plank is visible in campaign photos posted to the 'Plank for Wood River' Facebook page.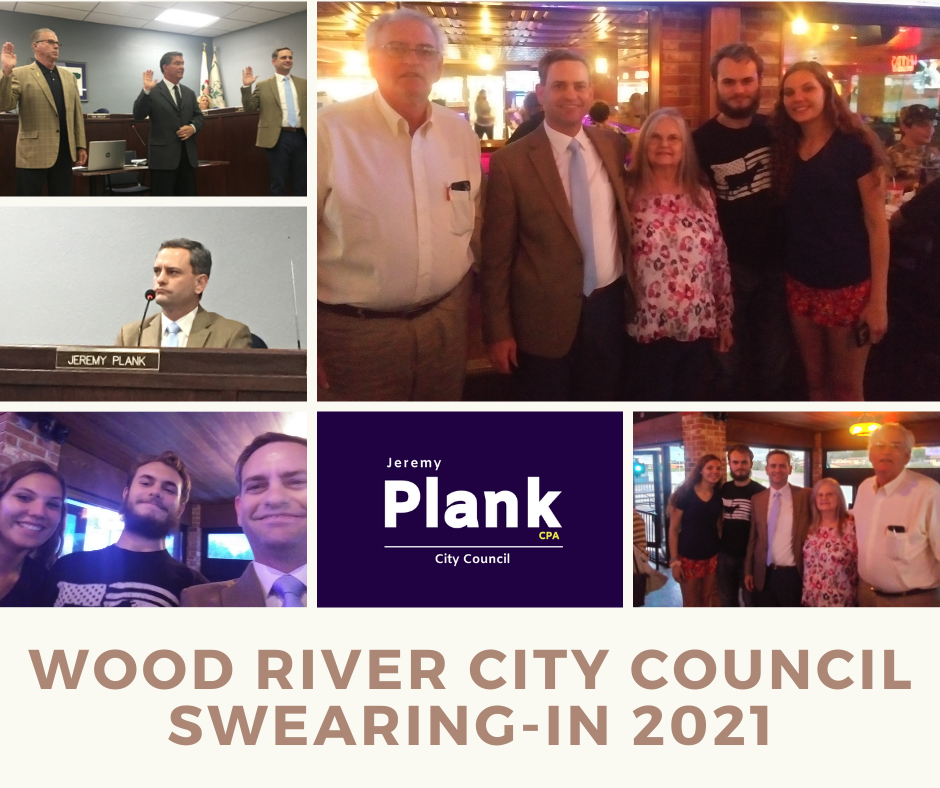 Logan Plank's mother Tiffany Perry is a middle school math teacher in Bethalto, IL and a Trump supporter who falsely posted on Facebook that "radical leftist" "impostors" were behind the January 6, 2021 attack on the U.S. Capitol. Plank's parents are divorced; his stepfather Matthew Perry was a police officer in Carlinville, IL until 2019 and frequently shares 'Blue Lives Matter' and anti-vaccine content on Facebook.
In a leaked December 2021 message exchange with Patriot Front leader Thomas Rousseau, Logan Plank said he was "interested in the art of making propaganda pieces." After Rousseau asked to see Plank's ideas, Plank shared a sketch of a proposed design. Rousseau never responded.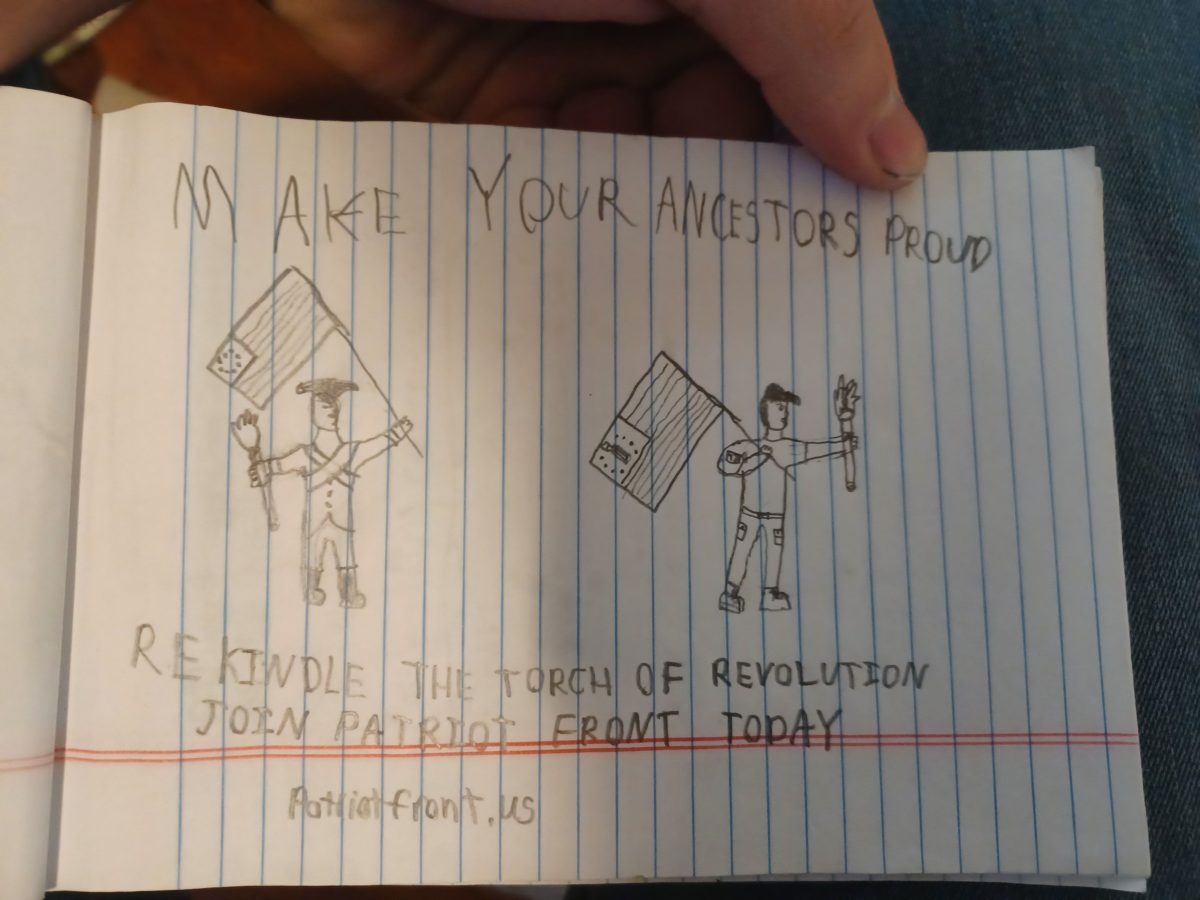 Rousseau was likely not eager to receive Plank's input into Patriot Front's carefully manicured promotional graphics schema. Just as Patriot Front members are only allowed to vandalize murals like the one at the Phoenix Center when given a green light by leadership, they are also expected to strictly limit the content of their vandalism to the group's official Rousseau-approved templates.
During the video of the vandalism of the Phoenix Center, Mitchell Wagner's voice can be heard addressing a "Randy" and repeatedly scolding a "Clarke" for slamming a car door too loudly or "stomping" too loud while they fled the scene. When Wagner said "Clarke" he was speaking to 'Clarke IL' or Logan Plank. "Randy" was short for 'Randolph IL' aka Garret Garland of Freeburg, IL, another active member of Patriot Front's midwest Network 12 chapter.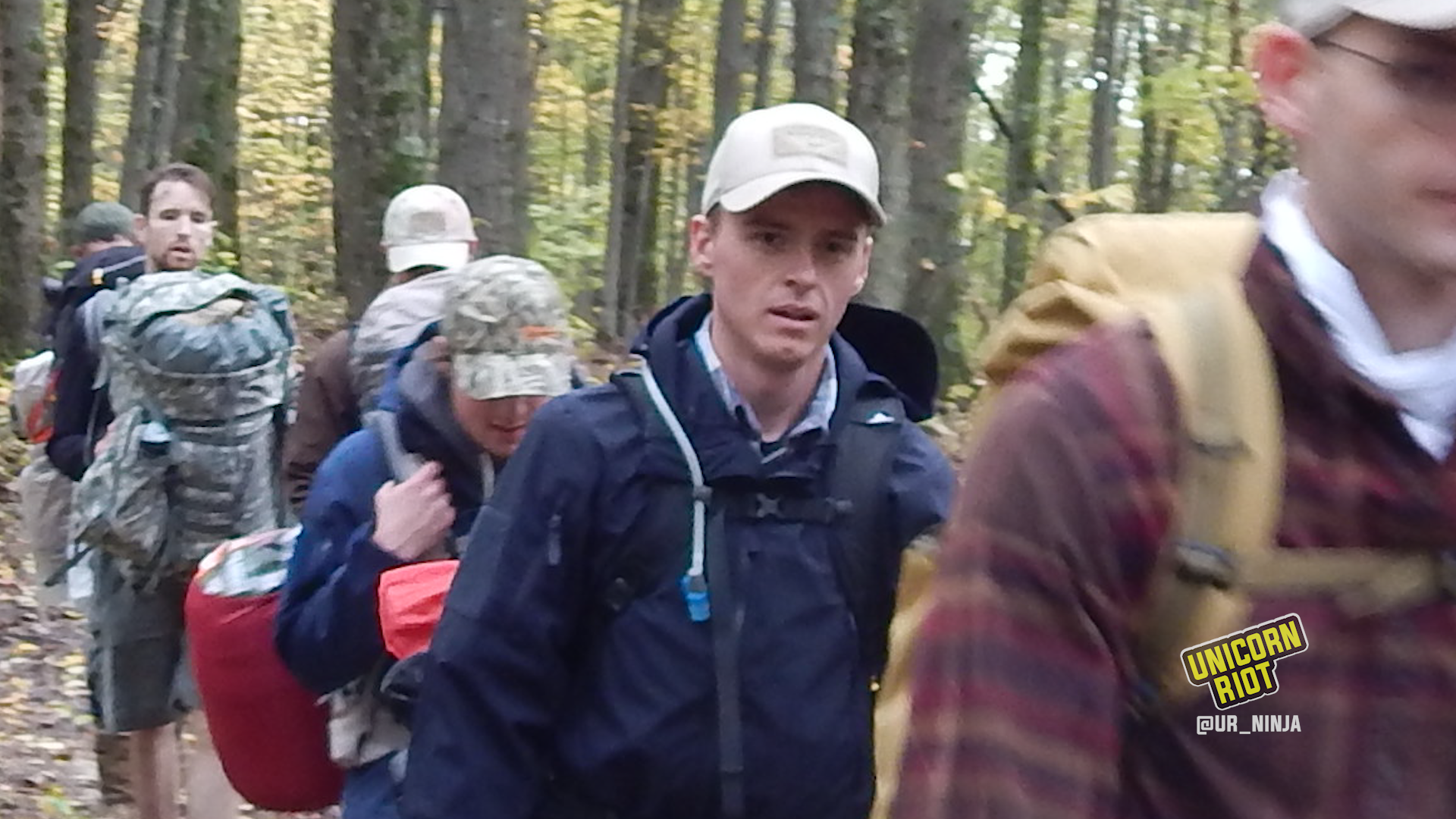 Garland was first tied to his Patriot Front 'Randolph IL' alias by Hatewatch reporter Jeff Tischauser in April 2022. Leaked notes show that in the months of November and December 2021, Garland personally conducted at least 8 Patriot Front recruitment interviews while taking notes during at least 11.
When discussing one prospective member who sought to join Patriot Front in November 2021, Garland noted with disapproval that the applicant "never mentioned the JQ." ("The JQ" is short for "the Jewish question", a common nazi phrase dating back to Adolf Hitler that refers to the belief that Jews secretly control the world and must be exterminated.) Patriot Front RocketChat logs from late 2021 also show Garland shared links to a Holocaust denial website and mentioned attending a conference of the neo-nazi National Justice Party.
Garret Garland aka 'Randolph IL' is briefly seen unmasked in leaked November 14, 2021, footage as Patriot Front members unload paint from the trunk of a car and anxiously discuss their getaway plans before defacing the Phoenix Center's mural. Garland aka 'Randolph' or 'Randy' put a Patriot Front-issued wraparound white mask over his face as he stood to the left side of the car while Logan Plank took spray cans out of the trunk. From that point on in leaked footage from that night, Garland can be seen wearing a white mask, a black hood over a dark cap and a headlamp with an orange band.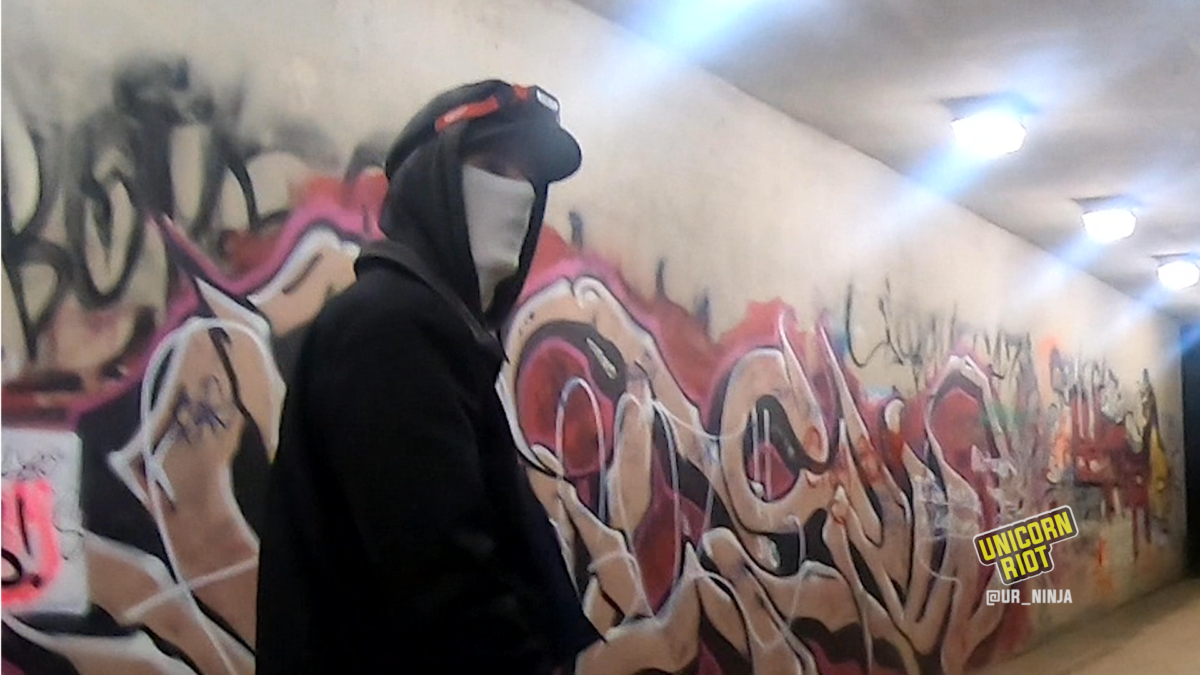 The gold 2005 Toyota Corolla that Plank, Wagner and Garland unloaded the spray cans from was registered at the time to the father of Daniel Joshua Springer aka Patriot Front member 'Sam MN.' Unicorn Riot confirmed the previously unreported identity of Daniel Joshua Springer as 'Sam MN' after his name and car information was found to matched up with leaked Patriot Front records that list members' aliases alongside the make and model of their vehicles. 'Sam MN' also posted a photo of a Hertz car rental receipt in Patriot Front's chat with his real name faintly visible at the top.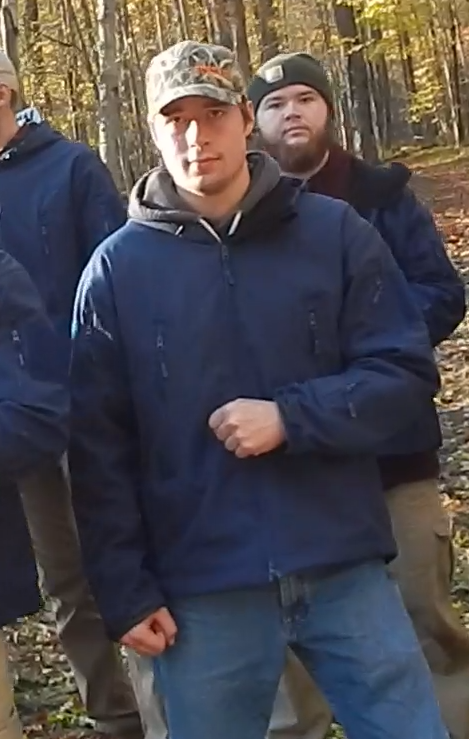 Springer wrote in leaked chats that he left his family home to move in with Patriot Front Network 12 Director Luke Paule ('ND – Carter MO') in Pacific, MO in fall 2021 after his parents kicked him out after learning he was running Patriot Front member interviews out of his bedroom. "My parents overhead me doing an interview," he confided to another member on November 23, 2021. "Gave me an ultimatum: Stop it or leave. I left that night. Been living with Carter [Luke Paule] for almost a month now."
Springer has been heavily involved in Patriot Front's membership intake process – leaked records indicate that just in the last two months of 2021 he conducted at least 13 interviews while taking notes for at least another 15. In one Rocketchat exchange, Springer recounted how an applicant he interviewed was rejected after disclosing that his stepfather was Iraqi. (Patriot Front officially only admits non-Jewish white men under age 35.)
Springer's leaked Patriot Front chat history as 'Sam MN' shows that he is a fan of the writings of Joseph Goebbels and bemoans the "horrors" of multi-racial relationships. In one leaked message dated Nov. 23, 2021, he said he planned to be out spraying Patriot Front stencils "each week, going for high profile targets in hopes of news articles."
---
Network Directors Push for Harassment Actions
Leaked chats and meetings from 2021 show that Patriot Front "Network Director" chapter leaders pressure members in their area to log their required quotas of "activism" tasks, which often include illegal activity such as spray painting the group's official fasces stencil designs onto public and private property.
Patriot Front leader Thomas Rousseau requires that targeted vandalism of gay pride or pro-diversity murals only be carried out after first coordinating with himself or a Patriot Front Network Director such as Luke Paule aka 'ND – Carter MO', who leads Network 12 and planned and oversaw the hate crime against the Phoenix Center.
"So when it comes to large-scale mural cover ups, make sure that you are always consulting a Director for something like that, or you are consulting me. It is something, you know, generally as the activism is, becomes higher in risk or scale, the more you need to get consultation. Things like billboards, big murals and stuff like that, you want to be careful, you want to run it by me."

– Patriot Front Founder and Leader Thomas Rousseau implicating himself and his Network Directors in his group's numerous hate crimes during a leaked all-hands meeting on December 10, 2021. [Files: .mp3 | YouTube | .pdf Transcript]
---
Wagner Faces Felony For Trashing Black History Mural At WashU in St. Louis
Wagner, Paule, Garland, Springer and Plank Implicated In Extensive Nazi Vandalism, Seen In Riot Training Videos
Mitchell Frederick Wagner aka 'Kyle MO' currently faces a felony charge in St. Louis, MO after a surveillance camera caught him vandalizing a Black history mural on Washington University campus on Dec. 18, 2021. The mural, entitled 'Never-Ending Story', featured the images of Senator John Lewis, 'Black Panther' star Chadwick Boseman. The mural also depicted former Washington University Professor Robert L. Williams, who is credited with first coining the term 'ebonics', founded WashU's Black Studies department, and co-founded the Association of Black Psychologists.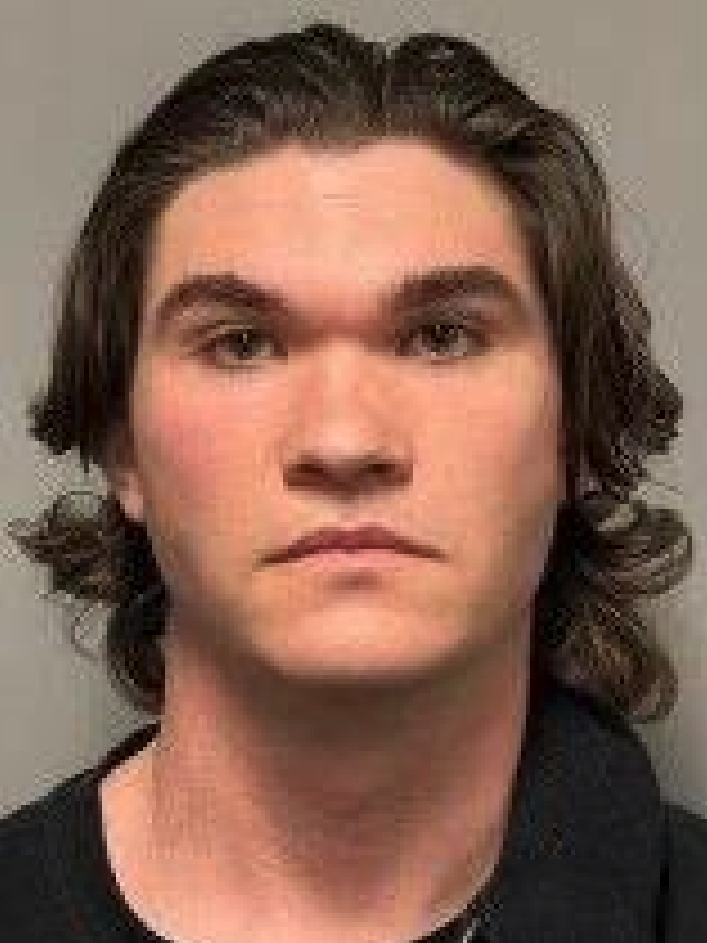 While only Wagner has been charged in relation to the Dec. 18, 2021 incident, the destruction of the Washington University mural apparently involved the same exact cast of characters as the Nov. 14, 2021 defacing of the Phoenix Center's rainbow mural in Springfield, IL.
Notes from a leaked Dec. 12, 2021 Patriot Front meeting, entitled "Weekend Plans", state that "Randolph IL [Garret Garland], Sam MN [Daniel Springer], Kyle MO [Mitchell Wagner], and Clarke IL [Logan Plank] will stencil at Wash U. Randy will plan, Kyle will photograph."
On the night of Dec. 15, Garret Garland ('Randolph IL') messaged his chapter leader Luke Paule ('ND – Carter MO') about the plan to hit the mural: "Planning on late Saturday night for stenciling. Most students will probably be gone for break." Paule replied that same night, telling Garland to "have Sam load up his fire extinguisher with white paint…It will murder that place." The next night, Garland reached out ask Wagner to join him to "scout out the tunnel tomorrow night."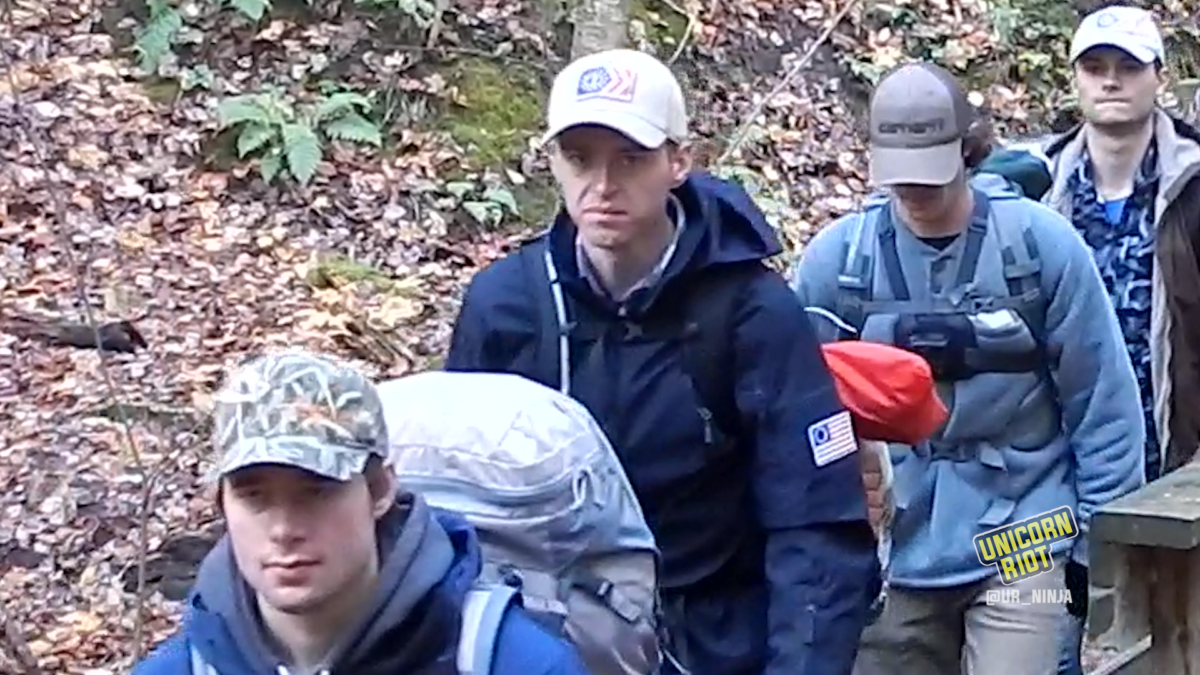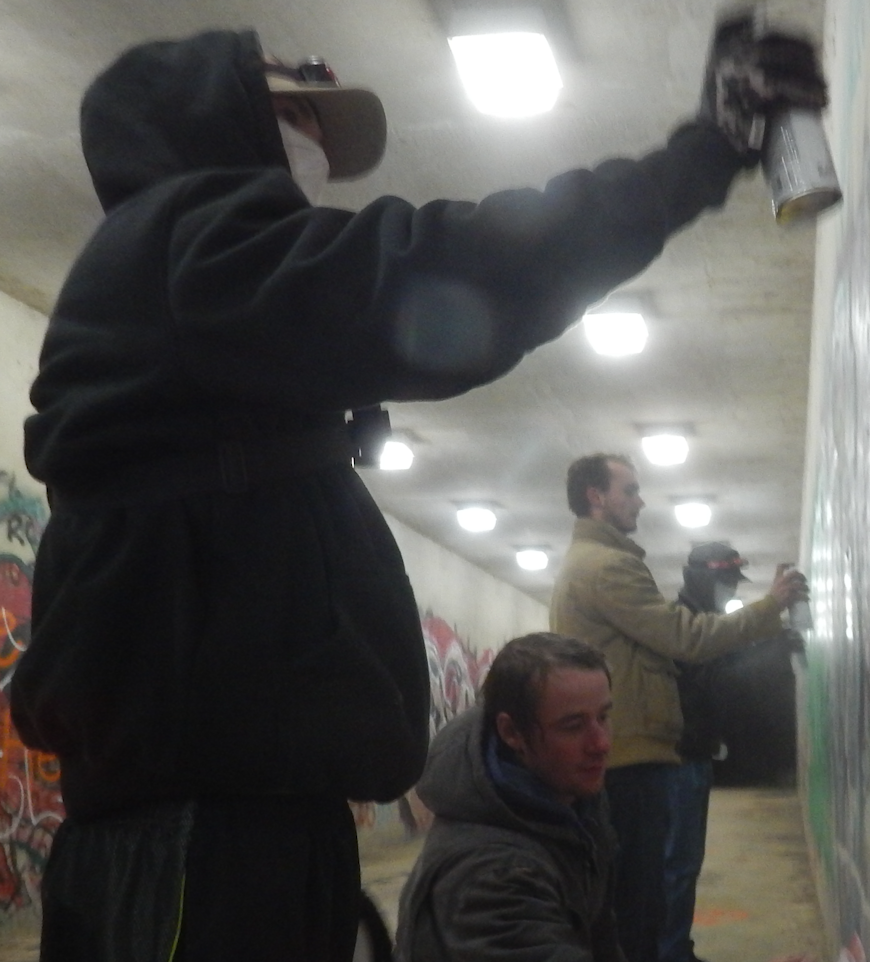 Much of the same group – Wagner, Springer, Plank, Garland and Paule – is seen in at least two other vandalism incidents captured in leaked footage.
Leaked files dated October 30, 2021 show Patriot Front members including Daniel Springer, Garret Garland, Logan Plank and Luke Paule spray painting stencils underneath an overpass in St. Louis, MO. This footage was taken by Mitchell Wagner on his chest-mounted GoPro Hero7 Black which would later film the defacement of the Phoenix Center.
Additional leaked photos and videos taken from a Motorola Android phone show Patriot Front members spray painting stencils in Kansas City in the early morning hours of November 7, 2021. (It's unclear if the videos were taken in Kansas City, KS or Kansas City, MO). Daniel Springer and Logan Plank are clearly seen amongst the group as they vandalize several locations. (Other Missouri Patriot Front-ers involved in the Nov. 7, 2021 vandalism spree include Ian Douglas Fletcher aka 'Mark MO' as well as unidentified members 'Zach MO' and 'Leo MO'.)
Wagner, Springer, Plank, Garland and Paule all attended an October 22-24, 2021, camping and hiking trip in Michigan which doubled as a training meet for Patriot Front members to drill in street combat maneuvers. Mitchell Wagner can be seen in video from the trip wearing his chest-mounted GoPro Hero7 Black as he directs members training in group combat tactics for use at demonstrations. One exercise caught on leaked video shows Patriot Front 'shield wall' teams simulating a situation in which they line up to charge into counter-protesters chanting anti-nazi slogans.
Mitchell Wagner ('Kyle MO') and Garret Garland ('Randolph IL') are also both among the 31 Patriot Front members charged with misdemeanor Criminal Conspiracy/Riot after being arrested as they walked out of a crowded U-Haul box truck on their way to confront Pride rally-goes in Coeur d'Alene, ID on June 11, 2022. Both neo-nazis have pleaded not guilty. Garland currently has a trial date set for October 3, 2022. Wagner does not yet have a trial date.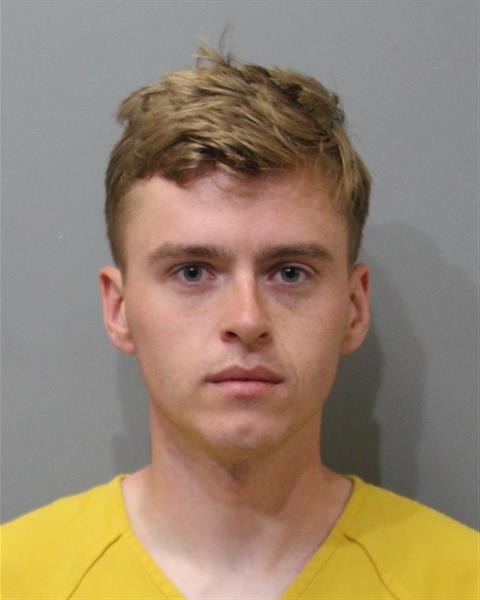 ---
Source materials in this report:
Patriot Front media files documenting Oct. 22-24 Michigan Hike & Riot Training:
Patriot Front media files documenting Oct. 30 vandalism in St. Louis, MO:
Patriot Front media files documenting Nov. 6-7 vandalism in Kansas City – [File Index]
Patriot Front media files documenting Nov. 13-14 vandalism in Springfield, Illinois:
1/2: [PHOTOS]
2/2: [VIDEOS] (file showing the actual hate crime at the Phoenix Center is GH010020.MP4; GH010022.MP4 includes conversations where Patriot Front members discuss targeting the Phoenix Center because "it's a gay and trans youth center" and Mitchell Frederick Wagner aka 'Kyle MO' says "those f*gs are gonna lose their mind" when celebrating the act.)
Dec. 6, 2021 Springfield, IL Police Department Vandalism Summary Incident Report
[Note: While this report lists dates of Dec. 1-2, 2021 in the Date/Time fields, this only refers to the time Springfield Police received and processed the 'citizen report.' The vandalism described in this incident report is the same that took place on the night of Nov. 13-14 as described in this article and shown in the leaked Patriot Front media files.]
Leaked Patriot Front Document – 'NWXII Weekly Meeting and Report 12/12/2021' (PDF)
"Upcoming Activism" section entitled "Weekend Plans" outlines the 12/18/21 vandalism of the Black history mural on Washington University campus in St. Louis which led to Mitchell Wagner's current felony case. The document notes the involvement of Mitchell Wagner ('Kyle MO'), Logan Plank ('Clarke IL'), Garret Garland ('Randolph IL') and Daniel Springer ('Sam MN') in the plan.
March 7, 2022 Criminal Complaint (.PDF) filed in 22SL-CR01579: State of Missouri vs. Mitchell Frederick Wagner | "Property Damage 1st Degree" | [Document partially redacted by Unicorn Riot.]
---
Data from leaked Patriot Front audio meetings:
9/2/21 National Patriot Front Meeting: .mp3 | YouTube | .pdf Transcript
In leaked audio from the Sept. 2, 2021 national-level Patriot Front meeting, Mitchell Wagner ('Kyle MO') and Garret Garland ('Randolph IL') refer to participating in local activities with Luke Paule (Network 12 Director 'Carter MO') including "sticker runs" and a "Midwest hike."
When discussing the earlier "Midwest hike," Wagner says "we even had a guy who drove all the way down from Minnesota." This comment more than likely refers to Daniel Springer aka 'Sam MN' who long before winter 2021 was already traveling away from his home state to become more directly involved with Patriot Front's Network 12 in Missouri and Illinois.
Luke Paule ('ND – Carter MO') also chimes in late in the meeting to reassure a frustrated member who was angry that Patriot Front avoids engaging in overt antisemitism as part of the messaging strategy dictated by Thomas Rousseau.
---
Data from leaked Patriot Front RocketChat server logs:
At Unicorn Riot Discord Leaks: pf3618.bloodandsoil.org RocketChat message logs | May 2020 – December 2021, 55,249 messages | [download raw JSON database files here]
---
See also:
---
Please consider a tax-deductible donation to help sustain our horizontally-organized, non-profit media organization: