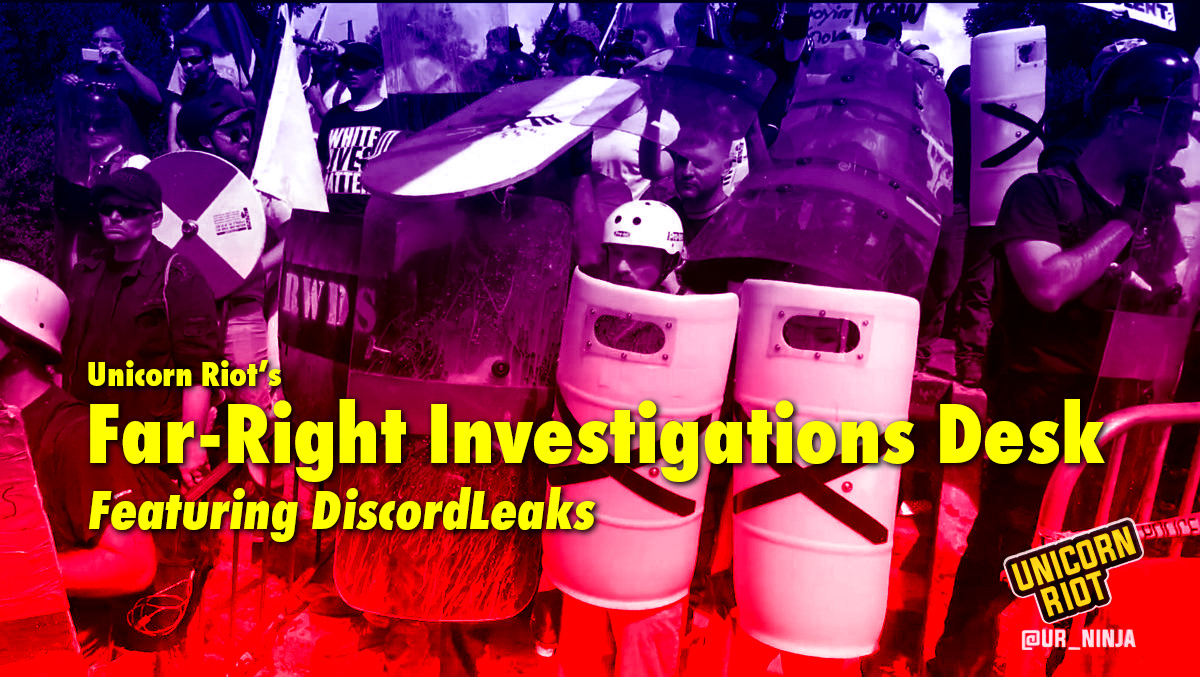 Unicorn Riot's mission is to expose and illuminate the root causes of social struggles. To that end, we've produced an extensive online database of leaked internet chats from the most active white supremacist groups in the U.S., shining light on their organizing conversations meant to be hidden from public view. Millions of these chats are now accessible to the public and available for journalists and researchers to use in their own work.
Logs from over 80 Discord chat servers connected to racist right-wing activities have been published in the DiscordLeaks web app database maintained by Unicorn Riot.
---
Introduction • Key Investigations • Discord Leaks • Latest stories • Contact Unicorn Riot
---
Introducing our far-right coverage
"While other organizations wrote celebrity profiles that marveled at the sartorial sense of fashion-conscious fascists, Unicorn Riot revealed what the alt-right was talking about when they thought no one was listening."

— Baynard Woods, Columbia Journalism Review,
'How Unicorn Riot covers the alt-right without giving them a platform'
Through our reporting on the far-right, Unicorn Riot helps to demystify groups and movements that often cloak their intentions publicly while privately working to advance a discriminatory and violent agenda.
Neo-nazis, white supremacists and nationalists, the-so called "alt-right" and related phenomena can be difficult to understand. By bringing a large body of far-right communication records to light, Unicorn Riot helps researchers, reporters and the general public get a better handle on what are often confusing and counter-intuitive subjects.
Unicorn Riot reporters collect Discord chat logs and other documentation of racist and far-right organizing during our reporting on active hate groups, both in the U.S. and internationally. By publishing our own original reporting while also providing open source datasets to the public, Unicorn Riot enables increased understanding of strategies, tactics, and resources used by white supremacists.
The DiscordLeaks web app and other data releases, such as downloads of chat screenshots and HTML archives, allow concerned members of the public, as well as other media organizations and researchers, to read, search, and cross-reference leaked far-right organizing chats.
[All the DiscordLeaks software has been created by Unicorn Riot along with volunteer engineers who contributed countless hours to the project. Thanks to everyone who has contributed to the project and donated to support it.]
Data sets downloaded from Discord can be browsed and searched at discordleaks.unicornriot.ninja; other data formats from other communication platforms are also available for download at the bottom of related articles. (Many of Unicorn Riot's stories using leaked chats center on prolific neo-nazi groups. See notes about our definitions below)

---
Unicorn Riot's far-right coverage — key investigations:
2015 white supremacist mass shooting in Minneapolis, Minnesota
White supremacists linked to the website 4chan targeted Black Lives Matter activists who were protesting outside Minneapolis' Fourth Precinct police station seeking justice for Jamar Clark in November 2015. Neo-nazi Allen Scarsella shot and injured five people, and was convicted in a court case covered closely by Unicorn Riot. One of Scarsella's co-conspirators, Julio Suarez, would pop up years later in a far-right Discord chat connected to violence in Charlottesville.
---
2017 planning for "Unite The Right" at Charlottesville, Virginia
The Unite The Right rally on August 11-12, 2017, formed out of a collaborative effort between several white supremacist and neo-nazi groups. During our reporting on events in Charlottesville, Unicorn Riot received leaks from planning meetings preparing for the white supremacist rally.
Communicating over Discord, a group gaming chat platform, representatives from various fascist organizations as well as unaffiliated individuals were working together on a daily basis to plan for Charlottesville while also using the Discord platform to conduct outreach and recruit on a national scale.
Today, millions of posts from thousands of Discord users involved in Unite the Right and subsequent far-right organizing are searchable on Discord Leaks, a project of Unicorn Riot supporting data journalism. The Discord Leaks project opens up far-right activity centers to public scrutiny — records from more than 80 chat servers are currently available.
Charlottesville planning chats leaked by Unicorn Riot have been used as evidence in several lawsuits filed against the rally organizers, most notably the ongoing 'Sines v. Kessler' case brought by lawyers with Integrity For America on behalf of survivors of the deadly car attack on August 12, 2017.
After Unite The Right, Unicorn Riot continued to track the main groups involved, going on to leak extensive chats from inside several of the key organizations.
---
Vanguard America & Patriot Front Leaks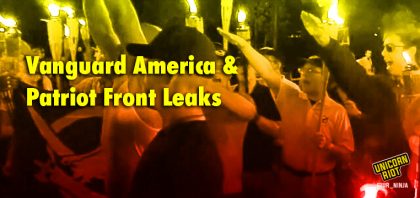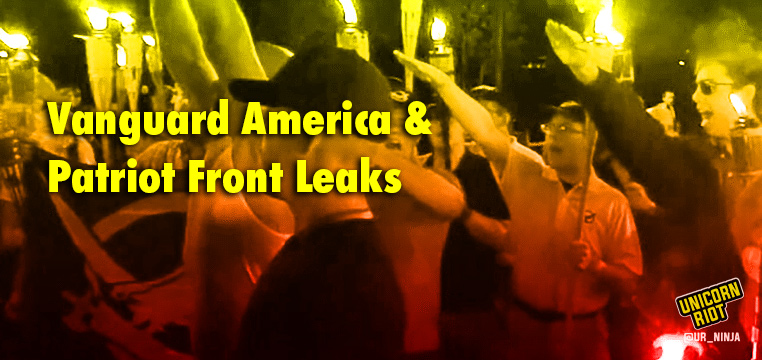 Vanguard America was one of the neo-nazi groups involved in organizing Unite The Right. After the deadly Charlottesville rally, most of the group's membership splintered off and formed a new group called Patriot Front.
Unicorn Riot gained access to chat logs from a chat server used by Vanguard America and Patriot Front members before, during, and after Unite The Right. More extensive chat leaks from inside Patriot Front were published by Unicorn Riot in March 2018. At the time the second batch of Patriot Front chats were leaked, members were in Michigan to support alt-right celebrity Richard Spencer in what ended up being his last major U.S. campus speaking event.
2022 Patriot Front Releases
In January 2022 Unicorn Riot published a major leak from inside Patriot Front with more than 400 gigabytes, and 55,000 internal messages from the RocketChat platform. The files are hosted on our Vault server. A large index of all the media items was also released and in May 2022 this was followed with 22 audio recordings, which was more than 17 hours of material from meetings, and includes text transcripts.
---
The Traditionalist Worker Party (TWP) Leaks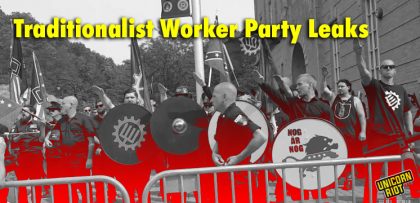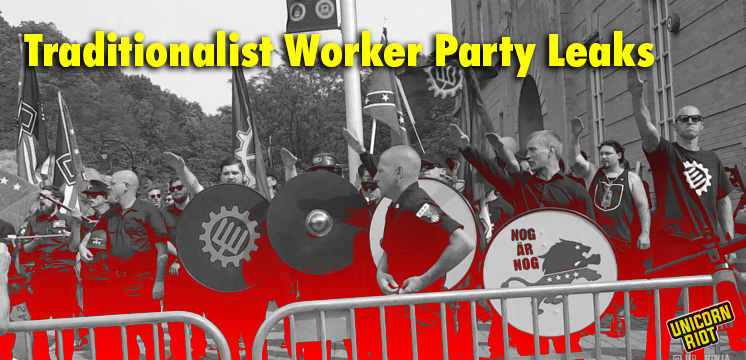 In April 2018, Unicorn Riot leaked internal TWP Discord chats showing the group's organizing from January 2017 up until its untimely collapse. The chats provide a timeline into TWP members' involvement in racist rallies and violent incidents throughout 2017 and into 2018.
TWP members were involved in some of the most violent assaults at Unite The Right. Formed in 2013, TWP continued to grow and recruit after the Charlottesville rally in 2017, but fell apart in March 2018 after its leader Matt Heimbach was arrested in disgrace after a domestic violence incident. At its height, the group represented the more radical violent wing of the alt-right movement and set itself apart from more PR-oriented far-right groups worried about 'optics.'
---
Identity Evropa/American Identity Movement Leaks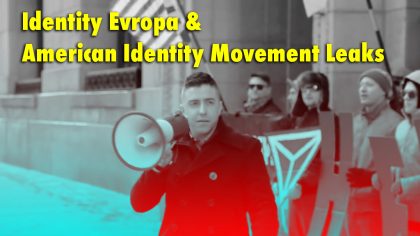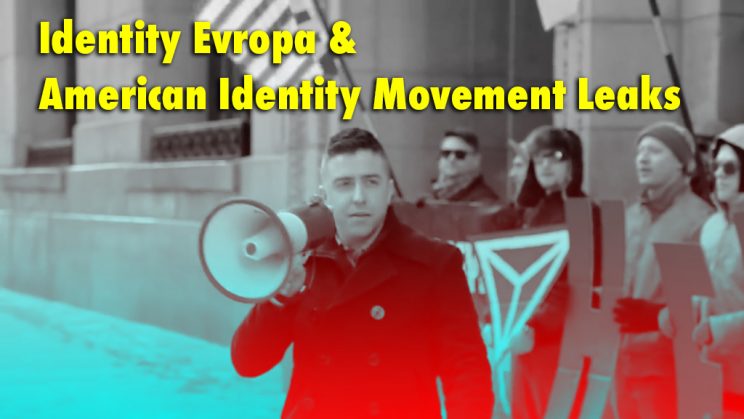 In March 2019, Unicorn Riot leaked over a year of chat logs from inside Identity Evropa, the largest and most active neo-nazi group involved with planning Unite The Right in Charlottesville. The chat leaks led to the exposure of Identity Evropa members working as police, schoolteachers, and active-duty soldiers in all three branches of the U.S. military.
Shortly after their chat logs were published, Identity Evropa rebranded itself as the 'American Identity Movement'. Throughout 2019, Unicorn Riot continued to leak organizing chats from inside the 'new' American Identity Movement, showing that the group was still trying to insert itself into mainstream conservative and Republican spaces.
---
Latest stories
---
A quick note on language and definitions:
Many of Unicorn Riot's stories using leaked chats center on prolific neo-nazi groups. However, not all the chats published fall under the "neo-nazi" label. Academic researchers and experts sometimes use varying jargon to describe different types of far-right and white supremacist groups. Following common practices among analysts of the far right, Unicorn Riot only characterizes white supremacist groups as 'neo-nazis' if clear evidence exists of organizational antisemitic beliefs with roots in Nazi ideology. "Alt-Right" is a term commonly used particularly during 2016-2017 to refer to a range of Internet-savvy white supremacist and far-right organizations.
Any Discord chats in the public data set are connected to the wider far-right in a manner that makes the chat's publication serve the public interest. Not every individual user shown in the logs is necessarily a white supremacist; however, any chat server whose logs we publish is connected in some way to far-right activity.
---
Please consider a tax-deductible donation to help sustain our horizontally-organized, non-profit media organization: