Judge Cahill's No-Knock Warrant Led to MPD Execution of Amir Locke  
Minneapolis, MN – Hennepin County Judge Peter Cahill, who presided over Derek Chauvin's George Floyd murder trial, signed an evidentiary search warrant to aid an investigation which amounted to a death sentence for Amir Locke; Minneapolis city leadership previously promised to cease this dangerous practice. After reviewing Cahill's record, activists say it reveals "a disturbing pattern."
Last week the Minneapolis Police Department (MPD) requested a no-knock warrant in a case where Amir Locke's family claims it was unnecessary; it led to SWAT officer Mark Hanneman killing their beloved 22-year-old family member, who was not even named on the warrant. (The first press release from MPD falsely claimed Locke was a "suspect" several times.)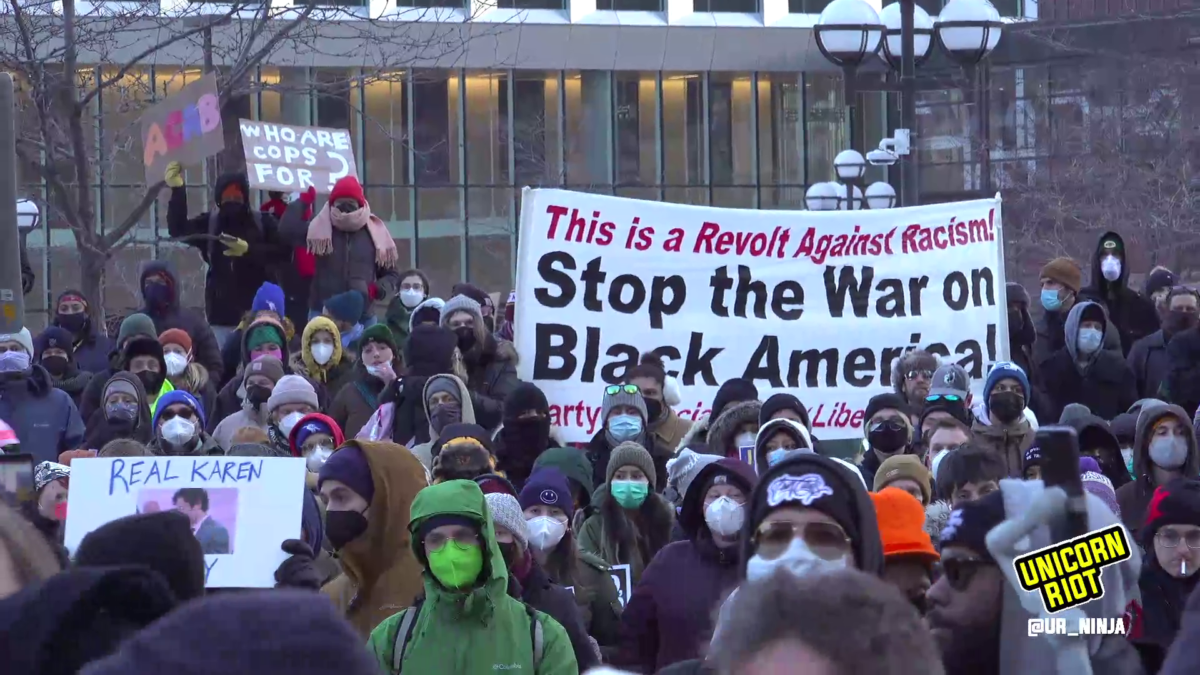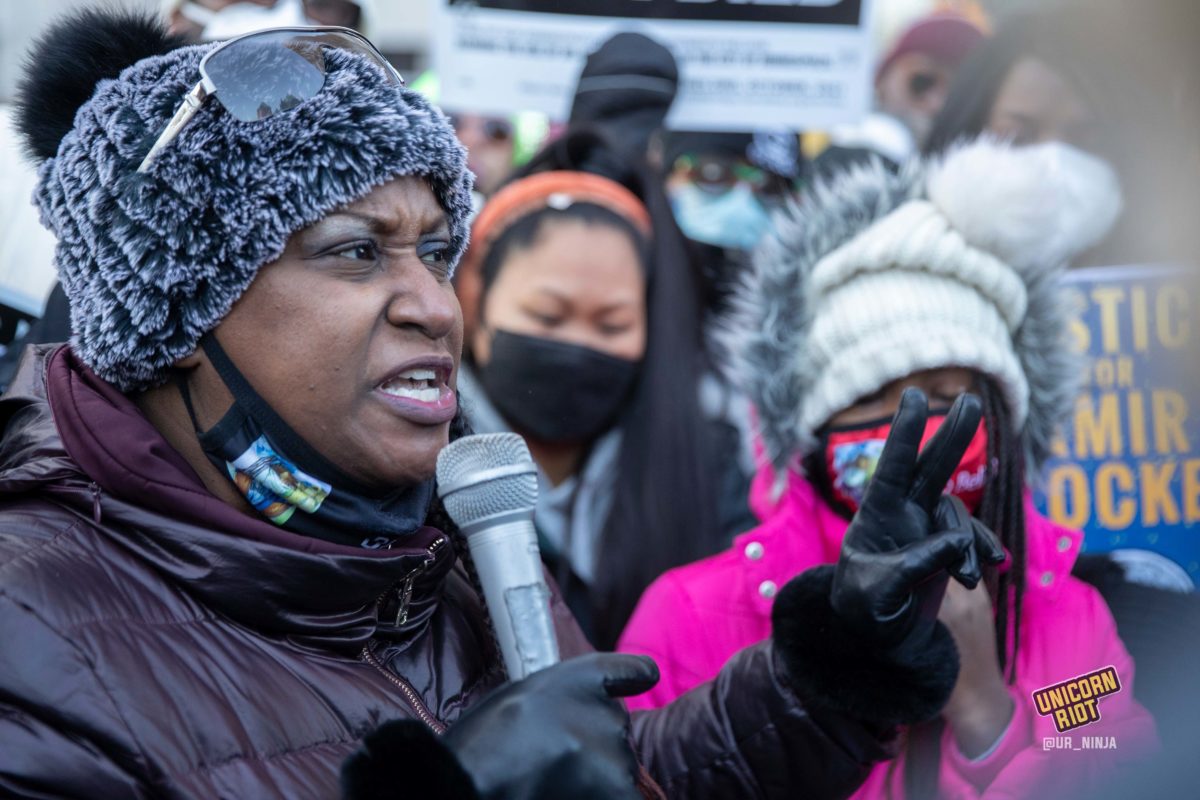 The original investigation started in Saint Paul, but the Saint Paul police (SPPD) reported to KARE 11 News that it requested a standard warrant into the homicide investigation it was conducting, not a no-knock warrant. They said they requested Minneapolis' help, but it was MPD that insisted on the dangerous no-knock warrant. Since Locke's killing, MPD has refused to provide answers as to why it changed protocol in this case.
Investigative reporter A.J. Lagoe broke the news Friday that Judge Cahill was the signing judge on duty last week and signed off on what ended up a death warrant for Amir Locke. Locke's mother Karen Wells said her son was "executed."
---
Dangerous No-Knock Warrants
Twin Cities based activist Adnan Ahmed, a contributing writer/editor for the socialist publication Left Voice, recently compared Locke's killing to the murder of Breonna Taylor in Louisville, which sparked international outrage and outcries to ban such deadly practices. "​​The similarity between the murders of Locke and Taylor is not a mere coincidence… No-knock warrants have… been a big part of the racist war on drugs that began back in the 1970s, which has disproportionately targeted Black and Brown people."
Because of this dangerous practice, Locke was murdered, just as "the federal trial is wrapping up for the three Minneapolis ex-cops charged with with violating George Floyd's constitutional rights as they stood and watched Derek Chauvin murder him," Ahmed noted. Pointing out how "Governor Tim Walz, fearing another rebellion from community members, has asked the National Guard to be on standby," putting the whole city on edge.
---
False Election Promises to Ban Fatal Practice
The Minnesota Legislature restricted the execution of no-knock warrants between the hours of 8 p.m. and 7 a.m. due to their dangerous nature reflected in the data. The raid that led to Locke's killing was executed at 6:48 a.m., 12 minutes before state law permitted. That's because the law allows room for exceptions which critics complain have become loopholes that nullify the policy entirely.
Journalists, activists, and the loved ones of Locke want clarity as to why SPPD have not used a no-knock warrant in five years but MPD applied for no fewer than 90 dangerous no-knock warrants since they said they stopped using them, according to University of Iowa Professor and Guardian contributor Simon Balto.
In November 2020, Jacob Frey promised an end to no-knock warrants by MPD while gearing up for re-election. However, reports have spotlighted the discrepancies in the mayor's rhetoric, pointing out that the city made changes to its policy but did not ban no-knock warrants. A major campaign funder spending in support of Frey's re-election bid, the group 'All of Mpls,' falsely advertised that the mayor eliminated no-knock warrants on its website and in campaign literature. It has since scrubbed its website of this claim. WedgeLIVE dubbed All of Mpls Mayor Jacob Frey's Political Action Committee because "it's run by his former campaign communications staff person who is also the spouse of one of the mayor's current policy aides."
Former Minneapolis Ward 2 senior policy aide Robin Garwood recently took to Twitter to call the mayor out in his lies. "Remember: Jacob Frey's reelection campaign repeated the lie that he had 'banned' no knock warrants over and over again last year. It was a major part of his pitch as a "reformer," and it was never, ever true."
Remember: Jacob Frey's reelection campaign repeated the lie that he had "banned" no knock warrants over and over again last year. It was a major part of his pitch as a "reformer," and it was never, ever true. https://t.co/ZZqaLLlQ0r

— Robin Garwood (@RobinGarwood) February 3, 2022
Even after Frey's most recent announcement of an emergency 'moratorium' on no-knock warrants in the wake of Locke's killing, news reports point to the exception which gives police discretion to request them in certain cases where they believe there is an imminent threat and the chief approves.
---
Judge Cahill's Record 'Demonstrates Pattern'
Judge Peter Cahill gained notoriety when he presided over the Derek Chauvin murder trial. He came under criticism for lashing out at U.S. congresswoman Maxine Waters (D-CA43), saying she was "disrespectful to the rule of law" for encouraging protestors to "stay in the streets" and "get more confrontational" after officer Kim Potter shot and killed Daunte Wright while the Chauvin trial was taking place. Similar to today, Gov. Walz had troops on standby when Potter killed Wright.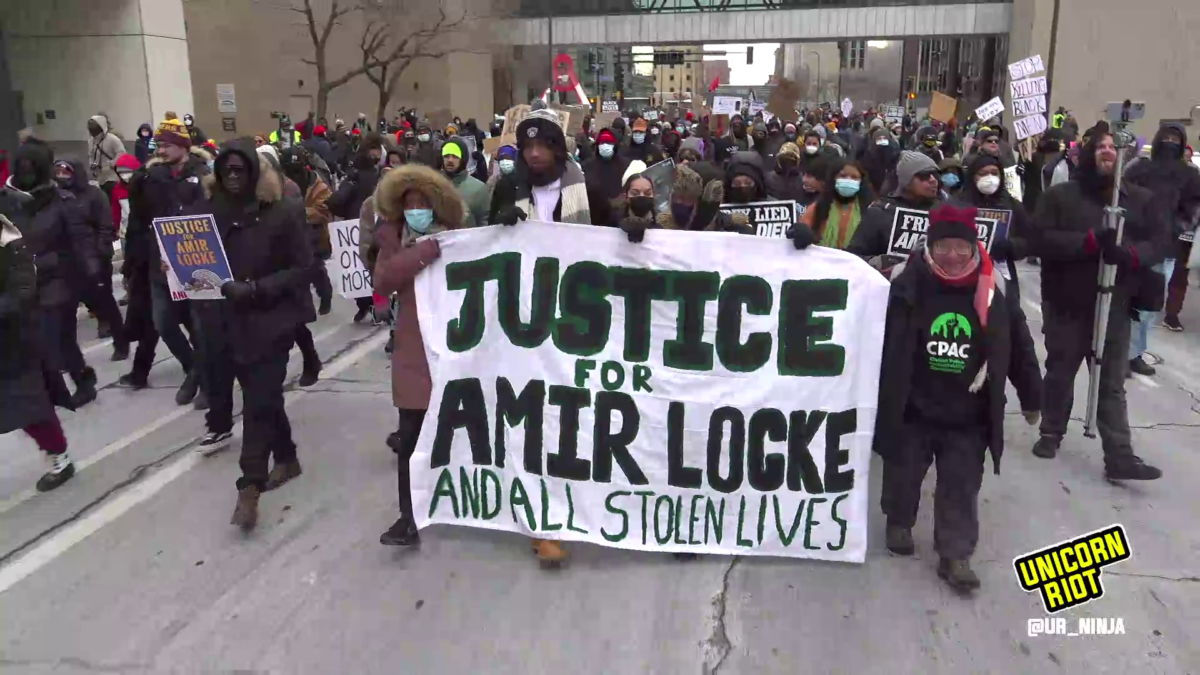 It was recently revealed that on December 31, 2020, Cahill signed a dangerous nighttime no-knock warrant to raid Dolal Idd's family's home, which failed to collect any illegal guns, after he was slain in an undercover gun purchase sting operation by MPD. Idd was just 23 years old. This "demonstrates a disturbing pattern," activists say, and the judge "must resign."
---
Protestors are demanding accountability from the top down this time. Keith McCarron, former Minneapolis 911 dispatcher turned activist, told Unicorn Riot he's disturbed with Cahill being the "hidden hand" in these ongoing tragedies. McCarron is friends with Bayle Gelle, the father of Dolal Idd, communicating with him regularly. McCarron said, "Cahill is especially culpable for immense pain and suffering," and wants him to step down.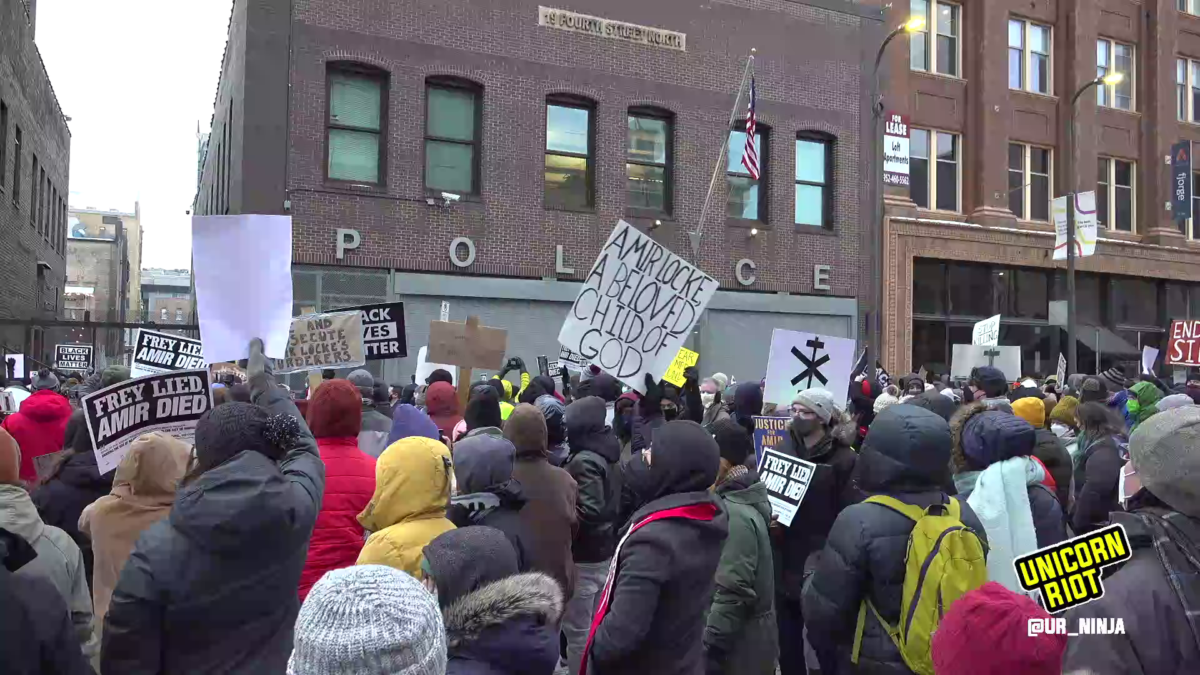 Former Minneapolis mayoral candidate Jerrell Perry and Minneapolis' newly elected president of the Board of Estimate & Taxation Samantha Pree-Stinson both recently took to social media calling for Cahill's resignation. Community leaders Brandyn Lee Tulloch, Toshira Garraway, and Toussaint Morrison have all joined the calls for resignations.
On Monday, at a rally by Black mothers at Minneapolis City Hall, activist and entrepreneur Raeisha Williams joined the calls for resignations. Williams said Cahill signing the warrant that led to Locke's execution was reminiscent of a slave master signing a bounty on his runaway slave.
Protestors who rallied three days in a row, including McCarron, want murder charges brought against MPD officer Hanneman. He has a "checkered past" with three complaints filed against him. He was a major provider of illicit drugs to unhoused people and Occupy Wall Street protesters in 2012 and is featured in a recent Unicorn Riot story revisiting the illegal Drug Recognition Evaluator training program (or DRE) in downtown Minneapolis, which was exposed and shuttered. Taking part in the raid that killed Locke along with Hanneman were officers also involved in the brutal MPD assault against an innocent Black man, Jaleel Stallings, during the George Floyd Uprising.
Protestors are demanding Mayor Frey's resignation and MPD Interim Police Chief Amelia Huffman's immediate firing. However, that's not enough for McCarron, he wants to see pressure on Governor Walz too. "We're not just going after the man who pulled the trigger. This trigger was pulled all the way down the chain of command."
---
Judge Peter Cahill's Background
Judge Cahill was appointed by former Gov. Tim Pawlenty (R) in 2007, after he served as a prosecutor in the Hennepin County Attorney's Office under Hennepin County Attorney Amy Klobuchar, an office heavily dependent on funding from Target Corporation.
Klobuchar, now a U.S. Senator, ran for the Democratic Party presidential nomination in 2020, but faltered in the national spotlight as her record caught up with her; she incarcerated 16-year-old Myon Burrell for a murder he did not commit. Burrell has since been released from prison.
Before the murder of George Floyd, Judge Cahill's highest profile case was the conviction of a juvenile for a triple homicide that he has maintained he did not commit. (He was just 15 at the time of the gruesome crimes.) Activists believe the then-kid, who is now 27-year-old Mahdi Hassan Ali, is innocent and are calling for justice, saying Cahill presided over a trial that was unfair at every level.
---
Case of Mahdi Hassan Ali
As reported in 2011 by Minnesota Public Radio, a Target forensics specialist testified in court against Ali. He asserted that clothing worn by the killer shown in the surveillance video from the Seward Market murders was evidence belonging to Ali found when MPD raided his grandmother's home. This was a major link in the investigation connecting Ali to the crime scene.
However, people believe the juvenile's trial was unfair, considering that Target Corp. was paying the prosecutor's office, the Minneapolis police, and an expert witness. Ali's supporters point out that Judge Cahill and prosecuting attorney Mike Freeman never disclosed Target's relationship to the case, an apparent conflict of interest. Activists decry that such a 'justice system' controlled by corporations is corrupt to its core.
Burhan Israfael, a member of Minneapolis' Somali community, believes Ali's case is eerily similar to Burrell's. Ali and Burrell both claimed to be at different locations than where each respective murder occurred and both claimed there were surveillance videos that could prove their innocence. Both teens were convicted and received life sentences.
Israfael told Unicorn Riot, "I don't think it's a coincidence. It's a reflection of this surveillance society that targets Black kids by design." In both cases video evidence that could have exonerated the juveniles was suppressed during trial. "It just goes to show a lack of humanity," Israfael said, "especially when considering Mahdi's guilt was in doubt and almost entirely predicated on the testimony of kids who were under duress and themselves involved in the murders."
After Ali was found guilty, Cahill was criticized for "stacking" his sentence instead of sentencing him concurrently, essentially going around the law that restricts juveniles from receiving life in prison. Israfael said, "Cahill intentionally stacked the sentence giving this kid 99 years. Here was an opportunity for Cahill to look at this and say 'maybe we have it wrong.' But instead Cahill said 'fuck that,' and went around the restrictions that said giving a child a life sentence is inhumane."
Israfael said when he thinks about judges like Cahill "who have all that power to do good but instead commit harm," like when he signed off on the no-knock warrant that led to Amir Locke's demise, "It's just politics as usual."
About the author: Marjaan Sirdar contributed to Unicorn Riot's reporting on Target in the series 21st Century Jim Crow in the North Star City. He is the host of the People Power Podcast and filmmaker of the upcoming documentary, Targeted – Part 2.
Cover image composition by Dan Feidt.
---
Please consider a tax-deductible donation to help sustain our horizontally-organized, non-profit media organization:

Coverage of MPD Killing Amir Locke:
21st Century Jim Crow in the North Star City – A Series Contributed by Marjaan Sirdar: