Family Seeks Answers Months After Cristian Rivera-Coba's Death in Anoka County Jail
Anoka, MN — When Cristian Rivera-Coba died in the Anoka County Jail in July, no one provided answers as to how a beloved 22-year-old son, brother and uncle lost his life while in custody. Months later, his family and advocates are still seeking information about the circumstances surrounding his death and demanding an investigation into the jail where, only weeks before Cristian died, 24-year-old Miles Jackson was also found dead in a cell.
The two fatalities are among a growing list of young people dying inside Minnesota's correctional facilities this year – another young man, Oscar D. Rodriguez-Corona, 21, was found dead inside Hennepin County Jail on September 18.
Rivera-Coba's death is being investigated by the Sherburne County Sheriff's Office. However, nearly two months after he died, the county hasn't received the toxicology or autopsy reports from the Midwest Medical Examiner's Office.
Rivera-Coba's family and advocates gathered outside Anoka County Jail on August 10 demanding answers to his death and an investigation into the jail.
During the rally, advocates shared that the family was told through an intermediary that the Rivera-Coba died from water toxicity. Water at a high volume can medically kill a person as the kidneys lose the ability to properly function, leading to hyponatremia. Advocates, however, question how Cristian would access such large amounts of water in a short time while in custody.
Initially charged with the alleged crimes of auto theft, fleeing police and driving under the influence of a controlled substance, Rivera-Coba was booked into jail on July 18. He died three days later. Police report that Rivera-Coba told them that he'd smoked Percocet pills laced with fentanyl before being pulled over and jailed.
Star Tribune reports that on July 2, Miles Jackson died in-custody in Anoka County Jail likely from fentanyl withdrawal. Jackson was jailed three days earlier. An autopsy report for Jackson has yet to be completed.
A news release from Anoka County Sheriff's Office a week after Rivera-Coba's death said he "became unresponsive when being attended to by a detention deputy and medical staff with the Anoka County contracted medical provider, Advanced Correctional Healthcare Inc."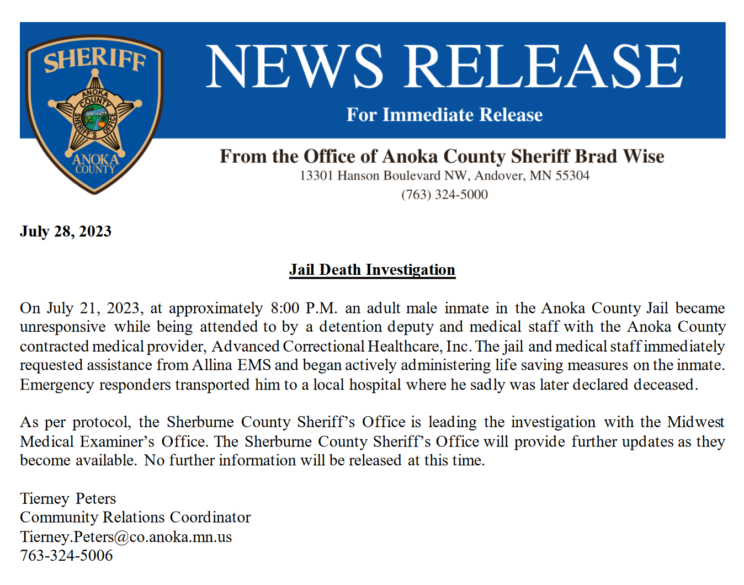 Anoka County Jail has a troubled history of deaths and medical neglect. Last year the facility was forced out of a $7 million contract with MEnD Correctional Care, founded by Todd Leonard, a former doctor who activists call "Dr. Death."
Leonard and MEnD have been directly implicated in the medical neglect that led to the death of 27-year-old Hardel Sherrell in Beltrami County Jail in 2018. Leonard's medical license was suspended in 2022 and he was fined $30,000. An FBI investigation into Sherrell's death has been ongoing for several years.
Sherrell's mother Del Shea Perry helped lead the August protest at the jail. Her organization Be Their Voices provides support for incarcerated people. "No one should leave jail in a bodybag," said Perry during the Aug. 10 protest at Anoka County Jail.
A KARE 11 investigation into MEnD, prompted by Sherrell's death found that at least 25 inmates died while under Leonard's care. KARE 11 also investigated Anoka County Jail's contract with MEnD, see their video report below. Advanced Correctional Healtcare, Inc. now provides medical services in the jail.
Rivera-Coba's mother, Obdulia Coba, prepared a statement for the Aug. 10 protest that was read by family friend, Alex Mingus. Read his mother's full statement below:
"Cristian was a very charismatic boy, always with a big smile. He was never mad. Even if he was having a horrible day, he was positive. He was very kind and respectful. If he did a mistake he would go and fix it or apologize to who ever it was. He never talk back even if they would be bothering him.

Cristian was very loving with his siblings, nephew, cousins and especially to his mom. He was a very caring person to everyone he knew.

Cristian loved to draw, to play on his guitar, listen to music, be on his skateboard. Cristian did not like to fight nor see any one fighting.

That's why I want answers. Why take a 22yr life away. He had a long life ahead of him.

WHY DIDN'T THEY LET ME SEE HIM? WHY TAKE MY RIGHTS TO SEE HIM?

That's why I ask for answers and justice for my son Cristian Rivera-Coba. Mom will never hear him say to me, I love u mom. I love u mom."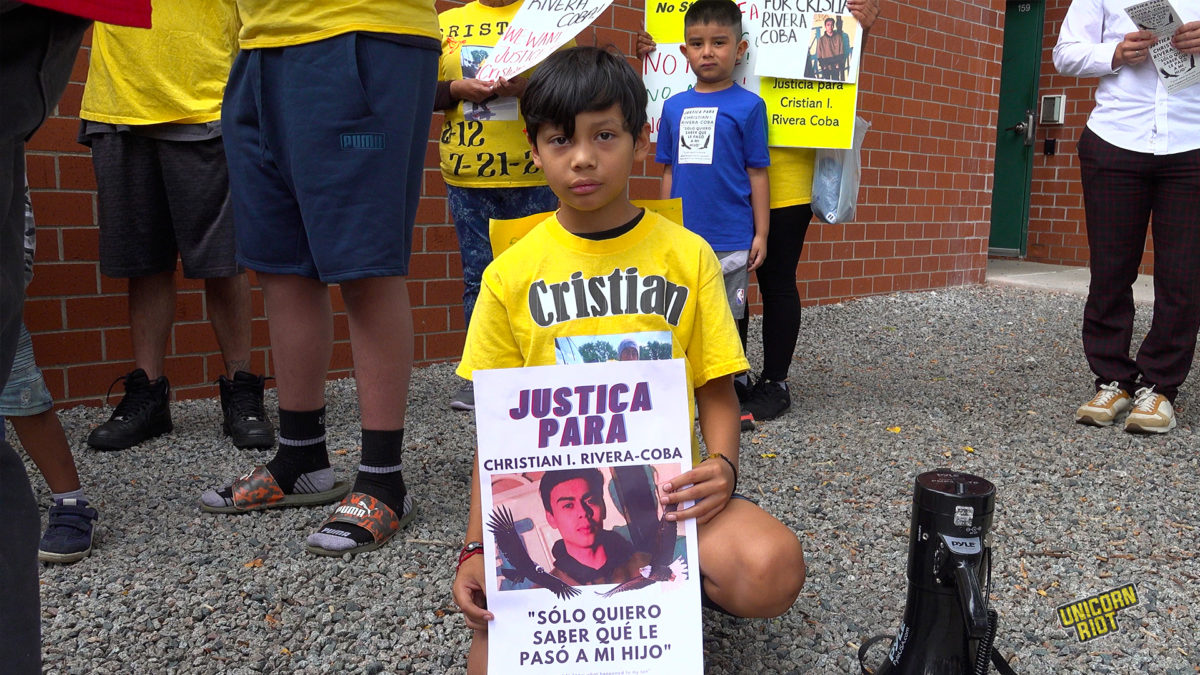 A vigil for Rivera-Coba was held at George Floyd Square on Sept. 9. An online fundraiser to help the family with funeral costs has raised just over $2,000.
What happened to Cristian Rivera-Coba in the Anoka County Jail? His mother demands answers. So does the family of Miles Jackson, a young man who died there two weeks prior. A vigil was held at George Floyd Square. The fight for answers- and justice- begins. #cristianriveracoba pic.twitter.com/EcdqIcooZr

— marciahoward38thstreet (@marciaxthree) September 10, 2023
This story has been updated with latest details – Sept. 20.
---
Related coverage:
Harris County Jail Crisis in Houston, Texas Kills Dozens – Feb. 2023
'You're Important to Us!': Tucson Rings in the New Year with Raucous Jail Protest – Jan. 2023
Families Gather to Demand Justice for Those Killed in Tucson's Jail – May 2022
The Death of Justin Crook, aka J-Mac Tha Coldest, in the Pima County Jail – Dec. 2021
Harrowing Footage Shows Man's Last Days Before Dying in Jail – Nov. 2019
---
Unicorn Riot's Hardel Sherrell Coverage:
---
Follow us on X (aka Twitter), Facebook, YouTube, Vimeo, Instagram, Mastodon, Threads, BlueSky and Patreon.
Please consider a tax-deductible donation to help sustain our horizontally-organized, non-profit media organization: