Over 10,500 Killed in One Month as Israel Continues its War on Palestine
More than 10,500 Palestinians were killed in 30 days as Israel bombarded the Gaza Strip with more explosive power than two nuclear bombs. Gaza is in dire "need for a humanitarian ceasefire" and with over 4,237 children killed by Israeli forces and over 1,350 missing in the rubble, the Strip has become "a graveyard for children" said United Nations Secretary-General António Guterres on Monday. The average number of children killed per day by Israel in the first month — 180 a day — is more than any modern-day conflict.
While mass graves are being filled, human rights groups, countries, and UN experts have been warning of an imminent genocide, ethnic cleansing, and the forced displacement of over a million Palestinians in Gaza at the hands of an extreme far-right Israeli war cabinet seeking retribution for a deadly surprise attack from Palestinian fighters led by Hamas.
In an exclusive view of frontline footage from the first few weeks of the bombardment of Gaza, we see the destruction from the bombs and hear directly from those impacted, watch below.
Non-Stop Bombings and Population Transfers, War Crimes and Calls of Genocide
On Oct. 7, hundreds of Palestinian fighters broke through the apartheid border walls of the besieged Strip and attacked positions of Israeli forces, illegal settler outposts, Zionist kibbutz communities, and a music festival, killing hundreds and taking more than 200 Israelis hostage, bringing them back into Gaza — while simultaneously launching thousands of rockets into Israel.
In response, a large majority of the civilian infrastructure in the Gaza Strip has since been bombed by Israel, including water depots, hospitals, schools, and even UN shelters declared as safe zones. Israel has also cut the electricity and disallowed fuel into Gaza.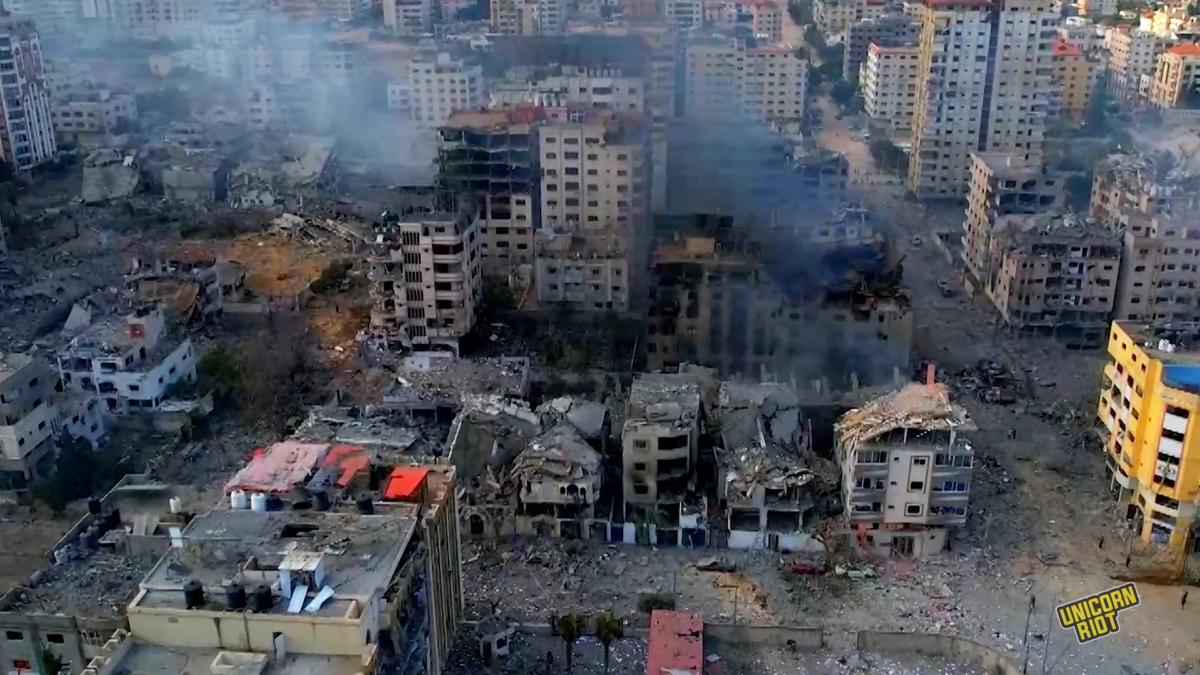 Around 1.5 million people have been forcibly displaced in Gaza, some killed while fleeing. Residents currently have little chance of getting out unless one has dual citizenship. Many fear a forced population transfer to the Sinai Peninsula as Israeli documents from the first week of conflict have detailed. Massive tent cities are housing hundreds of thousands of Palestinians, many who have walked on foot with only a few belongings from the north of the Strip to the south.
Across the world mass protests, walkouts and vigils calling on a ceasefire and for a "Free Palestine" have been attended by millions. However, the global collective callout for a ceasefire continues to be ignored by Israel.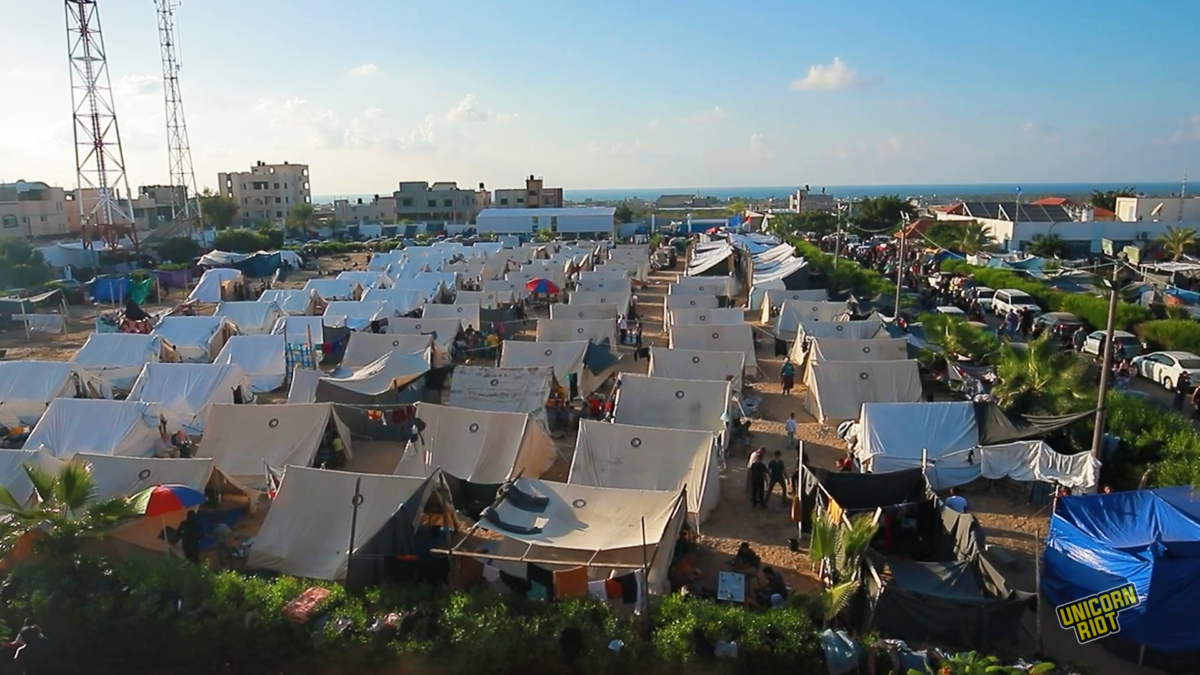 Entire lineages are being wiped from the civil registry by the dozens, killed by U.S.-made bombs in a widespread campaign of collective punishment on the populace of 2.3 million people in the Gaza Strip.
Embattled Israeli Prime Minister Benjamin Netanyahu, who still faces criminal trial for corruption charges, has stated the military won't stop bombing until Hamas releases the ~200 captives it has. As Amnesty International calls for war crimes investigations against Israel, many say their actions fall into the definition of a genocide.
From the Convention on the Prevention and Punishment of the Crime of Genocide "genocide means any of the following acts committed with intent to destroy, in whole or in part, a national, ethnical, racial or religious group, as such:
Killing members of the group;
Causing serious bodily or mental harm to members of the group;
Deliberately inflicting on the group conditions of life calculated to bring about its physical destruction in whole or in part;
Imposing measures intended to prevent births within the group;
Forcibly transferring children of the group to another group."
Repeatedly, Israeli war generals, politicians and commentators have publicly called for the "extermination" and "annihilation" of Palestinians, calling Gazans terms such as "human animals."
In the first week of bombing Gaza, far-right Likud politician Ariel Kallner said the Israeli government had only one goal, to "overshadow the Nakba of 1948." The 1948 Palestinian Nakba, or the catastrophe, represents when zionists, backed by the west, forcibly displaced nearly one million Palestinians through a series of expulsions from their homelands to create the modern day state of Israel. Over a quarter million Palestinians were also forcibly displaced in 1967 when Israel started militarily occupying Palestinian lands after Israel captured Gaza from Egypt and the West Bank from Jordan.
"Right now, one goal: Nakba! A Nakba that will overshadow the Nakba of 1948."

Israeli politician, Ariel Kallner
After the first week of bombing, UN Special Rapporteur, Francesca Albanese, warned that "Israel has already carried out mass ethnic cleansing of Palestinians under the fog of war." She continued, "Again, in the name of self-defense, Israel is seeking to justify what would amount to ethnic cleansing."
"Israel has been explicit about what it's carrying out in Gaza. Why isn't the world listening?" Asked Raz Segal, associate professor of Holocaust and genocide studies at Stockholm University and an endowed professor in the study of modern genocide, in a report A Textbook Case of Genocide.
Segal said "perpetrators of genocide usually do not express their intentions so clearly," however in this case, "Israel's genocidal assault on Gaza is quite explicit, open, and unashamed."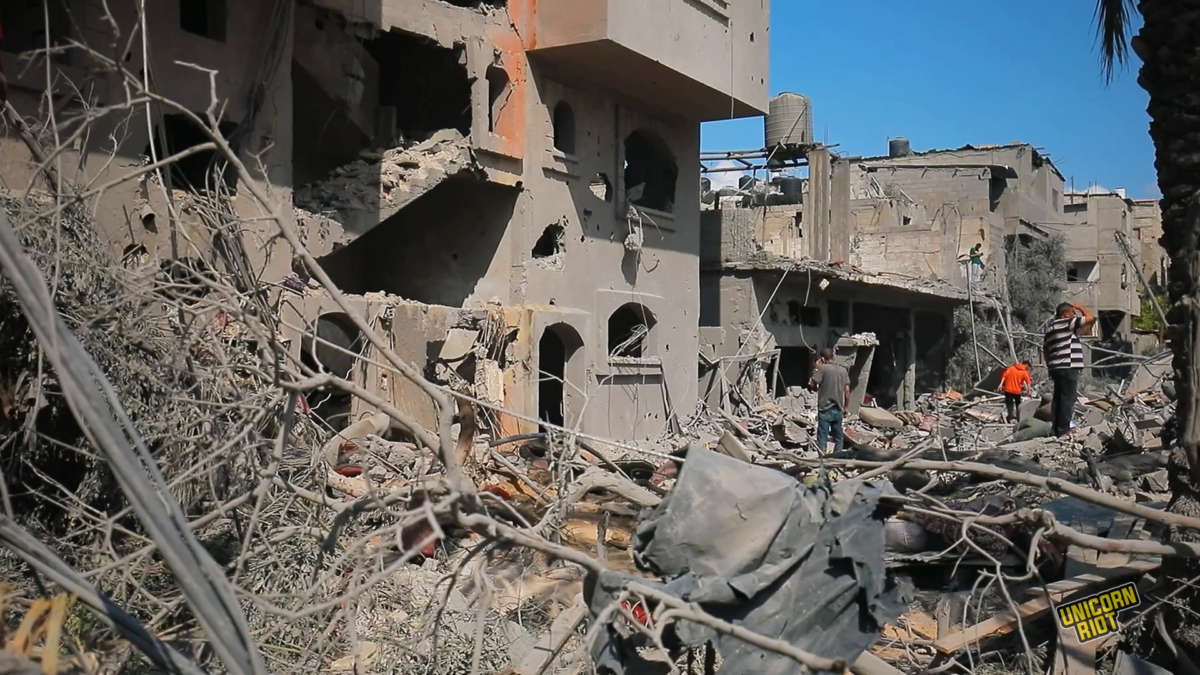 Meanwhile in Israel, the Hostage and Missing Families Forum, formed after the Oct. 7 attack, organized a legal opinion with "experts on international law" who have assessed that the actions Hamas took during the attack could also constitute "war crimes" and "genocide."
On Wednesday, the United Nations High Commissioner for Human Rights said war crimes have been committed by both Israel and by Hamas-led gunmen for killing civilians. He called for an urgent ceasefire.
Despite the devastation and destruction, many Palestinians remain resilient. While walking through the rubble of his bombed neighborhood, Rami Alyan said to Unicorn Riot that "What matters the most at this point is that the spirits remain high. We remain steadfast in our land and we are coming back for sure."
"The house is gone, our belongings are gone. Our future is gone and it is all for the sake of the resistance and our religion. And we are steadfast and resistant. We are not the only ones suffering, everybody is. Money comes and goes, and all this can be rebuilt. Our youth are all martyrs, they're in a better place than this. What matters the most at this point is that the spirits remain high. We remain steadfast in our land and we are coming back for sure."

Rami Alyan, Palestinian who lost everything in bombardment of Gaza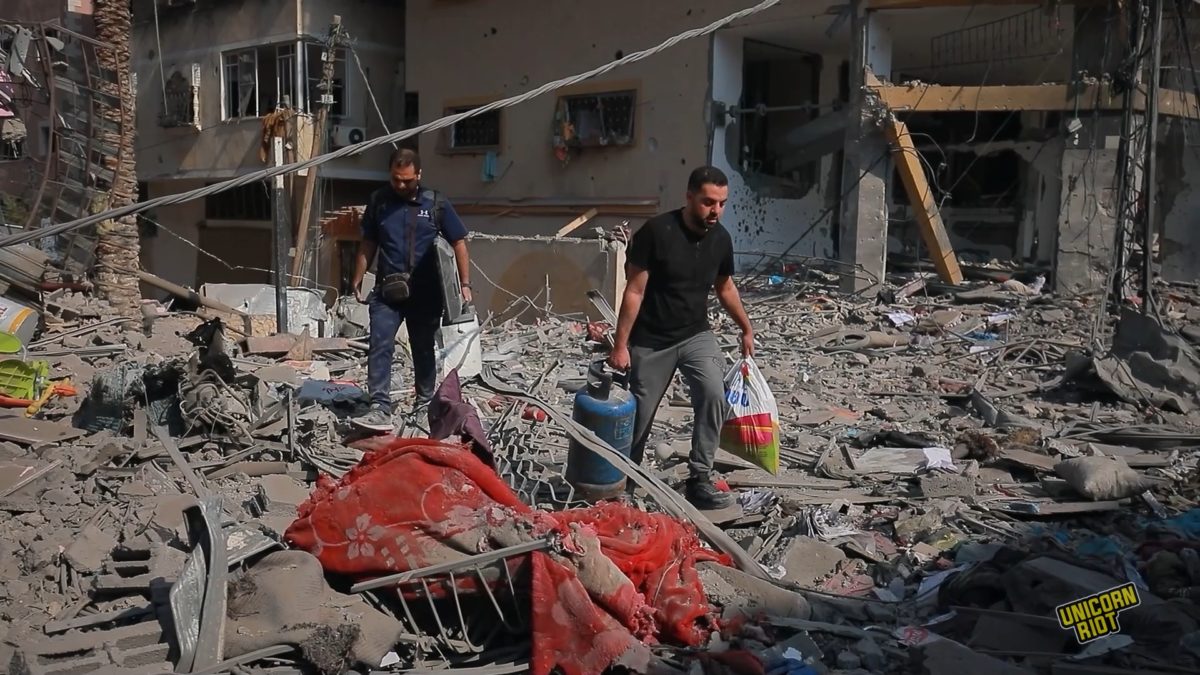 Dozens of Journalists Killed
"Nowhere is safe for journalists in the Gaza Strip" who face "constant danger of death," said Reporters Without Borders. In the first month there were at least 50 media locations bombed and 41 journalists killed in the violence.
Standing in front of rubble with dust on his hands, Palestinian journalist Fadel Al-Maghari said he "arrived to cover the event, only to realize [he] was the event" after he came upon his family having been bombed along with "at least 100 martyrs under the rubble" of nine houses that "were completely destroyed."
Al-Maghari said his hands were dusty because he was trying to help rescue and pull people from the rubble using his bare hands, "we don't have any tools, not even the most basic ones." The day before, "a whole residential square was completely wiped out, whole families," said al-Maghari.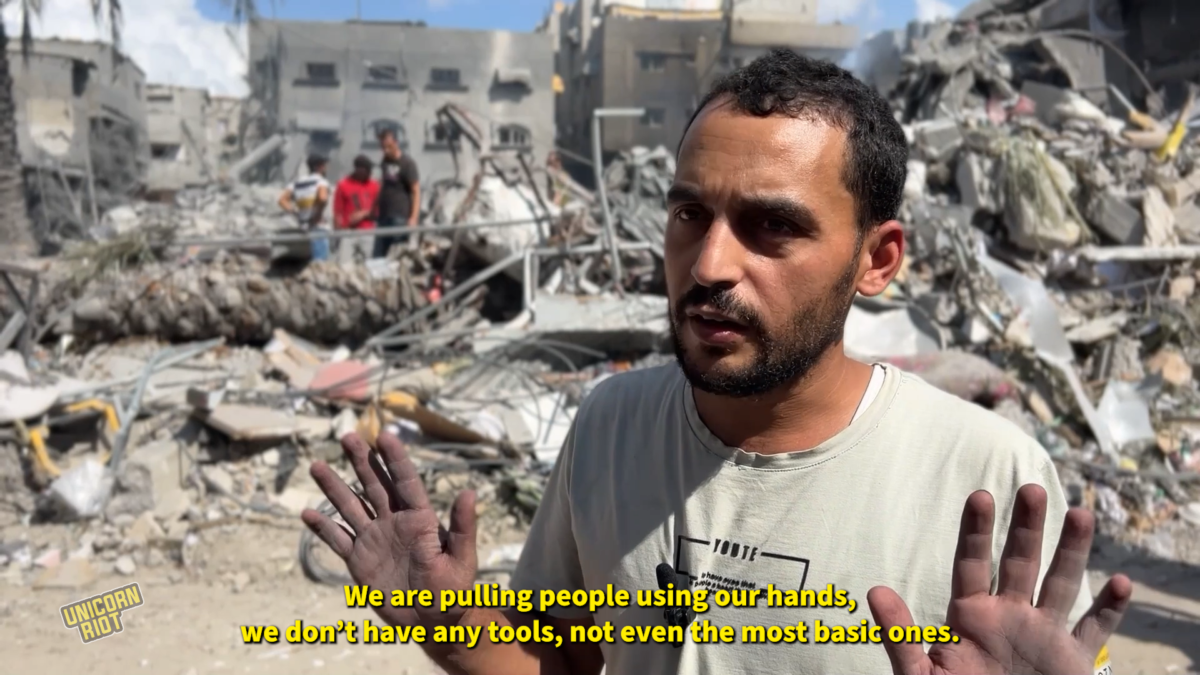 Also living in Gaza with his family, Unicorn Riot contributor Mohamed Ahmed (el Saife), who contributed the video report in this publication, is among the masses forced to relocate and has lost everything after his house was also bombed to rubble.
A Gaza correspondent with @UR_Ninja had his home targeted and destroyed https://t.co/YfJOmObh9x

— peoplepowerpodcast (@peoplepowerpod1) November 2, 2023
A few countries have slowly started to speak out and take action against Israel, though most of the opposition remains symbolic. Starting with Bolivia, several countries including Jordan, Turkey, Chile, Chad and South Africa have expelled Israeli ambassadors and recalled diplomats. South Africa said Israel was carrying out "collective punishment" and "genocide" and recalled all diplomats from Tel Aviv.
The Gaza Strip Under Siege for 17 Years
This bombardment of the Strip is not new. Palestinians in Gaza have been under the longest siege in modern history with an Israeli imposed blockade by air, land, and sea since 2007. Not only does the blockade restrict a large list of imports, Israel has walled-in the Strip and controls the movement of all Palestinians that attempt to leave.
With 2.3 million people living in roughly 140 square miles off the coast of the Mediterranean Sea, the Gaza Strip is one of the mostly densely populated places in the world. The strip has five districts: North Gaza, Gaza City, Deir el-Balah, Khan Younis, and Rafah.
---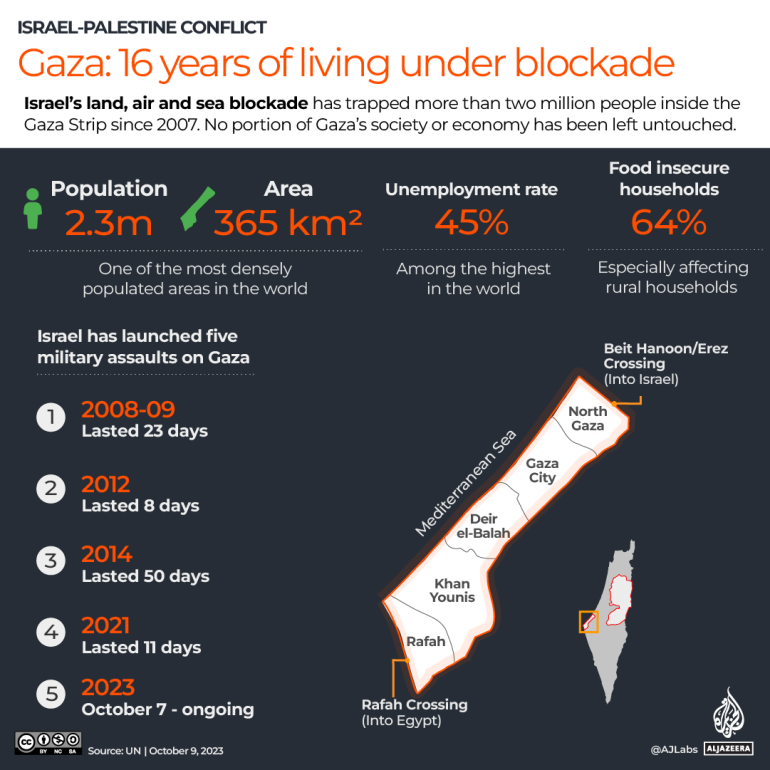 North Gaza [400,000 population as of 2022] – Had the largest refugee camp in the Strip, Jabalia refugee camp which was home to about 114,000 people. Much of North Gaza lay in ruins from Israeli bombings. The district has been encircled by Israeli forces and the remaining Palestinians struggle to survive.
Gaza City [700,000+ population as of 2022] – The largest medical facility in the Strip and hotpoint in the current conflict, Al Shifa Hospital, and Gaza's top universities are all in Gaza City along with the Shati refugee camp (Beach Camp).
Deir el-Balah [300,000+ population as of 2022] – The agricultural center of the Strip, this district houses the only power plant, which was bombed by Israel, and three refugee camps: Nuseirat, Al Bureij, and Al Maghazi.
Khan Younis [400,000+ population as of 2022] – This district is the home of a growing number of illegal Israeli settler outposts and settlements and the Khan Younis refugee camp.
Rafah [250,000+ population as of 2022] – The southernmost district of the Strip has the Rafah refugee camp and the Rafah crossing, one of the only ways to enter or exit Gaza – this has been bombed several times by Israel. Gaza used to have an airport in this district near Egypt but Israel destroyed it two decades ago.
---
Israel imposed the blockade in 2007 in response to Hamas gaining control over the Gaza Strip. Hamas won the majority vote in the 2006 Palestinian parliamentary elections, beating Fatah, who had governed Palestinian lands for decades. Hamas then won a violent internal war in Gaza against Fatah and the siege began.
Before the Oct. 7 attacks, Hamas and its military wing, al-Qassam Brigades, who are directly connected to Iran, had been labeled as a terrorist organization by the United States, Canada, Paraguay, New Zealand, the EU, and the United Kingdom. Other countries such as Afghanistan, Algeria, Brazil, China, Egypt, Jordan, Norway, Syria, Iran, Turkey, Russia, Qatar and the United Nations do not view Hamas as a terrorist organization. Some countries view al-Qassam Brigades as legitimate armed resistance to a colonial force that has been militarily occupying Palestinian lands since 1967.
---
Coverage continues,
The_war_on_Gaza pic.twitter.com/v8kRffAqnl

— Mohamed el saife (@Mohamedelsaife2) November 5, 2023
Al-Qassam Brigades has been releasing video compilations showing attacks against Israeli military vehicles invading Gaza. They claimed on Wednesday that since Israel's ground operation in Gaza started, they've documented the destruction of 136 Israeli military vehicles. Israeli Channel 13 reported Wednesday that Israel is considering releasing Palestinian prisoners if Hamas releases the captives it's holding in Gaza. Prime Minister Benjamin Netanyahu said, "I will reiterate one clear point; there will be no cease-fire without the release of the hostages. Everything else holds no meaning."
Israel has also been releasing videos, mostly of aerial bombings on buildings in Gaza. Since launching their ground invasion, Israeli forces have separated Gaza into two sections while battling fighters in tunnels and destroyed urban centers. Among the many targets of Israel captured or destroyed, a Hamas stronghold tunnel, outpost 17, was reportedly captured by Israeli forces after a 10-hour gun battle on November 9. Israel didn't report how many soldiers were killed during the action but at least 34 Israeli soldiers have been killed since the ground fighting started and over 350 soldiers have died since Oct. 7.
Along with the war on Gaza, Israeli forces have been intensifying their violent raids in the West Bank, killing hundreds and arresting thousands over the last month.
In Gaza, on November 10, over 100,000 Palestinians fled from the north to the south under Israeli threats of death.
Today. Displacement of Palestinians from northern to southern Gaza after Israeli threats.

Israel ordered the evacuation of its residents from the northern Gaza Strip, causing a "mass exodus" towards the besieged south of the Strip. pic.twitter.com/5zLxly6fZ4

— Mohamed el saife (@Mohamedelsaife2) November 10, 2023
For more from Palestine, see our archives.
---
Recent Coverage from Pro-Palestinian Protests:
---
Follow us on X (aka Twitter), Facebook, YouTube, Vimeo, Instagram, Mastodon, Threads, BlueSky and Patreon.
Please consider a tax-deductible donation to help sustain our horizontally-organized, non-profit media organization: