Migrants Speak as Thousands Continue to Arrive
Tijuana, Mexico – The influx of migrants from Central America arriving near the United States border continues. We returned to the Benito Juarez Stadium over the past two days. The first day, we spoke to Maria Louisa about her month-long voyage north, and the violence she was trying to leave behind. Our conversation with Louisa took place the day after US Customs and Border Patrol fired volleys of tear gas at groups of migrants, including many children, who were trying to cross the border to request asylum.
November 26, 2018:
Full recorded livestream of interview and walk through of the migrant shelter.
Unicorn Riot asked Maria Louisa several questions including "What happened that makes you come this way?" Her response, in Spanish, has been translated below.
"First they burned down my house, the gangs," she told Unicorn Riot, explaining that people have to pay the gangs even if they own their own house:
"Nine months ago they burned my house. I went to another state in my country. Within nine months they found me and murdered my brothers." – Maria Louisa
The next day, she left for the United States border with her son Javier. Louisa told us that her son had an abnormally small heart and seizures. During their seven to eight hour walks north, Javier would often faint and end up in a hospital. When released, they would continue north.
Louisa further described the conditions at the migrant camp at Benito Juarez. According to Louisa, there wasn't readily available water and her family was drinking the same water they washed their clothes in, making them sick. Louisa described a chest cold that was also spreading through camp and that the medicines provided by authorities didn't seem to be working. She told us "only God can understand this situation".
Space in Benito Juarez Caravan Shelter (#Tijuana) becomes more and more scarce as #AsylumSeekers continue to arrive.

Follow us for more updates from the border:https://t.co/FDPXlgovkP
Last week:https://t.co/1u7F7Gb4VG … pic.twitter.com/6fRZA9pvM4

— UNICORN RIOT 🦄 mastodon.social/@UnicornRiot 👈 (@UR_Ninja) November 28, 2018
As Unicorn Riot walked through the camp, we witnessed groups of people arriving, carrying their belongings in bundles. Some had walked to the camp; others were dropped off by bus. They joined the many people already waiting in long lines for food and water.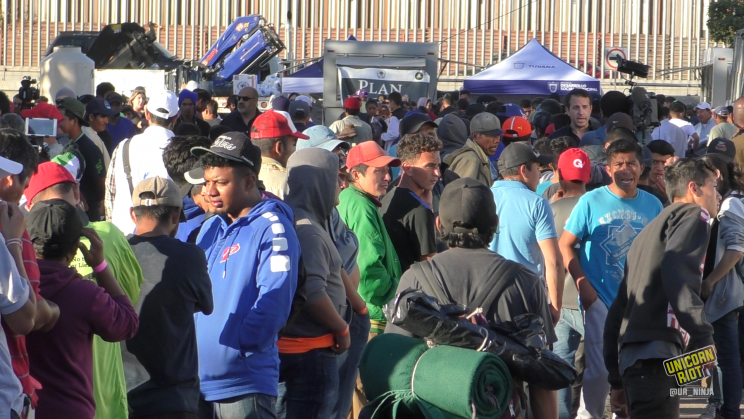 We found previously open spaces now covered with tents and makeshift shelters made by new caravan arrivals. Estimates of the camp's size are now between 5,000 to 8,000 people, according to officials who say they have registered 5,000 people but have not yet registered all newer arrivals.
Watch our forty-nine minute recorded livestream of our time at the camp here or see it above.
November 27, 2018:
Unicorn Riot was able to document a press conference held by members of the migrant caravans. The conference was called by a press release entitled, "We do Not Want to RETURN to Violence". According to the press release, the speakers were "elected from amongst the group of migrants temporarily living here in the shelter".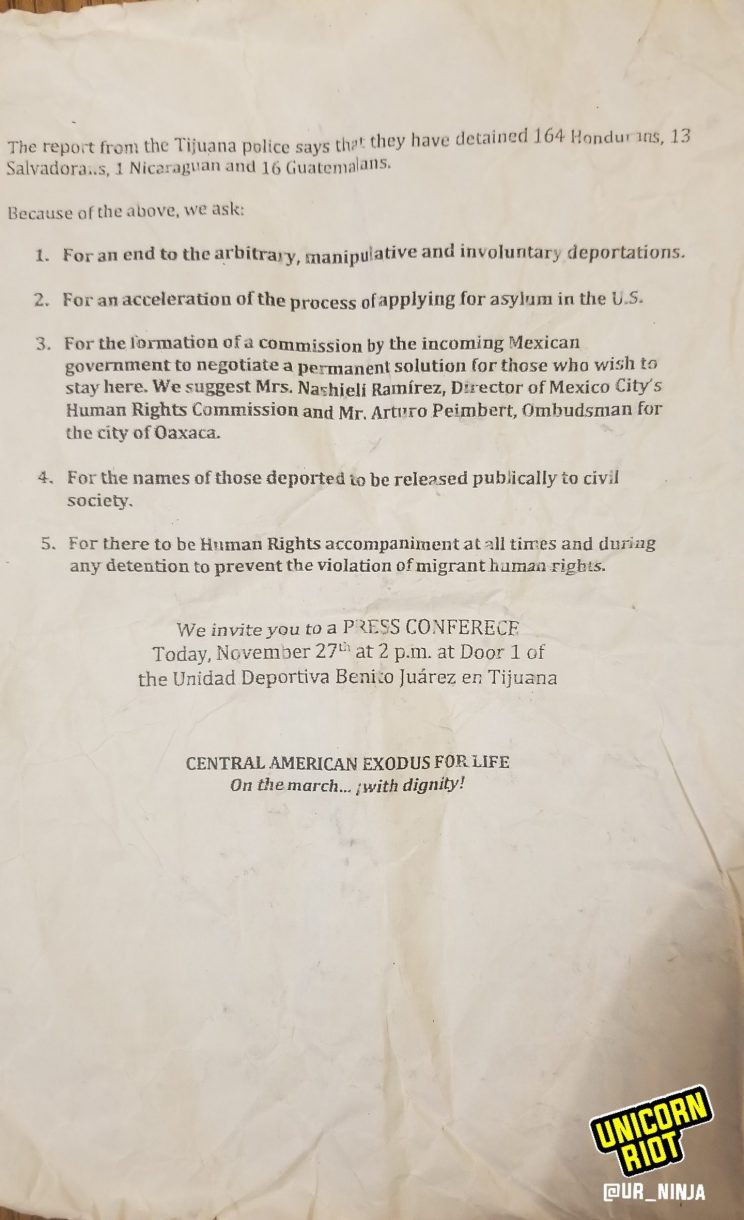 A full recorded livestream of the press conference is below:
The press conference began with David Vasquez explaining that the people who were speaking were not leaders or organizers, but general voices of the migrant exodus. The migrants said they called the press conference to bring attention to the reality they are living.
Tons of people outside of the Benito Juarez center in #Tijuana, #Mexico for the #MigrantCaravan press conference. pic.twitter.com/m4hKPWjjEC

— UNICORN RIOT 🦄 mastodon.social/@UnicornRiot 👈 (@UR_Ninja) November 27, 2018
The spokespeople said the slowdown at the U.S. border had created a crisis in which those who seek asylum now face longer and longer waits. They also said that the migrants are thankful for the support of the people in Tijuana. Another speaker said that back at home, they couldn't even talk about their violated human rights because they would end up in a body bag.
The assembly of migrants presented five demands based on the reported detentions by Mexican police in Tijuana of "164 Hondurans, 13 Salvadorans, 1 Nicaraguan and 16 Guatemalans":
1. For an end to the arbitrary, manipulative and involuntary deportations.

2. For an acceleration of the process of applying for asylum in the U.S.

3. For the formation of a commission by incoming Mexican government to negotiate a permanent solution for those who wish to stay here. We suggest Mrs. Nashieli Ramierez, Director of Mexico City's Human Rights Commission and Mr. Arturo Peimbert, Ombudsman for the city of Oaxaca.

4. For the names of those deported to be released publicly to civil society.

5. For there to be human rights accompaniment at all times and during any detention to prevent the violation of migrant human rights.
As we left the camp, we saw more caravans arrive. They celebrated finally arriving at the USA border.
Our report from Tuesday November 27th in #Tijuana:

More caravans of #AsylumSeekers arrive from Mexicali. Many seem happy to finally be this close to the US, but now don't know what's next.#MigrantCaravan

Follow us for LIVE updates on the groundhttps://t.co/FDPXlgovkP pic.twitter.com/4nfhTENViF

— UNICORN RIOT 🦄 mastodon.social/@UnicornRiot 👈 (@UR_Ninja) November 28, 2018
We closed out our live coverage on Tuesday at the spot where just days earlier, U.S. Border Patrol agents fired tear gas on groups of migrant families including women and children. Since the images of mothers and children running away from clouds of gas, U.S. President Trump has tried to claim that children were not among those affected: "We didn't. We don't use it on children."
---
Please consider a tax-deductible donation to help sustain our horizontally-organized, non-profit media organization:

Unicorn Riot's Coverage of the Asylum Seekers at the US/Mexico border: