Military and Militias Deploy to US/Mexico Border to Confront Caravan of Asylum Seekers
President Donald Trump has deployed thousands of active-duty soldiers to the US/Mexico border to support the Department of Homeland Security in stopping a caravan of Central American migrants from seeking asylum in the United States.
A plan enacted on October 26, called "Operation Faithful Patriot", consists of 7,000 active-duty military personnel from U.S. Northern Command, including another 7,000 in reserve, which will join 2,000 National Guard soldiers already deployed along the border operating surveillance equipment. Units activated in support of the domestic military operation come from the 97th Military Police Battalion, 89th Military Police Brigade, 16th Military Police Brigade, 503rd Military Police Battalion, 101st Airborne, 1st Armored Division, 3rd Infantry Division, and over two dozen more.
Colonel Robert Manning, a Pentagon spokesman, told reporters 1,100 troops are currently stationed in California, 1,100 in Arizona and 2,600 in Texas. Military documents highlight the collaborative relationship with Mexican military and list requested forces such as assault helicopters, dogs and riot gear for crowd control units, and military-operated detention centers.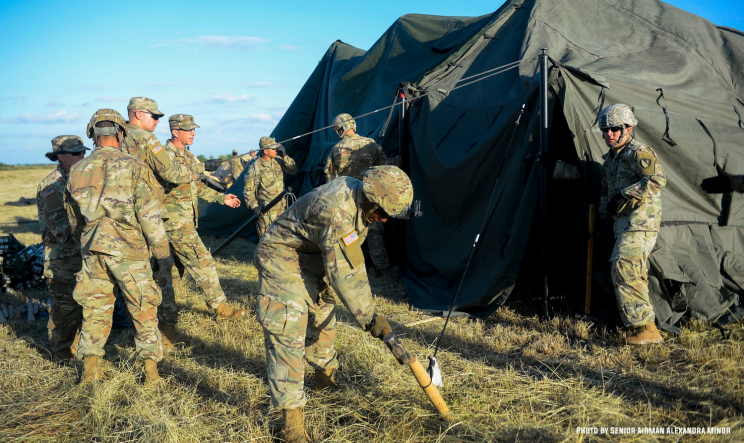 General Terrence O'Shaughnessy revealed during a press conference that military police, as well as Customs and Border Protection agents, have the capability to quickly deploy anywhere along the border to confront the caravan. Military aircraft, which include three C-130's and a C-17 are on stand-by and ready to deploy assets at any moment. O'Shaughnessy also revealed that the military has enough razor wire on hand to be able to stretch 150 miles along the border.
"They want to throw rocks at our military, our military fights back," the president said. "We'll consider — and I told them — consider it a rifle" – President Donald Trump, Thursday, November 1
Department of Defense (DoD) documents obtained by reporter James LaPorta appear to discuss the President's executive authority in relation to Title 18 U.S.C. § 1385, derived from the "Posse Comitatus Act" of 1878, which prohibits the use of active-duty service members for law enforcement inside the U.S. unless specifically authorized by Congress.* However, former President Barack Obama weakened these provisions when he signed the 2012 National Defense Authorization Act, which went as far as authorizing the indefinite military detention of U.S. citizens, without habeas corpus or due process, according to the American Civil Liberties Union. In late October, the Pentagon rejected part of the assistance request from the Department of Homeland Security because they felt the request reached beyond the authority granted to active duty soldiers under federal command.
The military has assessed the situation as "four large migrant caravans … consisting of approximately 7,000 people" of which "only a small percentage of the migrants will likely reach the border." In total, the amount of soldiers Trump has deployed to confront the caravan is greater than the number of U.S. soldiers currently stationed in Afghanistan.
"DoD personnel may be assigned responsibilities that result in direct contact with migrants and U.S. citizens (protestors). " – ARNORTH Operations Summary
As an estimated 4,000 people, mostly from Central American countries, continue to travel around 25 miles a day across Mexico toward the U.S. border, U.S. soldiers are preparing razor wire and other installation along swaths of land and points-of-entry into the United States. In San Joaquin, California, and Corpus Christi, Texas, U.S. soldiers and DoD civilians assigned to the Defense Logistics Agency are shipping pallets of razor wire. In Hidalgo, Texas, military personnel have already begun laying hundreds of meters of razor wire along the river bank of the Rio Grande and Anzalduas International Bridge leading to the port of entry.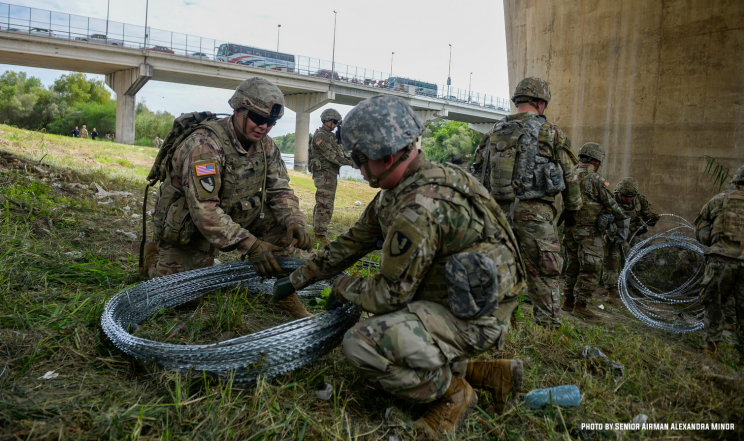 Sites acting as forward operating bases for the military's Quick Response Forces have begun to be constructed at strategic locations along the border. Soldiers with the 19th Engineering Battalion are currently building a temporary base near a point of entry along the Mexican border in Donna, Texas. In Arizona, soldiers are constructing another military camp called Sunglow City, aka Desert Lightning City, on Davis-Monthan Air Force Base. Simultaneously, soldiers from the 309th Military Intelligence Battalion and 305th Military Intelligence Battalion are building another "tent city" at Fort Huachuca.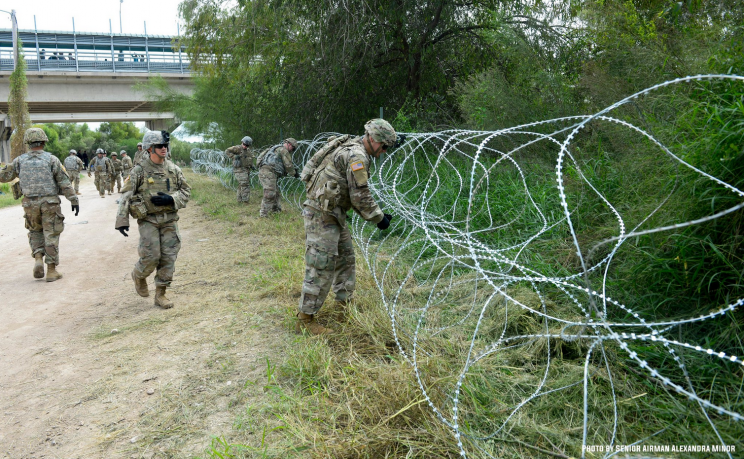 Military personnel are quickly increasing security and surveillance around the ports of entry in Brownsville and McAllen, Texas, as well as Nogales, Mexico, and San Diego, California. According to published military documents, marked "For Official Use Only" and "Law Enforcement Sensitive", the Pentagon's preliminary threat assessment remains low to moderate in regards to crimes against persons and property. The documents also show that an increase in threat level would allow the military to "refrain from wearing military uniforms in non-secure areas" and even "arm security forces."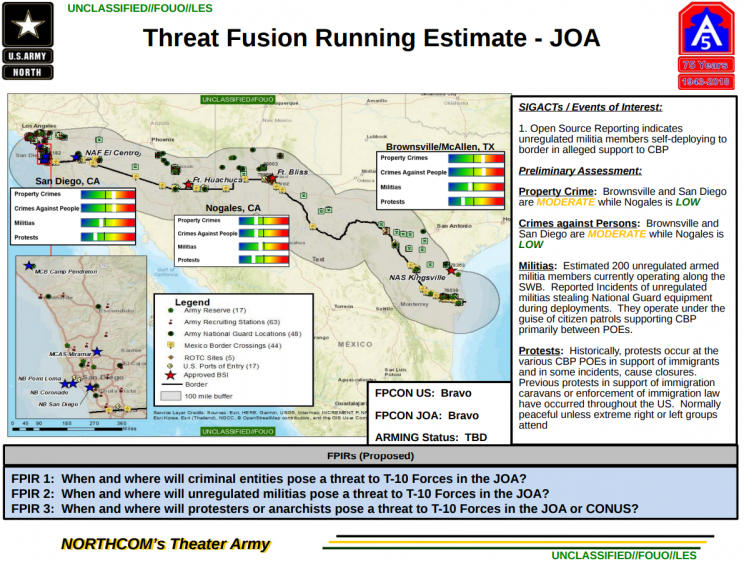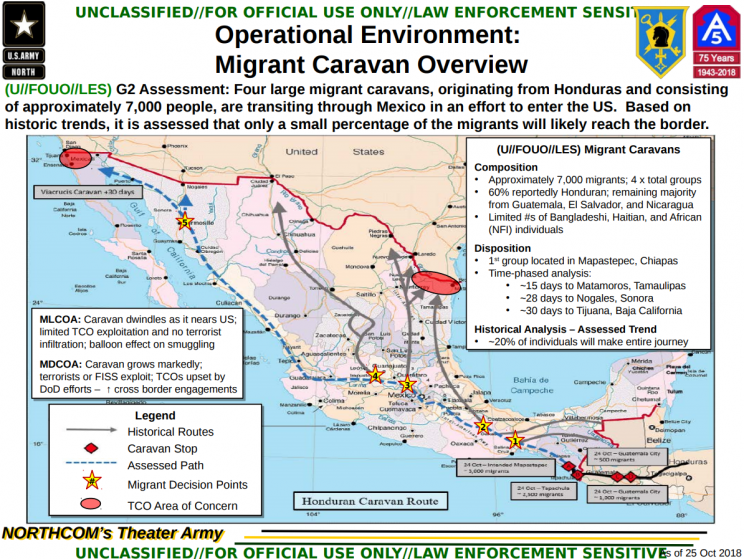 Following the military deployment, hundreds of armed right-wing militia members, instigated by continued statements from Trump and conservative media falsely claiming caravan asylum seekers are a threat, have also vowed to take up the call to arms and confront the caravan. According to documents, the military estimates that there are currently already "200 unregulated armed militia members" operating along the border. The military goes on to reveal that militia members are reportedly responsible for stealing National Guard equipment during deployments. Currently, Texas Minutemen and vigilante groups from as far as Canada are said to be en route to the Rio Grande in preparation to stop the caravan.
In recent days, a Minuteman Militia Facebook page with 200,000 followers posted that "European Christians built this nation" and "they didn't come to bitch, collect welfare, wage jihad, and replace the American Constitution with Sharia Law." Another post by the same militia page states that "one drone strike would stop the caravan." In recent days, the Minuteman Project has called upon militia members to set up camps along the U.S./Mexico border for the next three months. Historically, minutemen militia members have been tied to far-right nationalist and neo-nazi organizations.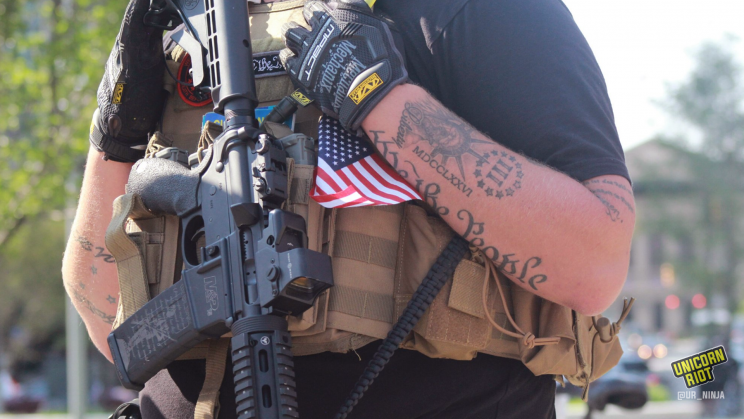 On Tuesday, November 6, 2018, the same day as the U.S. midterm elections, El Paso Sector Border Patrol was planning to conduct a "Mobile Field Force demonstration" to exercise "crowd control" tactics in the Chihuahuita neighborhood of El Paso, Texas. The exercises were re-scheduled for an unknown date. The Texas Civil Rights Project is currently requesting information from authorities to uncover why the exercises were planned on election day, in a town that is 97% Hispanic. (Unicorn Riot published a FEMA "Field Force Operations" training manual in 2016.)
BREAKING: Border Patrol has postponed its "crowd-control exercise" in the Chihuahuita neighborhood of El Paso. We will still pursue our request for information to uncover why this was planned for #ElectionDay in the first place. #TX2018

— Texas Civil Rights Project (@TXCivilRights) November 6, 2018
While conservative media, the Trump administration, militias and others accuse caravan asylum seekers of criminality, evidence of widespread misconduct continues to accumulate around the Border Patrol itself. According to the Border Patrol's own documentation, 510 employees were arrested for misconduct over a two year span, between 2016 and 2017. Evidence, including videos, have surfaced showing Border Patrol agents destroying water containers left for migrants by humanitarian organizations, shooting migrants, and even shooting across the border into Mexico. According to the Southern Border Communities Coalition, at least 81 people have died as the result of an encounter with U.S. border agents since 2010.
In September 2018, a Border Patrol agent was arrested for committing a "calculated killing spree" that left four women dead, including one transgender woman, near Laredo, Texas. Sheriff Martin Cuellar of Webb County Texas, went as far as calling the Border Patrol agent "a serial killer who was preying on one victim after another."
"They're bringing drugs. They're bringing crime. They're rapists. And some, I assume, are good people." – Then-presidential candidate Donald Trump (June 26, 2015)
Over the last few years, state and federal agencies have increased systematic separation of families coming into the United States. Immigration and Customs Enforcement (ICE) have also begun destroying records of immigrant abuse, including sexual assault and deaths while in custody. Meanwhile, ICE continues to house thousands of immigrant children in vacant Walmarts and tent cities along the border. In 2015, mass graves of immigrants were found in Texas but the state said no laws were broken.
In recent weeks, President Trump has said the U.S. would begin cutting aid to Central American countries he accused of failing to stop the caravan. Some have pointed out that if Trump were to cut off U.S. aid, that it would worsen poverty and violence in Central America. These problems remain a root cause of migrants heading north in the first place, a consequence of extractive and interventionist U.S. foreign policy first formalized in 1823's Monroe Doctrine, which President Trump explicitly cited in a speech before the United Nations on September 25. Meanwhile, at least two people have reportedly died while traveling with the caravan in Mexico, one after being shot in the head by Mexican police and the other reportedly falling from a truck.
As this humanitarian crisis comes to a boiling point, nobody can say for certain what will happen once, and if, the migrant caravan makes it to the US/Mexico border.
Update [11/10/18]: The Pentagon has dropped the name "Operation Faithful Patriot" and are now referring to the mission as "border support".
---
Please consider a tax-deductible donation to help sustain our horizontally-organized, non-profit media organization:

Unicorn Riot's 2017 mini-documentary, "
Crisis: Borderlands
," examines the topic of human rights and migration on the U.S. border in more detail.
Unicorn Riot's Coverage of the Asylum Seekers at the US/Mexico border:
* According to Naval War College Professor Lindsay Cohn, in 1876, a disputed national election led to a compromise of electing Rutherford Hayes as President if he agreed to pull all federal troops out of the former Confederate states. Much like the use of US troops to enforce school desegregation in the Civil Rights Movement, in the 1870s the US Army had deployed to stabilize southern Republican state governments against organized white supremacists. The Posse Comitatus Act was designed to prevent the use of federal troops to enforce civil rights; Hayes withdrew the troops and "home rule" Southern governments re-instituted formal white supremacy.
#Icebreaker Series - Unicorn Riot series on ICE policy manuals
Written by Andrew Neef
Cover Photo by Senior Airman Alexandra Minor