Tear Gas at Border as Asylum Seekers Attempt to Cross
Tijuana, Mexico – Groups of asylum seekers that marched to the U.S./Mexico border to protest delays in the asylum process on November 25 were tear gassed by police forces from the United States. The march from Tijuana ran into lines of Mexican riot police as it neared the border fences and were met with police projectiles as they attempted to cross past the United States border.
The march comes as the Mayor of Tijuana declared a humanitarian crisis as supplies run low to support the thousands housed in Benito Juarez Stadium, and the thousands more expected to come. Videos posted to social media on Sunday showed migrants and refugees facing an onslaught of rubber bullets and tear gas from United States Border Patrol.
The march broke up into smaller groups as they tried to get to the other side of the border. U.S. Border Patrol launched tear gas into crowds that included women and children.
A small group momentarily breached a wall and were met by border authorities' crowd control weapons and tear gas. Some reportedly responded by throwing rocks back at the authorities.
#Breaking: Migrants (Illegal Immigrants now) broke through border fence but were repelled with pepper spray and smoke pellets. #Tijuana #SanDiegoCA #US #Mexico pic.twitter.com/GqX18PUA5j

— Sotiri Dimpinoudis (@sotiridi) November 25, 2018
The crowd control weapons that were shot by the United States' authorities at the border on Sunday were manufactured by Defense Technology, a brand operated by law enforcement vendor Safariland. Safariland's products came into public scrutiny after law enforcement used them extensively against unarmed water protectors resisting the construction of the Dakota Access Pipeline in North Dakota in late 2016, maiming 21-year-old Sophia Wilansky.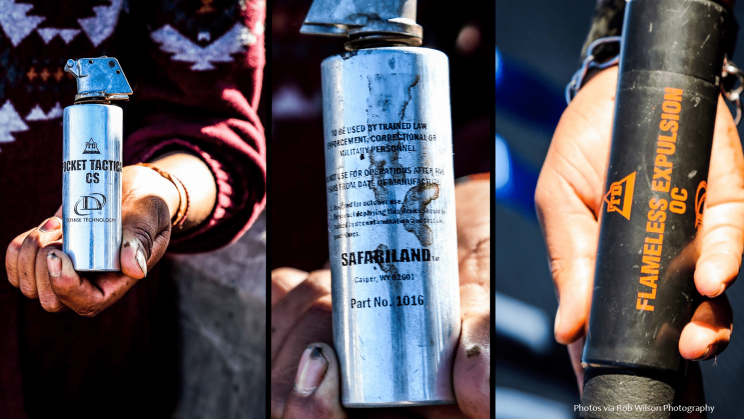 The same border crossing south of San Diego at San Ysirdro, one of the busiest in the world, was closed for several hours as people marched towards it on both sides. A group called Migrant and Refugee Coalition in solidarity with the refugee and migrant caravans organized a march from the United States side.
The USA side of the march's facebook event said that,
Trump is creating a war like situation at the border, and ramping up hate and fear against our brothers, sisters and siblings in exodus from poverty and violence in Central America. It is critical that we demonstrate the mass sentiment in support for migrants and refugees, and demand the recognition of their legal right to seek asylum.
The coalition called for an 'International Day of Action in Solidarity with the Caravan and Exodus from Central America' on November 25 to coincide with the anniversary of the contested 2017 Honduran election, which was won by scandal-plagued right-wing hard liner, Juan Orlando Hernandez (whose brother was just days ago arrested in Miami for conspiring to transport cocaine and guns).
The demands of the day of action consisted of, but were not limited to, the "right of asylum for all members of the Central American Exodus", that asylum claims are processed with expediency, the "freedom for incarcerated migrants now and free movement for asylum seekers", "international solidarity", prosecution of "officials who violate the human right to seek asylum in any country", and for the U.S. government to publicly acknowledge its historical and present role in the "social crisis throughout Central America" and specifically its recent role in the 2009 Honduran coup that ousted democratically elected 'Mel' Zelaya, and that it is now supporting a dictatorship.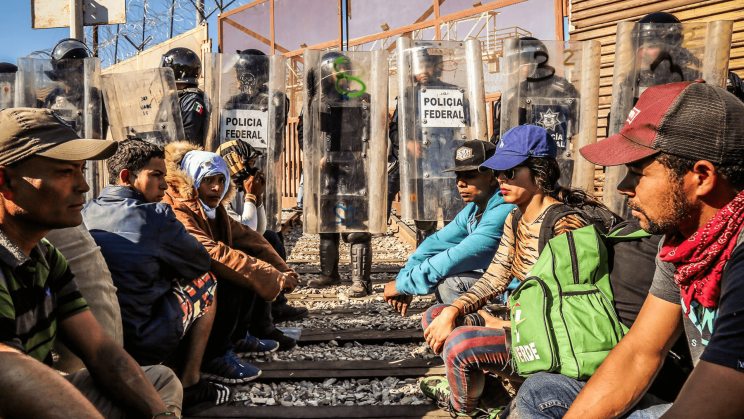 The migrants' asylum claim waits are estimated to drag on for months before being heard. Those who've been camped in Tijuana have faced dwindling supplies and unsanitary conditions. The conditions in the Benito Juarez camp, where many are housed, has deteriorated so much that the Mayor of Tijuana Juan Manuel Gastelum declared a humanitarian crisis, and demanded more support from the Mexico government. Gastelum also has refused to use any of Tijuana's resources to help the migrants.
---
Previous Coverage: Asylum Seekers from Caravans Gather Along U.S./Mexico Border
---
The President of the United States tweeted his support for a plan put forward by Mexico that would change the current asylum process. Currently those waiting for their asylum trials to be decided were allowed to wait in the U.S. as the process played out.
Under the proposed changes, all people waiting for their asylum claims will be forced to wait on the Mexico side of the border until their claims are decided. Immigration rights activists have stated these changes would be dangerous for those who are running from violence in their home countries. The hearings have been rumored to be delayed for months as thousands seek asylum, so people running from violence would be forced to wait in Tijuana, which had over 250 killings in July this year.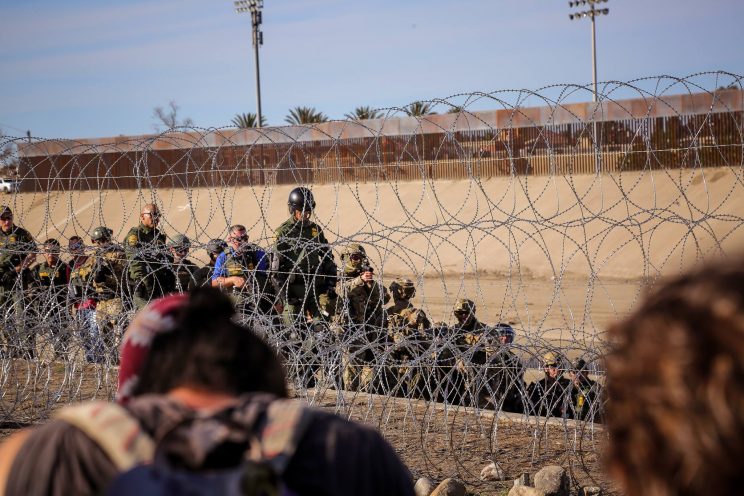 With clashes already occurring as the estimated 4,900 people in Tijuana wait for their asylum hearings, thousands more, spread out across Mexico, are on their way. The President of the United States has made it clear that he feels troops should use lethal force if people throw stones at them. Frustrations are already running high as asylum seekers and migrants who traveled thousands of miles to come to the USA are met with pepper-balls and teargas.
Keep following Unicorn Riot for updates.
Cover image via Rob Wilson Photography
Please consider a tax-deductible donation to help sustain our horizontally-organized, non-profit media organization:

Unicorn Riot's Coverage of the Asylum Seekers at the US/Mexico border: