Government Deadline of Greek Squat Evictions Draws Near
Athens, Greece – Greek's right-wing government has set an ultimatum of December 5 for all squats in Greece to be vacated. The governing New Democracy party continues its targeting of housing squats and the anti-authoritarian movement as numerous raids and evictions have occurred since August.
Although the mandate to clear the squats existed already, the 15-day ultimatum was delivered November 20, 2019, meaning police actions to evict squats are likely to take place on December 6. The day is historically significant as the anniversary of the death of 15-year-old Alexis Grigoropoulos, who was killed by police in the Exarcheia district of Athens, Greece in 2008. His death led to an extended uprising throughout Greece and is commemorated annually.
There are a few dozen 'squats' in Athens. Squats typically are abandoned state or private property that has been occupied by members of the community. Food, health care, mutual aid, clothing, safety, schooling, and emotional and psychological support are some of the living essentials that squats provide.
Over 500 refugees have been evicted from housing squats in Athens, Greece and sent to camps since the New Democracy government took over in the summer of 2019.
---
---
In recent years of the refugee and migrant crisis, squats have become a crucial space to help shelter many refugees from Syria, Iraq, and Afghanistan. The squats are operated entirely by residents and volunteers who have set up networks of support for migrants and refugees.
Throughout Greece, the squats, the ideology behind them, and the neighborhood of Exarcheia as it is known today is facing a severe threat from a government bent on "sweep[ing] up garbage" and building a subway station in Exarcheia Square.
The willingness of the state to attack and vilify the most vulnerable populations has been exemplified in these raids.
Hundreds of refugee and migrant children and their parents have already been sent to detention centers as squats have been raided, evacuated, and sealed by the government.
This is happening in the backdrop of a controversial new asylum law passed to curb the numbers of refugees coming to Greece.
As winter is arriving, the numbers at reception centers in Greek islands originally built for 6,000 people are overflowing with a record number of 35,000 people seeking asylum. This year alone, 53,462 asylum seekers arrived to the islands and Greece from Turkey, up 10,000 from last year. At the camps, the people live in tents in very poor conditions.
#Greece. Life at the #refugees camp of #Moria in the island of #Lesvos. pic.twitter.com/Y6jCJ4g4ga

— Aris Messinis (@ArisMessinis) November 26, 2019
A video from the latest eviction of the 'Bouboulinas 42' squat on November 12, features accounts from those who have been evacuated from their previously free and sheltered housing.
The impending police action comes only weeks after a contentious commemoration of the November 17 student uprising. Though police allowed the main march of many thousands to occur, they raided apartments and rooftops, threatened and beat journalists, and violently attacked protesters during the following night.
Ramped-up surveillance has recently been reported, with GPS trackers discovered on vehicles and police drones falling onto rooftops.
After the 15-day ultimatum announced by the government on November 20, a slew of protest actions have taken place.
On the island of Crete, anarchists from the historical squat of Rosa Nera stormed the local TV station with a large banner expressing solidarity with refugees and squats.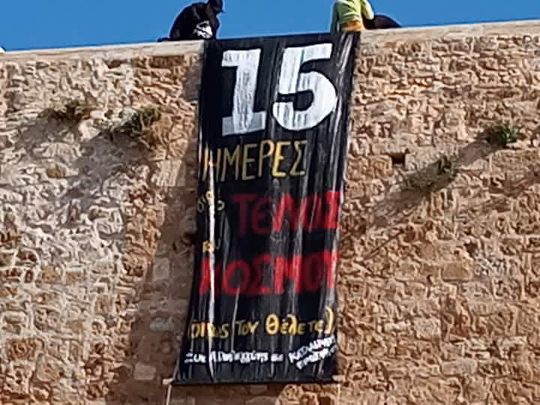 The action interrupted scheduled TV programming and aired a political statement that was a retorted imitation to the government's ultimatum (below).
"Those who are exploiting our work are urged to increase salaries by 200%, reduce working hours accordingly, or move into collective ownership of "their" means of production and stop stealing human labor. Those who are illegally violating international refugee protection laws by killing, imprisoning and even abducting children in order to lock them up them in inhumane detention centers without access to health and education are also urged to resign immediately. Those who expel refugees are urged to leave the country and surrender their responsibilities for the protection of refugee lives to international solidarity movements. The deadline for the implementation of the orders is 15 days from the publication of this press release. Otherwise we won't be fine… to put it mildly.

Meet us on the streets.

Solidarity Assembly on Occupations and Refugees/Immigrants" — Rosa Nera statement
The former military outpost sitting atop Kastelli Hill, Rosa Nera has a dynamic past and is one of the longest-standing squats in Greece. It serves as a theater, library and archive, event/meeting/film/concert showcase space, as well as a kitchen and housing for many occupants.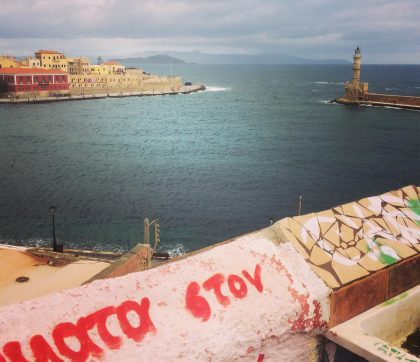 In an action in a suburb of Athens, the office of New Democracy had their doors sealed with concrete blocks in defiance to the deadline. This was a direct response to the government's sealing of squats after evicting them.
https://twitter.com/th1an1/status/1200528758576316416
During a protest in Thessaloniki against the government's ultimatum, a massive banner was hung at the trade union center.
A member of Notara 26, Greece's first refugee and housing squat, stated they are under constant police provocation:
"Since the evictions of Spiro Trikoupi 17 and other squats on 26 August, we are living in occupied territory, with riot cops stationed all around us. They are here all day, all night, causing trouble and provoking us – shouting racist abuse, banging on the windows, trying to force the door, and so on – until they get the order to evict."
An international day of action in solidarity with the Greek squats has been called for December 5, 2019.

---
Our past coverage from Greece includes initiatives that are providing a network of solidarity and mutual aid for refugees and migrants throughout Greece, filling the void where the state has been absent:
Unicorn Riot's Special Reports From Greece [2017]:
Access to all 13 Stories:
Please consider a tax-deductible donation to help sustain our horizontally-organized, non-profit media organization: