Neo-Nazi Group Identity Evropa Using Cash App to Raise Funds
Washington, DC – Unicorn Riot has confirmed that the alt-right neo-Nazi group Identity Evropa, operating through its new front group the American Identity Movement, is using the payment processor Cash App to receive funds.
[Editorial note: Identity Evropa and the American Identity Movement are proven to be the same group, so at times the groups' names are used interchangeably. The American Identity Movement is also abbreviated as 'AmIM' to avoid confusion with the American Indian Movement (AIM).]
Identity Evropa (IE) helped organize the deadly Unite The Right rally in Charlottesville, and changed their name to the American Identity Movement (AmIM) after massive chat leaks published by Unicorn Riot led to many of their anonymous members being exposed and fired from their jobs.
More recent leaks of Discord chat logs and voice meetings have confirmed that like Identity Evropa, the American Identity Movement, considers itself for "Americans of European heritage exclusively" and forbids people of color from joining. The group also bars anyone with Jewish ancestry from becoming a member, as they falsely claim all Jews are non-white and masterminding a global conspiracy to replace white people with immigrants. The New Zealand gunman who massacred 50 Muslim worshipers at mosques in Christchurch earlier this year also subscribed to the same conspiracy theory.
The ongoing process of groups like Identity Evropa continually re-establishing their online presence in order to recruit and receive funds raises questions about exactly how social media and tech companies are enforcing their terms of service. Alt-right groups such as IE/AmIM largely rely on third-party services whose policies, at least in the fine print, seem to forbid racist groups from using their platforms.
Identity Evropa/American Identity Movement had previously relied on the payment processor Zelle to receive funds. After we reached Zelle for comment in our reporting earlier this year, the company announced that it was taking steps to prevent hate groups from using its service. The group then switched to using a PayPal account, which seems to have also been shut down. IE/AmIM president Patrick Casey then switched to telling members to pay dues via a PayPal account. The group's PayPal seems to have also been shut down after our recent reporting in late April, leading the group to switch to using Cash App, which has not yet banned them. (Identity Evropa had previously been banned from PayPal before rebranding as the American Identity Movement.)
Unicorn Riot's previous reporting into IE/AmIM revealed that the group was relying on the payment processor Zelle to receive donations and collect dues from members. After we reached Zelle for comment, the company's owner told us they would be taking new steps to remove the hate group from their service.
Patrick Casey and his followers are also likely using Cash App's promotion to give users $5 each for referring new users and setting up new accounts in order to raise extra money for the group.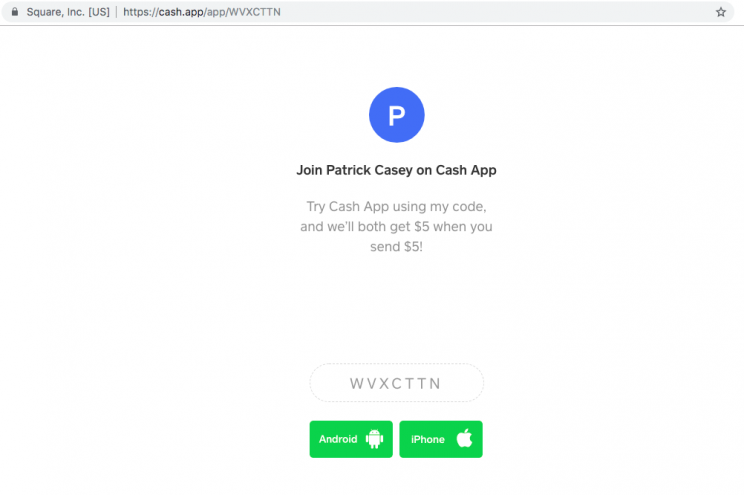 Cash App is owned by Square, a payment processing company whose parent company is tied to Twitter. Jack Dorsey, CEO of both Twitter and Square, has received considerable criticism for his role in overriding Twitter staff who sought to remove white supremacist leaders from the social media platform for violating Twitter's terms of service.
Cash App and Square could not be reached for comment. Square's General Terms of Service state that the company's platform, which includes Cash App, may not be used for  "hateful" content.
---

Unicorn Riot's investigative reporting on Identity Evropa: