Identity Evropa, Rebranded: Six Months Later
Harper's Ferry, WV – Identity Evropa, the alt-right neo-nazi group behind the Unite The Right rally in Charlottesville, renamed itself the American Identity Movement earlier this year. Now, more than half a year after the group attempted to redefine its name and image, we examine how Identity Evropa (or as they call themselves now, the "American Identity Movement") has tried to advance white supremacy.
After
leaking over a year of chat logs
exposing their internal workings, Unicorn Riot has continued to track the whites-only hate group throughout 2019. We've
exposed
contradictions in the official founding paperwork for the American Identity Movement, and
released
even more leaked chats from their private online organizing spaces.
[Editorial note: Identity Evropa and the American Identity Movement are proven to be the same group, so at times the groups' names are used interchangeably. The American Identity Movement is also abbreviated as 'AmIM' to avoid confusion with the American Indian Movement (AIM).]
Newly leaked chats from inside the group, as well as court records, police documents, and various news reports show how the group is continuing to try to gain a foothold in its new iteration while continuing to find itself in hot water.
---
In July, members of the group traveled to Wyoming and unraveled a racist banner from a parking garage during the city of Cheyenne's 'Frontier Day' parade. Cheyenne Police emails (1, 2, 3, 4) obtained by Unicorn Riot via public records requests show that officers refer to the American Identity Movement as a "neo-nazi type group." One email forwarded to police from the FBI's Denver division noted that "the group changed its name from Identity Evropa recently after some negative press, however, they still espouse the same beliefs." Cheyenne Police also forwarded their reports to 'CAGE', the Cheyenne Area Gang Enforcement unit.
Recent photos released by the group show that they have begun featuring the Revolutionary war-era 'Betsy Ross' American flag, which features a circle of only 13 stars instead of today's 50, alongside the American Identity Movement's flag. This is likely a nod to the increased use of the Betsy Ross flag by the Ku Klux Klan and other racist groups such as the Three Percenter militias. Nike recently cancelled a shoe that would have featured the 13-stars flag design after complaints over the Betsy Ross flag's adoption by white supremacists.
---
Identity Evropa and American Identity Movement president Patrick Casey was banned from Twitter in late July, losing his platform with tens of thousands of followers, but for the months has been back on the site under a new account (albeit with a much smaller following). The American Identity Movement's Twitter account is still active and hasn't been suspended since its creation earlier this year, despite Twitter having banned Identity Evropa last year.
AmIM's YouTube account was recently shut down, along with several other white supremacist channels.  One of the channels banned belonged to James Allsup, a YouTuber who has long been a member of Identity Evropa and now the American Identity Movement. Allsup had repeatedly claimed in his YouTube rants that he is not a racist or a neo-nazi. However, after losing his YouTube channel, he quickly joined the cast of the openly white supremacist 'Fash The Nation' podcast.
The American Identity Movement has also been dragged into an ongoing local controversy in Bloomington, Indiana, where several longtime members sell produce at a farmer's market. Identity Evropa and American Identity Movement member Sarah Dye, who posted as 'Volkmom' in the leaked Identity Evropa Discord chats, is the owner of Schooner Creek Farms, a vendor at the Bloomington Farmers Market. Chicago-area IE/AmIM leader Peter Dietzl also works with Dye and Schooner Creek. The group's leader Patrick Casey posted propaganda images of himself visiting Dye's stand at the Bloomington farmer's market.
Sarah Dye was outed as 'Volkmom' after Nolan Brewer, a former Identity Evropa member arrested for an arson attack on a synagogue, told the FBI that he and his wife met with Dye. In an interview with federal agents, Brewer admitted to paying dues to Identity Evropa. According to a statement Brewer made to federal agents, they met with Dye over dinner to be vetted into Identity Evropa membership.
Recent incidents around Dye's farm are hardly the only examples of Identity Evropa and the American Identity Movement's appearances in news involving racist attacks. Ohio resident James Reardon, age 20, was arrested last month after he posted a video of himself firing an assault rifle and threatened a nearby Jewish community center. He now faces charges of telecommunications harassment and aggravated menacing. Reardon, like convicted Amtrak train hijacker Taylor Wilson, was seen marching with an Identity Evropa flag at the Charlottesville rally. Patrick Casey has attempted to distance his group from Reardon by claiming that "IE flags were sold to the public at the time."
---
Since rebranding away from the Identity Evropa name, members of the group have been told to keep a close guard on their personal identity. Like the American Identity Movement's misleading 'patriot' image, most members either do not want to, or simply cannot afford, to publicly own their involvement in the neo-nazi group.
A private chat channel called 'Dox Support', was created as a support group for members of the group who had their identities exposed. The full contents of this chat channel, active from March into May 2019, have been obtained by Unicorn Riot and are available for download below.
(NOTE: These leaked chats took place over MatterMost, open source chat software used as a replacement for Discord after the Identity Evropa chats were leaked. The American Identity Movement's MatterMost chat is run on a web server hosted by Amazon Web Services, who declined to comment on the record when asked by Unicorn Riot about enabling neo-nazi organizing.)
The leaked 'Dox Support' chats provide unique insight into how members of the hate group have responded to being exposed, as well as steps they have taken to try to mitigate the impact of leaks from inside the organization.
While Patrick Casey chastised his followers for "grossly overestimating the threat" of being exposed as a white nationalist, many in the private chat shared the devastating impact of being identified. Casey has repeatedly blamed his followers for being doxed, saying it was their own fault for being lax online with their personal information.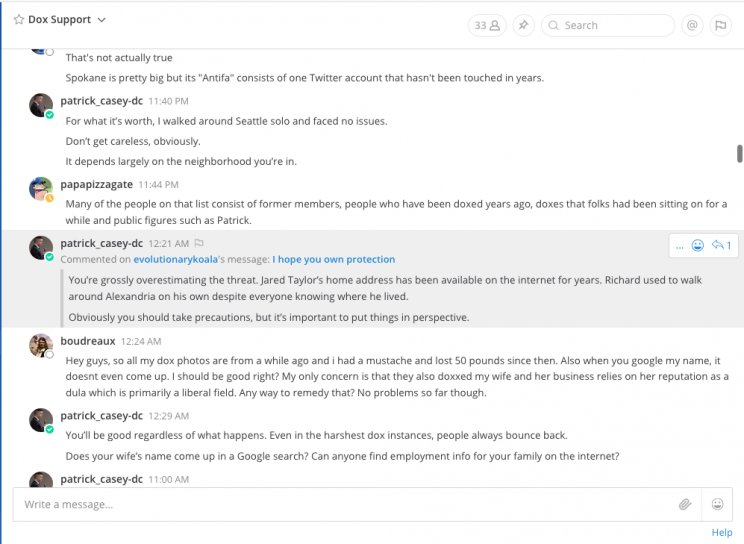 Several complained about losing their jobs and having to try to find new work. Justin Wayne Peek, the American Identity Movement's activism director (previously convicted in a sexual battery case), was among those outed soon after leaks from inside Identity Evropa in March 2019. Peek also wrote that his wife Amber Peek "lost her job of 6 years" after being outed as a supporter of his racist organizing.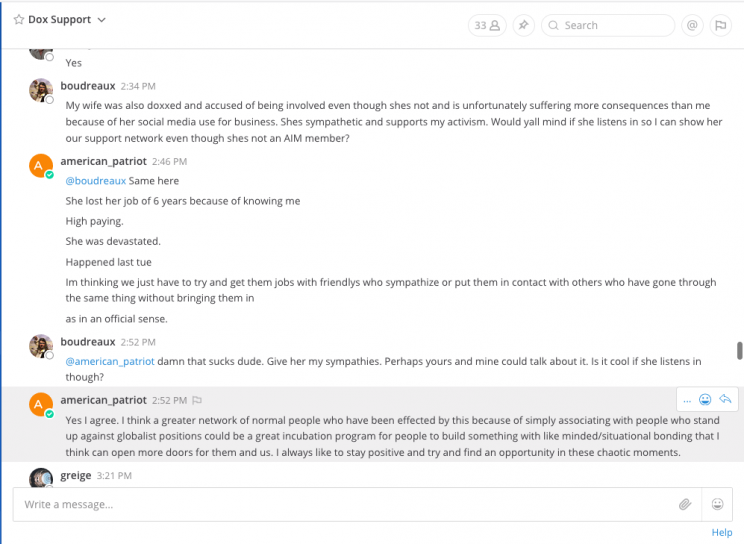 Others made the dubious claim that being 'doxed' had actually improved their lives, with anecdotes offered claiming that they had experienced career advancements as well as enriched social lives.
Another IE/AmIM member, John Lee Clemmer, lives in Georgia and works as a cloud security consultant for IBM. In the leaked 'Dox Support' chats Clemmer often wrote about himself in the third person, and described how he avoided being fired after being identified by Atlanta Antifascists. He told his fellow neo-nazis that "I'm doing the deny, deny, deny thing at the moment" which he said was successful because he convinced his employer that his identification as an IE member was only "circumstantial".
Clemmer also shared his regrets for posting too much personal details about himself in the chats. Referring to his earlier Discord username, 'why tea,' Clemmer said he "got far too comfortable…and let far too many things slip…and made an implied connection" between his online and offline identities. In another message posted by 'humanbiodiversity', Clemmer forgot to keep up his third-person voice when referring to himself, confirming his ID in May 2019 leaked chats from the American Identity Movement.
Echoing similar statements he had posted about keeping his job at IBM, he states, "my employer found out from Antifa spamming them on Twitter" (referring to Atlanta Antifascists' tweets notifying IBM about Clemmer's racist activities.)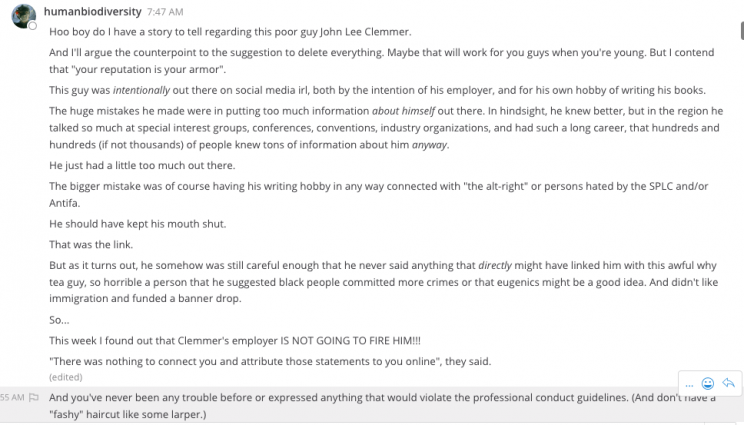 Clemmer had used his personal wealth to fund an Identity Evropa banner drop, and had posted racist claims that black people are more likely to commit crimes. IBM has not responded to Unicorn Riot's request for comment regarding Clemmer's employment.
Unlike IBM, one employer did take action after an AmIM member, Kyle Scheuerlein, was outed as a school teacher at Valley Christian High School in San Jose, California. He was subsequently placed on administrative leave while the school investigated racism by any teacher at Valley Christian. Following the start of the new school year, his picture is no longer present on the school directory. Valley Christian did not respond to an email for comment but a source at the school told Unicorn Riot that Scheuerlein was subsequently fired and banned from campus.
Another member, Peter Morgan of Louisiana (who posted as 'boudreaux' in the American Identity Movement's MatterMost chat) did not apparently fare so well. He expressed intense anxiety and discomfort attending family gatherings after his extended relatives learned about his affiliations.
"My uncle, who's son is dating a black girl, hasn't made eye contact and he turns his back to me every time we're in the same room…No one really wants to talk to me at all. This kinda sucks guys."- American Identity Movement member Peter Morgan, aka 'boudreaux'
Other members attempted to console Morgan and offered him some half-baked advice for how to deal with the fallout. "Say you made some stupid comments when you were drunk", offered 'evolutionarykoala' (real name Kevin Pummill, who himself lost his teaching job over his racist views), "and proceed to reasonably explain what you believe."
Peter Morgan formerly posted on Discord as 'James Coney' and before joining Identity Evropa had been involved with Anticom, a fascist group involved in planning Unite The Right. Most recently, Morgan was involved in an American Identity Movement action in which he and another member dressed as clowns and harassed a Drag Queen Story Hour event in New Orleans.
In addition to sharing close calls and sob stories, members of the 'Dox Support' group traded tips on how to minimize consequences of being outed as a racist. One member recommended paying an "online reputation management company" to create "positive internet real estate occupying the top results" of search engines. Others debated the usefulness of changing their legal name in order to try to apply for jobs under a new identity after being fired for their racism.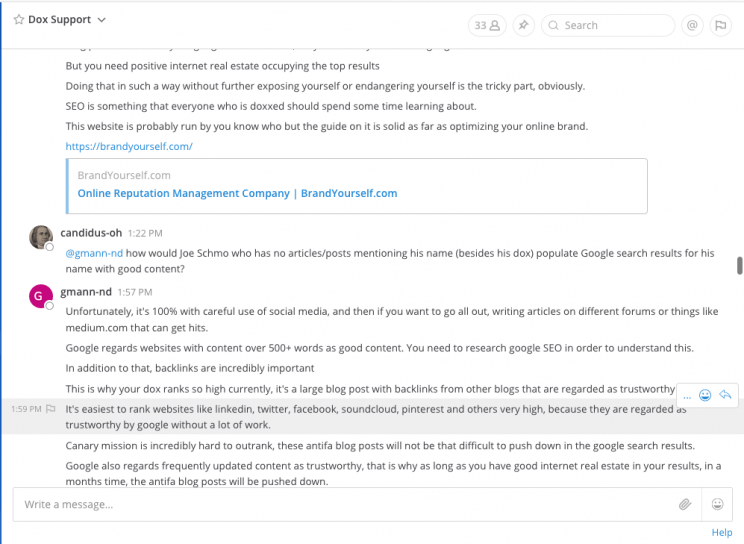 Patrick Casey also offered dubious advice to his followers having to explain their membership to their bosses, saying they could side-step accusations of Nazism by "just tell[ing] him you're against mass immigration and demographic change."
Another member complained about journalists attempting to contact him and his girlfriend and said he filed a police harassment report about reporters trying to reach him for comment. During one meeting held by the 'Dox Support' group, members discussed their desire to explore "legal grounds against Unicorn Riot" for exposing leaked chats from inside their group. Some members also expressed an eagerness to sue Twitter user 'AntiFash Gordon', who exposes the identities white supremacists. They later concluded they did not have a good legal case against journalists and antifascists who had exposed them.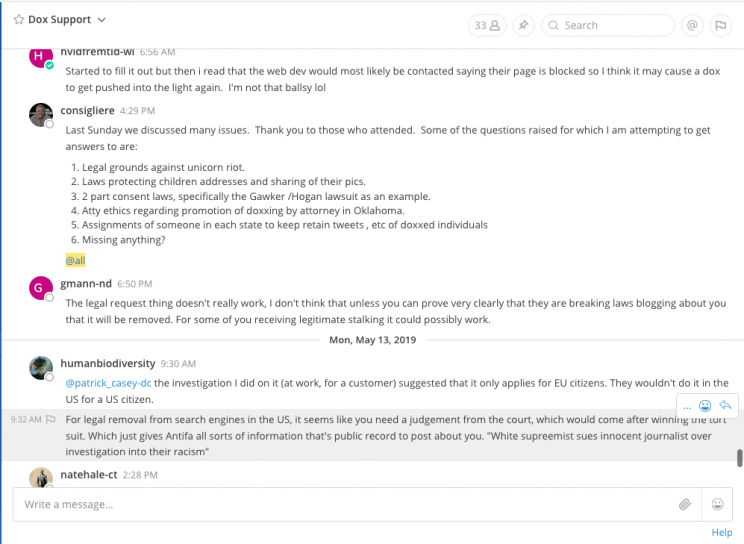 ---
In leaked audio calls obtained earlier this year, IE/AmIM president Patrick Casey announced a new headquarters for the organization in the Washington, DC area. Unicorn Riot has been able to confirm the physical location, which we aren't posting because it also doubles as a private residence.
The AmIM HQ, where Patrick Casey lives, is a rented home in Jefferson County, West Virginia, in an area close to Harper's Ferry. The property also includes a large garage structure that can be used to host dozens of people for speeches and meetings.
The property was used to host several out-of-town members of the neo-nazi group in early July. The group had planned to try to do outreach at the Trump rally in DC on the weekend of July 4th, but cancelled their plans after Unicorn Riot released new leaks of their private organizing chats. The group instead opted to hold a short photo op outside a city building in Alexandria, Virginia.
Patrick Casey and/or other AmIM members living in the a short drive from Harper's Ferry are likely behind propaganda posted in the area earlier this year. Posts on the group's official Twitter account, which have since been deleted, showed off AIM stickers placed in Harper's Ferry.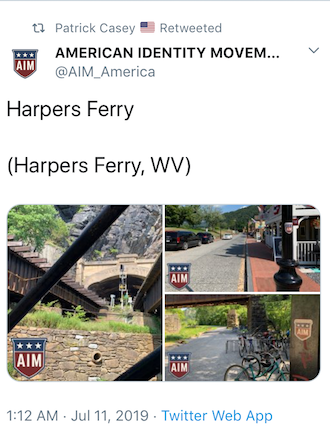 ---
Over six months after the massive Identity Evropa Discord chat leak, and the group's attempt to rebrand itself as the American Identity Movement, formerly anonymous members have continued to be exposed. Kerrick Martin, the group's videographer who posted as 'FACINEMA' on Discord and 'Aimless Nation' on MatterMost, was outed by Eugene Antifa in early September.
Martin is listed as a potential sheriff's deputy recruit in the civil service roster of Franklin County in Washington State. A spokesperson from Franklin County HR told Unicorn Riot that while they were aware of Martin's affiliations, he is still enrolled in their civil service roster, but is not being considered for a sheriff's deputy position at this time.
---
Unicorn Riot's investigative reporting on Identity Evropa:

Unicorn Riot's investigative reporting on Identity Evropa: