Identity Evropa's Neo-Nazi Organizing Plans Revealed In New Leaks
Burkesville, KY – Today, while Identity Evropa scrambles to respond to Unicorn Riot's exclusive leak of their main Discord server, we are publishing additional Discord and Slack chats used by the neo-Nazi group. The latest Identity Evropa leak published today includes several Discord servers such as a "Literature" and "Fitness" chat server. Further leaks from Identity Evropa's Slack workspaces also expose the group's national media coordination as well as regional organizing in North Atlantic areas including New York, New Jersey, Pennsylvania, Connecticut, Virginia, and Washington, DC.
Unicorn Riot is also exclusively releasing the "Leading our People Forward" Slack chat used by Identity Evropa to coordinate their private 2019 yearly conference. IE is also planning to hold a demonstration in a nearby city, possibly Nashville, at the conclusion of their conference on Sunday.
Leading_Our_People_Forward_2019

Leading our People Forward Planning Document. Document has been edited slightly to remove any metadata.
Identity Evropa went to great lengths to avoid disclosing to outsiders the locations of the "Leading Our People Forward" conference taking place at Dale Hollow Lake State Resort Park in Kentucky beginning today. Identity Evropa compartmentalized their conversations in the a "LOPF2019" server, screenshots of which are included in full below. Dale Hollow State Park also hosted last year's IE "Leading Our People Forward" conference in 2018. IE's 2018 conference was infiltrated by reporter Sam Argyle, who wrote about the event for The Outline.
Slack appears to be IE's main and most official communication platform. Slack is an extremely popular productivity tool in North America used by many organizations including schools, non-profits, and workplaces to be more productive. Slack works by creating dedicated "workspaces" for organizations with a variety of tools including sending private messages, voice calling, and public and private chat rooms.
Identity Evropa's use of Slack to coordinate their white supremacist and neo-Nazi tactics reinforces the ubiquity of Slack while Discord is more geared for a younger gaming generation. Most importantly, these Slack channels differ from their Discord servers because Slack appears to be the space that Identity Evropa coordinates their localized planning. Based on leaked chat logs, Identity Evropa no longer seems to trust Discord as a space for sensitive communication.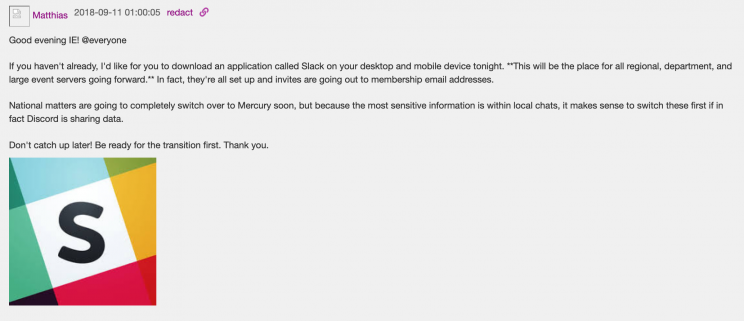 Beyond dedicated Slack channels for the conference, Identity Evropa also creates dedicated workspaces for their regional organizing. It is unclear how long Identity Evropa has used Slack to coordinate their activities, but an open source review of Identity Evropa by Unicorn Riot found up to possibly eight Slack workspaces that may be active recruitment grounds. Unicorn Riot has gained exclusive access to the Identity Evropa North Atlantic planning server and is releasing it as well, below.
Our previous reporting has shown Identity Evropa posting photos of their "activism" on Discord, but it appears that Slack is their main platform for organizing regional meetups, flyering, and facilitating local events. Unicorn Riot was also able to locate an IEActivism.slack.com workspace (at publication time, it is not clear if this Slack workspace is still active).
Reached for a comment, Slack stated to Unicorn Riot:
"Illegal and harmful behavior is a violation of our Terms of Service and Acceptable Use Policy and antithetical to Slack's core values and function, which is to enable teamwork and communication in the workplace. Because Slack is a platform for business communication, our policy is to not look at customer content except where required by law or in limited situations. When violations are brought to our attention, we investigate and may take a range of actions, which in the past has included encouraging users to contact their employers or local law enforcement, contacting law enforcement directly, shutting down teams, and/or closing accounts."

According to Identity Evropa's North Atlantic Slack chat channels, members of the New York City chapter occasionally meet (among other spots) at Captain Lawrence Brewing in Winchester County, NY, while IE members in upstate New York have met at the Lehigh Restaurant in Henrietta, NY as well as Black Forest Adler in Buffalo.
The New Jersey chapter of IE seems to have been meeting at the restaurant Moran's in Hoboken, and Philadelphia metro area chapter has been gathering at the Sproul Lanes bowling alley in Springfield, PA.
According to the Slack chat, members of Identity Evropa's Philadelphia chapter met with Billy Ciancaglini, the GOP candidate in Philly's 2020 Mayor race, on March 4, 2019.  Reached for comment about his alleged meeting with Identity Evropa, Ciancaglini told Unicorn Riot, "Go away. You are sad and pathetic. Get a life."
Discord logs published by Unicorn Riot and reviewed by The Huffington Post also show that Identity Evropa was actively working to organize donations for Iowa congressman Steve King after he came under fire for white nationalist comments. Splinter News has also published an analysis of Identity Evropa's attempts to infiltrate the GOP based on the leaked chats.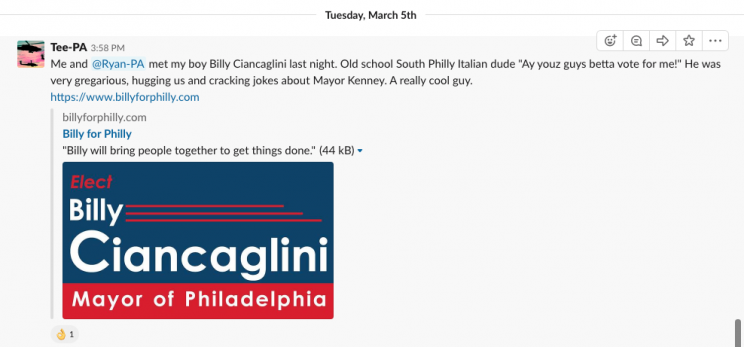 The DC-area chapter of Identity Evropa also includes members in Virginia and Maryland, and appears to be one of their most active chapters. Leaked Slack chats from early 2019 place the DC chapter as meeting at the American Civil War Museum in Richmond, VA, as well as the National Air and Space Museum, the National Building Museum, and the Rosslyn Metro Station in Washington, DC. They also appear to coordinate shooting firearms together at the Hap Baker Firearm Facility in Westminster, MD.
Currently, Slack has no real policy on hate speech and violent coordination defined in their Acceptable Use Policy which all users are required to abide by, but they do have specific rules outlining harm and intent. To date, Slack has not added specific language about policies that define 'harm' or 'harassment' explicitly, and doxxing and hate speech in particular.
While Slack has a specific rule that outlaws Slack being used for a small range of illegal activities they do not have specific rules about white supremacy and neo-Nazi groups. Regardless, Slack seems to have the ability to shut down channels at their discretion and one could argue that Identity Evropa does violate Slack's policies.
Additionally, while previously leaked IE Discord logs going back to two years point to weekly "fireside chats" in which IE leadership addresses members, Unicorn Riot has found evidence of IE using unlisted YouTube videos to organize weekly "activism" check-ins.
Following Unicorn Riot's reporting on hate speech on Discord, many far-right servers have seen themselves shut down or had their users banned. In contrast, Slack's terms of service do not address the issue of harassment or hate speech in dedicated workspaces.
Following our most recent article based on Identity Evropa's leaked national Discord chat server, members chatting on Slack reported that the server had been shut down and all their personal Discord accounts had been suspended.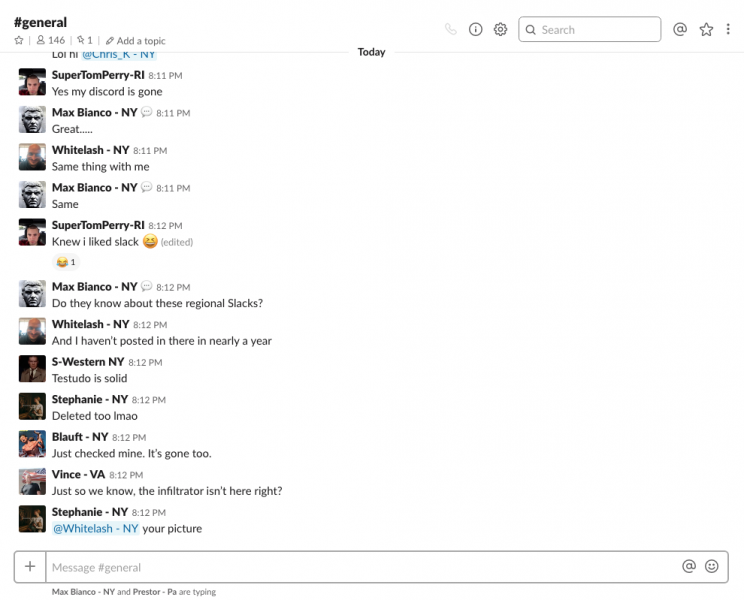 ---
Download Slack screenshots
Leading Our People Forward (LOPF) 2019 Conference
IE Media & Cyberstrike Slack
IE North Atlantic Slack
---
New Identity Evropa Discord logs:
Related Coverage: Neo-Nazi Hipsters Identity Evropa Exposed In Discord Chat Leak
---

Unicorn Riot's investigative reporting on Identity Evropa: