Unanswered Questions Fuel Protests Against Police in Minnesota
Minneapolis, MN – Since Winston Smith was killed nearly two weeks ago in a secretive federal raid, no video evidence or any names of officers involved have been released. Minneapolis has seen another wave of protests not only because Smith was denied due process and executed while he sat in his car, but also due to the complete lack of accountability surrounding his death.
Smith's death, coupled with the murky narratives offered by authorities, has further eroded residents' confidence in state and local police and their federal partners.
This report covers new developments in Twin Cities surveillance, recent task forces like Operation Safety Net, FOIA stonewalling and the latest turns in law enforcement drone policy making.
Winston Smith and Statewide Camera Issues
Accusations of a coverup have fueled protests in the Uptown neighborhood where Smith was on a date prior to being gunned down by the North Star Fugitive Task Force. The Bureau of Criminal Apprehension said the names of the officers will not be released due to the fact that they were serving in an undercover capacity. Releasing the names of officers involved in shootings routinely happens within days of a shooting but in this case, Smith's family and the public may never receive answers. The task force that killed Winston Smith was directed by the U.S. Marshals Service but included various agencies – the two deputies who fired shots are reportedly from the Hennepin County and Ramsey County Sheriff's Offices.
Public mistrust in police accountability has been further eroded by mixed messages given by officials about the federal task force's body camera policy. Police first claimed that no body camera footage of the shooting death of Smith existed because the federal led task force was prohibited from using body cameras. However, the public soon learned this was not exactly the case: "In October 2020, the U.S. Department of Justice issued a Body-Worn Camera (BWC) policy to permit TFOs to utilize body-worn cameras on federal task forces," the Minnesota U.S. Attorney's Office said in a statement.
This inconsistency triggered widespread condemnation from activists and residents but also from local law enforcement partners that were actively working with the North Star Fugitive Task Force until Smith's killing became a public relations liability. Ramsey County Sheriff Bob Fletcher and the Hennepin County Sheriff's Office pointed the finger at the U.S. Marshals Service and subsequently decided to pull their staff from work on the Task Force over the body cam debacle. Sheriff Fletcher even went so far as to put out a statement that claimed the U.S. Marshals, "refused to allow us to wear body cameras." The Minnesota Department of Corrections also withdrew from the Task Force. Authorities also claim no squad car footage of the incident exists, exacerbating concerns about the secretive targeted police killing that has reopened wounds in a city still reeling from the police murder of George Floyd.
(The body camera issue is hardly the only inconsistency surrounding the police killing of Winston Smith. It was first claimed, then later retracted, that Smith was a murder suspect which news outlets regurgitated. Only a few hours later, that narrative crumbled when it was revealed that Smith was not a murder suspect but was wanted on firearms charges instead. Furthermore, law enforcement insist that police opened fire because Smith had fired a gun, while attorneys for a woman present with Smith at the time of his killing say she never even saw a gun on him.)
Body cams are by no means an end-all-be-all solution, and the issues surrounding transparency over their use extend beyond just the Twin Cities. A recent report by KSTP-TV shows the selective decisions in how police deactivate recordings meant to hold them accountable and that it is emblematic of law enforcement throughout the state. Aitkin County sheriffs' deputies pulled over the wrong car and hid the fact that they had made a mistake. KSTP reports, "every officer on the scene who had a body-worn camera recording the incident either turned it off or muted the audio at some point during the traffic stop."
KSTP as a network routinely takes a very pro-police stance in their reporting and prominent reporters at the outlet often work hand-in-hand with police in the crafting of their stories. If even a TV network with an ardently pro-police position such as KSTP is investigating issues with police body camera misconduct, that serves to show how widespread the corruption extends.
No Body Cameras for Drone Pilots
Hennepin County Sheriff's Office policy draft (PDF) states that drone pilots' "Body Worn Camera (BWC) must be off and removed during operation. The flight compass will not work due to interference from the camera." Due to the drone policy forbidding body cameras, the public and the courts can't observe the conduct of deputies operating drones – they can only see the footage from the drone itself.
Currently, state law streamlines the use of drones by law enforcement without a warrant and offers a number of exemptions that can be easily plugged into agencies' overall usage reports.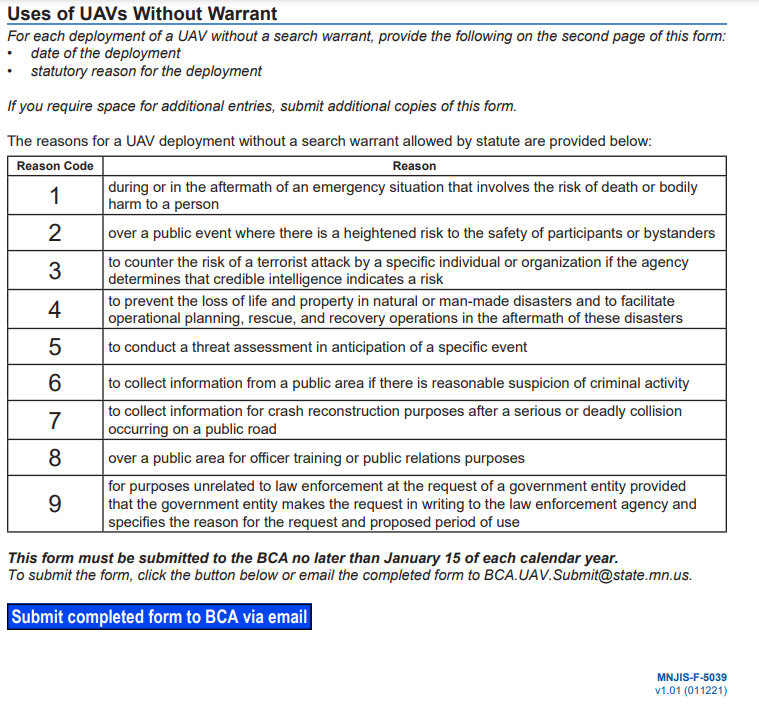 A total of 93 police agencies in Minnesota own drones, according to the report. Exemptions to warrant requirements for drone operations include things like "an emergency situation", and "officer training or public relations" as well as vague conditions like "to collect information from a public area if there is reasonable suspicion of criminal activity." ("Reasonable suspicion" is utilized as a catch-all justification in other surveillance operations in violation of state "Tracking Warrant" provisions. )
Data is now online and shows widespread use of drones without warrants in the State of Minnesota. https://t.co/ENukErPwbF pic.twitter.com/aIivbPSno7

— Sam Richards (@MinneapoliSam) June 15, 2021
Police Cover Badge Numbers, Withhold Public Records
Although the Minneapolis Police Department (MPD) was apparently not involved in the execution of Winston Smith, mounting concerns with the lack of transparency and accountability from the MPD fuel ongoing unrest in Minneapolis. During police responses to activists who have been regularly taking space and blocking traffic in Uptown to call attention to the death of Smith, MPD officers routinely cover up their badge numbers and refuse to provide them upon request — a direct violation of official police department policy.
This one was asked 3 dozen times for his badge number. Folks even asked his supervisor for it since it was covered. No response. pic.twitter.com/s6Z5X1KLoX

— Whittier Cop Watch (@whittcopwatch) June 16, 2021
The MPD Policy and Procedure Manual (April 2021 edition PDF) requires officers to "provide name and badge number when requested, preferably in writing or on a business card." The policy manual also requires "sworn employees… give their name and badge number to any person upon request."
The same document also explicitly bears out that these minimalist transparency measures are to be extended during the deployment of riot police as well and requires, "the employee's badge number [to be] placed on the front and rear of each [riot] helmet."
An activist who goes by Plant Daddy was denied this information from unidentified officers deployed to recent protests, and turned to Minneapolis City Hall for follow up. Data requests were filed in order to reveal their identities but those requests were met with similar obfuscation. "You have not requested government data that is maintained or provided by the City of Minneapolis so your request will remain closed," officials wrote in an email response to one data request. Public records laws in Minnesota are relatively strong compared to most states, but the Minneapolis Police Department frequently denies public records requests without proper cause or explanation, violating state law. This lack of transparency over even basic items such as badge numbers, while ignored and brushed aside by Minneapolis officials, has caused investigations into departments in other states.
Activists are not the only ones facing outright denials when seeking public records from police in the Twin Cities — journalists with mainstream media are also being barred from publishing what is rightfully public information. When Susan Du of the Star Tribune asked numerous law enforcement entities who were part of Operation Safety Net for information about their supply of "less-lethal" riot munitions, she was met with blanket denials. Included in the list of agencies denying her records request was the Minnesota Department of Natural Resources, who previously provided Unicorn Riot with a trove of data on the subject which would seem to be more in-line with a correct interpretation of state public records laws. Instead, when Du asked the DNR and partner agencies for similar information all she was sent was a brochure from police vendor Safariland, or her records requests were denied entirely.
Susan Du told Unicorn Riot, "not a single agency listed as a member of Operation Safety Net fulfilled my data requests — most cited the security exemption to state law. Only the incident commander in Brooklyn Center, the Hennepin County Sheriff's Office, responded with a general Safariland catalogue. A spokesperson for the Metro Transit Police Department said the agency did not want to inform protesters how far away they should stand to avoid being struck."
Lack of Transparency over Aerial Surveillance
Following the publication of over two hours of video captured by the Minnesota State Patrol's SR-22 spy plane by Unicorn Riot, MSP has blocked further requests for footage gathered by the surveillance aircraft. Multiple requests for footage captured by State Patrol aircraft including surveillance of protests in Brooklyn Center after the police killing of Daunte Wright as well as protest actions in other areas of the Twin Cities have since been met with denials.
This obfuscation from the State Patrol started while Operation Safety Net – the branded campaign for multi-agency police operations during the Derek Chauvin trial – was still active. It's unclear if the clampdown on information was part of the overall strategy of Operation Safety Net but the pattern is quite clear. Although the State Patrol is the "responsible authority," they now regularly point data requesters to file requests for their records with other law enforcement entities. This shifting of responsibility was the case when Unicorn Riot sought footage from State Patrol helicopters as they circled Brooklyn Center. Brooklyn Center is outside the jurisdiction of the Minneapolis Police Department, however, requests for State Patrol footage from the helicopters over protests in Brooklyn Center were referred to Minneapolis.
Transparency And Trust
While Minnesota has some of the strongest public records and transparency laws in the United States, police routinely violate these statutes, claiming the right to operate in secrecy. While The Star Tribune has received some flack from activists over their seeming deference to police information sources, particularly over their labeling of Winston Smith as a "murder suspect," a claim the paper took five days to correct and apologize for, even they are fed up with police violations of records law. The paper is currently suing MPD, claiming the Department "uses a linguistic loophole to hold back records that should be public under state data law."
Struggles for transparency often end in lawsuits, sometimes ones that result in new government policies. The strategy of some in power seems to be to deter reporters and concerned citizens by making it cumbersome and difficult to obtain public records (or in the case of Winston Smith's killing, any facts at all), in hopes that people just give up.
Cover composition by Dan Feidt.
---
Follow us on X (aka Twitter), Facebook, YouTube, Vimeo, Instagram, Mastodon, Threads, BlueSky and Patreon.
Unicorn Riot's Coverage of Winston Smith:
Please consider a tax-deductible donation to help sustain our horizontally-organized, non-profit media organization: