Patriot Front Nazis Who Destroyed Arthur Ashe Mural Identified
Richmond, VA – New evidence identifies two men behind the racially-motivated vandalism of a mural portraying Black tennis legend Arthur Ashe last October.
Previously unpublished photos and videos, leaked from inside the neo-nazi organization Patriot Front, show members of the group destroying several paintings in and around a pedestrian tunnel in Richmond's Battery Park.
Patriot Front members have been tied to at least 30 acts of destruction of public art honoring racial minorities and LGBTQ+ people. Members are often encouraged to commit hate crimes in order to fulfill quotas of mandatory "activism" tasks.
---
Content Advisory: Racist Language
---
This report is part of our series on Patriot Front. Additional resources: 400GB+ of Leaks • Guide to leaked media files • 17 hours of leaked meetings • Chat records on our DiscordLeaks platform • Members Exposed in Parking Lot Clusterf*ck • Our Far-right Investigations Desk page • 2018 Report on Patriot Front
---
Born and raised in Richmond, Arthur Ashe became the first Black tennis player to win at the Wimbledon Cup, the US Open and the Australian Open; he was also an advocate for treatment of HIV/AIDS. The Battery Park mural in Ashe's honor, unveiled in 2017, was painted by artist Sir James Thornhill after working with local community members as part of the U.N.I.T.Y. Street Project.
According to media reports, the mural was vandalized with Patriot Front's stencil designs late on the night of Oct. 20, 2021, discovered by local residents and reported to police the next morning.
Richmond Mayor Levar Stoney and Police Chief Chief Gerald M. Smith denounced the vandalism in official statements, both saying "hate will not be tolerated." U.S. Rep. Abigail Spanberger (D-VA7), who represents Richmond in Congress, also denounced the incident in a tweet, noting that "Patriot Front is a racist, antisemitic, white nationalist group." Local resident Will Moore told ABC8 News at the time that he believed "they're targeting this neighborhood because of the mix of people."
The mural was restored in May 2022 after being repainted by Thornhill.
---
Patriot Front members Nathaniel J. Noyce of Glen Allen, VA and Thomas Dail of Wake, VA (both age 24) are clearly seen spray painting over the mural in the leaked footage, wearing COVID masks and blue latex gloves.
The masks did not cover much of their facial features. Noyce and Dail are also seen in police body camera videos from a Dec. 4, 2021 traffic stop uncovered by Unicorn Riot in which both men identified themselves by name to police detaining them in Fort Washington, Maryland. Noyce was also filmed vandalizing the mural while wearing a sweatshirt he previously wore in a 2019 family photo posted to Facebook.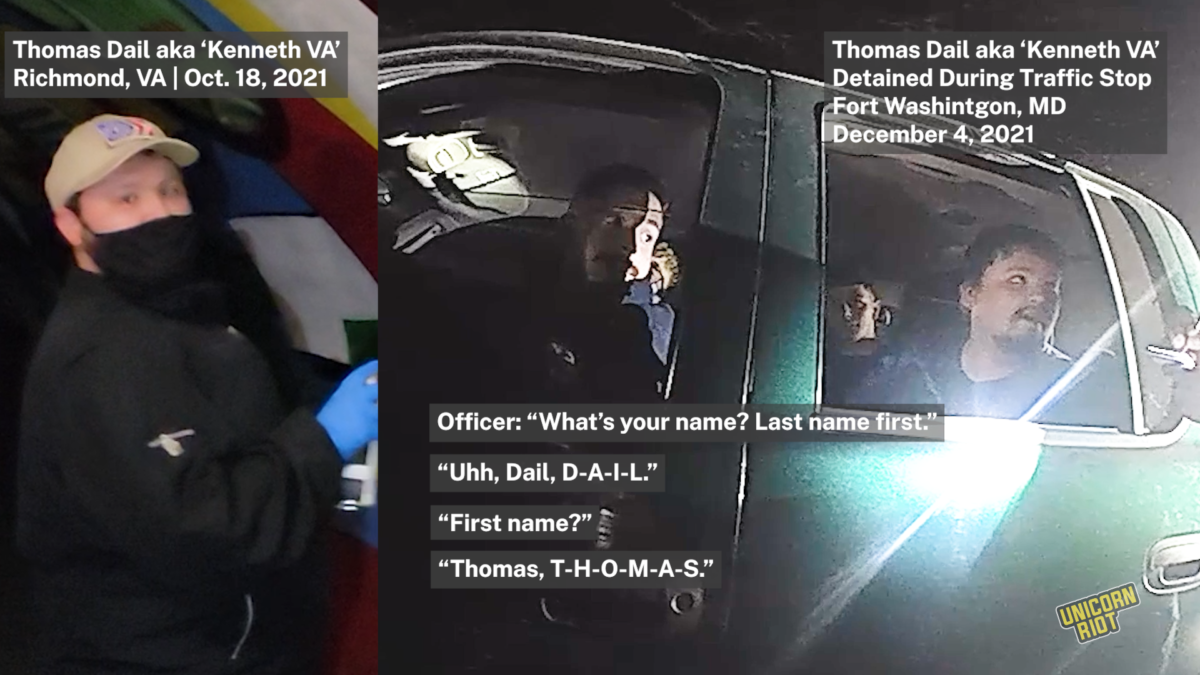 ---
---
Nathaniel Noyce uses the alias 'Roger VA' inside Patriot Front while Thomas Dail goes by 'Kenneth VA.' (Patriot Front members are assigned fake names affixed to the initials of their home state.) Unicorn Riot confirmed both aliases via Patriot Front videos and chat logs leaked earlier this year. Noyce and Dail are seen without masks while being called by their aliases "Roger" and "Kenneth" in several leaked videos.
The video of the Ashe mural incident was taken by a currently unnamed Patriot Front member using the alias 'Christopher VA.' From behind an Android smartphone camera, 'Christopher VA' directed various aspects of the vandalism while cracking jokes and using racial slurs.
The videos show Noyce and Dail began by spray painting over several text boxes inside the pedestrian tunnel that memorialized Ashe's life story and accomplishments. After whiting out many of the boxes they proceeded to paint Patriot Front's official stencil designs over the destroyed text.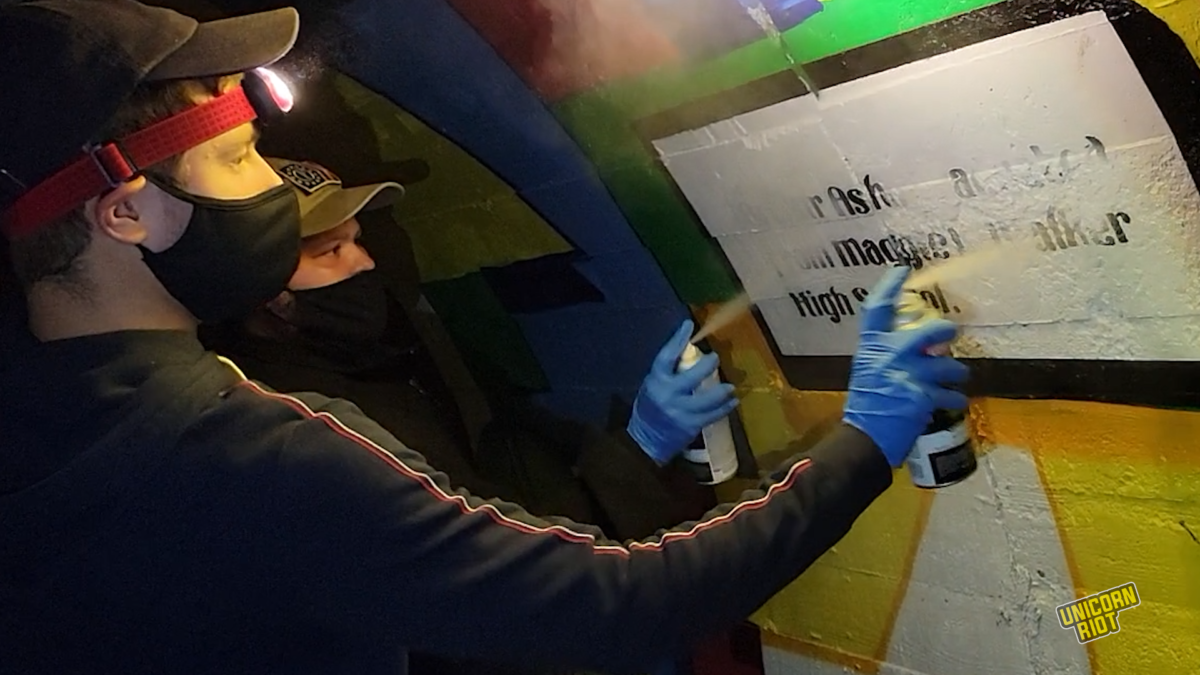 Moving to an area just outside the tunnel entrance, Noyce and Dail dragged a metal gate that had been blocking a large painting of Ashe's face out of their way so that they could paint over it. As Noyce and Dail began to remove spray cans from a backpack, 'Christopher VA,' the cameraman recording them, said "that fuckin' n****r sucks," apparently in reference to Ashe.
After covering over the mural of Ashe's face with white paint, Noyce and Dail applied several more stencils to the whited-out area. As they were finishing, 'Christopher VA,' the member filming them, commented that Ashe was "buckbroken." The word "buckbroken" refers to the sexual abuse of Black slaves by white men, and has become a term of fascination in the online racist subcultures that Patriot Front recruits from.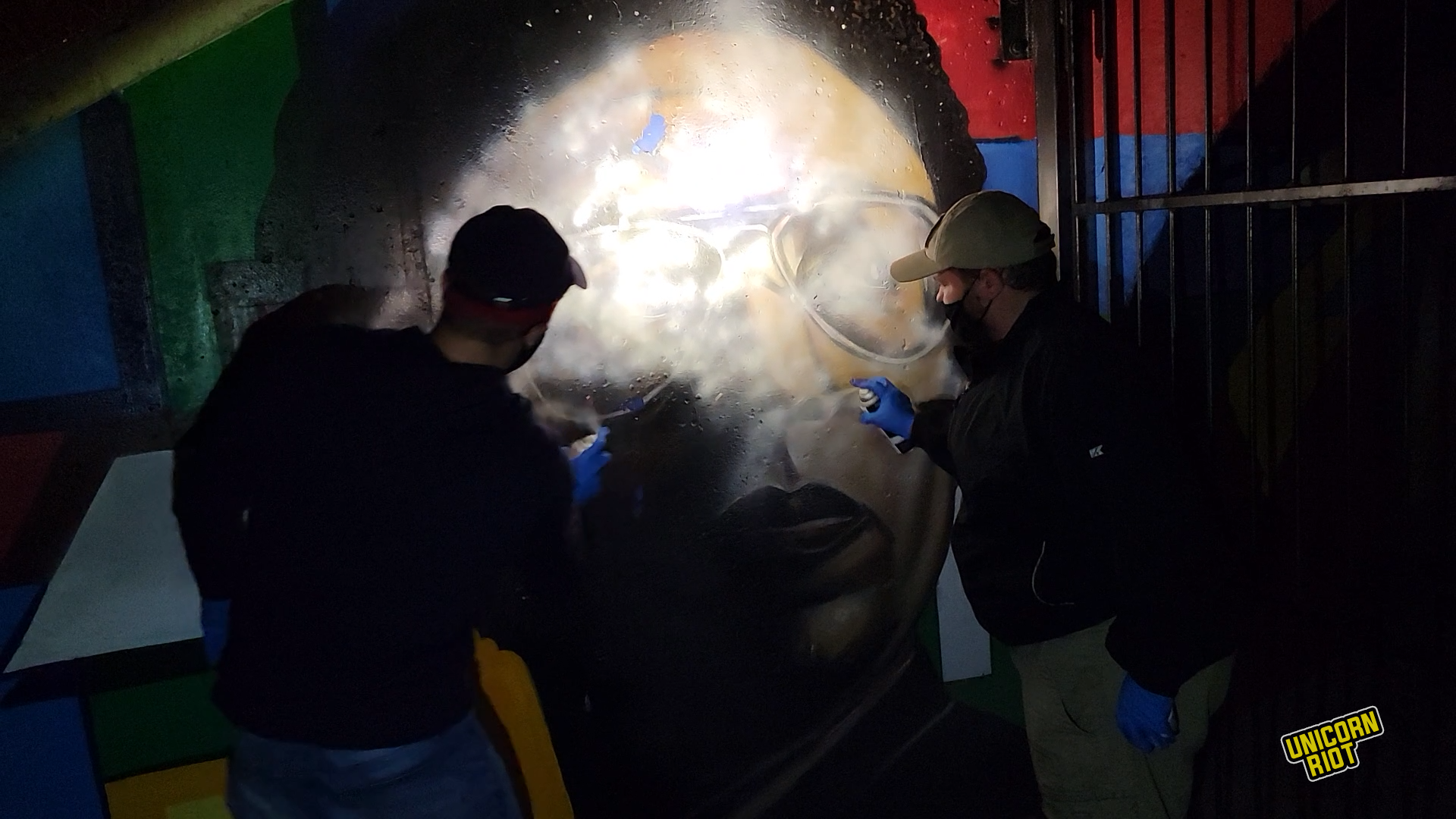 The young fascists then moved onto another painting of Ashe in the same area, a taller profile showing Ashe holding the Wimbledon Cup. Noyce and Dail painted over the second mural as well, with Noyce reaching up on his tiptoes to be able to spray over Ashe's face.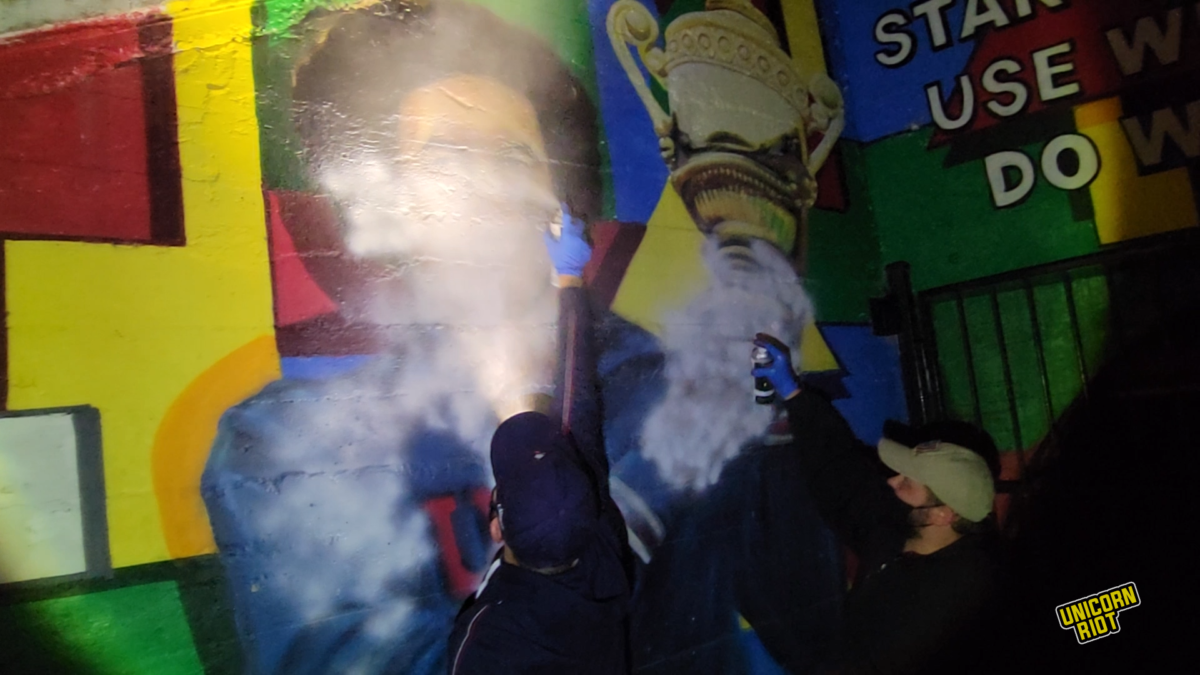 Clearly afraid of being caught in the act, the racist vandalism party briefly stopped painting and turned their flashlights off as a helicopter passed overhead, then quickly resumed when it became clear the helicopter was not watching them.
After they finished covering both paintings of Ashe with fascist propaganda, the three men walked back past the damaged areas of the murals to record video for use in Patriot Front's online propaganda.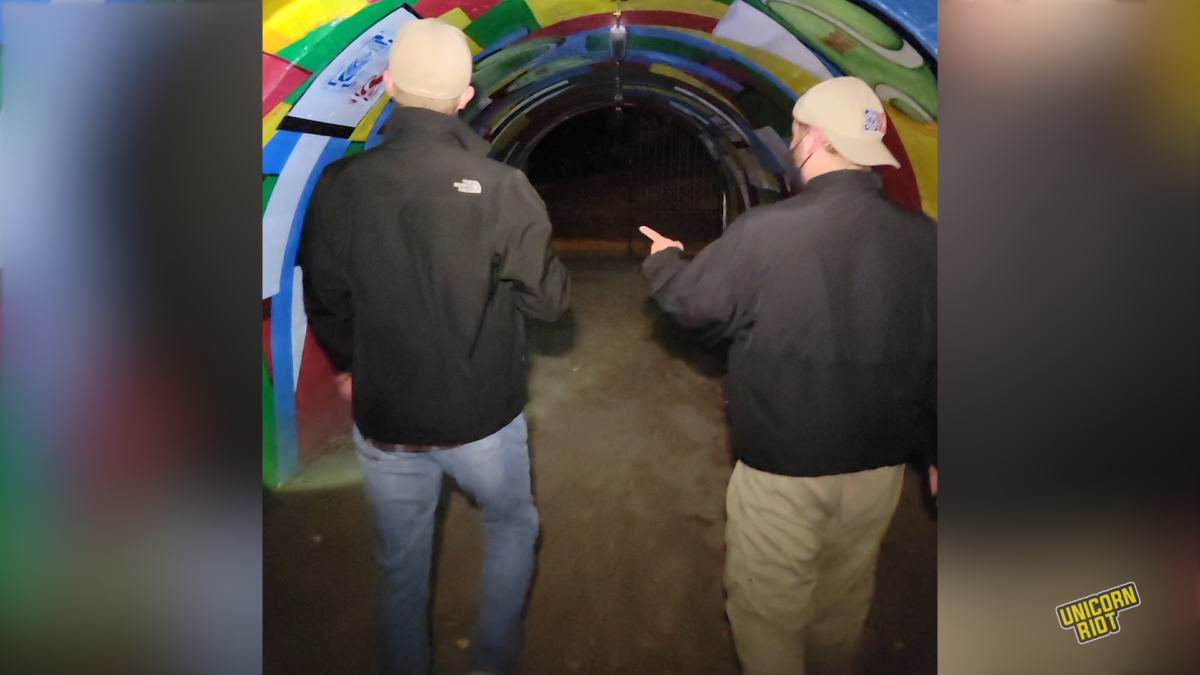 'Christopher VA' and Thomas Dail then posed with their arms crossed in front of destroyed portions of the mural.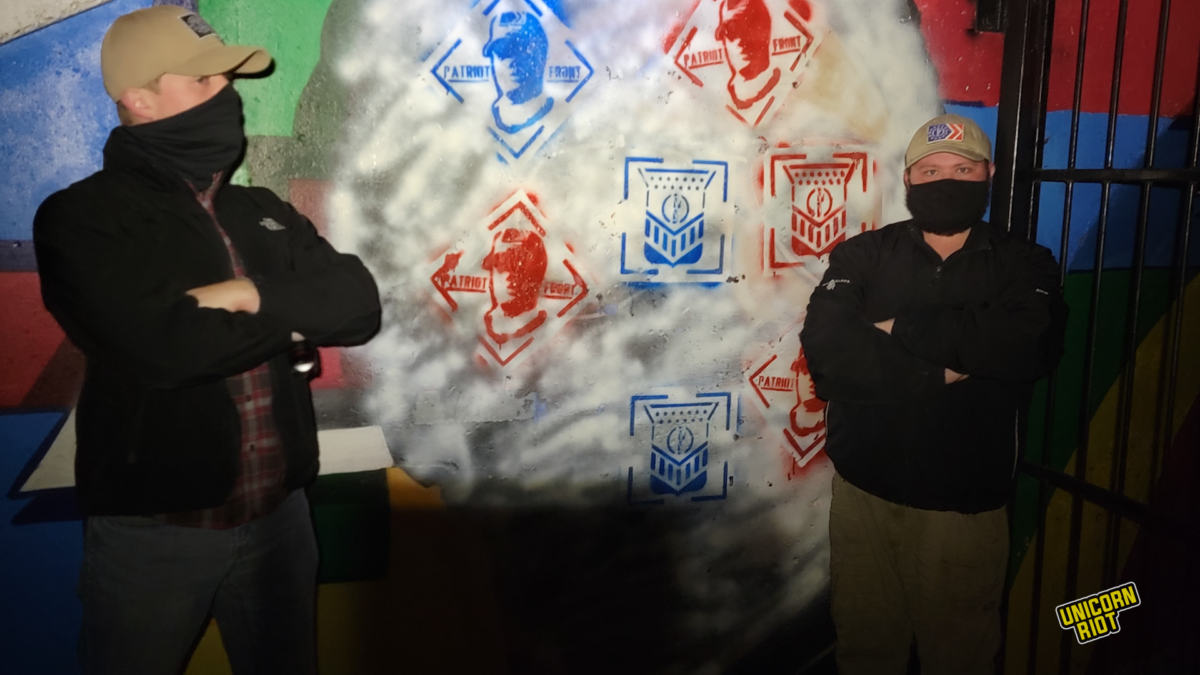 Video taken slightly later that night shows Noyce and Dail spray painting more Patriot Front stencils onto concrete walls underneath a bridge by a river. An additional photo included in leaked Patriot Front media archives from that night shows their shoes stepping on a pro-diversity yard sign and a transgender pride flag, which were likely stolen as "trophies."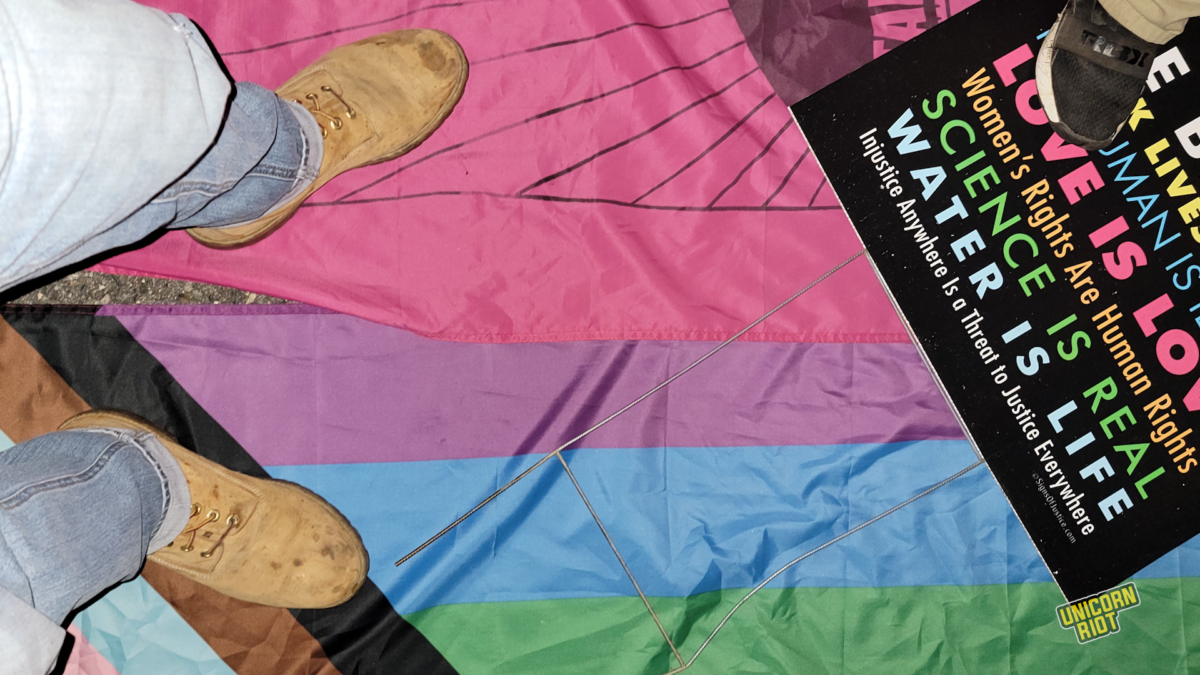 Nathaniel Noyce, Thomas Dail and 'Christopher VA' are all part of Patriot Front's Network 9 chapter which covers Virginia, Maryland and Delaware. Notes from an Oct. 12, 2021 meeting of Network 9 shows that local Patriot Front members were listed as "available" or "unavailable" for a list of tasks including "Richmond Stencils" – likely a reference to the destruction of the Ashe mural. (The leaked video shows that Noyce and Dail painted at least 22 copies of Patriot Front's official stencil designs over the artwork they destroyed in Battery Park.)
---
Media files and notes on metadata
File names and exif data for the leaked videos and photos display the date of Oct. 18, 2021 while media reports place the vandalism on the night of Oct. 20, 2021. This may indicate a discrepancy in times as indicated on the files.
Exif data for the Microsoft Word .docx document that mentions the plan for "Richmond Stencils" shows the file was created by a computer user profile named "Ganz." "Ganz" is likely short for Paul Michael Gancarz, the leader of Patriot Front's Network 9 chapter who uses the alias 'ND – Samuel VA' in leaked chats.
The photos taken by Patriot Front during the vandalism of the Ashe mural were shot from a Samsung Galaxy S21 Ultra (SM-G998U) smartphone. Metadata from the video files does not specify the device of origin but indicates the files were created on a device running Android version 11, which is the same edition of the operating system that ships with the Samsung Galaxy S21 Ultra.
Unicorn Riot Vault file downloads
---
---
The Perpetrators
Patriot Front Member Nathaniel J. Noyce, 24, of Glen Allen, VA (Alias: 'Roger VA')
Nathaniel J. Noyce ('Roger VA') was first identified by Unicorn Riot after police pulled over his truck containing Patriot Front shields on Dec. 4, 2021.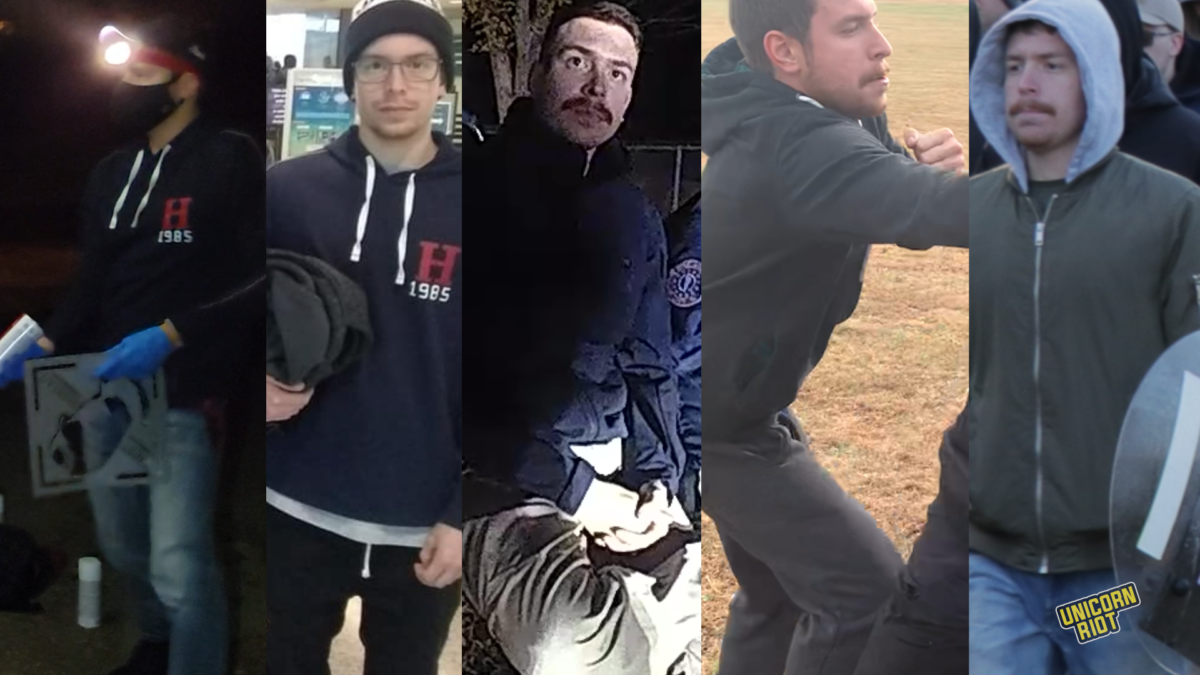 Noyce works at his family's motorcycle shop Seasoned Cycles in Richmond, VA. In Patriot Front's leaked chat server, he posted about going to jiu-jitsu and muy thai martial arts gyms in the Richmond area. He also shared casual antisemitic rhetoric about "shekels" and racist sentiments like "never let the 'minorities' take our history or culture."
Noyce is seen in leaked footage of a Nov. 20, 2021, training in a park in Richmond, VA where Patriot Front members practiced for physical confrontations with anti-racist counter-protesters at their rallies.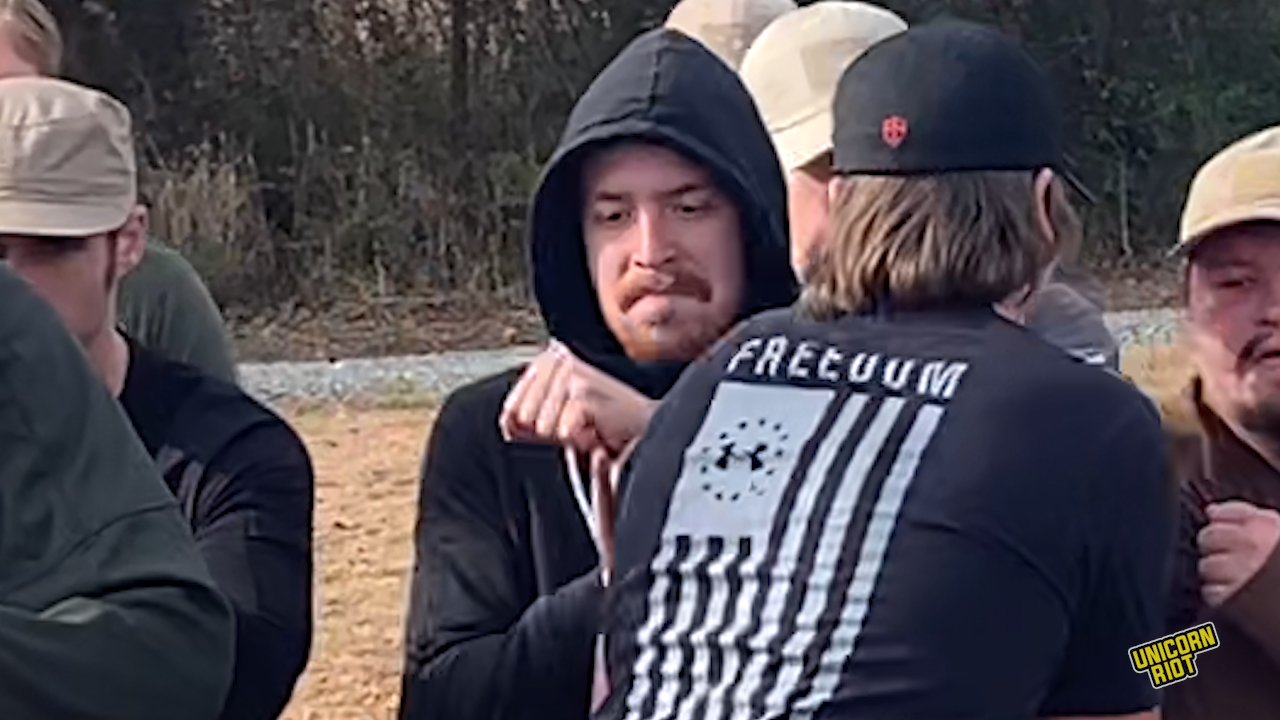 He was also assigned to Patriot Front's 'shield team' for their Dec. 4, 2021 march in D.C. However, he failed to make it to the event on time, which led to him being pulled over and identified by police later that night.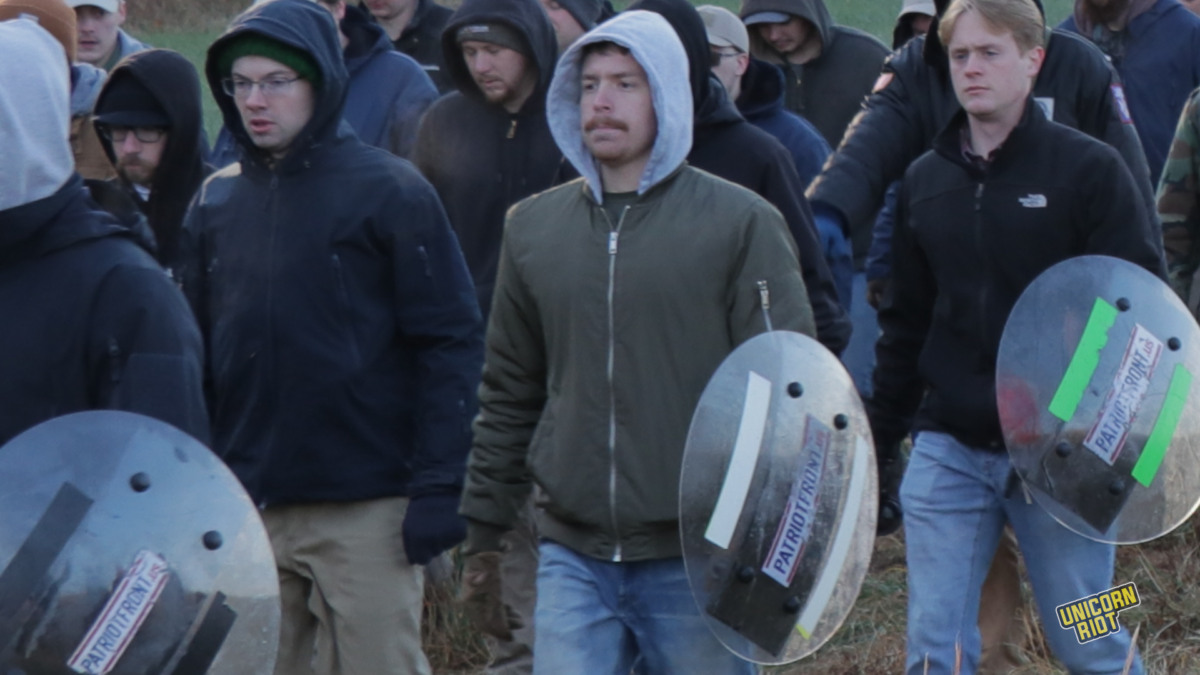 In a Nov. 24 message Noyce promised to bring "a loaded car with a table and all our trophies" to the D.C. event, referring to stolen anti-racist yard signs often collected by Patriot Front members. Four days later on Nov. 28, Noyce's fellow chapter member Aedan Tredinnick aka 'Vincent VA' (now a student at Old Dominion University) posted a picture of an apparently stolen Black Lives Matter yard sign, calling it a "trophy."
---
Patriot Front Member Thomas Dail, 24, of Wake, VA (Alias: 'Kenneth VA')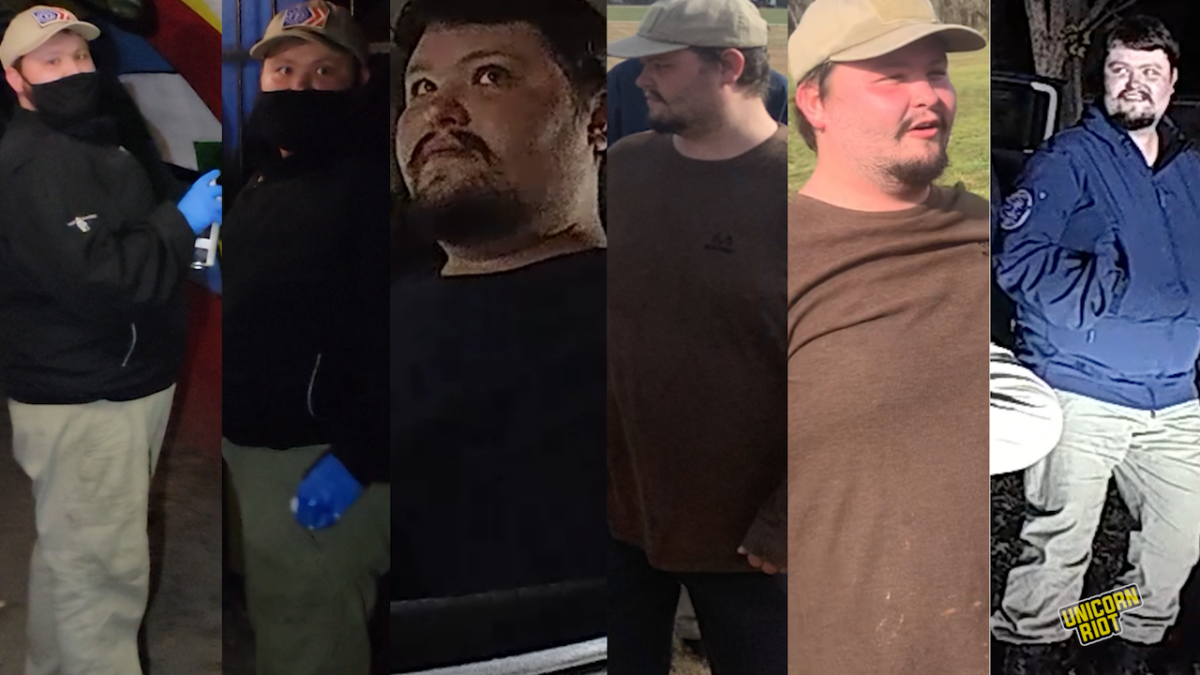 Thomas Dail aka 'Kenneth VA' told police during the Dec. 4, 2021, traffic stop that he lives in the town of Wake in Middlesex County, VA. His leaked chats include one message that he signed with "Hail Victory," the English translation of "Sieg Heil." He also posted about coordinating with the rest of Patriot Front's Network 9 chapter to put up neo-nazi propaganda in Virginia and nearby states.
Dail can be seen practicing Patriot Front riot shield marching formations in leaked videos of his chapter drilling in a park in Richmond on Nov. 20, 2021. Patriot Front Network 9 Director Paul Michael Gancarz ('ND – Samuel VA') can be heard in the footage addressing Dail as "Kenny," matching his 'Kenneth VA' RocketChat username in leaked chats.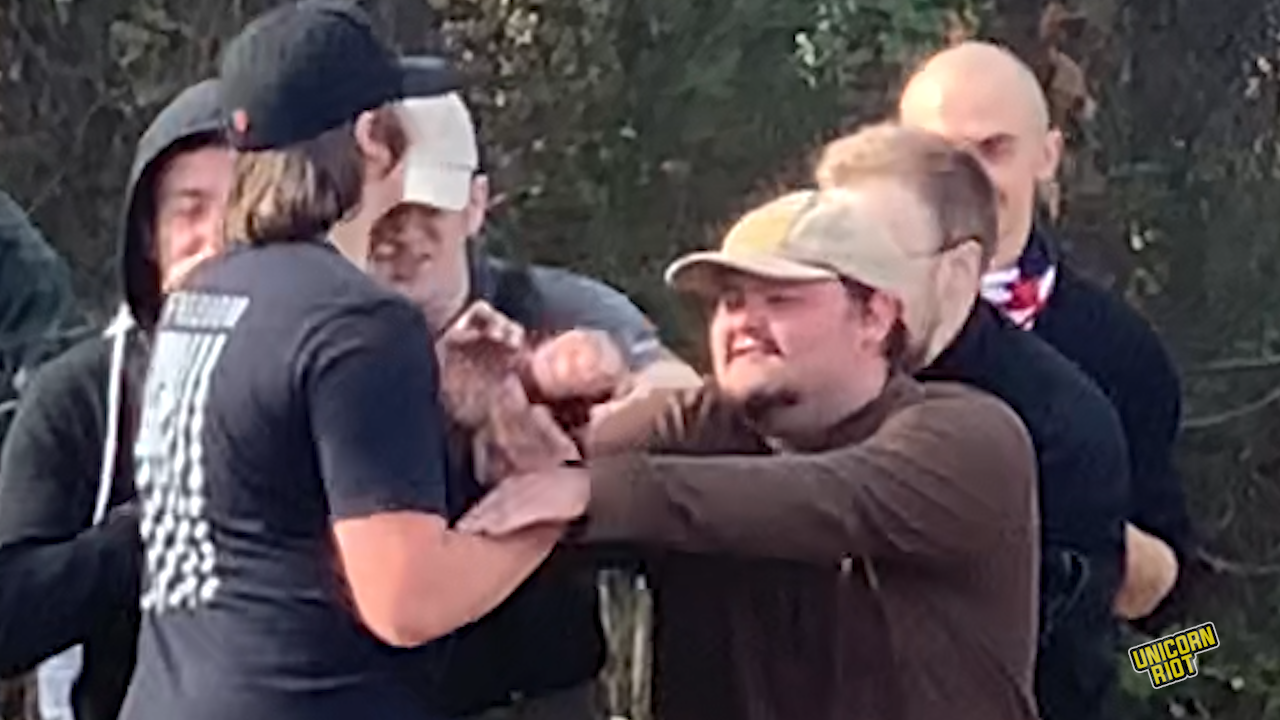 ---
Patriot Front Member With Alias 'Christopher VA' (Real Name Currently Unknown)
The Patriot Front member who referred to Arthur Ashe as "that n****r" and "buckbroken" as he filmed Noyce and Dail destroying the mural is briefly addressed by Noyce as "Chris" in the leaked footage.
This "Chris" appears to be a Patriot Front member with the alias 'Christopher VA,' who can be seen in leaked training videos sporting the same hair color and sideburns seen in the Richmond mural footage. A photo of 'Christopher VA' holding a Patriot Front riot shield also appears to show him wearing the same black North Face sweater worn by the culprit in the Richmond mural videos.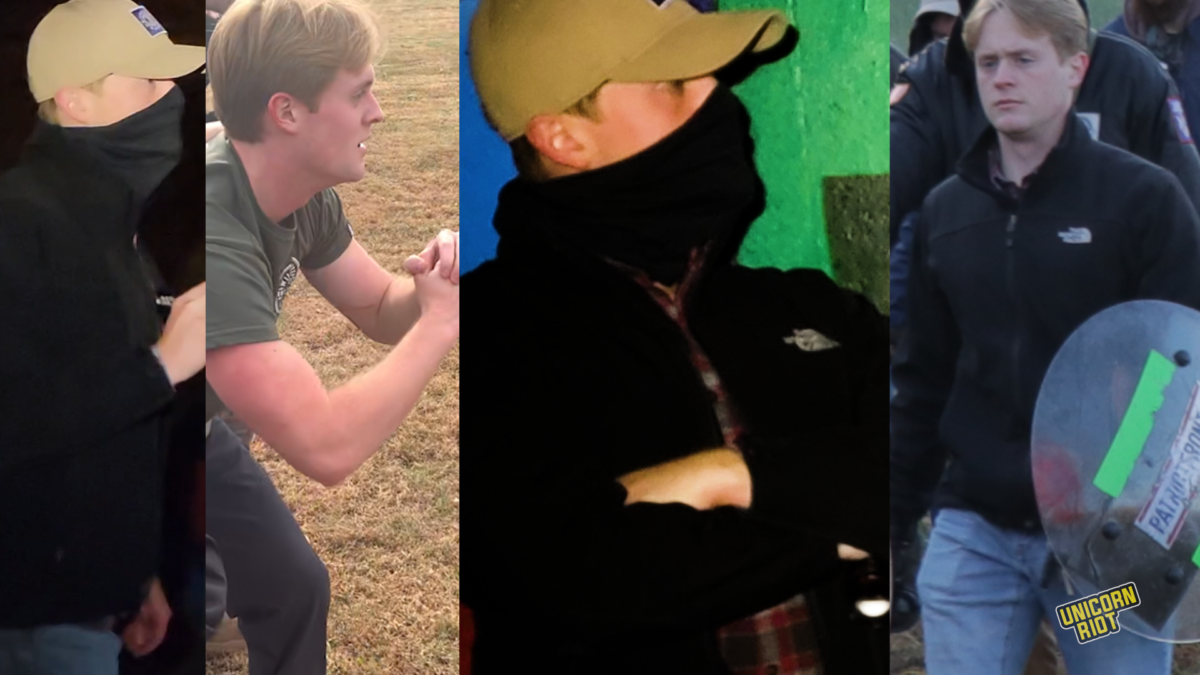 Additional comparison of leaked photos of the Ashe mural's destruction further implicates 'Christopher VA' as the boots worn in the Ashe mural photos appear to be the same boots he had on during Patriot Front drilling practice in Richmond on Nov. 20, 2021.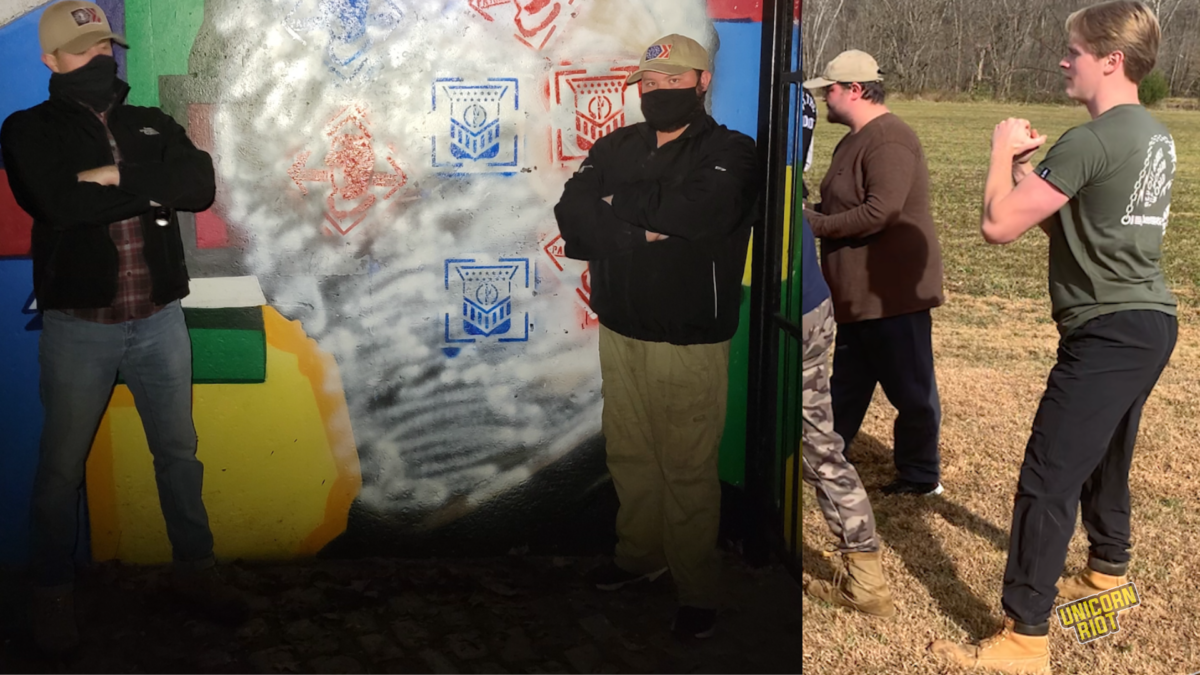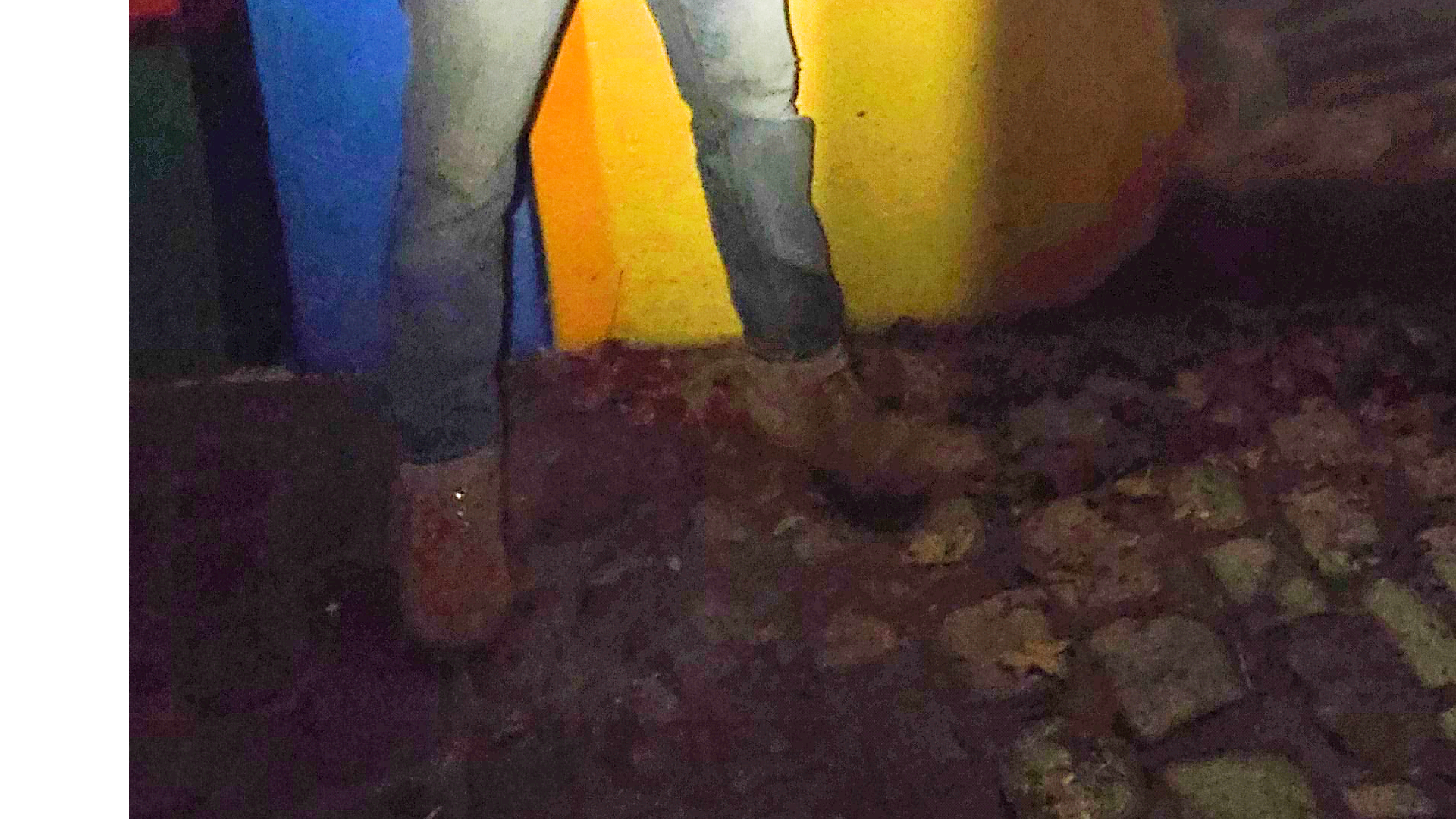 Leaked messages sent by 'Christopher VA' in Patriot Front's RocketChat server show that his involvement in apparently illegal acts of racist harassment was not limited to the Ashe mural. On Nov. 23, 2021, he posted a picture of a stolen Black Lives Matter yard sign and commented about his potential legal liability – "this was by far my most risky one yet, took many days of scouting." Three weeks later on Dec. 15, he posted a picture of himself stepping on another two stolen yard signs.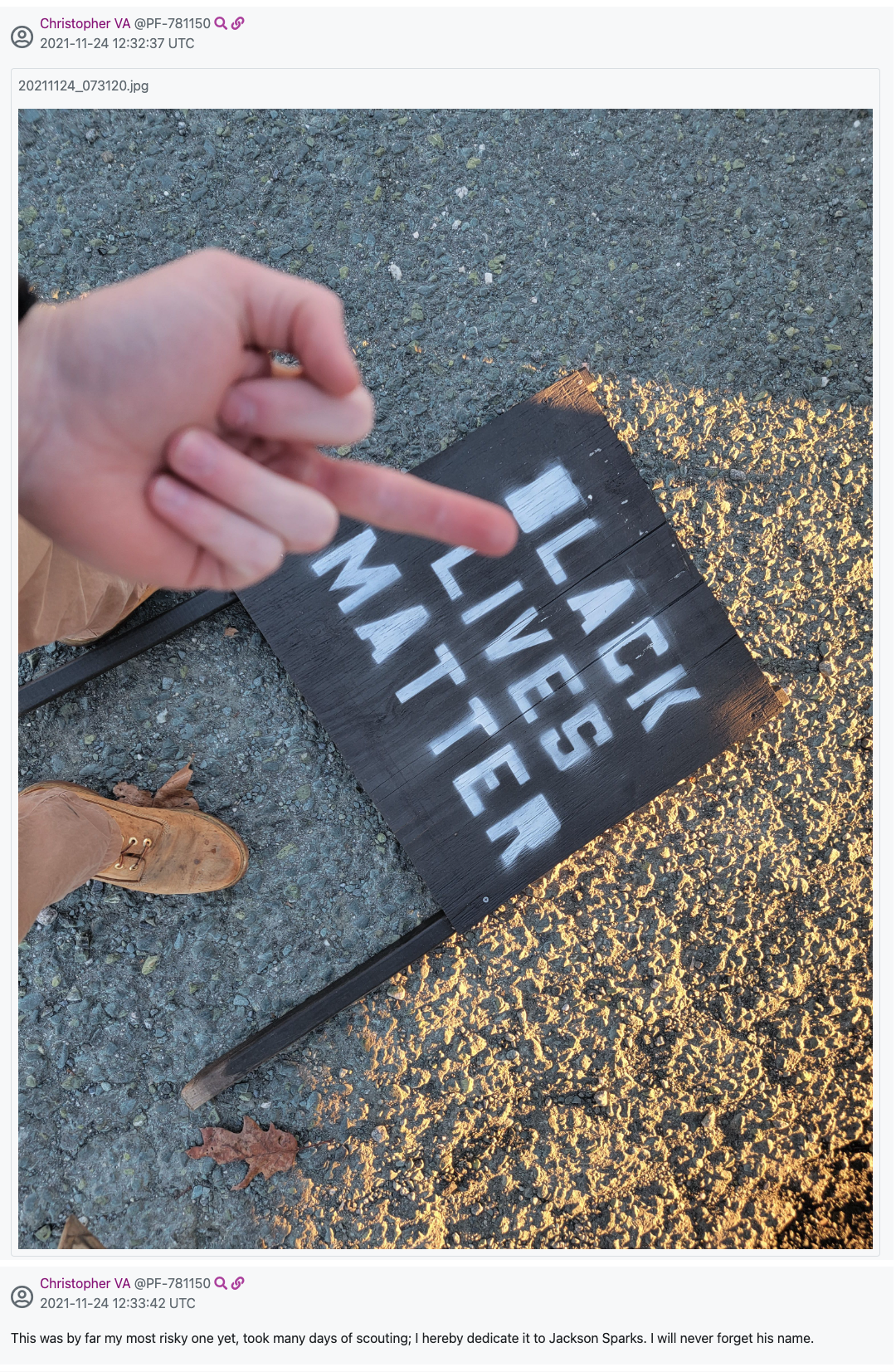 Leaked chats sent by 'Christopher VA' indicate that he enjoys a position of trust and responsibility within Patriot Front. Acting as a "travel party leader" while carpooling with fellow Network 9 members to Patriot Front's national event on the weekend of Dec. 4, 2021, 'Christopher VA' claimed to have been "exempt from the security checkpoint" upon arriving at the fascists' rented campsite. He has also been involved in Patriot Front's recruitment process, helping interview new recruits
---
Leaked chat logs and voice meeting recordings show that the dozens of acts of discrimination-motivated vandalism involving Patriot Front members are not isolated incidents. Members are often directed by leadership to undertake illegal acts in order to harass, intimidate and upset non-white, Jewish and LGBTQ+ people in areas where Patriot Front chapters operate.
Patriot Front leader Thomas Rousseau requires that targeted vandalism of gay pride or pro-diversity murals only be carried out after first coordinating with himself or a Patriot Front Network Director:
"So when it comes to large-scale mural cover ups, make sure that you are always consulting a Director for something like that, or you are consulting me. It is something, you know, generally as the activism is, becomes higher in risk or scale, the more you need to get consultation. Things like billboards, big murals and stuff like that, you want to be careful, you want to run it by me."

– Patriot Front Founder and Leader Thomas Rousseau implicating himself and his Network Directors in his group's numerous hate crimes during a leaked all-hands meeting on December 10, 2021. [Files: .mp3 | YouTube | .pdf Transcript]
---
Title image by Dan Feidt.
---
Please consider a tax-deductible donation to help sustain our horizontally-organized, non-profit media organization: