Reportbacks From the 646+, Detained During Minnesota's Largest Mass Arrest
Minneapolis, MN – Nearly a year and a half has passed since the largest mass arrest in Minnesota history and many are still facing petty charges. On November 4, 2020, a massive police operation arrested at least 646 people on Interstate 94 during a post-election-day protest calling for then-President Donald Trump to not 'steal the vote.' A year to the day after the mass arrest, November 4, 2021, Unicorn Riot heard from five of the arrestees caught in the mass 'kettling' operation.
Nationwide protests on November 4, 2020, dubbed the National Day of Protest for a People's Mandate, were organized by the National Alliance Against Racist & Political Repression and demanded action against what they called a "triple pandemic" of racism, COVID-19, and economic recession.
Protesters had warned of election tampering. A week prior to the protest, Trump spoke openly of his intention to prevent legitimate votes from being counted after election night. On election night, Trump prematurely declared winning in three states. Similar events had many fearing a potential coup by Trump. As America learned from the events of January 6, 2021, these warnings had merit.
The Minneapolis version of the 'The People's Mandate' protest started outside MayDay bookstore on the West Bank, with nearly 1,000 people from a wide variety of leftist organizations demanding Trump accept the results, and demanding a "progressive agenda" from Biden.
After hearing speeches, the ethnically diverse crowd marched a few blocks south on Cedar Avenue and entered Interstate 94 East, with the known aim to get off the interstate a short while later at the 25th Avenue and Riverside exit. Instead, the crowd was 'kettled' by masses of police who did not issue dispersal orders or give protesters any chances to leave. Typical police procedure and training for crowd control calls for three dispersal orders before declaring an unlawful assembly at a protest.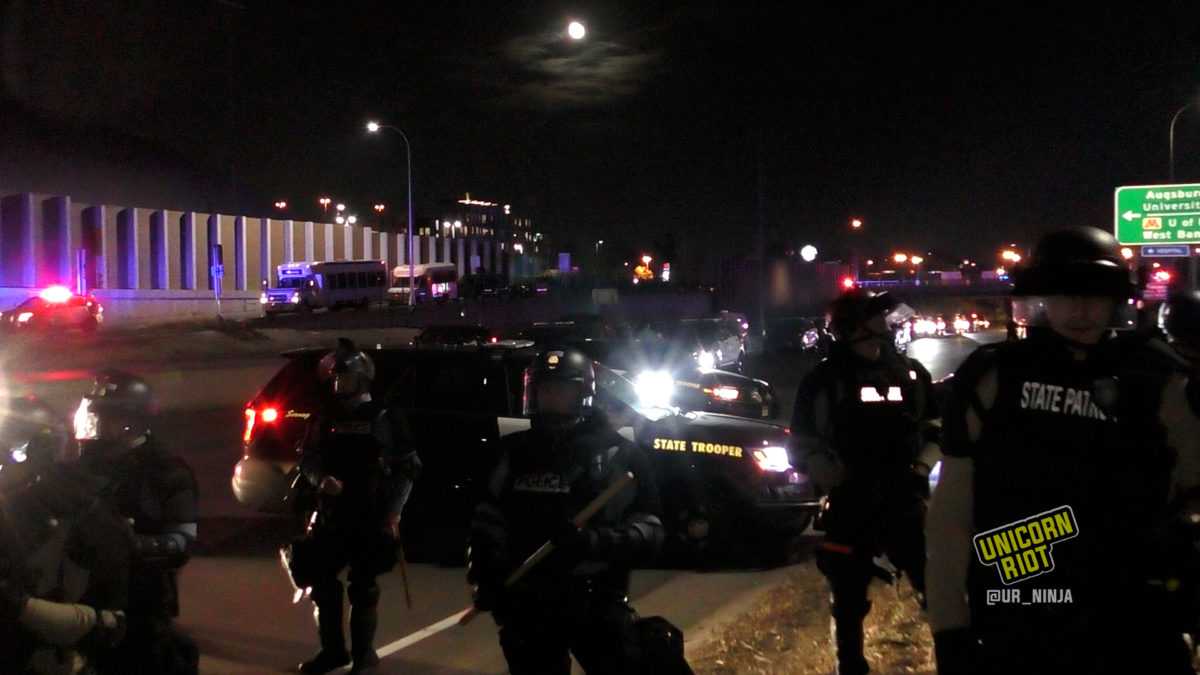 Everyone who didn't run up the shoulder of the interstate and scale the fence as the 'kettle' began was then trapped and detained on the highway. In total at least 646 protesters, including youth and elders, were cited and released, with a few being jailed and one charged with a felony. A majority of those detained were put onto busses after they were processed on the interstate and dropped off at random locations around the Twin Cities.
During the incident's anniversary, each of the five people who spoke with Unicorn Riot shared their experiences from the night of the mass arrest, the charges they were facing at the time, and how they felt about all of it.
Interviews with organizer Jess Sundin, emcee David Gilbert Pederson, street medic Cory Maria Dack, protester Brandyn Tulloch and drummer Grunt Mezera can be seen below interspliced with Unicorn Riot archival footage, mostly from the night of the arrests.
Jess Sundin, organizer with Twin Cities Coalition for Justice 4 Jamar who co-hosted 'The People's Mandate' protest on November 4, 2020, one of the 646+ arrested
David Gilbert Pederson, emcee of the 'The People's Mandate' protest on November 4, 2020, one of the 646+ arrested
Cory Maria Dack, one of 11 street medics with North Star Health Collective arrested during 'The People's Mandate' protest on November 4, 2020
Brandyn Tulloch, an artist and participant arrested during 'The People's Mandate' protest on November 4, 2020
Grunt Mezera, activist and drummer arrested during 'The People's Mandate' protest on November 4, 2020
Unicorn Riot was live for 6.5 hours during the night-after-election-day protest in Minneapolis. Watch the full stream below.
---
Drop the Charges Protests, Surveillance, & Arrestee Solidarity
While most of the 646+ arrests happened without force, the "overreaction" by law enforcement featured several acts of violence perpetrated by the Minneapolis Police and Minnesota State Patrol (MSP) towards protesters.
Police used horses and pepper spray against community members gathering around the area and broke out the windows of protesters' vehicles. Several of the hundreds of State Patrol troopers on the frontlines of the mass arrests were armed with live fire rifles as opposed to crowd control weapons that shoot 40 mm marker round munitions. This wasn't much different than how Minneapolis Police officers violently arrested over a dozen people during an election night mobile dance party in Uptown Minneapolis the night before.
In response to the aggressive large-scale mass arrest, many gathered the next day outside of Governor Tim Walz's residence in St. Paul to call attention to police brutality and law enforcement's apparently politicized heavy-handed actions. They denounced mass arrests and demanded the authorities "drop the charges."
After the 'Drop the Charges' press conference, Unicorn Riot spoke with four organizers who were on the interstate the night before: Jae Yates, Jess Sundin, Nekima Levy Armstrong, and Toshira Garraway. Watch the press conference below:
As the press conference was happening on the ground, the Minnesota State Patrol was flying their high-tech spy plane, Cirrus SR22 aircraft N115SP, around the Governor's Residence, recording HD video.
Equipped with powerful surveillance tools, the plane circled from several thousand feet above surveilling the general neighborhood as well as the press conference-turned-protest. Footage obtained by Unicorn Riot and published in February 2021 provides a never-before-seen view of the surveillance capabilities.
---
State Patrol's Joseph Dwyer a Recurring Character In Protest Brutality and Scandals
Through public records requests, Unicorn Riot has also found that as the 'Drop the Charges' press conference was taking place, Sydnee Woods, the general counsel for Minnesota's Department of Public Safety, sent an email to then-Captain of the Minnesota State Patrol, Joseph Dwyer, praising the controversial mass arrest. "Joe – Major Meagher showed me the Unicorn Riot video. Great job!!!! You guys did a fantastic job last night," Woods' email read referring to the live stream of the mass arrests.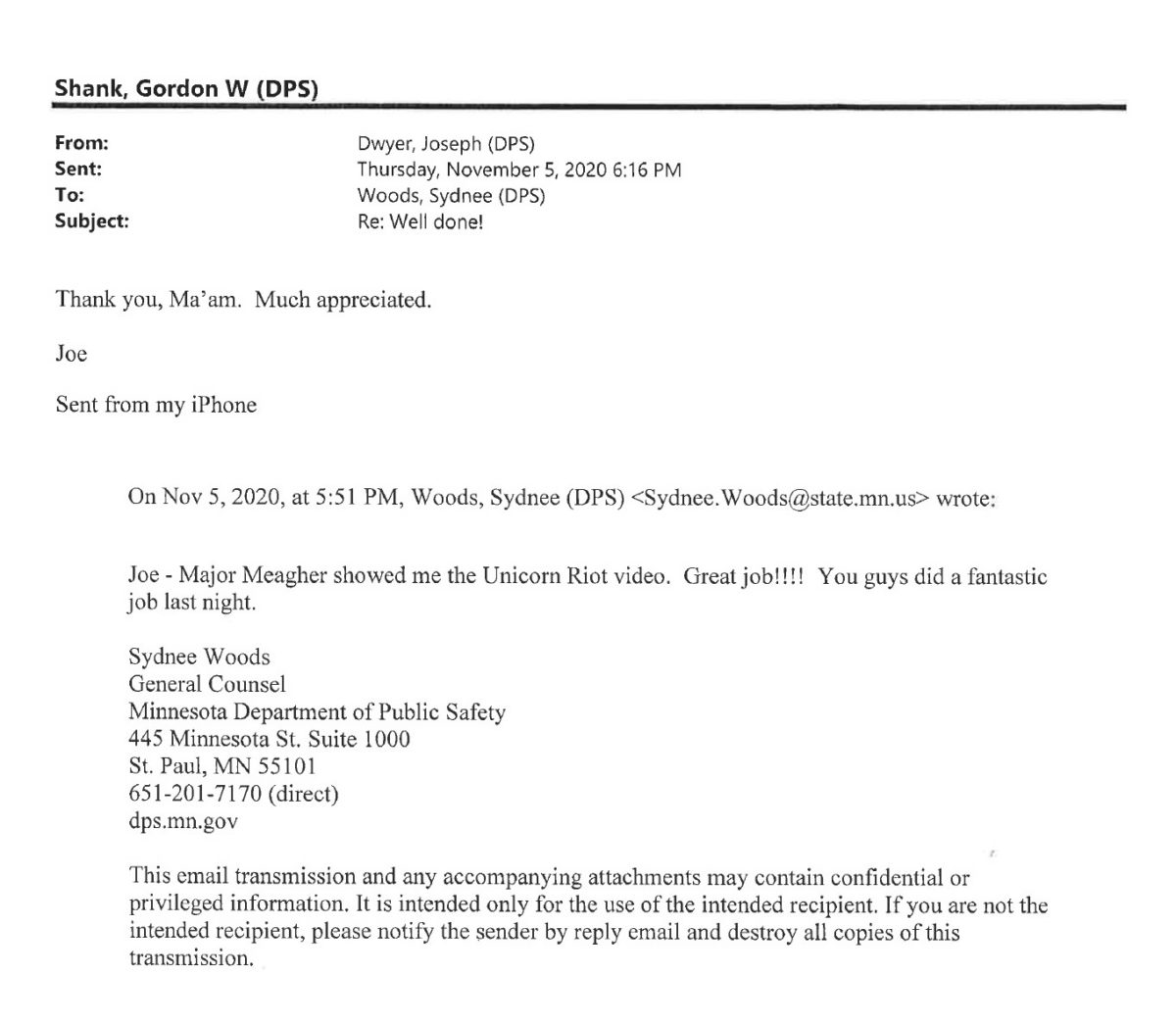 Dwyer came under fire last fall when he admitted to deleting large amounts of evidence that he was likely required to preserve for discovery in an ongoing class-action lawsuit brought by the ACLU over police brutality committed by troopers under his command during protests for George Floyd. "Joe" was also named in at least one other lawsuit filed on behalf of journalists brutalized by MSP riot cops he commanded during 2021 protests after the police killing of Daunte Wright in Brooklyn Center.
Dwyer's other recent career highlights include spying on indigenous protests against the Line 3 tar sands pipeline and commanding MSP's Mobile Response Team (MRT) during the 2018 Super Bowl. Before joining the State Patrol in 1997, he cut his teeth at the Aitkin County Sheriff's Office incarcerating high schoolers by impersonating a teenage student and asking to buy drugs. As of 2020, the Minnesota police state ladder climber's yearly salary was $121,163.
---
Charges Hung Over Protesters' Heads For Months
'Drop the Charges' protests, banner drops, caravans, call-ins, and actions quickly became a regular occurrence across the Twin Cities. A couple days after the November 5 press conference, protesters gathered outside the charred remains of the Minneapolis Police's 3rd Precinct demanding charges be dropped.
Minneapolis: Protesters are holding space outside the remnants of the Third Precinct, demanding all felony & misdemeanor charges be dropped from the Nov 4 protests where >600 were mass-arrested on I-94. pic.twitter.com/XyU4MRl7xo

— Unicorn Riot (@UR_Ninja) November 8, 2020
On February 5, 2021, three months after the mass arrest, a rally at the Hennepin County Government Center demanded specifically that a felony charge on college student Amina McCaskill be dropped, along with the charges and citations given to the hundreds of others.
McCaskill was initially booked on felony fourth-degree assault on a police officer for allegedly shining a cat toy laser pointer at police while being kettled during the mass arrest. Hennepin County Attorney's Office then charged her with felony second-degree riot armed with a dangerous weapon charge, claiming the dangerous weapon was the laser pointer.
McCaskill faced up to five years in prison and a $10,000 fine before her charges were dropped in the Summer of 2021. She spoke with Unicorn Riot after the February protest, watch below:
Many compared McCaskill's dropped charge to Louis Hunter's case in 2016 after Philando Castile was fatally shot by police and thousands of people shut down Interstate 94 in Saint Paul. A stand-off and riot on the interstate led to dozens of injuries and over 100 arrested. Like McCaskill, Hunter, a cousin of Castile's, was the single protester charged with a felony. Both Hunter and McCaskill are Black.
Hunter's charges were dropped a year later after outcry from a large network of support, and many of the other defendants banding together refusing to take plea deals until Hunter's charges were dropped.
Similar to 2017, defendants from the November 2020 mass arrest bonded together to fight McCaskill's charges, as well as everyone else's. Many of the arrestees didn't know each other at the time of their arrest but have since formed bonds with one another, providing networks of support, care, and communication.
"It's been a whole year and people haven't had their first day in court."

Jess Sundin, organizer with Twin Cities Coalition 4 Justice for Jamar
Convening over Zoom calls, city prosecutors have been bunching arrestees together for court dates and offering deals for guilty pleas. Many have taken the plea deal, others have had their charges dropped, while hundreds of the 646 have chosen to plead not guilty and take the charges to trial, with a majority of those still waiting on their court dates. Many of those who have gone to trial have been found guilty of petty misdemeanor charges.
---
'Shame Games'
Providing a glimpse into one of Minneapolis Police Department's crowd control units on November 4, 2020, the night of the mass arrests, Unicorn Riot published body camera video from an arrest related to the protest, but taking place on a separate street. The incident took place on the 20th Avenue overpass of Interstate 94 as the mass arrests were taking place.
The footage shows officers assigned to the 1282 CART (Chemical Agent Response Team) unit shaming a Lieutenant for speaking the name of community engagement officer Deitan Dubuc and a general disdain for the public they're sworn to serve.
The unit was led by the main aggressor, Sergeant Andrew Bittell, who also filmed himself publicly urinating on the street during the arrest of two people for a moving violation of their vehicle.
An hour or so after the 'shame games,' Sgt. Bittell was heard making fart noises at the media while laughing with another officer smoking a cigar as they stood above the interstate during the last hour of the mass arrest.
Bittell is currently being sued by Minnesotan Jaleel Stallings, whom Bittell and other MPD officers beat nearly to death while "hunting" protesters on May 30, 2020.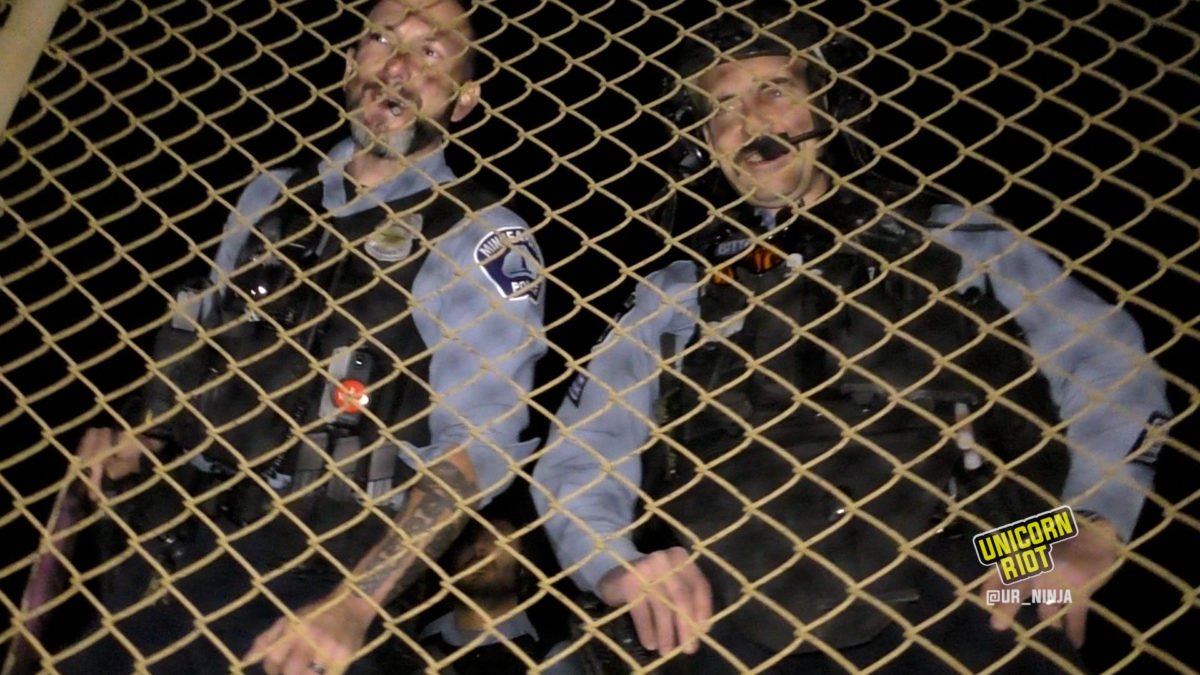 A majority of those arrested on Interstate 94 the night of November 4, 2020, were taken by surprise at the aggressive police maneuvers which street medic Cory Maria Dack called "super unnecessary."
As a direct result of the charges, many of the 646 have faced new hurdles in job or housing searches and educational opportunities after being marked by police as criminals for their participation in the anti-Trump protest march. (Minneapolis and Minnesota's police unions, representing virtually all officers, overwhelmingly supported Donald Trump's presidential campaigns in 2016 and 2020.)
Aside from the negative impacts the charges have caused, it's clear when speaking to any of the 646+, that a loving community has grown between those arrested and that through the process, they've created rewarding relationships that may last for the rest of their lives.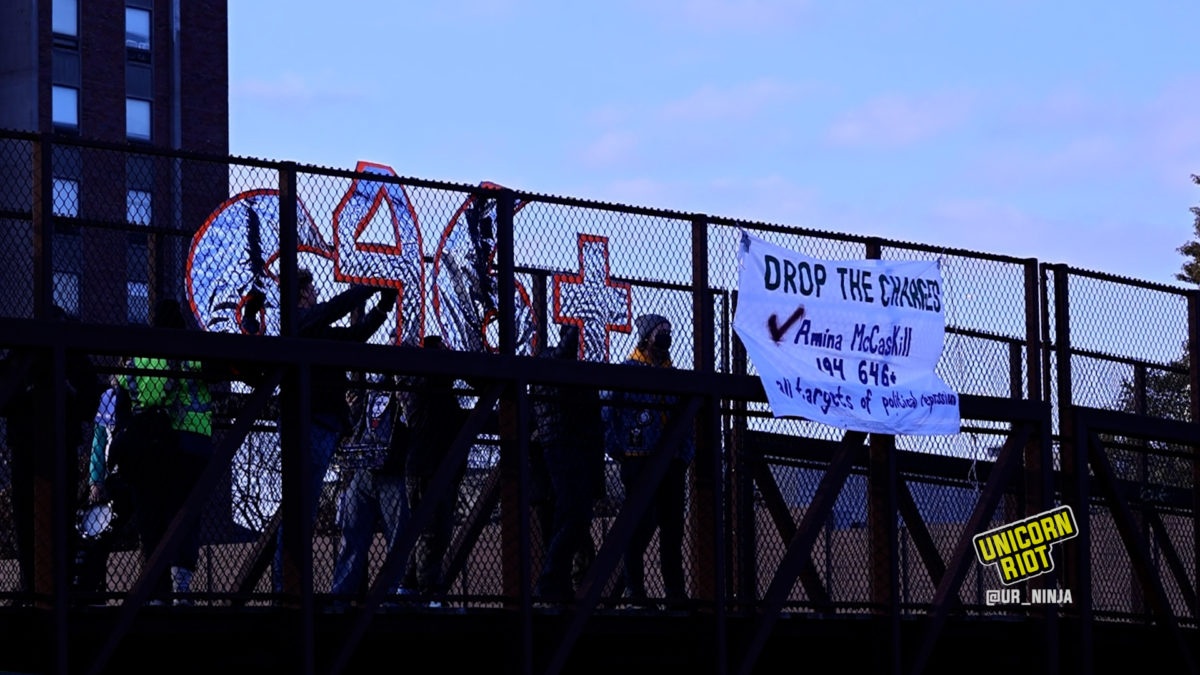 During the one-year anniversary, dozens gathered on the pedestrian bridge that crosses over Interstate 94 near Cedar-Riverside and recounted their experiences. They dropped banners over the bridge reading "drop the charges" and "fight state repression, protect our right to protest, Drop the Charges." The event was emceed by Monique Cullars Doty, the aunt of Marcus Golden who was killed by St. Paul Police in 2015. Watch the full rally from the one year anniversary of the 646+ below.
---
Chris Schiano contributed additional reporting.
---
Follow us on Twitter, Facebook, YouTube, Vimeo, Instagram, Mastodon and Patreon.
Please consider a tax-deductible donation to help sustain our horizontally-organized, non-profit media organization: