Passing the Point of No Return: Interview with Rouvikonas Anarchist Collective
Athens, Greece – Since 2013, the Rouvikonas Anarchist Collective has been striking back at abusive government power, economic exploitation, and organizing against state repression.
Headquartered in a squat in Athens, the capital city of Greece, this elusive anarchist group is known for its swift, high-profile, controlled attacks. Each target carefully chosen for their negative impacts on society.
Unicorn Riot sat down with Thanos, a member of Rouvikonas (Greek: Ρουβίκωνας) who works as a server for a living.
Thanos spoke to us about the history, the interventions and actions that Rouvikonas has taken and the State's repression in response. He also shared his thoughts about internationalism, anarchism, building a better world, and why he is against idolizing Exarcheia.
We met in the basement of K*Vox, a self-managed and squatted social center adjacent to Exarcheia Square. The center offers beverages, a library, a large meeting place that's been used for many different assemblies and a free health care facility which serves the historically anti-authoritarian neighborhood of Exarcheia.
K*Vox has recently become a flashpoint for police brutality with the tear gassing of the social center in the Fall of 2019 and is where Rouvikonas has their assemblies.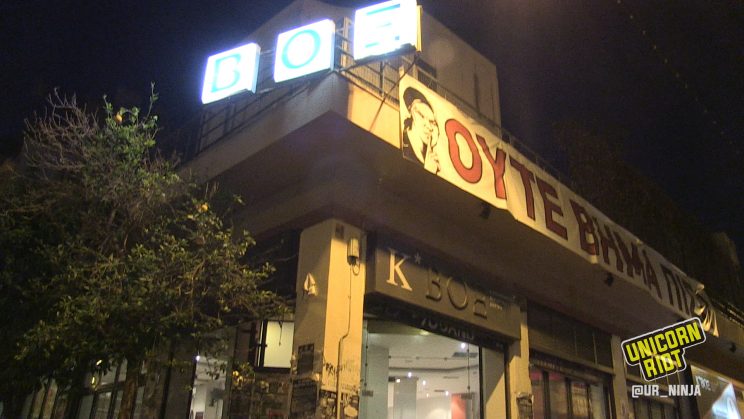 Rouvikonas derived their name from the phrase 'crossing the Rubicon', meaning to pass a point of no return, in reference to Julius Caesar's declaration of war in 49 B.C. when he crossed the Rubicon River in Italy.
"Crossing the Rubicon is the expression that someone will say when you do an action without return." — Thanos
After the extended uprising in December 2008 following the police killing of teenager Alexis Grigoropoulos, were the austerity riots of 2010–2012, which Thanos called "failures." He said the insurrectionist Bonanno model "was taken to its extreme," that it "did a lot of things but also showed its limits."
Insurrectionists and non-insurrectionists alike across Greece were participating in self-managed 'assemblies,' working groups to positively impact their communities. Though over 5,000 assemblies were active in Athens alone, the autonomy they wielded to enact their ideas was continually limited by repressive police and institutions of the economically-decaying State.
"2008, for example, was a very good limit of what a revolt will do. The whole of Greece was burning for one week and after that, what? What's the next level? We didn't have the answer, and we didn't have the answer in 2010 and '12."
From the smoke, broken bottles, and spent tear gas canisters, anarchist federations were borne in Greece as "new tools" to seek out answers regarding next steps and how to reach the broader society.
This is also where Rouvikonas comes in, Thanos said: "There was an assembly of solidarity for political prisoners here in Greece, then Vox happened; from Vox, Rouvikonas happened. It started in 2013 by four or five people. It started to become part of the anarchist federation."
Members of Rouvikonas are anarchists, but they don't subscribe to any particular brand of anarchism. "We're not nihilists and we're not anarcho-capitalists," said Thanos, who stressed they are trying to use what's been working and take out what hasn't.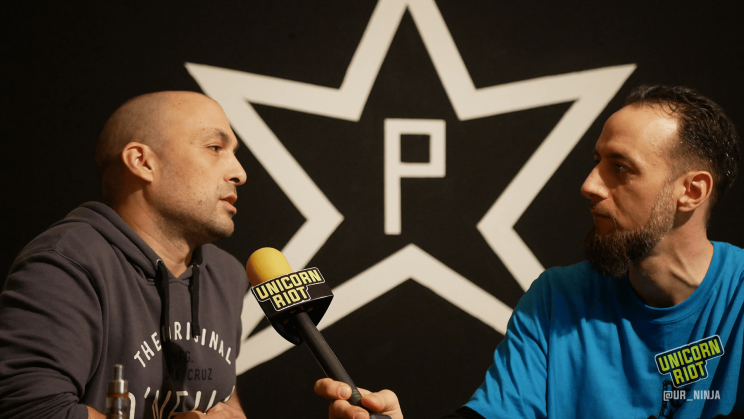 Thanos told us that a main reason they were started was because of the so-called 'coalition of the radical left', Syriza, leaching energy from the anti-authoritarian movement. As Syriza was busy reinforcing parliamentarism in Greece, Thanos said the members of Rouvikonas saw the importance of putting "hope and alternatives" back into the anti-authoritarian movement and get back into the streets.
It is in the streets Rouvikonas has remained. These highly organized internationalists routinely storm targeted buildings, occupying the space, and speaking with those in charge and/or vandalizing it.
https://twitter.com/amw_english/status/1098354415889772545
Their targets have included corporations, banks, government offices, embassies, and the homes of bosses and politicians.
"Because of the high unemployment rate there are very good laws for the bosses, they pretty much do whatever they want. So one of our major things is to try to stop the bosses [from] not paying or not giving Social Security or firing people for whatever reasons."
There's reasoning behind every action, from attacks against corporations polluting the sea and multinational corporations like Novartis and Siemens, to acts of solidarity for comrades in other countries fighting repressive governments.
"It's very dangerous actually working in Greece. Delivery guys, for example, 10 people have died in the last one-and-a-half years in Athens."
Rouvikonas members not only attack their targets, they also record the action and leave pamphlets at the scene explaining why they did it.
Many of the actions are recorded and published on the internet, on their website and their YouTube channel. Thanos said this is to show the world what they did, both for documentation purposes in case of criminal charges, and also to show that their actions can be done by anyone.
The highest level of the three Greek legal codes that Rouvikonas members violate is level two, when they break glass, and it is by choice they don't take things to the next level, said Thanos.
Greek anarchist group Rouvikonas throw flyers outside home of senior govt politician. Local media and ruling New Democracy party officials are describing it in terms of a terrorist attack.

— Teacher Dude (@teacherdude) November 17, 2019
Rouvikonas drew some international condemnation when this past summer they ransacked the office of press publication Athens Voice. This was their third such attack on a press outlet. Each time they took credit and gave reasons. What sparked the most recent attack was a 'funny comment' that Athens Voice made referring to a 50-year-old immigrant hospital worker that jumped to her death fearing an immigration paper inspection.
Because of their high-profile actions and attacks while taking credit, Rouvikonas have themselves become targets of state brutality and repression and face constant police surveillance, increased repression, and ramped-up court fines.
With the right-wing New Democracy political party now in power in Greece, the government has pledged to crack down on Rouvikonas. In late August 2019, Rouvikonas members were violently attacked numerous times by riot police in and around K*Vox squat. Defenders were then prepared for further action in the coming days (as seen in media below).
Video via: G.K pic.twitter.com/RRsJqkIERy

— NοControl🏴 (@nocontrolatalll) September 1, 2019
Recent government attacks against squats, refugees, and social centers indicate the continued crackdown is likely to include liberal use of violence against anti-authoritarians, residents, and marginalized segments of Greek society.
#Greece: An #anarchist, arrested as a member of Rouvikonas group, was allegedly tortured, stripped naked and mock raped by the police. The Prosecutor seeing him beaten up didn't think about pressing charges against the officers.#Torture #PoliceBrutality https://t.co/D6oEtZpCqe

— Vassilis Tsarnas (@VassilisTsarnas) November 11, 2019
When we asked Thanos what had brought him to anarchism, he responded that when we was growing up he didn't like fascists or cops and the people who were active working against those two fronts were anarchists.
Thanos said that he quickly realized that the anarchist model of organizing a society is "the only real, normal model." He considers the way "we live our lives today as being abnormal," referring to the income and wealth inequality between the economic classes and oppresive systems of governance.
"I see as abnormal, 1% of the population having 50% of the wealth."
Thanos stressed the importance of internationalism; because everything is so inter-connected, actions of solidarity can be expressed from far away and their impact felt. Furthermore, he said, "governments don't like when their embassies are attacked."
Thanos spoke highly of any activist in the U.S., saying it takes "courage" to stand up "in the heart of the beast, the capitalist beast, and try to fight it."
"I really don't know how they do it. Every time I meet American comrades, it gives me a lot of courage to continue, really."
See the full-length interview with Thanos below:
At the end of our discussion, Thanos implored others to enact change, utilizing a cliché he said is even more relevant today in the twenty-first century than it was in the nineteenth century: "act locally and think globally."

---
Unicorn Riot's Special Reports From Greece [2017]:
Access to all 13 Stories:
Please consider a tax-deductible donation to help sustain our horizontally-organized, non-profit media organization: