Attacks on Capitalist Targets on the Rise as Greek Police Increase Violence
Athens, Greece – Reports of brutality from Greek police have been on the rise in the last month. Clandestine actions against capitalist and state targets are also on the rise. This is happening amidst the right-wing government's continual push to rid Greece of squats and gentrify Athens' district of Exarcheia.
Greek police led the recent push with a series of raids against squats in Koukaki and Marousi. Documented police brutality from these raids and the last month of police actions include stripping, sexually abusing detainees, arresting and hooding homeowners, indiscriminately beating people, using hoses to spray a person with disabilities and handcuffing a lawyer who denounced the abuse.
Meanwhile, nightly incidents of vandalism have been occurring throughout Athens, targeting banks, corporations, security and state structures.
The new government's gentrification push goes past the squats and threatens the broader Exarcheia district and leftist community in Athens. The Prime Minister says it's a battle to reclaim Exarcheia Square, to change the culture of the neighborhood and to make it into a transit stop surrounded by Airbnbs.
The government's tactic of raiding squats is seen by many as an attack on the most vulnerable groups in society — mothers and children seeking a new life after war and destruction. Many who have been evicted and sent away from the shelter of the solidarity created by anarchists are now living in incredibly harsh camp conditions as winter sets in. (For an inside look at Athens' first refugee and migrant housing squat, see our 2018 special on Notara 26.)
The following article is an attempt to provide an abbreviated update on the situation in Athens since our December 4 article focusing on the deadline to evacuate squats.
Anticipation of the late November government ultimatum for all squats to be cleared came and went with no squat raids during the ultimatum nor immediately after the deadline.
As previously reported, since this past summer police have raided and evicted numerous squats and forced over 450 refugees into detention centers and camps. Police then cracked down on the large November 17 demonstration and stepped up their violent attacks while beefing up their surveillance of the Exarcheia area and its residents.
Large numbers of people in Greece greeted the 15-day ultimatum with defiant demonstrations, statements, and actions in solidarity with squatters and refugees.
A satirical video (posted below) poked fun at the ultimatum, counting down the fifteen days. The statement in the video's description is a touching ode to the connections made in the struggle of resistance against the dominant paradigm; they say police are too late to evict them as they've already built relationships and have "found each other."
On the night of December 5, fifteen new buildings in Athens were symbolically squatted with banners reading "Property is theft." A statement gave reasoning behind the action, saying the people involved were "claiming the spaces to serve as a pool of options for future use."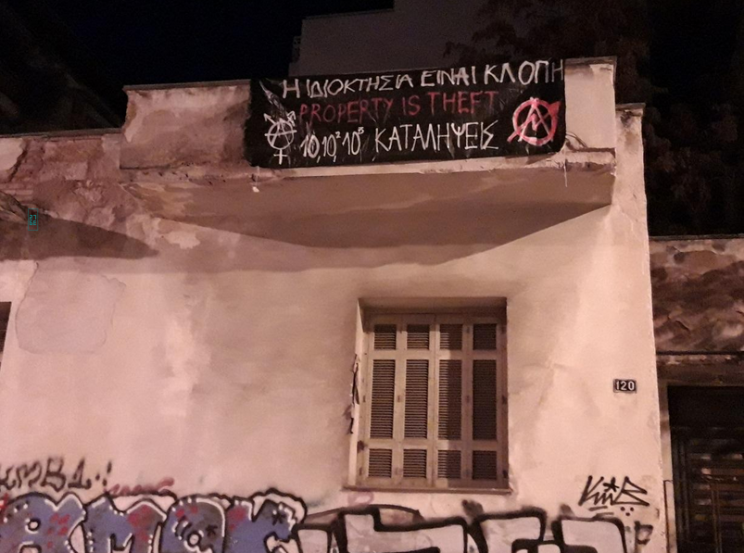 The deadline was set for one day before the important December 6 commemoration of Alexis Grigoropoulos, a youth killed in 2008 by Greek police.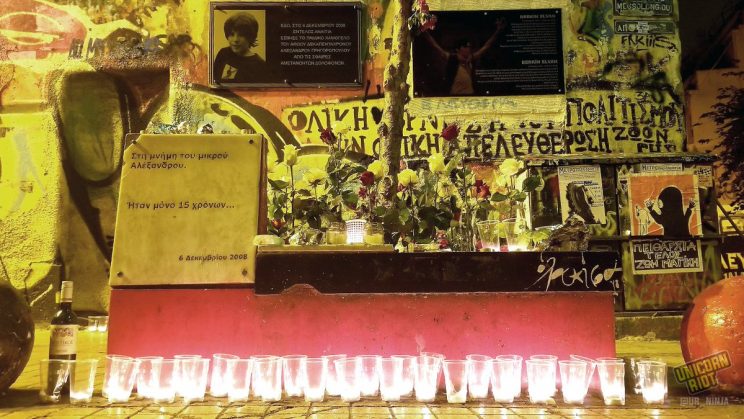 This year's demonstration for Alexis pulled massive numbers into the streets for an organized march. Police also showed up en masse, occupying large swaths of Exarcheia and preventing large-scale clashes as seen in years past. Police arrested more than thirty people and violently beat dozens more after the main march had dispersed (video of riot police beating people below).
The direct confrontation that police suspected did not happen that day. Instead, later that night, dozens of actions against capitalist and state entities were made throughout Athens.
A statement posted to Athens IndyMedia signed by the word "comrades" claimed responsibility for 30 organized attacks. Near the end of the statement was an explanation of why the actions were carried out:
"The 'ball' will be thrown back, making 'Exarchia' the whole city. Diffusing resistance. Hitting their 'omnipotence' there (and when) they expect it the least. Returning the Fear!

We haven't said the last word yet and this night was Alexis's!"
Since the sixth, corporate storefronts and institutions, along with banks, ATMs, and financial spaces have borne the brunt of a number of recent attacks of vandalism and arson throughout Greece.
The third or fourth attack in 7 days, this time in Kaissarini, an Athens suburb. Banks and shops molotoved. Fliers were thrown indicating that it's a response to occupation evictions. #antireport pic.twitter.com/B9JuZvsvDp

— Exiled Arizona 🎃 (@exiledarizona) December 14, 2019
As actions are being carried out routinely across Athens, destroying the property of upper-class, capitalist, and state symbols is now becoming commonplace.
Last night 7 cars were burned in the rich Athenian Kolonaki district. No arrests noted by mainstream media.

Since December 6th, nighttime attacks outside Exarcheia are constant. This one will be tough to ignore or downplay.#antireport pic.twitter.com/uw8BOxkAwb

— Exiled Arizona 🎃 (@exiledarizona) December 16, 2019
Meanwhile, antifascists who fought against the Nazi party Golden Dawn years ago were arrested last week, and a judge in the lengthy Golden Dawn trial has proposed many of the group's leaders be acquitted of criminal charges.
Then, on December 17, as mentioned, the push happened. Twelve days after the eviction deadline, the government raided and evicted Kouvelou Mansion (Villa Kouvelou) squat in Marousi, Athens, which had been part of the solidarity network since 2010.
Actions of police the following day, December 18, drew widespread condemnation as nine people were arrested and three squats were raided (Matrozou 45, Panaitoliou 21, Arvali 3) in the nearby district of Koukaki. Pictures and video showing black-clad police walking around a handcuffed and hooded figure along with other arrestees on the floor of a terrace quickly surfaced and widely circulated.
The person hooded was filmmaker/homeowner Dimitris Indares and the people arrested were his sons. They lived in an adjacent home and say they faced reprisals from police after they demanded a warrant.
If you tolerate this, then your children will be next.

Riot police in Athens brutalized a family who demanded to see a warrant before letting them into their home. Proof that when they come for the migrants, or the anarchists, they'll soon come for you too. pic.twitter.com/jLimC4uI56

— Manos Moschopoulos (@maledictus) December 18, 2019
Police say Indares' two sons (a soon-to-be lawyer and a college student) fought against police as the raid took place. In audio from the incident, Indares can be heard yelling at the police that his family had done nothing wrong; they had only asked the police for their warrant as they were already pushing their way into their house.
Indares said that police broke into his house through the roof without a warrant while just Indares' wife was on the second floor.
Later in the day, further reports came out that said police shot a woman in the chest with a 35 mm rubber bullet from a Manurhin riot gun during the raid. This was after residents had fled the squats as, or before, the police came. Some were still there, however, and they fought back by throwing furniture and other items down to the street from the second story.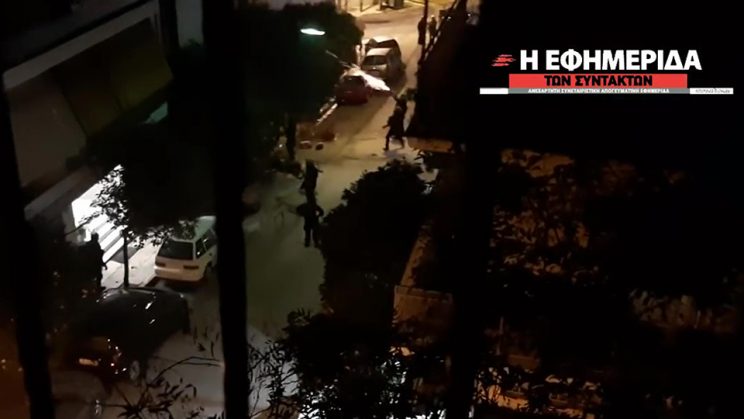 Police blocked Matrozou Street off on both ends equipped with weapons and used an electric saw in attempts to get in the front door while dodging projectiles being lobbed at them.
A video from a nearby porch, released a few days later, shows some of the police actions during the raid.
In response to the raids and heavy-handed police actions, more spontaneous demonstrations and actions happened in upper-class areas.
Then on December 19, Documento News revealed a video from October 20, 2019, showing police in Omonoia Square repeatedly hosing down a disabled woman and then detaining a lawyer who decried the actions of the police. Police responded to this report two days later by confirming that police did in fact abuse this woman and that they had arrested the officers on October 27.
This footage obtained by @documentonews shows two policemen torturing a disabled woman at a police station in Athens. It is part of a growing number of reports for excessive police violence in #Greece. #AthensLive pic.twitter.com/OZMsjVaLdF

— AthensLive (@AthensLiveGr) December 23, 2019
These incidents of police terror and violence are not isolated, and are part of the rise of the right-wing into power in Greece and the larger issue against policing in general.
As the holiday nears, the state attempted to bring 'normality' to Exarcheia Square with Christmas trees. Locals burnt the trees two nights in a row and staged an intervention at Athens Christmas tree lighting ceremony, where they chanted solidarity with the squats.
In the morning of December 23, 150 people demonstrated in the Athens suburb of Marousi. They hung huge banners of the front of the newly evicted Villa Kouvelou. Riot police came and shot tear gas on a busy street. Shopfronts were smashed. A demonstration in solidarity with the Koukaki squats is scheduled for Monday, December 23 at 6 p.m.
Εικόνες από το Μαρούσι από καθεστωτικά.
Η επιλογή ελεύθερη, ή με το καταναλωτισμό ή με την αλληλεγγύη. #antireport pic.twitter.com/tAFZxMuGpV

— NoBorders (@Refugees_Gr) December 22, 2019
On Sunday night, a community celebration in Exarcheia Square was held. Residents decorated the statue in the square into a circle-A, a popular symbol of anarchism.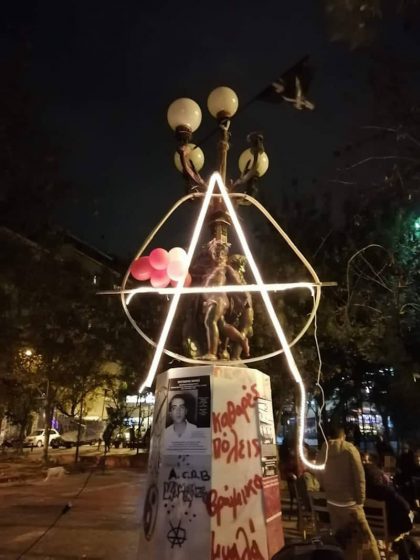 After only raiding a few squats since the ultimatum's deadline passed, the Greek government has stated it aims to clear all squats by the end of this year. Meanwhile, re-squat attempts are being made on the evicted buildings and clandestine actions against state targets are ongoing.
The positive actions that anti-authoritarians and anarchists in Greece have been taking to create free housing and education along with medical, dental, and emotional health care facilities for the community and refugees inspire the imagination of what is possible beyond the limits of the State.
Those actions have proven to be a threat to the legitimacy of the government, who is now bent on vilifying and attempting to eradicate the leftist ideals.
The Mayor of Athens and member of the right-wing New Democracy party, Kostas Bakoyannis, who's also the nephew of the Prime Minister, has extra bones-to-pick with the left, as his father was assassinated by the leftist revolutionary group November 17 when he was 11. Meanwhile, the community of Exarcheia has roots fighting Nazis during World War II and the new generation seems keen on keeping the neighborhood theirs.
In Greece, both the continued attacks against hubs of domination as well as sporadic police actions to dislodge refugees are expected to continue as we head into 2020.
Cover image via Enough14.

---
Our past coverage from Greece includes initiatives that are providing a network of solidarity and mutual aid for refugees and migrants throughout Greece, filling the void where the state has been absent:
Unicorn Riot's Special Reports From Greece [2017]:
Access to all 13 Stories:
Please consider a tax-deductible donation to help sustain our horizontally-organized, non-profit media organization: