Collective Power Grows in Grieving Community of Stolen Lives
Roseville, MN – Dozens of family members from across the United States gathered in Minnesota in March for the third annual weekend of events honoring Cordale Handy and other victims of police terror and community violence.
As family members continue to mourn the loss of each loved one, a space is provided during the weekend for members of this community to grieve, cry, share, celebrate, and honor the victims.
A press conference and vigil was held on Friday evening. On Saturday, a support group called Lift Every Voice and the 2020 In Remembrance of Me Banquet were held and a Sunday fellowship breakfast were the main events. For the last three years these events have taken place in Roseville, Minnesota.
The banquet was hosted by the Cordale Q. Handy In Remembrance of Me Foundation, created by Kim Handy-Jones after her son Cordale was shot and killed by St. Paul police officers Mikko Norman and Nathaniel Yonce in March 2017.
"Our children's lives have been stolen. We didn't sign up for this. It chose us." — Kim Handy-Jones
21 victims of police killing were honored at the banquet, along with one victim who died after an interaction with police and one who died while in jail. Four victims of community violence were also honored.
Seven certificates for headstones were presented to family members of victims, a key tradition of this event.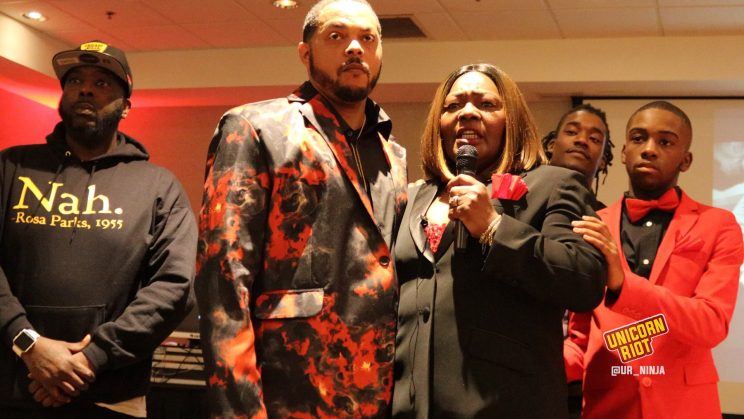 Nearly 40 family members of victims of police terror attended the banquet, where over a dozen of them gave speeches. Spoken word artists, dancers, and youth singers all performed in honor of the lost loved ones.
Watch the full 2020 'In Remembrance of Me' Banquet below:
The annual banquet has grown in size with each iteration; this year over 200 people attended the event. Unicorn Riot has covered every banquet, first in 2018 and returning again in 2019.
---
---
The three-hour event was emceed by Dr. Nekima Levy Armstrong and Reverend Raleigh Thornton led the attendees in prayer. Spoken word was recited by Kennedy and Jayda Pounds, Courtland Deon Pickens performed with youth singers, and praise dancer Angel Adams performed with her children, Elise, Joy, and Hailo.
The keynote speech was delivered by Monique Cullars-Doty, Marcus Golden's aunt. Matilda Ann Smith (Jaffort Smith's mom), Chauntyll Allen (Aaron Allen's mom), and Toshira Garraway (Justin Tiegen's fiancée) also made speeches, along with other members of the community: Michelle Gross (President, CUAPB), Jess Sundin and Sam Martinez (TCC4J), and Marques Armstrong (President, Love, Hope, & Healing Counseling Services).
"I dont think there's anything like it anywhere", said Monique Cullars-Doty during the keynote. She stressed the uniqueness of all those people being the same space to celebrate their loved ones.
She spoke about the importance of the banquet and weekend of coming together and called it really good "self-care."
"On this day, because of Cordale Handy, there is so much that is coming out of that tragedy because Kim has chosen to turn it around and do something positive and extraordinary and something unique and something beautiful." — Monique Cullars-Doty
After the keynote speech, a handful of mothers who've lost their children to police graced the stage and were given a few minutes to speak their minds. See the speeches by Pamela Brooks, Gwen Carr, Ayanna Johnson, Yolanda McNair, and Lisa Simpson below:
Pamela Brooks (Amir Brooks' mom)
Gwen Carr (Eric Garner's mom)
Ayanna Johnson (Darius 'Karate' Wimberly's mom)
Yolanda McNair (Adaisha Miller's mom)
Lisa Simpson (Richard Risher's mom)
The yearly tradition of the banquet and a main mission of the Cordale Q. Handy Foundation is the giving away of headstones for victims. Headstones cost around $900; many families do not have a thousand dollars saved up for such an occasion.
Seven headstones were given away this year from the foundation. Those who received headstones included Adaisha Miller, Richard Risher, Tyrone Williams, Darius "Karate" Wimberly, Marquez Perry-Banks, Terrence Coleman, and Derell Howell.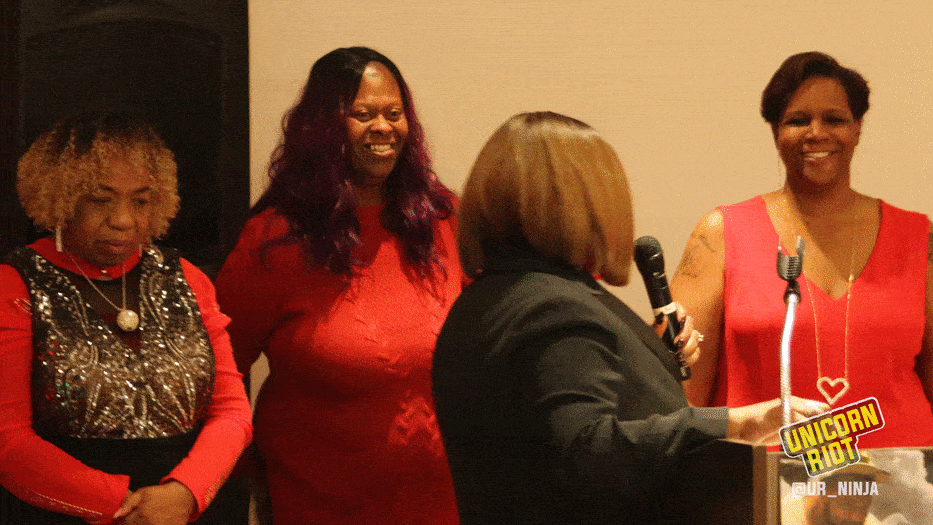 The idea of the headstones was "a vision from God", said Kim Handy-Jones. She said she was at Cordale's gravesite and looking at his headstone and was struck with the realization that many mothers don't have a gravestone for their child.
The amount of headstones given by the foundation keeps growing as it continues to get support. The foundation she formed in honor of her son is one of the only in the world that gives headstones to families in need.
The following list, in alphabetical order, includes all the victims of police terror that were represented by family members at the banquet along with a short summation of the incident and if any accountability happened. Many family members in this community have turned their pain into power in their specific regions, building support groups and pushing for police accountability, some of which are listed below.
Amir Brooks (mom, Pamela Brooks) was 17 years old when he died in a dirt-bike crash during a police chase. Brooks was riding with his cousin around the apartment complex where he lived when an off-duty police officer working as a security guard began to pursue the pair in his squad car, chasing them about a mile into the bounds of Washington, D.C. where the pair crashed into a tree and were killed. Brooks died in 2014, his family has yet to receive any justice. Since her son's death, Pamela has been an advocate for justice for stolen lives and a member of the non-profit Coalition of Concerned Mothers.
Paul Castaway (brother, Gabriel Black Elk and Tonia Black Elk, Gabriel's wife) was 35 years old when he was shot and killed by Denver Police. While he was experiencing a schizophrenic mental health crisis his mother Lynn Eagle Feather called police for help. After a foot chase, Castaway was observed holding a knife up to his own throat, threatening to kill himself. Police shot and killed Castaway, and afterwards interrogated Castaway's mother for four hours before telling her that her son had been killed. Castaway was killed in 2015, his family has yet to receive any justice. Gabriel Black Elk has been fighting for justice for his brother Paul and others since.
Philando Castile (girlfriend, Diamond Reynolds) was a 32-year-old school cafeteria worker shot to death as he reached for his gun registration during a traffic stop near St. Paul, Minnesota. The 2016 shooting led to a community occupation of the Governor's Residence and weeks of large protests; police officer Jeronimo Yanez was charged with second-degree manslaughter but was found not guilty. Castile's mother and his girlfriend received settlements. Philando's mother Valerie Castile along with others have created the Philando Castile Relief Foundation providing resources and support for families of victims of gun and police violence and the Philando Feeds the Children campaign, which pays off school children's lunch debt.
Jamar Clark (mom, Irma Burns, sisters Emma and Tina) was 24 years old when he was shot in the face and killed by Minneapolis Police. Police were called to a birthday party in North Minneapolis where Clark's girlfriend had allegedly fought with the host of the party. After his girlfriend was placed in an ambulance, Jamar (who was unarmed) approached the vehicle and was taken down and shot in the face by Minneapolis Police. His killing led to an 18 day occupation of Minneapolis Police's 4th Precinct. Clark was killed in 2015, no officers were charged, his family received a settlement.
Terrence Coleman (mom, Hope Coleman) was 31 years old when Boston Police shot and killed him at his mothers apartment. Coleman's mother had called emergency medical services to request an ambulance to bring her son, who had schizophrenia, to the hospital during a mental health crisis in 2016. When the police arrived, Terrence was shot in the groin and abdomen by Officer Garret Boyle. His mother Hope claims that Terrence was unarmed, and that Boston police should have used their tasers instead of their firearms. No officers were charged and his family has not received any justice. Hope has continued to push for justice for her son and has helped build support for other mothers and family members.
Eric Garner (mom, Gwen Carr) was 43 years old when he was killed by New York City police officer Daniel Pantaleo after he subjected him to a choke hold while physically pinning him to the ground. His alleged crime was selling loose cigarettes without tax stamps. Eric said, "I can't breathe", eleven times before he died while other officers looked on. Ramsey Orta filmed Garner's death and has been imprisoned since. Garner was killed in 2014, Pantaleo was fired in 2019. Eric's family received a settlement. Erica Garner, Eric's daughter, passed away from a heart attack after three years of activism following her father's killing. Eric's mother Gwen Carr has became a national leader against police terror and recently wrote an autobiographical book.
Marcus Golden (aunt, Monique Cullars-Doty) was 24 years old when he was killed by St. Paul police in a parking lot of an apartment complex in 2015. He was shot in his arm and in the back of his head by police as he was sitting in his car. His family claims he was unarmed at the time of the shooting. No charges were pressed against the officers and the family has yet to receive justice. Since her nephew's death, Monique has been building a community for those negatively impacted by police brutality and killings. She is the creator and an active member of numerous organizations pushing for social justice issues surrounding police, including Blue Lies Matter, Justice 4 Marcus Golden, and Black Lives Matter Twin Cities Metro.
Justus Howell (mom, LaToya Howell and grandma, Alice Howell) was 17 years old when he was shot and killed after a foot chase in Zion, Illinois. Howell's killer, Officer Eric Hill, claims he saw Justus holding a gun, and that the teen pointed the gun in his direction, though it was proven that Hill took the recovered gun out of Howell's pocket. The teen was shot twice in the back and died at the scene. Howell was killed in 2015, no officers were charged and his family has yet to receive justice. Since his death, LaToya and Alice Howell have been steadfast in the social justice movement and giving back to their community.
Ronald 'Ronnieman' Johnson III (mom, Dorothy Holmes) was 25 years old when he was fatally shot by Chicago police officer George Hernandez. 'Ronnieman' was in a car with friends leaving a party when the car's back window was shot out. Officers responded to the report of shots fired and opened fire on Johnson as he was running down a street. Video showed that Johnson never turned towards the police to aim any weapon, conflicting with police statements about how Hernandez had feared for officers' safety. Johnson was killed in 2014, no officers were charged and his family has yet to receive justice. Since his death, Johnson's mom, Dorothy Holmes, has been actively celebrating her son with giving back to the community.
Corey Jones (aunt/godmother, Sheila Banks), a church musician, was 35 years old when he was killed by an officer in plain-clothes after Jones' car broke down on the side of a highway exit ramp in Florida. Never identifying himself, Officer Nouman Raja, drove up in an unmarked white van while Jones was calling for a tow truck and fired six shots at Corey, killing him. Jones was killed in 2015. Raja was convicted of manslaughter by culpable negligence while armed and attempted first-degree murder with a firearm and sentenced to 25 years. Since Corey's death, his godmother and aunt, Sheila Banks, has been involved in seeking justice for Corey and others.
Travis Jordan (mom, Flo Jordan Ching and partner Taren Vang) was 36 years old when Minneapolis Police officers killed him while he was experiencing a mental health crisis. His girlfriend called 911 out of concern, telling the dispatcher that Jordan had said he was having suicidal ideations. Travis was inside his home holding a kitchen knife when police arrived. Officers Ryan Keyes and Neal Walsh urged Jordan to come outside and talk; after he did so, the police shot him to death. Jordan was killed in 2018, no officers were charged and his family has yet to receive any kind of justice.
Pierre Loury (mom, Tambrasha Hudson) was 16 years old when he was fatally shot by Chicago police as he was running away from them. Loury was killed as he attempted to jump over a fence after exiting a vehicle. Police claim he was a gang member and that he had a gun at the time of the shooting, which his mother disputes. Loury was killed in 2016, no officers were charged and his family has yet to receive justice. Loury's mother, Tambrasha Hudson has since been an advocate for justice.
Adaisha Miller (mom, Yolanda McNair) was a 24-year-old unarmed woman shot and killed by off-duty Detroit Police officer Isaac Parrish while at the officer's party. She was hugging Parrish when his gun discharged and he shot and killed her. The incident ruled an accident by prosecutors, Miller was killed a day before her 25th birthday in 2012 and officer Parrish was not charged, nor was he suspended or taken off-duty. Adaisha's mother created a support group called P.O.S.T. or Protecting Our Stolen Treasures which fights for police accountability and justice for victims of police murder. P.O.S.T. has grown to have several chapters across the U.S.
David Page (parents, Crystina Page and Shawn Steinmetz) was 20 years old when he was killed by Monument Police in Colorado. David had just learned that his baby was still born and his mother said his autism led to him not being able to process the trauma. Local police as well as a SWAT team were called to the apartment building where Page was allegedly shooting a BB gun at traffic. Page barricaded himself inside his apartment and was shot and killed by sheriff's deputies. David's family was held by the police for numerous hours before they were told he was killed. Page was killed in 2019, the officers were not charged and his family has yet to receive any justice. Crystina Page, his mother, is now an advocate for police accountability.
Richard Risher (mom, Lisa Simpson) was 18 years old when he was chased down and killed by Los Angeles police in the Nickerson Gardens housing project. Police approached a group of people hanging out and Richard ran away; the officers began chasing him on foot. Police assert Richard had a gun, and fired over 60 rounds at him. Risher was struck with two bullets in the back and the hand, and died at the scene. Risher was killed in 2016; the officers were never charged and his family has yet to receive any justice. Risher's mother, Lisa Simpson, has since been outspoken in her efforts to get justice for her son and all stolen lives taken by police terror.
Jaffort Smith (mom, Matilda Smith) was a 33-year-old man killed in 2016 by a flurry of bullets from four St. Paul police officers after Jaffort allegedly shot a woman friend in the face and fired at police during a schizophrenic episode. Smith was hit with 19 bullets. No officers were charged and his family has yet to receive any justice. Jaffort's mother Matilda has been consistent in her support for other families of police victims and in their pursuit for justice and police accountability. They've constantly spoken out about how the media accepts the police narrative as fact, which immediately conditions a local community to believe the victim was deserving of their death.
Alton Sterling (aunt, Veda Abusaleh) was a 37-year-old father of five who was fatally shot by officer Blane Salamoni in Baton Rouge, Louisiana. Alton was selling CDs outside a corner store and had been carrying a gun for a few days after other local CD vendors had been robbed. Police were called to the store on reports of a man with a gun and within moments after their arrival they shot Sterling six times at close range. Sterling's gun was in his pocket. His death in 2016 was filmed and coupled with other high-profile police killings led to mass protests. Salamoni was eventually fired and then he struck a deal for resignation after he threatened to sue. No charges were pressed against the officers and his family has yet to receive any justice.
Isaiah Tucker (mom, Cassandra Tucker) was 28 years old when he was fatally shot by police in OshKosh, Wisconsin. After getting into an argument with the mother of one of his children and taking her vehicle, police responded to the scene as Tucker was reversing a car out of the garage and shot almost a dozen rounds at him as he sped away. Tucker was found bleeding from two gunshot wounds a few blocks away. He was transported to a hospital where he later died. Tucker was killed in 2017, no charges were pressed on the officers responsible and his family has yet to receive any kind of justice.
Michael Westley (mom, Chantell Brooks) was 15 years old when he was fatally shot by Chicago police. He was running away from police at the time of the shooting. The video from a CCTV camera that showed Westley running moments before he was shot wasn't released by the city until three years after his death. Contradicting Chicago police's claim that Michael had two guns on him, his mother says the video makes it clear he was unarmed. Westley was killed in 2013, no officers were charged and his family has yet to receive any justice. Since her son's death, Chantell has been fighting an advocate for justice for those killed by police.
Darius 'Karate' Wimberly (mom, Ayanna Johnson) was a 28-year-old karate instructor who was fatally shot by police in Benton Harbor, Michigan in 2016. Police claim that Darius had two guns and shot at them, his mother says he was riding a 20 inch bicycle when he was shot in the back nine times and didn't have any gun residue on his hands. No officers were injured in the alleged shootout. His mother Ayanna has been holding annual picnics in honor of her son 'Karate' and what he represented to their community. She said that the city started its own picnics, but that it was all right, as their picnic "is different from mine because I really love my community."
Jonathan Victor (mom, Donna Chisesi) was an unarmed 35-year-old man who was fatally shot by a Baldwin County Sheriff's Deputy. Victor had gotten into an accident and his car had run off a Louisiana interstate. He initially survived the crash and was concussed. After first not complying with orders to exit his car, he got out and took a few steps towards police with a fanny pack wrapped around his wrist and his hands in a tactical position, at which point officers fatally shot him. Victor was killed in 2017, no officers were charged and his family has yet to receive any justice. Since her son's death, Donna has been a steadfast advocate for police accountability and justice.
Of the next two victims represented, the first died in jail and the other died after a run-in with police.
Hardel Sherrell (mom, Del Shea Perry and uncle, Trahern Crews) was 27 years old when he died inside a cell in Beltrami County Jail nine days after being transferred there. Sherrell began experiencing symptoms of what would later be identified as Guillain-Barré Syndrome. Staff at the county jail as well as medical staff at a local hospital all assumed Hardel was "faking" his symptoms. Sherrell died from medical neglect in 2018. His family has yet to receive justice.
Justin Teigen (fiancée, Toshira Garraway) was a 24-year-old man when his lifeless body was discovered within a pile of recycling materials in a Saint Paul suburb. St Paul police claim that Teigen hid in a recycling bin after police chased him on foot. Justin's fiancée Toshira says that it's more likely that police beat him badly and deposited Justin's body in the recycling bin. The official cause of death was asphyxiation due to mechanical compression inside the recycling truck. Justin died in 2009, his family has received no justice.
There were four victims of community violence and mental health that were represented: Aaron Allen (mom, Chauntyll Allen), Derell Howell (mom, Alice Howell), Marquez Perry-Banks (mom, Marea Perry), and Tyrone Williams (mom, Rosemary, son Andre, and sister Raeisha Williams).
The Racial Justice Network (RJN) has played a pivotal role in organizing the banquets. RJN has provided volunteers, rides for mothers to and from the airport, and played many other support roles. Among the other groups who helped organize the 2020 banquet, were Communities United Against Police Brutality, Twin Cities Coalition 4 Justice for Jamar, Black Lives Matter Minnesota, Black Pearl, and Love, Hope & Healing Counseling Services.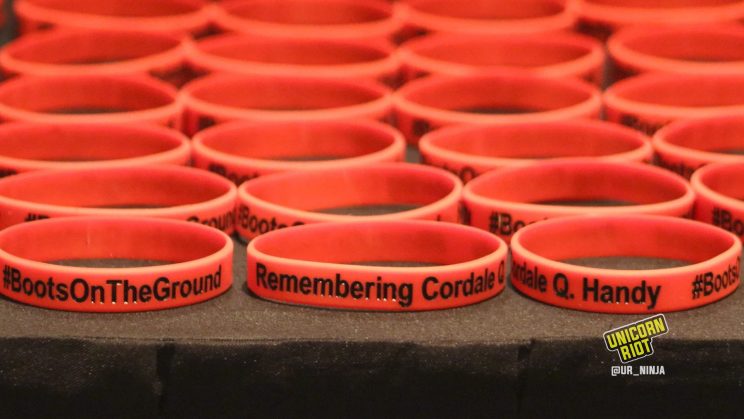 ---
Friday night's vigil and memorial event was held in the basement of Indigenous Roots Cultural Arts Center, just a block from where Cordale Handy was shot and killed by police in St. Paul. Over 100 people were in attendance and speeches were made by numerous family members of lost loved ones and activists. Trahern Crews, the uncle of Hardel Sherrell, emceed the night along with Monique Collars-Doty, the aunt of Marcus Golden.
During the memorial, Crystina Page shared the story of her son, David Page, being killed by police in Monument, Colorado and how it changed her life and viewpoints. She spoke about the incident, how her son was killed, and how badly the police treated her family.
Page said she organized a 'Back the Blue' (pro-police) rally just years prior to her son being killed by police and the negative experiences her family endured during this tragedy has altered her formerly positive point of view of the police.
LaToya and Alice Howell also spoke during the Friday memorial. They discussed how the Chicago police killed LaToya's son Justus Howell, the steps the police took to cover up the killing, and some of the things they've had to go through since.
The night ended outside in sub-freezing temperatures with a balloon release at the site of Cordale Handy's death.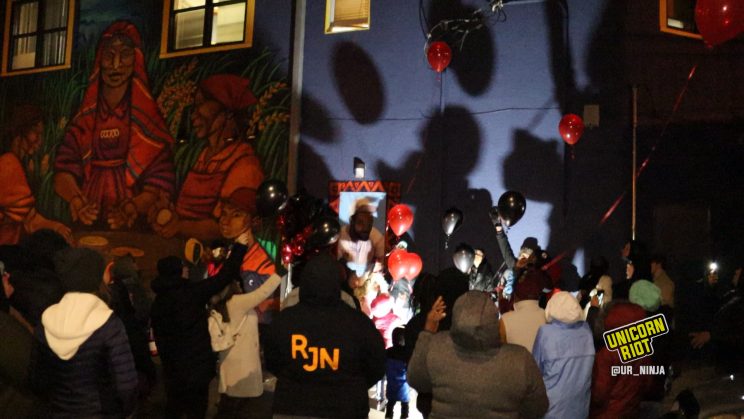 After the weekend of events, Kim Handy-Jones called the mothers "a tower of strength", "gladiators", "irreplaceable", and "a special kind of women". She reveled in the magnitude of the strength that the mother's and family member's have for going through so much trauma and turmoil.
"It takes a special type of mother to be able to withstand and endure the trauma and the hurt and the pain that we've had to endure." — Kim Handy-Jones
As the years go by and the list of grieving mothers grows, so does the massive support circle powered along in part by each of the family members mentioned in this article and in their communities.
"These mothers have been standing on the front lines with open arms and we hope and pray always that we don't have to grab another mother's hand but it's almost inevitable because police brutality and community violence are at an all-time high." — Kim Handy-Jones
The bond, love, and community that these family members have created through events like the 'Remembrance' banquets that Handy-Jones started, sparks connection and togetherness that is not only helping these family members grieve, but is building relationships that are likely to lead for a lifetime.
During the weekend of events, the closeness that these mothers showed and shared was the closeness of family. One of the main themes heard during the weekend was that each of the mothers were always there for each other's phone call.
"Sometimes you can't sleep at night – you can always call that phone and if not all of them answer…you're gonna get four or five that answer you.

When the rest of the world is sleeping, we're somewhere grieving, our minds never stop. It never shuts down. We just keep going." — Kim Handy-Jones
As this loving community unwantedly grows, it still represents a minority percentage of family members dealing with the grieving process of having their loved ones killed by police. There are a lot of family that do not talk about the situation for many reasons. While Handy-Jones has been outspoken since her son's death, she said they must be the "voice for the voiceless" when other mothers and family members can't or won't talk.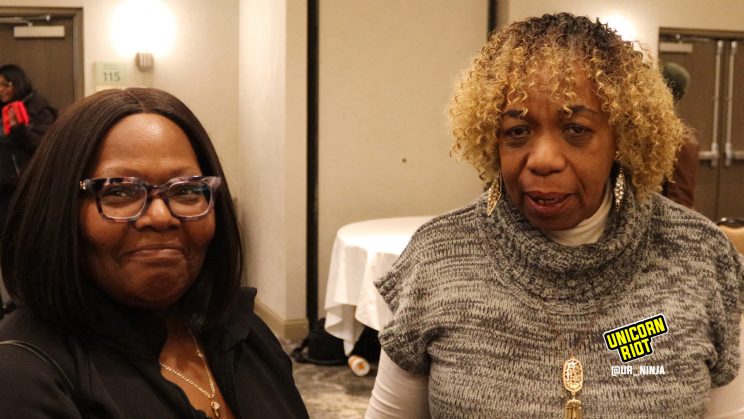 To build the community that these mothers have built, Handy-Jones said it took them coming together collectively and "keeping [their] boots on the ground."
This year's banquet came during a time that the coronavirus was starting to spread across the U.S. and before any of the Stay At Home orders were given. Some mothers and family members didn't come because of the crisis. For the family and mothers that came, many said the impacts that the weekend of events had on them emotionally outweighed their fear and risk of the virus.
"I'd walk through coronavirus for my son. I really would. And I saw a lot of mothers that would do the same." — Kim Handy-Jones
While the list of victims of police terror continue to rise, police accountability continues to be lacking. Yet, Handy-Jones still has hope in the idea of justice; "We may not get there today but justice delayed does not mean justice denied. If we keep coming and standing on those frontlines, we're gonna get a breakthrough. We're gonna push through."
---
Continue to follow Unicorn Riot for further content contextualizing the impacts of police killings. Stay tuned for our upcoming documentary on mothers who've lost their children to police terror tentatively – planned for a later 2020 release.
---
Follow us on Twitter, Facebook, YouTube, Vimeo, Instagram, and Patreon.
Please consider a tax-deductible donation to help sustain our horizontally-organized, non-profit media organization:

Unicorn Riot Coverage Surrounding Cordale Handy: