Nurses Picket Over Lack of Protection From Ongoing Viral Pandemic
Saint Paul, MN – Hundreds of medical professionals and supporters held an informational picket demanding their employer Allina Health, along with the Minnesota Department of Health, provide increased personal protective equipment (PPE) "with higher safety standards." After the May 20 picket outside United Hospital protesters marched to the Capitol for a physically-distant rally with multiple speakers.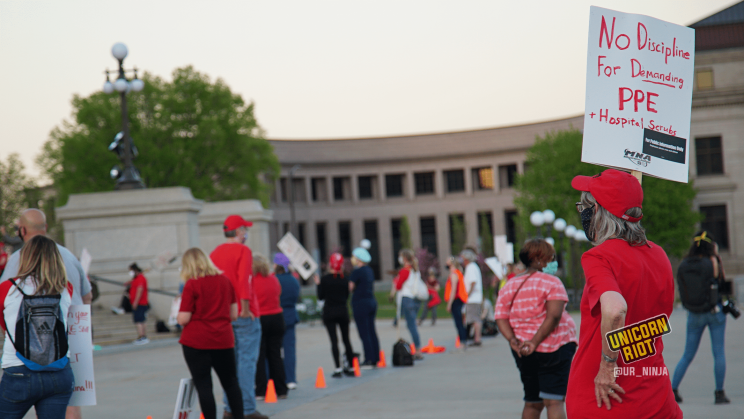 A nurse survey published last month of 1,000 frontline workers nationwide was conducted by Service Employees International Union (SEIU). It revealed that over 8 of 10 don't have access to enough PPE to safely care for patients without contracting coronavirus.
Another survey conducted by National Nurses United (NNU) asked over 23,000 nurses whether they'd ever had to reuse single-use PPE with a COVID-19 patient; nearly 9 in 10 nurses said yes.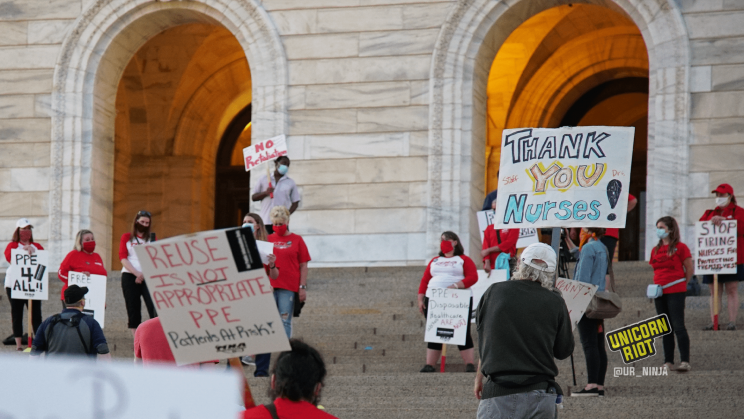 Some Minnesota nursing home healthcare workers have been improvising gowns from rain ponchos "because we simply don't have enough PPE," according to SEIU Healthcare Minnesota president Jamie Gulley in a May 5 press release.
As of May 21, 2020, 809 people have died in Minnesota of COVID-19. 663 of those cases, over 80%, were people that resided in long-term care or assisted living facilities.
Nurses are demanding hospitals allow them to wear hospital-issued surgical scrubs, which already exist though are normally worn only by doctors and physician assistants, instead of having to bring their own work scrubs to/from work at the risk of contaminating their families. The hospital-issued scrubs are professionally laundered, which greatly reduces the chances that nurses will bring home coronavirus on their clothes.
The picket was amplified through the Minnesota Nurses Association (MNA).
Nurses like Cliff Willmeng say they have faced retaliation for choosing to start wearing these hospital scrubs without hospital approval, even though "the whole point of having these things at a hospital is to contain infection."
One month ago the Saint Paul City Council passed a resolution calling for United Hospital to immediately "ensure the highest level of protection" for staff by by working with them, and to not only forego any further punishment against workers but also to restore disciplined workers to good standing.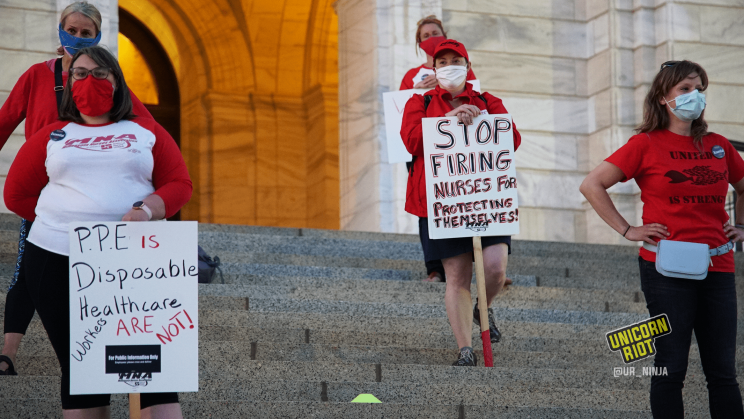 The event was live-streamed by the MNA, which is the largest labor union for registered nurses (RNs) in the state of Minnesota. They have also organized a "Pandemic Bill of Rights Petition" to attempt to guarantee protection for healthcare workers during the COVID–19 pandemic.
On the event page the nurses' demands from the Pandemic Bill of Rights were summarized into four points:
Involve nurses and hospital workers at every level of decision-making
Supply readily-available PPE to all workers; provide maximum precaution to prevent the spread of COVID
Environmental preparation of all hospital areas slated to become COVID-positive
Immediately stop retaliation and reverse all retaliatory measures
Jean Ross, one of the co-presidents of National Nurses United and a former MNA member, remarked that she was thankful for the support of the public and of fellow union members during this time.
Ross emphasized that the public has treated healthcare workers as "indispensable" during the pandemic. On the other hand, she remarked, "to the government, to our employers, we are sacrificial fodder," explaining that neither authority acts as though they care about the safety of their employees.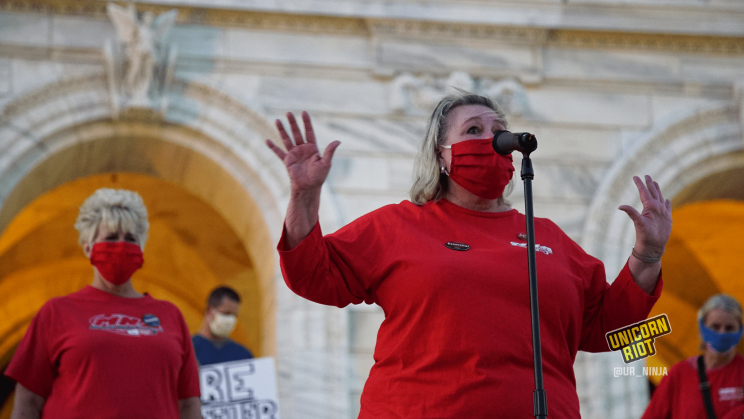 Ross warned any worker away from believing that management would opt to collaborate with staff in order to prioritize the safety of employees, without being pushed to do it; she suggested instead that workers turn to each other to find solutions.
Ross also said the CDC's relaxation of safety standards would only increase the chances that coronavirus could spread to infect more people in the workplace, a thought echoed in a group open letter signed by the executive director of NNU as well as SEIU and other labor unions.
"Nobody is going to get you the adequate amount of PPE that you need, that we all need, unless you start demanding it." — Jean Ross, National Nurses United co-president
Minnesota Governor Tim Walz allowed the state's shelter-in-place emergency order to expire, opting to not renew it after this past Monday, May 18. People have returned to some parks, businesses and government service offices, notably Minnesota Department of Vehicle Services which experienced lines of six-hour wait times after opening for the first time in months.
In the neighboring city of Minneapolis Mayor Jacob Frey has made wearing cloth face coverings indoors mandatory beginning Tuesday, May 26. Those who choose not to wear a mask will risk a misdemeanor offense, carrying either a $1000 fine or a maximum of 90 days in jail. The mayor says Minneapolis city government will be focusing punitive measures on those "entertaining extreme selfishness and flagrant disregard of the health and safety of our fellow Minneapolis residents."
Frey added that wearing a mask will "help keep our neighbors safe," noting the need to maintain physical distancing and for education and outreach regarding the pandemic. He acknowledged,
"A disproportionate share of our essential, front-line workers are low-income and people of color, who are already experiencing higher rates of infection." — Minneapolis Mayor Jacob Frey
As of Thursday, May 21 Saint Paul Mayor Melvin Carter has issued no similar order regarding masks and members of the public.
Keeping others safe from one's breath is especially important during a viral pandemic where the disease seems to be spreading via people who experience no symptoms. It is considerate to healthcare workers, who inevitably have to deal with a higher caseload of patients if more people become infected at once.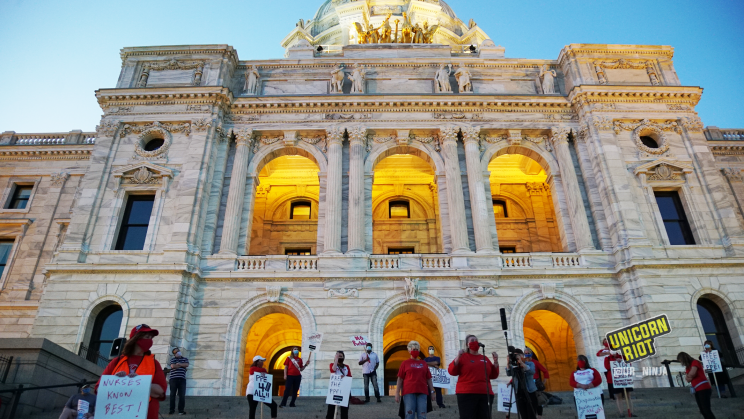 ---
Follow us on X (aka Twitter), Facebook, YouTube, Vimeo, Instagram, Mastodon, Threads, BlueSky and Patreon.
Unicorn Riot's COVID–19 Coverage: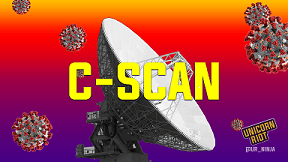 Please consider a tax-deductible donation to help sustain our horizontally-organized, non-profit media organization: