Judge Orders Sheriff to Halt Harassment of Line 3 Resistance Camp
Hubbard County, MN – On the morning of July 23, 2021, Minnesota 9th District Judge Jana M. Austad granted a temporary restraining order prohibiting the Hubbard County Sheriff's Office from "barricading, obstructing, or otherwise interfering with access to the [Namewag Camp] property"—an Indigenous-led water protector community. The Namewag Camp is one of several sites organizing against the new Line 3 tar sands oil pipeline being built by Canadian energy giant Enbridge.
Judge Austad's decision is in response to a complaint filed July 16, 2021, on behalf of Tara Houska, Winona LaDuke, AhnaCole Chapman, and Switchboard Trainers Network for relief against Hubbard County, Hubbard County Sheriff Corwin 'Cory' Aukes, and Hubbard County Land Commissioner Mark 'Chip' Lohmeier.
Last month Sheriff Aukes and Commissioner Lohmeier tried to block all vehicle access to the anti-pipeline camp, raising concerns about civil liberties and law enforcement collusion with the pipeline company. (Enbridge has paid over a million dollars to Minnesota law enforcement policing anti-pipeline protests, via a state-managed escrow fund.)
Hubbard County officials claim no valid easement exists for the camp's driveway, which briefly crosses county land; however one of the plaintiffs in the lawsuit, Winona LaDuke, paid for an easement in 2018.
Unicorn Riot reported on the initial barricade on June 28, 2021, when Sheriff Aukes delivered a notice signed by himself and the county land commissioner deeming the property's driveway a "Hubbard County owned trail" and announcing it was now closed to all vehicle traffic. The property has no utility hookups, and the sudden action by Sheriff Aukes prevented deliveries of food and water to the camp for several days.
Some pipeline opponents believe the blockade was timed to coincide with Enbridge contractors drilling under nearby rivers.
"This is a blatantly unlawful attempt to target and repress Indigenous-led efforts to defend our land and water."

Giniw Collective Founder Tara Houska
After a few days of police barricades, the Hubbard County Sheriff pivoted to a tactic he had used before—stationing at least one squad car in a power easement corridor across the road to monitor the driveway. Sheriff's deputies then began pulling over and citing individuals leaving the Namewag Camp for allegedly violating County Ordinance #36, which is a "Land Use Violation."
Here is a ticket one of the water protectors received. We blocked-out their personal information, but what is shown is that Hubbard County gave a "Land Use Violation" citation in accordance with Ordinance 36. pic.twitter.com/jJbhabmhCJ

— Unicorn Riot (@UR_Ninja) July 9, 2021
According to records obtained by Drilled News, no one in Hubbard County has been cited in alleged violation of County Ordinance #36 until water protectors began receiving citations about a month ago.
When Unicorn Riot asked Land Commissioner Lohmeier about the reason for the June 28 notice and barricade, he said "if there is not a specific sign posted on that road then that road is closed to motor vehicle traffic," although according to him, "there hasn't been a sign on that road ever."
A statement by Sheriff Cory Aukes, cited in the complaint, indicates that the Sheriff sought to close access to the camp in order to stop anti-pipeline activity.
"We decided that now is the time for obvious reasons. All hell breaks loose at certain times, and we're hoping to stop that. And if this is the way to do it, then this is the way to do it."

Hubbard County Sheriff Cory Aukes
Judge Austad ruled fully in the plaintiffs' favor— she found that the easement is a valid driveway that vehicles can legally drive on, and the Hubbard County Sheriff's Office is in "substantial violation of plaintiffs' right to the use and enjoyment of the property." She also wrote that a blockade of the camp would likely be "a deprivation of constitutional rights."
"The evidence before the court does not support Defendants' interpretation of the easement or law enforcement actions to blockade and criminalize the use of the driveway in existence for 90 years."

Judge Austad
Tara Houska, founder of the Giniw Collective and tribal attorney, expressed relief that Hubbard County was held accountable and that she and her fellow water protectors "have rightful access to [their] home back."
"Although much of the state appears to have forgotten who their duty is owed to, I'm glad to see some refusing to bend to Enbridge and instead choosing to uphold Constitutional rights and basic tenets of law. Just because the Hubbard County Sheriff and Hubbard County Attorney are opposed to Native people protecting our homelands should not mean they can engage in violent, unlawful repression without consequence."

Tara Houska
As the decision came out Friday morning, water protectors continued to fight on the ground in Minnesota against Enbridge's new Line 3 tar sands pipeline. A few activists locked down to a horizontal directional drill by the Crow Wing River, and at the Red Lake Treaty Camp, dozens took part in a ceremony in front of the Red Lake River where drilling operations are taking place. One activist locked down to the drill, and approximately twenty others were arrested while in ceremony outside of the work site.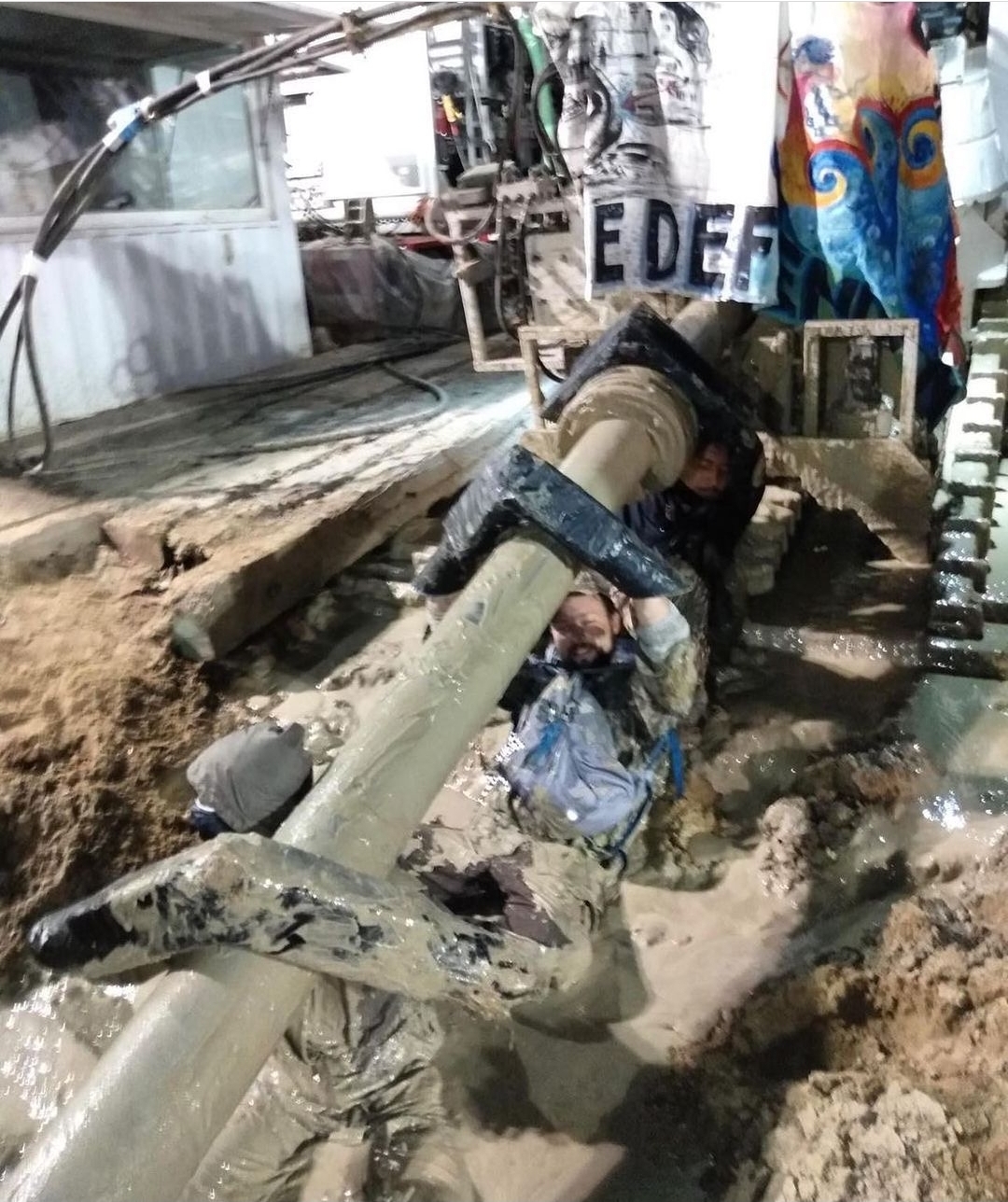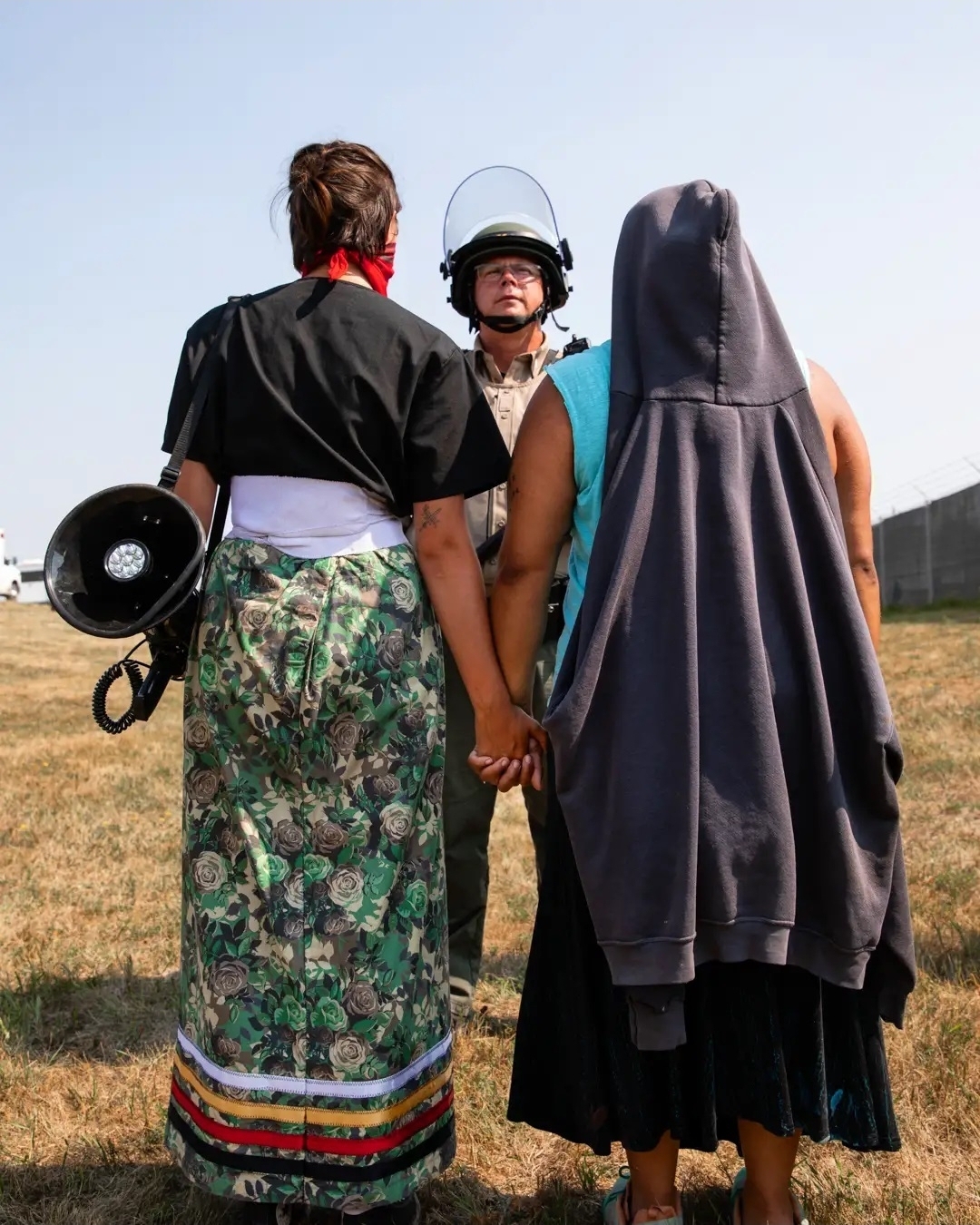 ---
Follow us on X (aka Twitter), Facebook, YouTube, Vimeo, Instagram, Mastodon, Threads, BlueSky and Patreon.
---
Unicorn Riot's Line 3 Oil Pipeline Coverage:
Please consider a tax-deductible donation to help sustain our horizontally-organized, non-profit media organization: