Minneapolis Pushes Activists to Their Limits
Minneapolis has been ground zero for international outrage and seen nearly nonstop protests since Minneapolis police (MPD) murdered George Floyd over a year ago. Also since the murder of Floyd, the city of Minneapolis and the powers that be have shown contempt for protesters, with tensions approaching a boiling point.
This article covers several developments in a politically on-edge city, including a confrontation with Minneapolis city council vice president Andrea Jenkins, the reopening of George Floyd Square, the indifference by politicians about the murder of protesters, and the ongoing police killing and deception by authorities.
Action Against Councilmember Jenkins
The despair from protesters was palpable on Sunday, June 27 when a coalition of Twin Cities activists organized the Taking Back Pride march. One of the leaders of the march, DJ Hooker, went live on Facebook to confront City Council member Andrea Jenkins while she was in the passenger seat of a car trying to leave the park after the event. He explained that earlier at the march he tried to get Jenkins' support for a list of demands, which included the mayor's resignation, but she snapped at him. This prompted an impromptu action against the councilmember by Hooker and the group: "So we've been out here for an hour and a half. She's been mean and rude. Her friend or partner has called the cops on us already," Hooker said on video.
Jenkins has a history of clashing with protesters and constituents. Less than a year before Floyd's murder, activists disrupted the mayor's 2019 budget presentation to demand MPD be defunded after another police killing. Jenkins, who chaired the hearing, yelled at activists and threatened to "clear the room" and have people arrested.
On June 25, 2020, one month after Floyd's murder, Jenkins hosted a virtual community meeting pushing to reopen the streets where Floyd was murdered that activists have declared an autonomous zone. Jenkins used the narrative that shutting down the streets was the reason crime skyrocketed. Two days later, when activists organized a meeting at Phelps Park to dispel claims pushed by Jenkins and the city about George Floyd Square, Jenkins disrupted the meeting and yelled at the organizers.
Plenty of curse words were exchanged between the activists and Jenkins after the Taking Back Pride march. Hooker read off their list of six demands, in which Jenkins finally agreed to all of them, after much struggle.
Following the incident, Jenkins went to the press to backtrack on her support for the demands, saying she was held captive. In an email to supporters, she wrote: "On Sunday afternoon, while attending a Pride event in Loring Park, something I've done on the last weekend in June for the past 20-plus years, I was verbally attacked, berated and held 'hostage' against my will by a large group of angry protesters."
Ladan Yusuf, a community organizer with Defend Glendale & Public Housing Coalition, says city officials have tried to derail her organizing efforts – "they profiled me as the angry Black woman and demonized me." It was no surprise to Yusuf to see frustrated protesters confront Jenkins inside a vehicle. "Politicians are choking people. Stuff like that is gonna keep happening."
Pandemic Funds Spent to Silence George Floyd Square
Hooker and protesters calling for Mayor Frey's resignation are mostly upset at his unwavering support for MPD. Also on the list of demands by the group was the demand that the city leave George Floyd Square (GFS) alone. Activists are incensed with the city's reopening of GFS. News broke on June 17 that Frey spent pandemic emergency money to pay off the nonprofit group Agape Movement to help dismantle barricades at the year-long occupation. Several city council members called the mayor's use of pandemic funds to pay a third party to dismantle protest infrastructure a scandal.
Tina Burnside, civil rights attorney and co-founder of the Minnesota African-American Heritage Museum and Gallery, grew up in the community where Floyd was murdered. Burnside told the Minneapolis Interview Project that the city cannot wash their hands and simply blame Agape:
"This recent debacle, when the city tried to open up 38th and Chicago at 4:30 in the morning, without telling activists, and then they said, 'Oh no, it wasn't the city it was Agape.' Do they think we are all stupid? Agape can't just call up Public Works [Department] and get them to remove intersection barriers without city approval."

– Tina Burnside, civil rights attorney and co-founder of Minnesota African American Heritage Museum and Gallery
Burnside is perplexed as to why the city doesn't deal honestly with the community at GFS: "They don't consult with their constituents and the other people who are affected by it. Instead, they are thinking about what's going to be politically beneficial … The activists have put forward these demands … [most] things the activists are demanding are reasonable, and within the city's authority and control," she said, "so the city should work with them on those."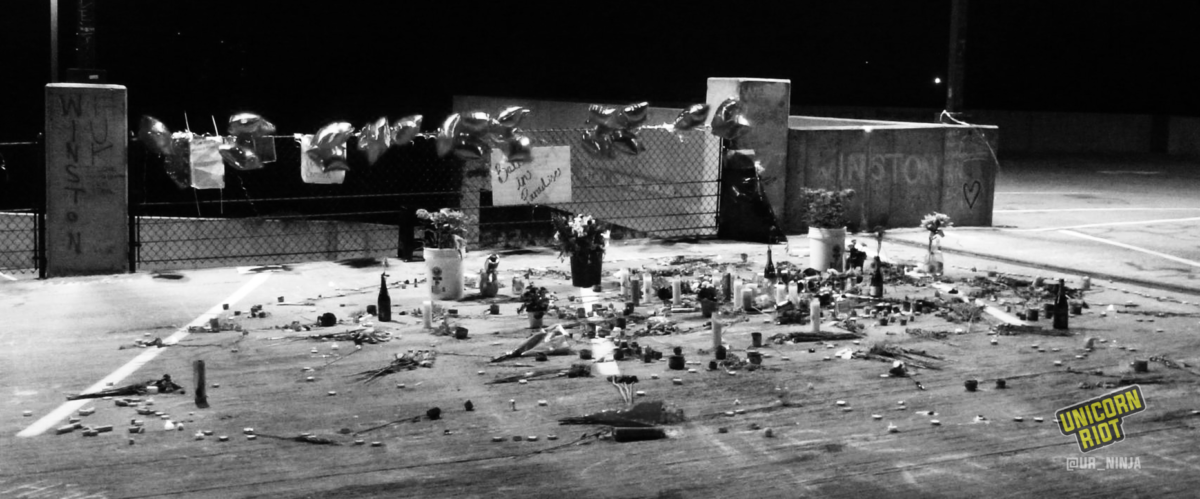 A Pattern of Deception
On June 3, just hours after the city removed the barricades and reopened the streets where Floyd was murdered, law enforcement under the jurisdiction of the U.S. Marshals' office shot and killed activist Winston Smith while he was out on a date. The woman Smith was out with said he was unarmed, although authorities initially claimed he was armed.
Police murdering Smith enraged people already dealing with the GFS reopening. Protesters gathered that evening on the streets outside the Uptown parking ramp where he was killed, snarling traffic for several days. Activists say Smith was assassinated and created the website winstonsmithwasassassinated.com to help bring awareness to the case.
Authorities have denied that any video of the killing exists and it is unclear if the parking ramp surveillance cameras store data or only have abilities for live feeds. However, authorities have lied several times in this case. While Minnesota law enforcement are generally expected to wear body cameras, authorities claim none of the officers involved had them on and none of the unmarked vehicles had dashcam video of Smith's killing because the U.S. Marshals' office did not allow it. Yet, when the U.S. Attorney's office confirmed that the policy was rescinded last year, and marshals and deputized local law enforcement are allowed to wear them; authorities amended their statement saying they weren't required to.
Burnside asks why people should believe police after they've repeatedly killed Black people then lied about it.
"We know we can't trust law enforcement because they put out false statements initially, and then they backtracked. They said Smith was a murder suspect, but then they had to admit he was wanted on a warrant for possession of a weapon. Why should people believe the police when they lie? Remember, the police initially said George Floyd died from a medical incident during police interaction. Have we not learned anything in a year?"

– Tina Burnside
A War On Dissent
It is no surprise that the Minneapolis Police has a strong intolerance for protesters and dissent in general. After murdering George Floyd, it was the brutal assault on demonstrators and press by police at the Third Precinct last summer that caused activists to respond more aggressively, leading to the burning of the precinct and looting on Lake Street.
Additionally, on April 11, 2021, after police officer Kim Potter murdered Daunte Wright, a similar violent crackdown by a multi-jurisdictional police task force in Brooklyn Center against protesters and journalists led to several nights of unrest.
On June 13, it went from intolerance to murder when Nicholas Kraus drove his car at high speeds into the Uptown protest site — erected after Winston Smith was murdered — killing Deona Marie and injuring several others. Only due to Marie's car, positioned to protect protesters, was a mass murder avoided.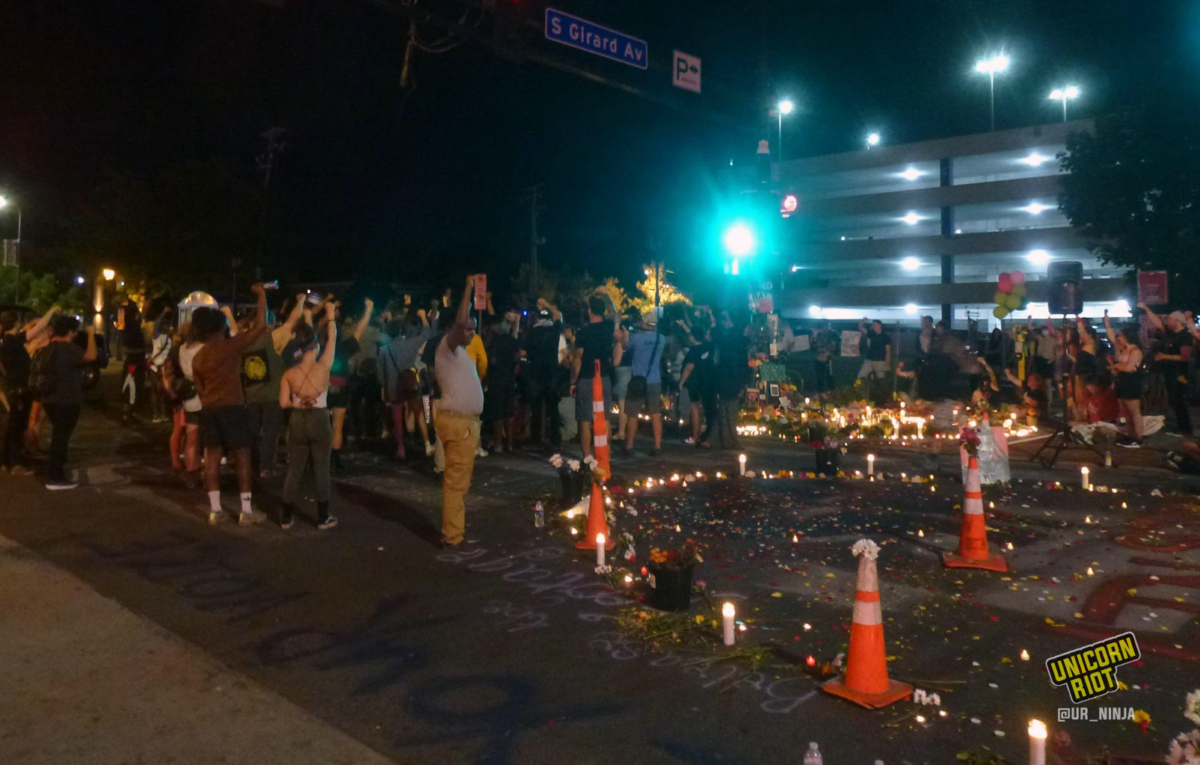 "Meanwhile, local media is out here being concerned about the welfare of the murderer," said one user on Twitter, referring to the Star Tribune's coverage of the murder, which falsely claimed the driver was beaten by protesters.
Meanwhile, local media is out here being concerned about the welfare of the murderer. pic.twitter.com/nF4PWG2huB

— Ian Coldwater 📦💥 (@IanColdwater) June 14, 2021
"MPD told folks that this wouldn't have happened if people weren't on the street. People wouldn't have been on the street if law enforcement hadn't murdered Winston Smith," wrote another Twitter user.
Last summer, in the wake of Floyd's murder, Bogdan Vechirko drove a semi truck into a protest after thousands of activists took over Interstate 35W. The incident traumatized many demonstrators, but fortunately, nobody was physically injured. Charges against Vechirko were dropped in June 2021 just five days after Kraus ran into the protest killing Marie; some interpreted this move as the city officials declaring an open season on protesters.
The state's prosecutors are still pressing charges against hundreds of demonstrators arrested during the George Floyd uprising. Dropping these protest charges was one of the demands from those who confronted Jenkins.
On May 27, 2020, John Rieple, a white man and owner of Cadillac Pawn, shot from inside his store into a crowd of demonstrators, striking and killing Calvin Horton (a Black man) who was protesting the murder of George Floyd. Hennepin County prosecutor Mike Freeman did not press charges against Rieple, blaming a lack of cooperation from witnesses, although the murder happened during the second night of the uprising and there was a crowd of witnesses as well as surveillance video.
On Wednesday, July 21, 2021, there was a rally for Horton's 45th birthday in front of the store where he was murdered. Speakers at the Horton rally noted the pattern in Minneapolis of the killers of Black people not being held accountable. Minneapolis activist Toussaint Morrison said at the rally: "There are protesters in this crowd right now that spent more time in jail than John Rieple did for shooting and killing a man. If this does not spell out to you […] what these leaders are about, I don't know what does."
The crowd at the rally for Calvin Horton vowed to get justice and at one point chanted, "If Calvin don't get it, burn it down!"
---
After the year's seemingly endless series of traumatic events, the tragedies feel intentional to many involved in ongoing protests. 26-year-old activist Tony Clark told Unicorn Riot, "I felt like honestly what we're going through is war within our own city with the police system."
How Much is Enough?
On July 14, the Star Tribune published a story about Minneapolis Police officers at the Second Precinct destroying case files with crucial evidence including information on confidential informants, shortly after the Third Precinct burned. Responding to this article, historian and author of the Minneapolis Interview Project, Anne Winkler-Morey asks her online followers, "How much is enough?"
"In 2011 the town of Columbus, New Mexico, removed all of [its] elected officials and its entire police force, when their gun smuggling ring was uncovered. The town simply went without, for months.

Are we at that point, Minneapolis? How much corruption, how many police lies, how much Mayoral collusion, how much death, how much harassment, how many unannounced bulldozers, how much buck-passing, before we remove the whole bunch?"

– Anne Winkler-Morey
Burnside commends the protesters in the streets day in and day out: "I have to give credit to those young people; they have a lot of resilience and a lot of endurance. They are staying on the front lines until they get resolutions, justice, and real change."
About the author: Marjaan Sirdar is a freelance writer in South Minneapolis' Bryant neighborhood, where George Floyd was killed by the MPD. He is the host of the People Power Podcast.
Cover photo of June 17 march in Minneapolis provided by YelloeHelmetMSP, stylized by Dan Feidt.
---
Follow us on X (aka Twitter), Facebook, YouTube, Vimeo, Instagram, Mastodon, Threads, BlueSky and Patreon.
Please consider a tax-deductible donation to help sustain our horizontally-organized, non-profit media organization: