Water Protectors Occupy Work Sites and Lock Down to Line 3 Pipeline Construction
Hubbard County, MN – Dozens of water protectors descended on two work sites for Line 3 construction in Northern Minnesota on the morning of July 1, 2021, stopping construction at both sites for the day. Fourteen people locked down to various construction vehicles including the pipeline itself; twenty-eight water protectors were arrested.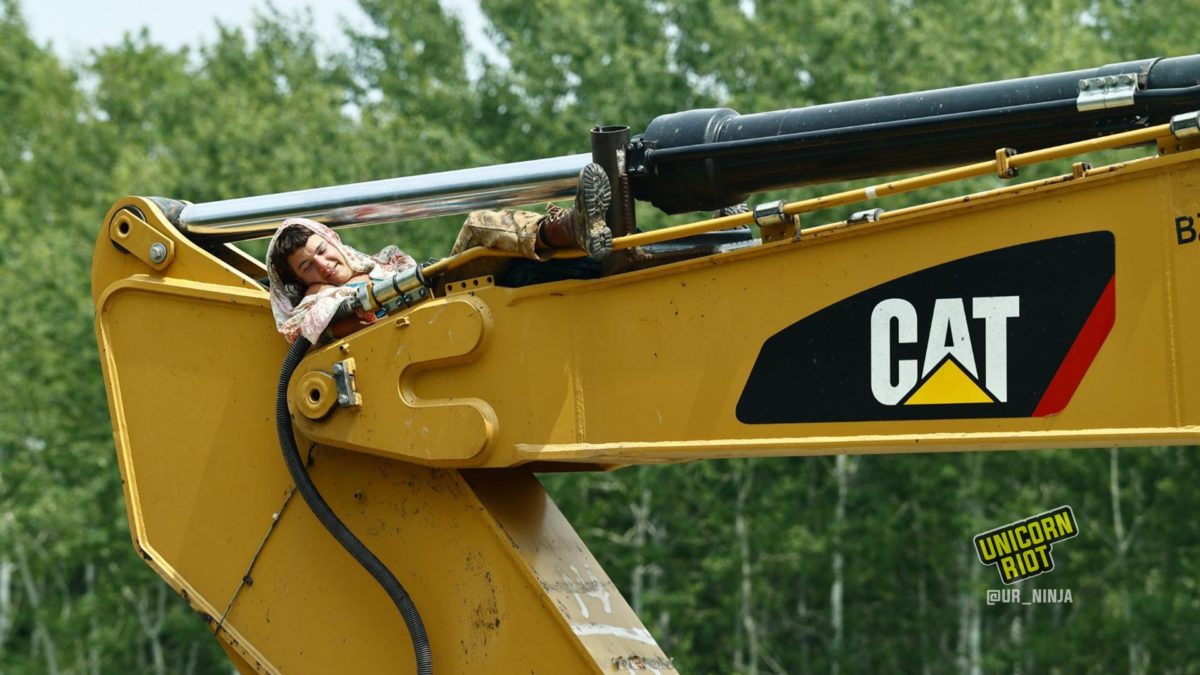 [UPDATE] The official number of arrestees from the two work site actions was 28. All were released Friday evening. Bails were set high at $10,000 without conditions, and $5,000 with conditions. No cash bail at 10% was offered. Many of the activists were charged with felony theft. This marks the second time in the fight against Line 3 that water protectors have been charged with felony theft.
Unicorn Riot documented the situation live from the ground. Watch nearly nine hours of streams from today:
Final approvals in November 2020 gave Enbridge, a Canadian energy corporation, the go-ahead to complete the Minnesota section of what the company is calling the Line 3 Replacement Pipeline. The planned pipeline route stretches across 337 miles of traditional Anishinaabe Territory in Northern Minnesota, beginning at tar sands mines in Alberta, Canada and ending at refineries in Superior, Wisconsin.
Water protectors opposed to the contentious Line 3 pipeline project have regularly staged non-violent direct actions that temporarily stop construction, with several hundred arrested in action campaigns over the last year. In June, 179 people were arrested, and dozens cited, when thousands of water protectors shut down an Enbridge pumping station for two days as part of a multi-pronged Treaty People Gathering in Northern Minnesota.
Participating in the July 1 lockdown, Ginger Cassady, the Executive Director of the Rainforest Action Network, called on President Joe Biden and the financiers of the pipeline project to stop Line 3 construction.
"Im in Northern Minnesota at the Headwaters of the Mississippi protesting Enbridge's toxic pipeline. This pipeline is not only a direct assault on Indigenous people but it's also an assault on their local land treaty rights."

– Ginger Cassady, E.D. Rainforest Action Network
Large numbers of police have arrived to the scene of an ongoing direct action where 14 water protectors are locked down to #Line3 construction equipment. Watch #LIVE here: https://t.co/M9IboVeMMF pic.twitter.com/6GCuQJpKBM

— Unicorn Riot (@UR_Ninja) July 1, 2021
Earlier this week on June 28, dozens of Hubbard County Sheriffs barricaded the entry into the Namewag Camp, a privately-owned property used by water protectors. This prompted a wave of supporters showing up to the land in solidarity. Nearly a dozen people were arrested near the roadway by authorities during a two-day span before the sheriffs left the property. Some believe the Hubbard County Sheriff's aggressive, unusual enforcement of a minor clerical issue involving a county road easement by the camp property was timed to coincide with Enbridge drilling one of their crossings under the Mississippi River.
Enbridge plans to have construction completed by the end of the year. Meanwhile, direct actions by water protectors seeking to halt construction are expected to continue through the summer.
---
Follow us on X (aka Twitter), Facebook, YouTube, Vimeo, Instagram, Mastodon, Threads, BlueSky and Patreon.
Unicorn Riot's Line 3 Oil Pipeline Coverage:
Please consider a tax-deductible donation to help sustain our horizontally-organized, non-profit media organization: