Family Calls for Hate Crimes Charge in Killing of AJ Stewart
St. Paul, MN – A 50-year-old white man fatally stabbed a young Black man in the heart with a homemade shank over a parking dispute in late 2021. The community says it was a racially motivated attack and compared it to the cases of Ahmed Arbury and Trayvon Martin. The victim's family wants tougher criminal charges.
Arnell 'AJ' Stewart, 27, was killed by 50-year-old Brian Kjellberg on December 2, 2021 outside Kjellberg's property on the 1700 block of 7th Street East in St. Paul. Kjellberg has been charged with second-degree murder without intent, MN Statute: 609.19.2(1), and was bailed out of jail on a $500,000 bond on December 7. [Update: May 1, 2023 – Kjellberg was found guilty by jury trial on March 30, 2023.]
In the complaint filed in district court, Kjellberg is said to have called 911 after he stabbed Stewart. He told the police that he had called a tow truck over car parked on the street and "refused to let" Stewart take his car when he tried to move it. He then said he "had been punched in the face," so he stabbed Stewart with a "pointed metal tube" that he had been carrying in his pocket and used as a weapon.
"This man is the Eastside of Saint Paul's version of George Zimmerman, Travis McMichael, Gregory McMichael, and William Bryan."

Michael Kleber-Diggs, Saint Paul resident, writer
Stewart's family and supporters want the Ramsey County prosecutors to revoke Kjellberg's bail and charge him with first degree murder and hate crimes.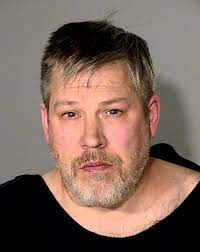 Kjellberg has hired defense attorney Earl Gray, who's recently represented former police officers involved in high-profile trials of police killings in Minnesota.
Gray defended Derek Chauvin, Thomas Lane, and Kim Potter, all of whom were recently found guilty on various killing-related charges. However, in 2017, Gray successfully defended former police officer Jeronimo Yanez from manslaughter charges for killing Philando Castile during a traffic stop.
Kjellberg's next court appearance is an Omnibus Hearing on March 30 at 8:30 a.m. He's expected to plead not guilty.
In late December 2021, Stewart's family and community leaders held a press conference at the Indigenous Roots Cultural Center in East Saint Paul. The speakers demanded justice and pushed for the community to continue to call the Ramsey County Attorney's Office and ask them for tougher charges against Kjellberg.
Hosting the press conference was artist and activist Tish Jones. "I have cousins, nephews, a little brother. And what happened to AJ could happen to him, them or any of us to be honest with you," said Jones, also a St. Paul resident. Jones said that Kjellberg is a veteran and that racial epithets were used during the 911 call by Kjellberg and that he had a history of harassing others and calling other Black men racial slurs.
Jones said Kjellberg's actions felt "premeditated" there's "too many people with hate filled hearts" that are "taking the law into their own hands."
"There have been racial epithets used by this man and based on community, other young Black men who live in the area. It's not an unfamiliar thing for this man to have made threats against their lives, to have harassed them in the neighborhood and on that block. So to me, this feels premeditated, it feels excessive, and it feels like a hate crime.

And I don't understand a system that allows this man who wielded a weapon, created it on his own, brought it out to the altercation, use it against this young man while prohibiting him from entering his vehicle in public space – I don't understand how this man can walk free. I think that he should be behind bars. I think that there should be more press more attention to this case. And I think we need to set a precedent for people who are trying to determine what is right. We should be setting a precedent that we don't get to take the laws into our own hands."

Tish Jones, activist, artist, host of Justice for AJ press conference on December 30, 2021
Community organizer and Eastside resident Danielle Swift said that the Eastside of Saint Paul "used to be a sundown town. Black folks used to not even be able to come around here…It wasn't that long ago." Another St. Paul resident, Trahern Crews, added on to the thought saying that "just under 20 years ago, they were burning crosses in Black people's yards here on the Eastside."
AJ's cousin, Tongo Eisen-Martin, said Kjellberg's fatal actions need to be looked at in the context of the larger picture of the rise in "white supremacist violence" and its partnership with the state.
"What brings us here today is nothing less than an act of white supremacist violence that has never been only the duty, or prerogative, of the police. Furthermore, we have an act of white supremacist violence in the context of a rising tide of an escalating desire of the masses of white people as well as a segment of a white power structure to inaugurate a New Confederacy. And we see that the white violence that is Neo Confederate tendency is becoming more organized, more normalized. And as in the case of the murder of my family, AJ, more daring."

Tongo Eisen-Martin, AJ Stewart's cousin
Michael Kleber-Diggs asked, "how do we stop this white violence?" He noted "we deserve to be safe in our homes and in our neighborhoods. [Kjellberg] was a menace for years and this type of violence demands a vigorous response."
"This man is part of a troubling and increasing trend of white perpetrators acting under presumed authority, killing people of color over their perceptions that a minor violation of the laws has taken place."

Michael Kleber-Diggs, St. Paul resident, writer
Stewart's mother, Tabatha Lewis, said that she felt if it wasn't her son that Kjellberg killed that night, it would've been another Black mother's son because Kjellberg had "so much hatred in his heart."
Lewis said that Stewart was living in Georgia and was back visiting family and wasn't even home 48 hours before he was killed. She said Stewart was an incredible human being, caring, and loving and was business savvy with a lot of plans for his future.
Stewart's mother told independent journalist Georgia Fort at the scene of his death that she wants first degree murder charges saying it was premeditated because Kjellberg admitted that "he stood in his door and waited for my son to come."
Tabatha Coleman, Stewart's cousin, said that she didn't believe that AJ had punched Kjellberg and said "in [Kjellberg's] booking picture, he had no bruises."
Nekima Levy Armstrong, founder of the Racial Justice Network, called on Ramsey County prosecutor John Choi to prosecute Kjellberg to the fullest and for the U.S. Attorney's Office and FBI "to launch a federal hate crimes investigation into this case, just as they did for those who murdered Ahmad Arbury."
A 'Justice for AJ' Facebook page has been created by Stewart's family, friends and community members with the intent to push for the full prosecution of Kjellberg and to make sure "that media portrayals of AJ Stewart and the circumstances of his murder are accurate and respectful."
"We have reason to believe that Brian Kjellberg acted with malice and premeditation, and we have reason to believe he acted with racial animus. We started this page as a way to honor AJ's life. Our goal is to raise awareness about our son, grandson, brother, uncle, cousin, and friend. We want him to be more than a statistic, and we are resolved to see that justice is done in his name."

Justice for AJ Facebook page
The Ramsey County Attorney's Office has links to Kjellberg's case files (see below), including a statement by RCAO about prosecuting the Kjellberg case.
"Our office will vigorously pursue justice in this case for Mr. Stewart, his family and friends, and our
community. We have assigned two dedicated prosecutors and will ensure that a full investigation is
conducted, including any evidence of racial motivation or bias connected to the incident."

Ramsey County Attorney Office Progress Update, January 14, 2022
Kjellberg-Brian-Complaint-12.3.21

RCAO-Statement-per-Kjellberg-Prosecution

---
Follow us on Twitter (aka 'X'), Facebook, YouTube, Vimeo, Instagram, Mastodon, Threads, BlueSky and Patreon.
Please consider a tax-deductible donation to help sustain our horizontally-organized, non-profit media organization: