The Mothers Podcast is a 10-episode series that puts a spotlight on mothers from across the U.S. whose children have been killed by police violence. Becoming members of a club that NO ONE would wish to join, these mothers' stories go beyond the headlines of each case, dissecting the pain, aftermath and the struggle for accountability for the killing of their child. This exploration unveils mothers supporting mothers to overcome grief and create change within their communities all across the country.
The Mothers Podcast features the work of Unicorn Riot interviews going back to 2018 and is a precursor to Unicorn Riot's full-length documentary film, 'The Mothers.' Starting on Mother's Day 2022, we'll be releasing new episodes of the podcast every Sunday for 10 weeks.
The podcast series is hosted by independent journalist Georgia Fort and Niko Georgiades of Unicorn Riot. Each episode is edited and mixed by DJ Skizz who provides original music along with original songs by MC Longshot and recorded and engineered by Malcolm Wells, along with editing and producing by Tarik Thornton (Different Worlds Music Group).
DOROTHY COPP ELLIOTT X ARCHIE ELLIOTT III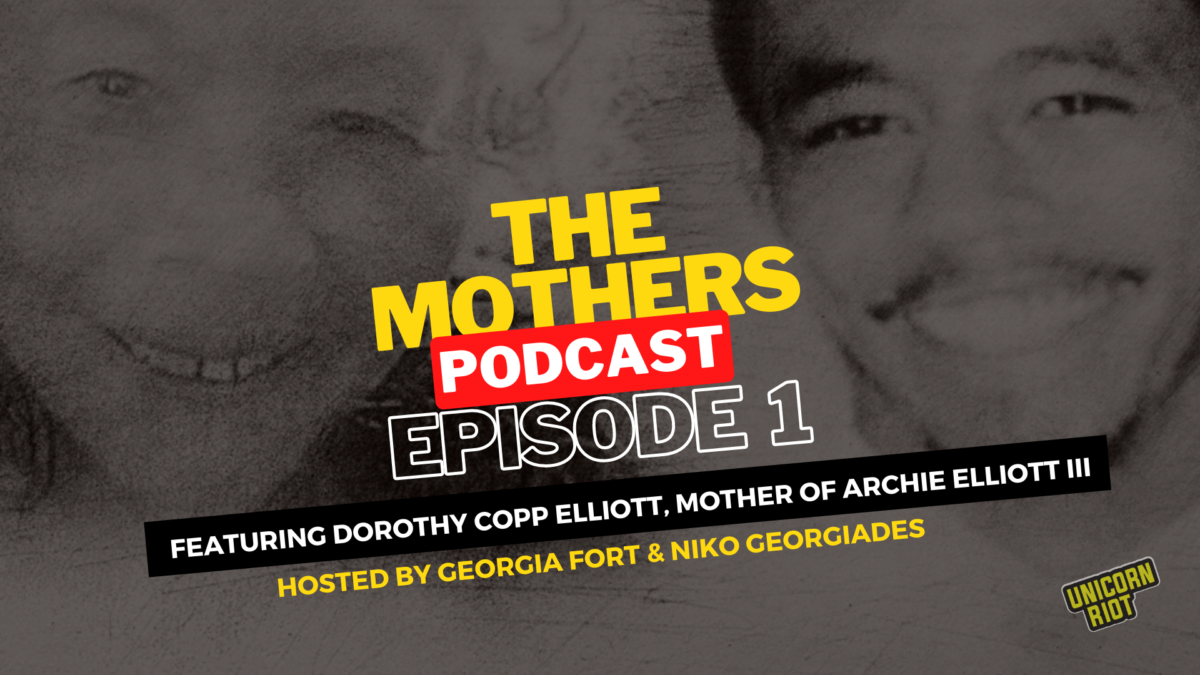 Dorothy Copp Elliott, a Maryland schoolteacher and the mother of Archie Elliott III reflects back to 1993 when Prince George's County Police Officers Jason Leavitt and Wayne Cheney fatally shot her 24-year-old son 14 times during a traffic stop. At the time Elliott was killed, his hands were still cuffed behind his back as he sat in a patrol car. All officers involved were cleared of any wrongdoing. The case was re-examined in 2021.
In this ~21 minute episode we explore how policing in the '90s was different without the use of body cameras and we take a look at the new developments of this case.
Listen/watch Episode 1 with captioning below:
---
MARION GRAY HOPKINS X GARY HOPKINS JR.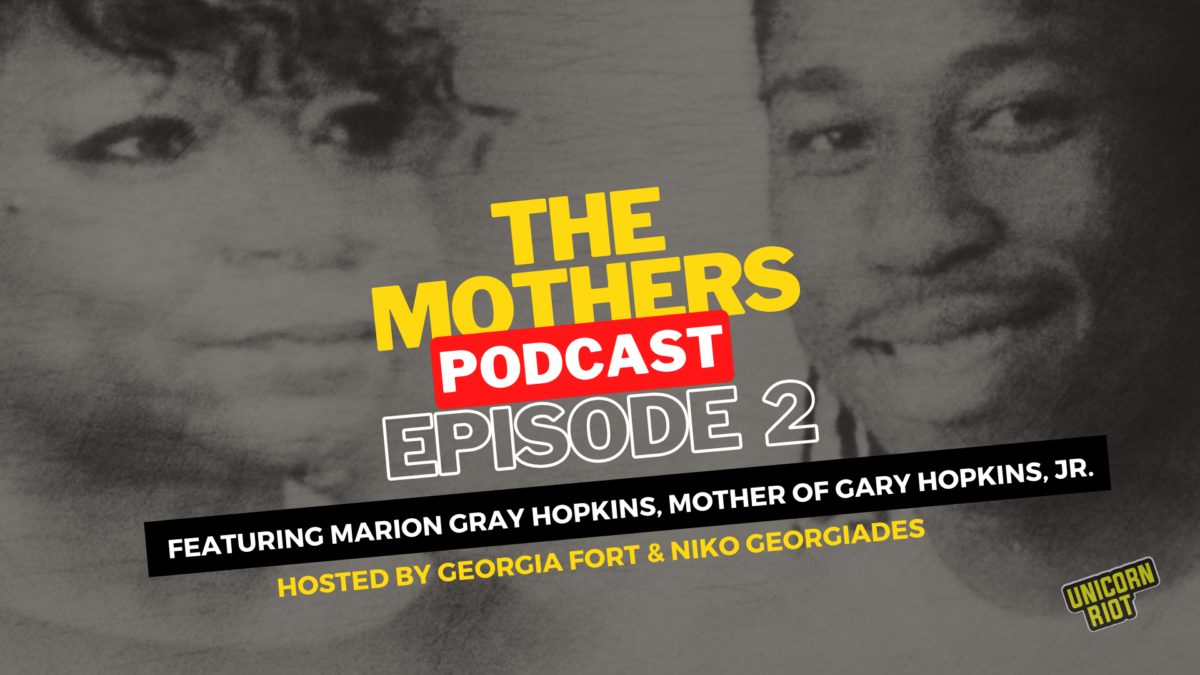 In episode 2 we interview Marion Gray Hopkins, mother of Gary Hopkins, Jr. Gary was killed by police when he was 19-years-old. If you listened to episode one about the police killing Archie Elliott III in 1993, then you are familiar with Prince George's County – that's the same county where Gary was killed by police officers on November 27 in 1999.
At a time when body cameras didn't exist Marion shares with us her painful journey of uncovering what happened to her son and how she's worked to turn that pain into power helping mothers across the country 20 years later with her organization Coalition of Concerned Mothers.
Listen/watch Episode 2 with captioning below:
---
Click to listen on: Apple, Spotify, Google Podcasts, iHeartRadio, Stitcher, Podcast Addict, Podchaser, Podcast Index, Player FM, Deezer, and Reason.

EPISODE 3 – COMING MAY 22, 2022
YOLANDA MCNAIR X ADAISHA MILLER
EPISODE 4 – COMING MAY 29, 2022
MONTYE BENJAMIN X JAYVIS BENJAMIN
EPISODE 5 – COMING JUNE 5, 2022
TONI BIEGERT X JOSEPH BIEGERT
EPISODE 6 – COMING JUNE 12, 2022
KIMBERLY DAVIS X KIMONI DAVIS
EPISODE 7 – COMING JUNE 19, 2022
MATILDA SMITH X JAFFORT SMITH
EPISODE 8 – COMING JUNE 26, 2022
HOPE COLEMAN X TERRENCE COLEMAN
EPISODE 9 – COMING JULY 3, 2022
LISA SIMPSON X RICHARD RISHER
EPISODE 10 – COMING JULY 7, 2022 [BEFORE THE 2022 CORDALE HANDY BANQUET]
KIM HANDY JONES X CORDALE HANDY
---
Part of the funding for this podcast is made possible by the voters of Minnesota through a grant from the Metropolitan Regional Arts Council, thanks to a legislative appropriation from the arts and cultural heritage fund.
Follow us on Twitter, Facebook, YouTube, Vimeo, Instagram, and Patreon.
Please consider a tax-deductible donation to help sustain our horizontally-organized, non-profit media organization: