Scarsella Trial – Part Five: Cell Phone Extraction Shows Scarsella's Hardened Racism
Minneapolis, MN – Five unarmed Black protestors were shot in North Minneapolis in a white supremacist's planned act of domestic terrorism on November 23, 2015. Allen Scarsella, who turned twenty-five years old on February 25th, has been incarcerated in administrative segregation in a Minneapolis jail since the day after the shooting. Allen claimed self-defense in his trial but was found guilty on all twelve felonies levied against him on February 1st, 2017. Scarsella's sentencing date is set for April 26, 2017.
This is the fifth part of Unicorn Riot's comprehensive report-backs from the Scarsella Trial, covering testimony and exhibits from January 24th, 25th, and 26th, 2017. Trial proceedings in the State of MN vs. Scarsella took place on the sixteenth floor of the Hennepin County Government Center and were presided by Judge Hilary Lindell Caligiuri.
Representing Allen Scarsella in his plea of self-defense were public defenders Laura Heinrich and Peter Martin, while Assistant Hennepin County Attorney's Judith Hawley and Chris Freeman prosecuted the case. Fourteen people sat in the jury box: twelve jurors and two alternates, who were unknown to the court and even themselves until the judge gave the jury instructions after closing statements.
Read Scarsella Trial – Part One: Jury Selection, Unicorn Riot Subpoenaed, Opening Statements, Scarsella Trial – Part Two: "In hindsight it was very stupid", Scarsella Trial – Part Three: Jury Sees Videos Around Mass Shooting, and Scarsella Trial – Part Four: Shooting Victims Testify by clicking on the images below:
[Content Advisory: some of the language seen in this article may be disturbing and offensive to our audience.]
Watch the video below for a timeline of events that led to the shooting:
---
WITNESS TESTIMONY – DAY SIX (JANUARY 24TH) – PART 2 (part 1 started in Scarsella Trial Part 4)
(Names of people on the stand testifying are signified by italics)
After finishing the emotional testimonies of the victims of the mass shooting of Scarsella's hate-crime, Scarsella's landlord, Ben Heimdal, was called by the prosecution to take the stand when the jury came back from afternoon break. Ben Heimdal, a thirty-eight-year-old accountant for a mortgage company, owns the home in Bloomington, a Minneapolis suburb, where Scarsella lived for nine months prior to his incarceration.
Heimdal testified that the far back bedroom of the three-bedroom home was his and he was renting out the closest bedroom to the living room to Scarsella with no lease and $350 a month on a month to month basis plus $100 for utilities.
A Craigslist ad is how Scarsella found the room to rent, and Heimdal said that he became aware that Scarsella had an interest in firearms but didn't know he would bring any with him to his home when he moved in. Later, he saw the defendant wearing a handgun in a hip holster on many occasions.
Heimdal testified that "when he [Scarsella] moved in, he was in college, and after summer time he got a day job, generally I was up a little later than he was." He had socialized with Scarsella on the premises and once at a bar. He said that a couple of times a month, Scarsella had company over, and that his bedroom was "locked most of the time" and "very often" even when Scarsella was home.
He stated that Scarsella and him rarely had political conversations. On the weekend between Scarsella's two visits to the 4th Precinct (between November 19th and November 23rd), Heimdal testified that Scarsella went to Pine City to go camping and "he mentioned winter camping, we talked a little bit about how his equipment did."
When Scarsella arrived back home from the camping trip, Heimdal informed him that he would need to move out because he needed to rent out the third bedroom and did not think it would work well with Scarsella there. Heimdal said "we agreed on February 1," and that Scarsella "seemed a little bit upset but reasonable."
On the night of the shooting, November 23rd, Heimdal noticed that people were in his living room and being quiet around two in the morning. Heimdal said he peered into the living room from his bedroom door and saw people moving around. Heimdal recognized Scarsella's girlfriend from previous occasions but did not know any of the men. "I was concerned, yeah," he stated, admitting that him and Scarsella had made eye contact while he was "scowling" and Scarsella said, "we're just staging, we'll be gone in a couple of minutes." Heimdal said that didn't know what that meant.
Heimdal said that eventually he "saw them [Scarsella's guests] leave … saw them walk down the hall and turn out the front door" and that it didn't appear they were carrying anything, although earlier they carried two army-style ammo crates outside and he had also heard sounds from Scarsella's bedroom, like something heavy moving on the floor.
When he looked outside he saw people milling about in the front among Scarsella's car, his girlfriend's car, a minivan, and another vehicle. They stayed for about fifteen to twenty minutes, which made their entire stay about an hour in total.
Heimdal said he confronted Scarsella when him and his girlfriend came back inside, saying, "this is the weird stuff I was talking about," to which Scarsella said, "it couldn't be helped." Heimdal described Scarsella's demeanor as looking like he was "being reprimanded a bit" but didn't seem upset and seemed calm with no injuries.
Heimdal left for work the morning of November 24th at ten in the morning and was stopped by police, taken out of his car, put into cuffs and brought back to his house. While in the police vehicle, he could hear the police radio and they were "clearing rooms" at his house. He said, "I was told they [Scarsella and his girlfriend Ashley] were in custody before I got back to my house."
Heimdal said that he did not consent to a cell phone search but police obtained a warrant for that and also searched his car. Exhibit 51 showed his house with Scarsella's car in the driveway as well as his girlfriend Ashley's car in front of the house. During the police's raid on Heimdal's residence, SWAT officers threw two grenades into his house and shot out two windows, all happening after Scarsella and his girlfriend exited the house and were taken into custody.
After brief cross-examination to clarify some things, a re-direct asked Heimdal if the subject of Black people ever came up, to which Heimdal replied, "only on one occasion that I can remember" and Heimdal explained that he does not like racist people, which seemed to allude to the partial reason why he was kicking Scarsella out.
---
Minneapolis Police officer Corey Schmidt, who is now the Public Information Officer, was next on the stand. Schmidt said he was a patrol officer in the 1st Precinct in November 2015. He explained the process in which he inventoried three of the shooting victims' clothing at North Memorial Hospital, Cameron Clark, Walter Hoskins, and Draper Larkins. Several exhibits of clothing and even the bullet that North Memorial medical staff gave to Schmidt from Larkins right arm was entered.
---
Brenda Hummel, a forensic scientist with the Minneapolis Police Department (MPD) since August 2012, was next on the stand. She works in the field operations section, and she took photographs of the suspects in this case and their clothing from all angles.
Sergeant Olson requested photographs be taken of all the clothing, specifically "all the different layers of clothing," all skin, underclothes with special attention to be paid to injuries and evidence. Exhibits 144-153 depicted Scarsella and his clothing, a black jacket and blue pants. There were close-ups of his left cheek, which Scarsella claimed he was hurt there, and Hummel testified she "didn't see any damage."
Exhibits 154-169 were of Nate Gustavsson, who was wearing an orange plaid shirt and red-tinted glasses. On Exhibit 158 there was possible blood on the left thigh of his jeans and on Exhibit 159 there was possible blood on the laces of his left shoe. Exhibit 160 showed "some pink coloration" on his face, while Exhibit 161 showed that "one of his teeth became cracked," according to what he told Hummel, although she did not see any crack on that picture. On Exhibit 165 there might have been a crack in the tooth close to the fillings but Hummel said that none of the teeth were broken, and while looking at Exhibit 167, Hummel may have been able to see a small line behind the tooth.
On Exhibit 163 there was a bit of redness on the bridge of his nose and cheek and on Exhibit 168 there appeared to be a small injury on the side of his tongue, as if he bit it. Exhibit 170 was of Daniel Macey, which showed no injuries.
On cross-examination, the defense emphasized that Hummel does not possess a medical degree. The defense also clarified Exhibit 167, stating that "it appears that there are smaller injuries along the lip line" and also asked if Gustavsson expressed any pain to which Hummel responded, "I do not recall."
Hummel stepped down from the stand and before the gallery left for the day, discussions about computer images that the prosecution couldn't find the exact meta data of ended with the prosecution's inability to admit them into evidence.
---
WITNESS TESTIMONY – DAY SEVEN (JANUARY 25TH)
Testimony from January 25th started with Amber Rhodes of the Bureau of Criminal Apprehension (BCA) to discuss the DNA that was collected from Scarsella's gun and from suspects Allen Scarsella, Joseph Backman, Nathan Gustavsson, Daniel Macey, and Ben Heimdal. Rhodes explained that the DNA that was tested on Scarsella's Remington .45 had two returns, meaning that two DNA profiles were found in the sample, the first belonged to Scarsella and the other to an unknown person.
---
Aaron Zirzow then took the stand. He is a forensic scientist who has worked in the MPD for the last eight years. He is assigned to the firearms and toolmarks section and his primary task is firearms identification. He gave testimony about his job identifying firearms. He showed a PowerPoint presentation on the large television screen in the courtroom.
He presented some of the specifics to firearms identification and ballistics testing procedures in the slides of the ten minute presentation. He explained about the semiautomatic extractor and ejector kicking out discharged cartridge casings, or DCCs.
Then, with the help of Exhibit 72 (already entered into evidence by Ulrick), Zirzow explained that Scarsella's semiautomatic pistol can hold eight bullets and that the ejection port was located on the right side of the weapon, which would cause the shell casings to land on the right side of the gun. There were eight DCCs in evidence.
The first firearm was item 10, the .45 caliber Rockland Island Armory 1911 pistol. The gun was from Julio Suarez. Zirzow testified that he did not retrieve the evidence himself, he ran into another forensic scientist at the lab during the investigation who told him that many guns were available in the case. After testing the Rock Island gun, he asked for access to the other weapons as he wasn't finding a match with the DCCs and Julio's gun. He found that all discharged cartridge casings matched Scarsella's .45 caliber Remington 1911.
On cross-examination, Zirzow was asked about the two safeties. He stated, "How I find the firearm is not how it's found at the scene." Defense counsel then asked Zirzow, "How did you know the magazine was for the gun?" after he stated that he collected the magazine, "They're itemized," Zirzow replied. "When I obtain items from inventory," he explained, they are clearly marked with the necessary details. The defense wanted further clarification and asked, "You don't actually know if the magazine is from this .45?", to which Zirzow confirmed that he did not because he does not collect items from the scene. When asked how many times he fired the gun, he stated, "at least two." After a short re-direct, Zirzow was excused from the stand.
---
Observations from the gallery during Zirzow's morning testimony, showed that Allen Scarsella appeared to be more animated at the defense table than he had been for the entire trial. He was moving and talking and taking notes.
Throughout the trial to date, the gallery, with over thirty seats, had been up to this point on average half-full. As the courtroom started to fill up close to the end of the morning break on the 25th, defense attorney Peter Martin mistook a man in the gallery as his sole African-American witness.
---
Ashley Anna Murray, Scarsella' girlfriend, took the stand next. She testified that she is from the Twin Cities, is twenty-two years old and works at Herberger's, as well as Integrity Living, where she works as a living skills worker. She described Scarsella as a "friend," and explained that five months before the shooting they met on the cell phone app Tinder, and her and Scarsella dated and hung out with each other "every weekend," and confirmed that they were involved in an intimate relationship.
When asked by prosecuting attorney Hawley if she knew any of Scarsella's co-defendants and she said she had previously met Joseph Backman while at another friend's house with Scarsella.
Murray confirmed that on the night of November 19, Scarsella texted her "about going down there [to the 4th Precinct protests] for the first time." The prosecutor asked if she responded to the text, to which Murray commented, "I might've said like, why were you there, I don't remember." Murray also confirmed Scarsella said, "I have to tell you how insane this riot was." Murray responded, "I would never go down there," after Scarsella texted her:
"I didn't do anything of course, or protest at all but me and two dudes went and fucked with the protestors and asked them retarded questions and shit … these people are either severely retarded or dangerously insane."- Allen Scarsella texted Ashley Murray about going to the 4th Precinct protests (while armed) on November 19th
Earlier in a statement given to Sgt. Metcalfe, Murray said that Scarsella hated Black people, but during her testimony she denied this, saying, "I did not, when I was asked that, I mistakenly answered." In her interview with the police, they asked her why Scarsella would go to the protests if he didn't care about the issue, to which she responded, "He's just kind of an asshole."
Hawley mentioned that the transcripts from Murray's interview with the police in late 2015 are twenty-three pages long. Murray said that she had been pressured by the police during this line of questioning and she denies saying that Scarsella "is a nice guy but he hates Black people.""
Hours before Scarsella injured five in his racially charged mass shooting on November 23rd, he participated in an important text exchange with his girlfriend Ashley Murray. Scarsella texted Murray, "Sam's Club is packed with smelly Brown people walking too slow, f*cking making me mad." Murray then responded that she was laughing and suggested that Scarsella get hygiene supplies for them and "throw a box in their cart" to help their smell, to which Scarsella responded, "maybe they should just gas themselves." Murray responded to the gassing text with "OMG Okay, I like that better." Murray then stated to the court that her dad holds racist views similar to Scarsella.
Directed to the night of the shooting, Murray stated that Scarsella called her at 1 a.m., while she was sleeping. She said he stated to her that he went to the protest and "shot five people," asking her to come over and take "some of his valuable guns" to her house. She said that she didn't want to do this but admitted that Scarsella talked her into helping him. She went over to his place and Scarsella was there with Joe and two other people she had not met before, Daniel Macey and Nate Gustavsson. She carried boxes of ammunition to her car, but brought one of the boxes back into the house and spent the night with Scarsella.
Murray said that she was awakened "by police, SWAT team, screaming through a megaphone." She was detained and shortly afterwards and spoke to Sgt.'s Metcalfe and O'Rourke for around about an hour.
During cross-examination, Murray said during the morning of November 24th, she was nervous and overwhelmed when she was being questioned. She stated that Scarsella sounded frantic when he called her the night before, that he had "a little panic in his voice." Scarsella "said that he went to the protest with his friends" and told her "that he was being chased out and that his friend was going to be punched." Murray indicated that Scarsella felt he had to shoot to save his life.
Murray stated that Scarsella has antique guns with antique ammunition and that he did not ask her to take the gun that he used, which Murray said Scarsella had already bagged "in a separate bag, a drawstring bag." He told her that soon he was going to turn himself in with all of his friends.
Murray said Scarsella's guests stayed at the house for about an hour before they left for the night. During the time they were there, Joe was on the phone talking about a lawyer and Murray said they were all panicky in their body language but not in their voices. She said that Gustavsson was discussing that he was punched and that Scarsella was afraid that he would get hurt.
Murray said Scarsella went to sleep feeling "sad and emotional," that he "wanted to go to bed, it was a pretty long day." Scarsella told her that he wanted her to speak with his father and tell him everything and that he knew that "he would go to jail."
Murray, who said that she goes to visit Scarsella in the Hennepin County jail twice a week, was led by the defense to say that her and Scarsella did not always discuss things of a racist nature and that she was not sure why she said Scarsella was an asshole because she has never seen him act as an asshole to anyone and explained the racist texts as "just how people text."
During the re-direct, Murray stated that she was not intimate with Scarsella in the early morning of the 24th. She said that Scarsella separated the gun he used in the shooting from the others that he had in his possession. The prosecution showed a picture of the bedside table, indicating that the gun was not in a separate sack because its white handle and chrome slide is on the table within reach of someone on the bed, next to two phones, one belonging to Murray.
When #Scarsella finally got home after shooting five people, he reloaded his gun and put it on his nightstand. pic.twitter.com/0xBMjvMlkN

— Tony Webster (@webster) February 10, 2017
The prosecution asked Murray if Scarsella took out his contact lenses that night, because it appeared that his contacts and a magazine were visible on a computer table in Exhibit 63. Exhibit 66 showed a close-up of the gun on the bedside table.
Murray stated that she spoke with Scarsella the Sunday prior to her Wednesday testimony and said that Scarsella never said anyone had a gun or brandished a knife. She stated that she shoots with him at the range and that her and Scarsella were never with Black people and do not socialize with them. She said that he "hates Black people," and that people say things in texts that they would not say to other people, to which the prosecution brought forth another text Scarsella sent, "I fucking hate Black people and they should all be gassed."
In the re-cross examination, Murray clarified that Scarsella had taken the gun out of the drawstring bag when they decided to stay there overnight. Before Murray was excused from the stand, the defense asked what did Murray and Scarsella do before they went to bed, to which she responded that they went to sleep, "we were exhausted and it was a long day."
---
Michael Gustafson Jr., an MPD officer in the Computer Forensics Division of the Minneapolis Crime Lab, then took the stand. Gustafson is one of four people in the Crime Lab who focus on data collection. He stated that recovering data from cell phones is more and more important "since mobile phones are a larger part of people's lives."
Gustafson stated that investigators typically give him work orders with property to examine and "retrieve the evidence or receive it if it's brought" to the lab. He stated that the first thing done is to look at the security on the phone, in which Scarsella's case, his phone had no lock on it.
Gustafson stated that Minneapolis Police use "Cellebrite UFED," an Israeli software program that extracts information from mobile technology. Governments, federal agencies, and Police departments across the world purchase this software and in MPD's investigation of Scarsella's shooting, they used Cellebrite to extract information from Scarsella's phone.
Gustafson spoke about the process the MPD takes when they extract data from people's phone's, stating that first he "would connect the phone to the computer, I would then tell it what kind of extraction I want and in this case, this particular phone, there is only one type of extraction."
"We connect it by USB to the computer, this Cellebrite software would be running and once the phone is installed on the computer, then we tell it to trust the computer and we're then able to proceed with the data extraction … what the Cellebrite sofware does, is it tells the phone to create an iPhone backup of itself. It creates a backup file that is then parched and analyzed by the software." – MPD Officer Michael Gustafson
Gustafson stated that newer versions of the iPhone are much more difficult to mirror. He explained how Cellebrite displays the information in report format and they create a readable report out of that with several options.
After a lengthy discussion at the bench between both attorneys and the judge, the judge excused the jury for lunch and the discussion about cell phone texts and data continued. The full exhibit of the extracted cell phone data wasn't admissible because it had texts that were not included as admissible texts. The defense said that Scarsella's phone, Exhibit 80, could have been accessed by others but the state said the contents and contacts are all in line with who Scarsella is. The judge adopted the state's response and authentication of the phone being Scarsella's.
When the court resumed and before the jury came back, further discussion took place about texts, ending with the judge excluding texts from Adam Wasdovitch (Scarsella's friend from /k/ board meet-ups) and texts sent from Scarsella to a unknown person about his landlord. Afternoon session started about two hours after the court left for lunch, around 1:40 p.m. CST.
Gustafson's testimony continued after the break. During his testimony, many exhibits from the data collected from Scarsella's phone were entered (Exhibits 211-214 media, 215-218, 220-233, 236-249). See many of the extracted text messages in the PDF below [Content Advisory]:
Allen-Scarsella-Texts-and-Instant-Messages

On cross-examination, the defense asked for technical clarification on Cellebrite software. Gustafson stated that "Android phones are different than Apple" and "in this case it was an Apple backup file that it extracted." He stated that Cellebrite doesn't do any analysis because "it takes a person to do that analysis."
Freeman clarified in re-direct that it was essentially a data dump that Gustafson was retrieving from the software and then passing along to the investigative team. Heinrich then asked a question about using other software with Cellebrite during re-cross, to which Gustafson said "you could parse that backup file that was created with Cellebrite with other types of software." Before Gustafson stepped down, he clarified that it requires a person rather that the software to do more investigative work.
---
Sgt. Katie Blackwell, a fourteen year veteran of the MPD mostly in the Sex Crimes Division but now working homicide for the past four months, took the stand next. In November 2015, she was in the assault unit, violent criminal investigation team. Blackwell was called in from home to assist Sgt. Metcalf, the main investigator.
Blackwell interviewed Heimdal, who identified Gustavsson as being in his house on the early morning of the 24th. Exhibit 145 was shown, which was a picture of Scarsella wearing a leather jacket. Blackwell interviewed the victims and canvassed between 1300-1400 Morgan and Logan Avenues for information but did not find anyone who witnessed the shooting.
Exhibits 176-191 were entered, which were pictures Blackwell took "during the search warrant" of Ashley Murray's vehicle. Ex. 176 was a picture of Murray's trunk with ammo boxes and a tactical military vest inside of it. Further pictures show an assortment of ammunition that was found in Scarsella and Murray's possession.
During cross-examination, Blackwell reiterated that her job was to interview victims and witnesses. She stated that she interviewed Teven King and he told her that he thought that the "suspects were KKK or the police." She confirmed that during this interview, Teven did not state that any derogatory names were used.
As a police officer, Blackwell explained, one has knowledge of firearms, and nothing in the trunk in the photograph entered as Exhibit 176 looks specifically like .45 ammunition. The defense said the recent pictures shown to court did not depict anything illegal. They said Ex. 179, a picture of a tactical vest, showed nothing illegal, and said that further pictures of rifle magazines were not used in crimes. Blackwell was excused from the stand.
---
A little after two in the afternoon, Sgt. Kelly James O'Rourke, the lead investigator in the Scarsella shooting case, and who previously testified about the surveillance video and a couple other videos on Morgan Ave., took the stand once again. He stated that his job included looking into extracted cell phone data and investigating the content. He had information that there were several actors involved and he looked at the data to find those connections.
The defense objected to Freeman asking O'Rourke "why are phones important in this day and age in law enforcement?" Judge Caliguiri overruled the objection and O'Rourke answered,
"text messaging, messaging, direct messaging, secondary applications on phones, they're all forms of communication that we've found useful in investigations." – Sgt. Kelly O'Rourke
O'Rourke said that he searched the phone specifically for information regarding the gun that was used (Remington 1911) and for "racially motivated content" because "there was evidence we obtained that indicated there was racially motivated intention in this case."
O'Rourke stated they also searched for terms "rioting or protesting" and "basically guns, to determine how much of an interest it played in the case." Exhibits 192-210 were next entered into court. They were text messages that O'Rourke found from the Cellebrite extraction. Some examples are below [Content Advisory]:

Numerous texts were sent from Allen talking about the love he had for his Remington 1911. He spoke about carrying an extra "mag" after he kills "the first 8 black guys" and about taking apart his gun and how his 1911 is "highly accurate."
In Exhibit 195, a text that read "And stars and bars grips on your 1911. So that way you can tempt a chimp to chimp out and then you get to shoot him," O'Rourke explains that Scarsella referred to the confederate flag when he spoke about the "stars and bars" and that the term "chimp-out" comes up continuously and O'Rourke says "it's basically … to cause a reaction."

Exhibit 196, an instant message (see above) from Scarsella in April of 2015, caught O'Rourke's attention because Scarsella was talking about 1911s and his love for shoulder holsters. O'Rourke said, "it reinforced the fact that he's proficient with his handgun … and that he took time practicing."

Scarsella continually spoke about his guns, specifically his .45 Browning, and says he likes his gun because "it's specifically designed by Browning at the behest of the Army to kill brown people."
In a Facebook Messenger conversation a day after Scarsella's first visit to the 4th Precinct protests, he and others spoke about using cars to hit protestors. They state "2 dindus, 0 indictments" in reference to the drivers not being charged after running into a group of protestors near the 3rd Precinct in South Minneapolis in November of 2014.
O'Rourke then said of the term "dindu", "during the course of this investigation, I learned that it is a derogatory term" sometimes used, he furthered, when talking about violence at protests when nobody gets charged.
Further messages show Allen speaking about videos he made of himself showing his marksmanship, exclaiming he "was an expert marksman before [he] finished high school. I learned to shoot from Boy Scouts."
Exhibit 201 shows Scarsella say "they can take my gun and throw me in a cage. All for airing out one lousy nig**r" and the next exhibit reads "I guess it's cool that the gun I'm getting has been proved to kill black people in a single shot" after talking about George Zimmerman.
Further communication discusses protests in Ferguson, with most, if not all, of the messages using racial slurs and derogatory comments and many more showing a consistent discussion point of weapons relative to killing Black people.
The important text exchange that Scarsella had with his girlfriend, Ashley Murray, mere hours before the shooting on November 23rd, was then published in court as Exhibit 210. Part of this text exchange, that first came up in opening statements, then during Ashley Murray's testimony, is seen below [Content Advisory].
O'Rourke also got media from Scarsella's phone and Exhibits 211-214, videos of Scarsella and his gun enthusiasm, were published. One of the videos showed Allen posing in a mirror practicing drawing his weapon. Another video was of Allen and another shooting in the rain as they advance from a set location, where, after saying "ready, were hot – do it," gun shots are heard while they walk into the rain and Allen kicks over a wood piece and fires more rounds at a target after reloading. Exhibits 213 and 214 were more videos that showed Scarsella practicing shooting.
On cross-examination, the defense asked for clarification on Exhibits 213 and 214. O'Rourke stated that he doesn't actually know if it is Scarsella's hand that is shooting the gun and cannot tell for sure if it is the same gun he used in the crime. Discussion about the long distance that Scarsella was shooting from ensued, and O'Rourke stated that as a former SWAT member of eight years, he knows that police develop tactics from military techniques and do not shoot from long distances because for LEO, a shorter distance is normal.
Regarding the text messages, he stated, "I researched the terms that were used in the text messages," which he admitted was from research done on the Internet. In this instance the defense counsel was attempting to prove that O'Rourke could not know the meaning of the language used and that therefore their client wasn't being racist.
O'Rourke said that he took a witness statement on December 12, 2015, from Wesley Martin, who said the protesters were "pushing them [Scarsella's group] out." On re-direct, O'Rourke confirmed that Martin said he could see the muzzle flash and also that muzzle flashes "could be as visible as far as you can see" at night. O'Rourke said that during the interview with Martin, he stated that he was twenty-four feet away from shooter when shots rang out.
---
Sgt. Sara Metcalf was next to testify. Metcalf served nineteen years with the MPD, working patrol, CERT team, and undercover in narcotics. She said she currently investigates shootings in the city with five other investigators. She was one of primary case investigators of November 23rd.
Metcalf stated that one of her bosses, Commander Granger, of the Violent Criminal Investigations Division, was in charge of the crime scene and O'Rourke and Benner went to the scene right away and when Metcalf was called on, the scene was "too chaotic" to go to so they went to North Memorial Hospital to attempt to get witness statements.
Metcalf said that Sgt. Yang briefed her at the hospital and she asked Yang to have the car of the neighborhood friend who drove three of the five victims to North Memorial impounded for evidence. Metcalf spoke with Cameron Clark while he was in his hospital bed being treated, she briefly saw Draper and could not see Walter because he was being given an MRI.
Sgt. Dumphy, Metcalf's partner, and her left from North Memorial to go to HCMC to gather other statements from victims but were called a different direction, to 2507 Bryant Ave. N. where she stated that a witness, William Champion, was inebriated and his story was scattered.
She then went to HCMC and learned that Teven King was in critical condition so she could not speak to him. Brenner interviewed Wesley Martin and then went back to North Memorial where she spoke to Walter Hoskins: "He was very rattled and frankly he was angry that he was shot."
Her partner Sgt. Dumphy texted her later in the night saying there was "very credible information coming from the Mankato Police Department" providing a large break in the case because Bret Levin, who was previously employed as a police officer in Mankato, had called MPD and had given Scarsella's name, city of residence and phone number. She obtained Scarsella and Suarez's Facebook video from the Strategic Information Crime and Management (SICM) unit, which she stated of SICM, "they're like the smart people behind the scene," with a lot of access to a lot of information.
Metcalf talked about the specifics in the video and said she did not want to repeat some of the horrible language. She said she did not know what "dindu" meant before this case and she "looked it up on urban dictionary." SICM found the Livestream video that belonged to Suarez.
Metcalf said that the Violent Criminal Apprehension Team (VCAT), whose role is to support the Criminal Investigations Division and "locate and apprehend fugitives or dangerous criminals," used
"the phone number that Allen "Lance" Scarsella used to call [Levin] and they got a search warrant from a judge and pinged the location of the phone." – Sgt. Sara Metcalf
Metcalf then, along with O'Rourke and Benner, drove to the address that Scarsella's phone was pinging from, arriving at nine in the morning on November 24th, about ten hours after the shooting. She stated that VCAT and the other teams set up around the house, then Metcalf and O'Rourke led the Minneapolis SWAT team. A bit after the police arrived, a vehicle left the residence and VCAT followed and apprehended the landlord, Ben Heimdal, who provided them with additional information.
Metcalf's task was as "a negotiator"; she explained that her "role was to get on the PA system," so she yelled at them to get out of house. Ashley Murray was the first to come out and was taken by SWAT. Scarsella came out three minutes later and was also taken into custody by SWAT. A 1911 Remington .45 caliber handgun and a phone were seized.
Later on the 24th, they got back to City Hall and were notified by VCAT that Suarez had been stopped in traffic with a handgun and loaded magazine in his pocket and detained (to be released with no charges later that day) and that Gustavsson and Macey turned themselves in during the daytime and Backman was taken into custody in Eagan.
Metcalf stated that she interviewed Scarsella's girlfriend, Ashely Murray, with O'Rourke, for "at least an hour." The interview was "23 pages in length" and Metcalf said that "she seemed to understand the seriousness of the situation," continuing to talk with them. Prosecuting attorney Hawley asked, "Did she tell you that he hated Black people?" Metcalf replied, "Yes." Hawley looked for clarification, asking, "Those are her words or your words?" Metcalf confirmed that they were Murray's own words.
Metcalf and O'Rourke interviewed Scarsella's co-defendant Nate Gustavsson and she also interviewed Julio Suarez and said it went long. Shooting victim Walter Hoskins came to City Hall in a wheelchair for a second meeting with Metcalf and O'Rourke because Metcalf said that during the first interview he was in so much pain and it is much more "comfortable to meet at a table."
She stated that she had obtained search warrants for the cell phones of Scarsella, Gustavsson, Backman and Suarez. Metcalf stated that she did not find anyone who witnessed the shooting and further offered that the DNA on the gun matched a swab obtained from Scarsella.
Exhibits 215A-249 were then shown to the court, these were mainly texts that were sent in between November 19th, the date of Scarsella's first visit to the 4th Precinct protests, and November 24th. She stated that she was looking into Scarsella's communications and trying to see "was it planned out?"
"Tell Lance to tilt his phone … it's sideways," Metcalf read text message communications from Scarsella and Joe Backman during the night of November 19th. Scarsella was with Julio Suarez at the 4th Precinct protests and they were live streaming while Joe Backman was home providing support to them.


She read Exhibit 218, which were deleted text message communications of Nate Gustavsson and Allen Scarsella. Nate says, "dude if this shit's going down on Monday we need to get out there I could rile so much shit up", to which Scarsella responds, "ask that nig what he did."

It's clear through the extracted data that Scarsella had many phone calls and text communications on the night of the 19th with his group of co-defendants about their visit to the precinct, in which Scarsella said he became "famous."
At three in the morning Scarsella texted his girlfriend that he and "two dudes went and f*cked with the protestors and asked them retarded questions and shit," furthering, "these people are severely retarded or dangerously insane."
Metcalf testified of continuing communication from the group occurring throughout the weekend and into the night of the shooting. Questioning was stopped and court was adjourned for the day to continue on Thursday the 26th.
WITNESS TESTIMONY – DAY EIGHT (JANUARY 26TH) – PART 1 (part 2 is found in Scarsella Trial Part 6)
Sgt. Metcalf continued her testimony in the cross-examination and spoke about Walter Hoskins saying that about twenty people had crowded around Scarsella's group when they initially confronted them and he heard some saying "f*ck them." She also stated that she investigated the 911 calls.
During the re-direct examination, she reported that at least one of the victims made statements to the effect that racial slurs were made by the suspect. She stated that Wesley Martin said that "one of the white guys said the 'n word'." Metcalf finished her testimony off by speaking about her experience and how even though it was middle of the night when she interviewed witnesses, she wanted to ask questions while the experience was fresh in their mind.
The State of Minnesota then rested their case in State of MN v. Scarsella.
---
We will continue in our Scarsella Trial report-back Part Six with the defense's witnesses.
Protests for Jamar Clark, who was executed by the Minneapolis Police on November 15, led to an eighteen-day outdoor occupation of the 4th Precinct police station. To watch our live coverage of this historic protest encampment that was mere blocks away from the site of Jamar's death, and a block away from where Scarsella open fired, click here.
Allen Scarsella and his group of co-defendants, Joseph Backman (PDF) (28 y/o – Eagan, MN), Nathan Gustavsson (PDF) (22 y/o – Hermantown, MN), and Daniel Macey (PDF) (who got his charges dropped by Judge Caliguiri in late February), are all part of the growing movement of white nationalists clustered around normalized bigoted ideology in chat forums on the internet. The case hinged on documenting their intolerant subculture as a motive for the armed attack, namely speaking and posting about white-supremacist ideals through memes and terminology not recognized by the larger majority of the populace.
Allen Scarsella was found guilty on all twelve felonies levied against him on February 1st, 2017; one count of first-degree assault, one count of second-degree riot while armed, and five counts of second-degree assault with a dangerous weapon – causing substantial bodily harm, as well as five more counts of second-degree assault with a dangerous weapon (note: on January 31st, Hennepin County Attorney's Office added the five counts of second-degree assault with a dangerous weapon).
---
---
To see Unicorn Riot's past coverage in relation to this shooting, see below: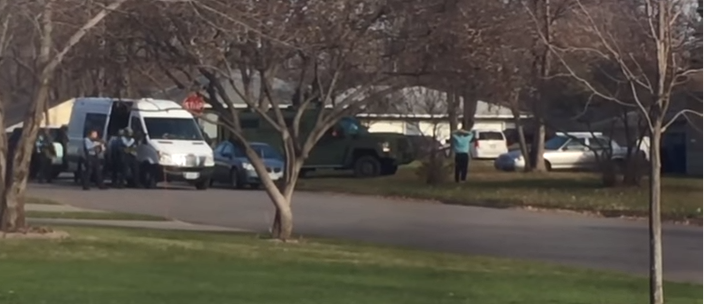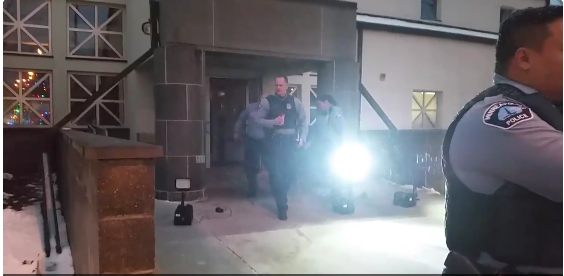 ---
To help our volunteer-operated horizontally organized non-profit media collective, please consider a tax-deductible donation:
---
Scarsella Trial Reportbacks & Coverage of Shooting at 4th Precinct: