Missing and Murdered Indigenous Women's Task Force Inches Closer to Reality
Minneapolis, MN – State legislators continue to push the creation of a Missing and Murdered Indigenous Women (MMIW) task force in Minnesota. The House Bill HF 70 was approved by the Committee of Government Operations and is slated to go to the house floor as early as next week. The Minnesota Senate has yet to see the bill.
We are at #MN house committee hearing hearing on HF70 a #MMIW taskforce bill. Here is the body of the bill. pic.twitter.com/o50dpbD8Dx

— Unicorn Riot (@UR_Ninja) March 5, 2019
The language of the Minnesota version of the MMIW task force legislation calls for:
"A bill for an act relating to public safety; creating the Task Force on Missing and Murdered Indigenous Women; requiring an annual report on issues related to violence against indigenous women and girls; appropriating money for the Task Force on Missing and Murdered Indigenous Women"
The bill hopes to address an epidemic of missing and murdered indigenous women. Indigenous communities have spent years marching and rallying to increase awareness around MMIW. The hope is that task forces like the one proposed in Minnesota will help document and report instances of violence against the indigenous community that currently go underreported.
Minnesota has joined New Mexico, Washington, North Dakota, Nebraska, and Montana, in trying to create a task force to take on the ongoing epidemic of Missing and Murdered Indigenous Women. A bill at the Federal Level Savanna's Act has also been reintroduced.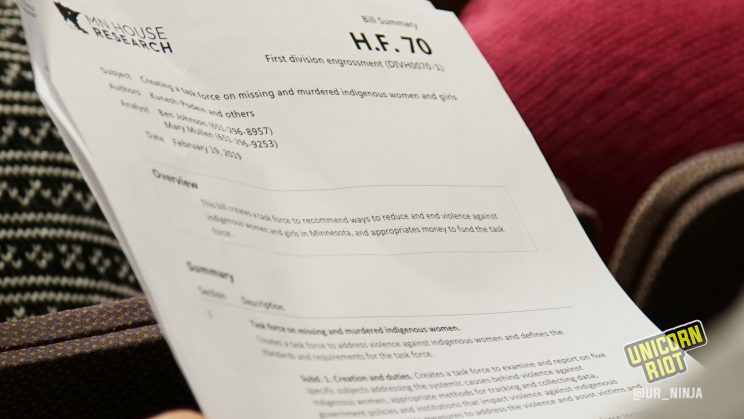 We spoke to the author of the HF 70, Rep. Mary Kunesh-Podein, who told us that they'd been receiving calls from other states interested in the language in the Minnesota bill. Mysti Babineau, a proponent of HF 70, told committee members about the ongoing violence against indigenous women, "This is not a hot button issue. Not trendy. Our people have been facing this epidemic since Columbus came to their lands." 
Continue to follow Unicorn Riot for HF 70 updates.
---

Ongoing Coverage around Murdered and Missing Indigenous Women and Relatives: