Feds Jail, Fine #NoDAPL Witness for Refusing to Testify at Secret Grand Jury
Bismarck, ND – On Wednesday, March 3, Steve Martinez was arrested and imprisoned at the Burleigh County Detention Center after refusing to testify before a secret federal grand jury. Martinez was an eyewitness to a violent police attack on water protectors against the Dakota Access Pipeline (DAPL) on the Backwater Bridge near the Standing Rock reservation on November 20, 2016.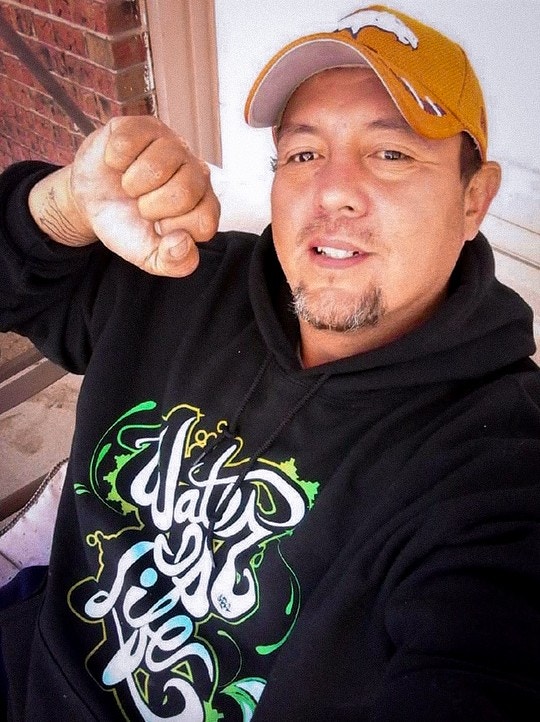 Martinez's arrest by federal prosecutors trying to coerce him into testifying comes as he was due to be deposed in a civil lawsuit by the family of Sophia Wilansky, a protester who suffered severe injuries on Backwater Bridge that night. Wilansky lost partial use of her arm after witnesses say police threw an explosive grenade directly at her, shattering several bones.
Martinez was imprisoned since February 3, 2021, for refusing to testify to the same federal grand jury convened in North Dakota; however, he was temporarily released on February 22 after a district judge found that Martinez had been held in contempt by a lower-rank magistrate judge who did not have the authority to jail him.
Before he was released from jail on February 22, federal prosecutors served Martinez with yet another summons to appear before the same secret grand jury on March 3. When he once again refused to testify on March 3, District Judge Daniel Traynor ordered Martinez be again held in contempt. Judge Traynor also imposed new fines of $50/day against Martinez until he agrees to testify; Martinez says he still will not be testifying. He can now be imprisoned without charge and fined daily for up to 18 months, as long as the grand jury is convened.
In March 2017, an earlier summons served to Martinez for similar grand jury proceedings was withdrawn after Martinez announced he was willing to be imprisoned rather than cooperate.
Since November 20, 2016, North Dakota police and their federal allies have doubled down on the unproven claim that Sophia Wilansky was making homemade bombs using camping stove fuel canisters. Many have seen this claim as a bad faith attempt to blame Wilansky for her own injuries and help North Dakota police dodge legal liability.
According to the Water Protector Legal Collective, which is assisting with Martinez's defense, "the subpoena was a hasty attempt by the Government to give the appearance of an ongoing criminal investigation, in order to justify their continued refusal to disclose the central evidence in the case against Morton County."
(A key piece of evidence in Wilansky's civil suit against the government—shrapnel removed from her arm which is believed to match crowd control chemical grenades thrown by police that night—was seized by the FBI from the hospital room and never returned.)
Steve Martinez is not charged with a crime, but is being held in contempt of court for refusing to testify to the secret grand jury. He was one of the few people who actually saw Wilansky's injuries happen.
Martinez's attorney Moira Meltzer-Cohen said that grand juries are "ripe for abuse and have a history of being used for politically-targeted harassment."
"This grand jury certainly appears to have been convened for the primary purpose of manufacturing an 'ongoing criminal investigation' such as would justify the Government's refusal to hand over definitive evidence in a related civil proceeding," said Ms. Meltzer-Cohen. "Mr. Martinez has no obligation to comply with a subpoena that was issued in other than good faith, and we will use every lawful means to demonstrate to the Court that, at the very least, the circumstances surrounding this grand jury deserve serious scrutiny."
Grand juries are held in secret and controlled entirely by the prosecutor; those called to testify under threat of imprisonment have no right to have a lawyer present with them in the courtroom.
---
Who is convening the secret DAPL grand jury? The US Attorney's Office for North Dakota – headed by Chris Myers, then Drew Wrigley, and now Nick Chase
The federal grand jury is taking place under the auspices of North Dakota's Acting U.S. Attorney Nick Chase; Chase took over from Trump nominee Drew Wrigley who recently resigned on February 23 after President Biden took office.
Wrigley took over from former ND U.S. Attorney Chris Myers in 2019; Myers oversaw earlier iterations of the DAPL grand jury, including the earlier 2017 subpoena to Martinez.
While former Lt. Governor Drew Wrigley is no longer the U.S. Attorney in charge of the secret DAPL case, his involvement over the last two years shows how the legal powers brought to bear against water protectors are rooted in right-wing, pro-pipeline, and anti-Indigenous sentiment.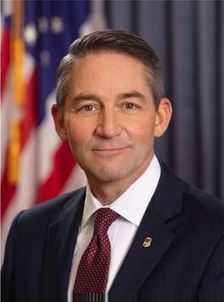 Wrigley was nominated to serve as North Dakota's U.S. Attorney by former President Donald Trump in 2019 (he had previously held the same position from 2001 to 2009 after being nominated by President George W. Bush.) Wrigley is a longtime Republican who previously served as lieutenant governor from 2010 through the end of 2016 under former Governor Jack Dalrymple.
Wrigley once had ambitions to run for governor, but in 2015 announced he would not run after local media caught wind of his extramarital affair. Despite criticism over the affair from his colleagues in the North Dakota GOP, Wrigley once again ascended to his former role as the chief federal prosecutor in North Dakota after Trump nominated him to be U.S. Attorney in 2019.
Wrigley has an intimate history with the Dakota Access Pipeline. He worked hard on behalf of the pipeline company during the end of his term as North Dakota's Lieutenant Governor in 2016. As lieutenant governor, Wrigley made many statements attacking opponents of the pipeline.
After the November 20, 2016, incident on Backwater Bridge, where police unleashed fire hoses on protesters and injured several people with heavy use of riot munitions, Wrigley repeated the false claim that water hoses turned on protesters and journalists the night of November 20 were not used for crowd control and were only deployed to put out fires.
In a November 21, 2016, right-wing talk radio interview, Wrigley also claimed that the Standing Rock Sioux Tribe was dishonest and merely "pretending to be interested" in the pipeline. In another media statement he sought to deny the agency of Indigenous people, claiming that "the Native Americans are being used, absolutely being used, by these outside agitators."
Most relevant to the case for which his office is subpoenaing Steve Martinez, in a November 30, 2016, interview with Valley News Now, then-Lieutenant Governor Wrigley claimed that Wilansky's injuries were "inflicted by herself."
---
"The secrecy of federal grand jury proceedings and the unfettered power and discretion that federal prosecutors have in the proceedings makes federal grand juries ripe for abuse against dissident political activists and their movements," said James Clark, a lawyer with the National Lawyers Guild. "Mr. Martinez's saga with federal grand juries seems to have already been characterized by a number of procedural abuses and irregularities, such as his incarceration last month by a magistrate judge who lacked legal authority to order it," Clark continued.

Chava Shapiro, a legal worker and supporter of Martinez since 2016, said "we are all standing in solidarity with [Martinez's] choice to invoke his constitutionally protected right to silence to the Grand Jury. Political activists know that Grand Juries have historically been used as a tool of political repression against Indigenous people in their efforts to maintain sovereignty, push the United States government to honor treaties, and achieve self-determination for their relatives and nations. The best and safest choice for Steve and for all those who protect the water is to maintain silence in the face of this Grand Jury."
---
Please consider a tax-deductible donation to help sustain our horizontally-organized, non-profit media organization:

Below is Unicorn Riot's coverage of the #NoDAPL anti-Dakota Access Pipeline struggle from early summer 2016 to present:
March - May 2016
August 2016
September 2016
October 2016
November 2016
December 2016
January 2017
February 2017
March 2017
April 2017
May 2017
June 2017
July 2017
January 2018
May 2018
July 2018
September 2019
July 2020
March 2021
April 2021
July 2021
September 2021
December 2021
July 2022
September 2022