DAPL Saboteur Jessica Reznicek Sentenced to 8 Years
Des Moines, IA – On Wednesday, June 30, Jessica Reznicek was sentenced to eight years in federal prison after she admitted to sabotaging the widely opposed Dakota Access Pipeline (DAPL) in 2017. Reznicek previously had pleaded guilty to the charge of Conspiracy to Damage an Energy Facility. She is also ordered to pay over 3 million dollars in restitution and to serve three years of supervised release.
In July 2017, Reznicek and fellow Catholic Worker activist Ruby Montoya claimed responsibility for sabotage against the pipeline.
BREAKING: Two women claim responsibility for sabotaging Dakota Access Pipeline, dismantle Iowa Utilities Board sign, then arrested #NoDAPL pic.twitter.com/wEQRTtwcrs

— UNICORN RIOT (@UR_Ninja) July 24, 2017
"After having explored and exhausted all avenues of process…Our conclusion is that the system is broken and it is up to us as a individuals to take peaceful action and remedy it, and this we did, out of necessity…We are speaking publicly to empower others to act boldly, with purity of heart, to dismantle the infrastructures which deny us our rights to water, land and liberty."

– Statement by Jessica Reznicek and Ruby Montoya
DAPL was opposed by massive protests in 2016 and 2017, due to the project's threat to the Missouri and Mississippi Rivers, as well as the global climate due to increasing fossil fuel emissions from fracked Bakken Shale oil transported by the pipeline. The pipeline route runs just north of the Standing Rock Sioux Tribe's reservation and crosses areas designated as Treaty Lands under the Fort Laramie Treaty of 1868.
In a statement, Reznicek and Montoya described learning how to better damage pipeline work sites as they refined their techniques through repeatedly burning pipe segments and construction machinery with oxy-acetylene cutting torches, tires, gasoline-soaked rags, and motor oil.
Leaked documents show that Reznicek and Montoya had been targeted for surveillance by the pipeline security mercenary firm Tigerswan. In August 2017, FBI agents raided the Catholic Worker house in Des Moines, where the two women were living. The pair were indicted by federal prosecutors in September 2019.
In a Department of Justice press release lauding the harsh prison sentence, FBI Omaha Special Agent in Charge Eugene Kowel called Reznicek a "domestic terrorist" and said that her sentence "should be a deterrent." Iowa's acting U.S. Attorney Richard D. Westphal, a Trump appointee, also referred to Reznicek as a terrorist.
U.S. District Court Judge Rebecca Ebinger sided with prosecutors in adding a domestic terrorism sentencing enhancement enabled by the PATRIOT Act. Ebinger, a Republican, was nominated by former President Barack Obama to the bench in 2015.
Despite federal authorities use of 'terrorism' language to describe Reznicek's actions, no person was harmed by her actions, nor was she technically convicted of any terrorism-related crime. '§ 1366 – Destruction of an energy facility' – which encompasses the conspiracy charge Reznicek plead guilty to – is listed in the US Code under Chapter 65 – Malicious Mischief; Terrorism crimes are listed in a separate section of the US Code, Chapter 113B – Terrorism.
"All I did was go get a welder and weld [pipe segments] apart," Reznicek said in an interview. "It's certainly not domestic terrorism, especially when the people who are constructing the pipeline are the people who are ultimately contributing to the desecration of the earth."
The FBI and DOJ's characterization of Reznicek as a "domestic terrorist" fits a decades-long pattern of federal agencies using War on Terror rhetoric to paint environmentalist direct actions as domestic terrorism. Unicorn Riot found Iowa's U.S. Attorney offices have been hotspots for terror probes and 'Green Scare' grand juries against eco-activists going back to the Bush Administration. Earlier in 2021, feds in North Dakota jailed water protector Steve Martinez without charges in an attempt to compel secret grand jury testimony.
Before her sentencing, Reznicek faced up to 110 years in prison for her actions against the pipeline. Kelcy Warren, CEO of Energy Transfer Partners, the company behind DAPL, called her "somebody who needs to be removed from the gene pool."
"Unfortunately, actions to protect our human right to water were found to be less important than the profit and property of corporations which are destroying our lands and waters," said Reznicek's attorney Bill Quigley. "For a country which was founded by the rebellion of the Boston Tea Party this is extremely disappointing. But the community of resistance will no doubt carry on. And history will judge if Jessica Reznicek is a criminal or a prophet. Many of us are betting she's a prophet."
In 2020, a federal judge ruled that the Dakota Access Pipeline was built illegally due to lacking environmental reviews, but the government still allows DAPL to continue operations as the ruling is appealed. The Biden administration has continued the Trump-era position of arguing in favor of allowing the pipeline to continue to transport oil.
With federal support for the Dakota Access Pipeline stretching through the Trump and Biden administrations, the U.S. government has taken a bipartisan position to tolerate oil industry actors harming the climate, while bringing the full force of the law against those who take direct action to oppose them.
A statement by the Support Jessica Recnizek campaign noted that,
"In her statement to the court Jessica highlighted how the water system for her hometown of Des Moines is on the verge of collapse. The city water department has admitted that both the Des Moines and Racoon rivers are so polluted and low that in the upcoming weeks they might not be able to continue to use them to supply the capital with drinking water. Meanwhile "victim" in this case Energy Transfer Partners and its subsidiaries are responsible for 313 reported spills since 2012 on liquid lines, 35 caused water contamination. In the last 5 years the company had more accidents harming people or the environment than any other operator."

–'Support Jessica Reznicek' campaign
"Regardless of my sentence", Reznicek said in a statement, "I am hopeful that movements to protect the water live on in the struggles against Line 3 and the Mountain Valley Pipeline." She said she has also appealed her sentence.
In an interview with Iowa news channel Local 5, Reznicek said she is "feeling strong in spirit and ready to move on to the next phase of my life." She added "I shouldn't have claimed responsibility for these actions" because "they didn't have any evidence to hold against me."
On August 11, Reznicek reported to the Federal Correctional Institution in Waseca, MN to begin serving her 8 year sentence. In a statement shared by supporters, she said,
"Today I feel sad to be saying my final goodbyes to loved ones. I am strengthened, however, knowing that I'm still standing with integrity during this very important moment in history, as there truly is no other place to be standing at a time like this."

-Jessica Reznicek statement upon reporting to federal prison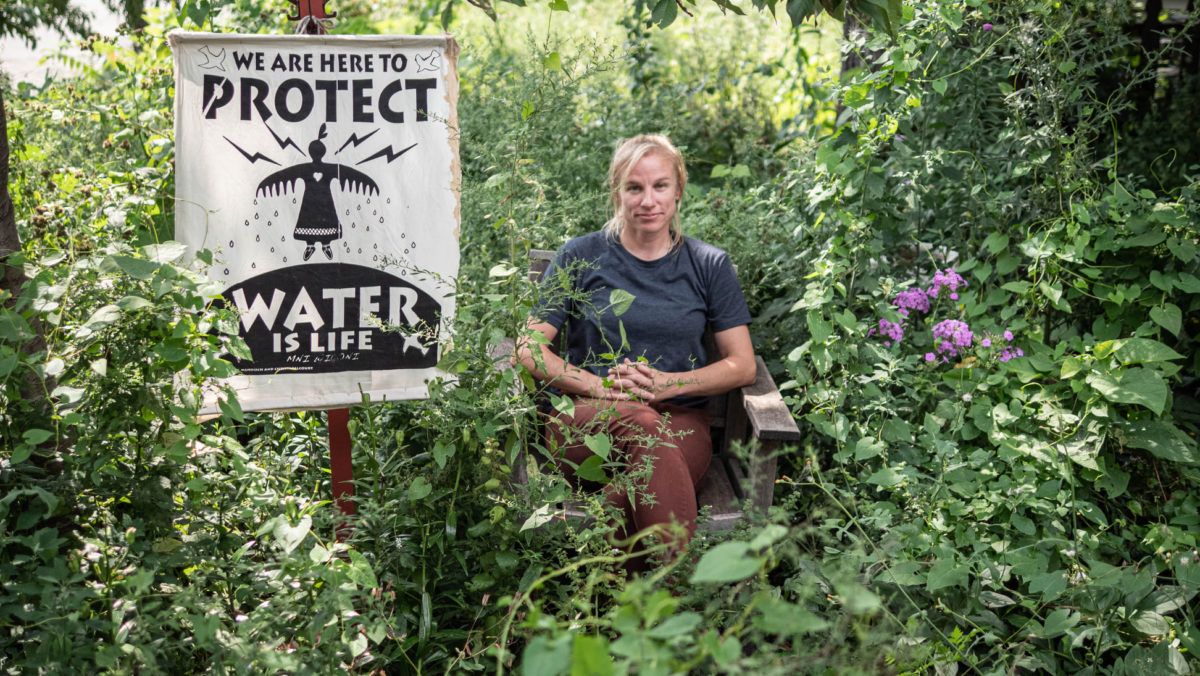 Supporters have started an online petition calling on federal officials to speak out against the use of the PATRIOT Act terrorism enhancement in Reznicek's case.
Public figures who have spoken out in support of Reznicek since her sentencing include NASA Climate Scientist Peter Kalmus, Ecological Economics Professor Julia Steinberger, Congressional candidate Rebecca Parson (WA-06), Standing Rock Sioux Tribal member and former Congressional candidate Chase Iron Eyes, climate activists Josh Fox, Stephanie Quilao, and Reverend Lennox Yearwood, electronic musician DJ Spooky, and recent NFL wide receiver Kenny Bell.
Ruby Montoya, who admitted to sabotaging the pipeline with Reznicek, has yet to be sentenced.
As the effects of global climate change intensify, energy corporations continue to expand pipeline infrastructure in service of their private profits. While growing climate justice movements seek to halt the continued fossil fuel emissions causing runaway climate catastrophe, law enforcement continues to repress those moving against new oil and gas projects. Climate science reports tell us that human civilization likely has under a decade left to halt fossil fuel use if Earth is to avoid apocalyptic levels of environmental disaster.
---
Title image via Democracy Now! / @resistline3 / Twitter
---
Unicorn Riot's Coverage of DAPL Saboteurs Jessica and Ruby:
---

Below is Unicorn Riot's coverage of the #NoDAPL anti-Dakota Access Pipeline struggle from early summer 2016 to present:
March - May 2016
August 2016
September 2016
October 2016
November 2016
December 2016
January 2017
February 2017
March 2017
April 2017
May 2017
June 2017
July 2017
January 2018
May 2018
July 2018
September 2019
July 2020
March 2021
April 2021
July 2021
September 2021
December 2021
July 2022
September 2022